Five years after "Breaking Bad" went off the air, its universe is alive and well with news that a feature film based on the Emmy-winning drama is in the works.
But is the end of the road in sight for its prequel series, "Better Call Saul"?
Co-creator Peter Gould and executive producer Thomas Schnauz played it (somewhat) coy but also offered some very telling hints when discussing "Saul's" lifespan at an Envelope Live event Monday at the Montalbán in Hollywood.
"Breaking Bad" lasted five seasons. "Better Call Saul" just wrapped Season 4. Is the end in sight? Co-creator Peter Gould reveals his feelings about the prequel's possible endgame at the Envelope Live.
Star Bob Odenkirk was also on hand for the screening of the Season 4 finale, which Gould and Schnauz co-wrote. The episode was followed by a conversation with Times TV reporter Yvonne Villarreal.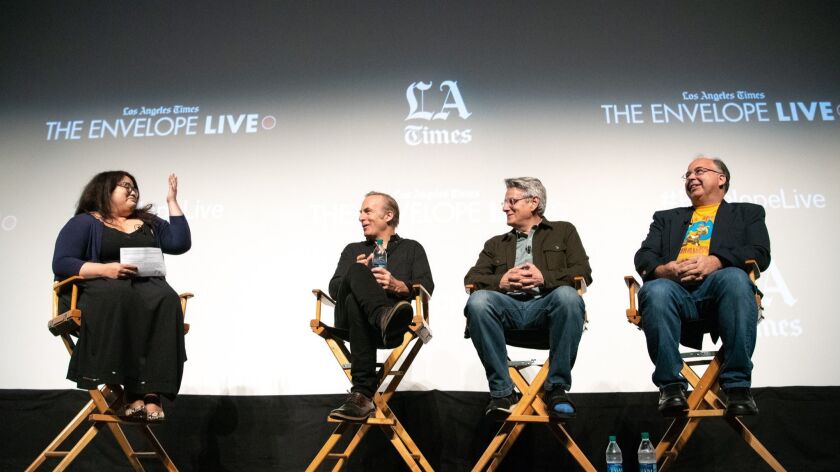 Season 4 of "Better Call Saul," which wrapped in October, represented a pivotal point in the larger timeline of the "Breaking Bad" universe. The finale ended with Odenkirk's Jimmy McGill beginning his transition into the Saul Goodman that "Breaking Bad" viewers know so well.
"I loved the energy of that ending," Odenkirk said. "It's literally what these four years have been building up to."
However, the Emmy-nominated actor also admitted he had some hesitations about the pivotal moment as well.
"Better Call Saul" star Bob Odenkirk talks about Jimmy McGill stepping over the line and his transition into alter ego Saul Goodman at an Envelope Live screening.
As if two identities weren't enough, Odenkirk also shared his thoughts on more potential appearances for Cinnabon employee Gene — the persona that Jimmy takes on after the events of "Breaking Bad."
"Better Call Saul" star Bob Odenkirk discusses what may happen to "Gene," Jimmy's Cinnabon manager identity.
But as Jimmy marches closer to his "Breaking Bad" fate, many of the show's viewers are worried about what the future holds for longtime love Kim Wexler (Rhea Seehorn) — and whether she'll meet a grisly fate not unlike that of Jimmy's brother, Chuck.
While Gould noted that "this story is in a lot of ways a tragedy" — eliciting boos from the crowd — he also offered some mildly optimistic notes to worried viewers.
What will happen to fan favorite Kim Wexler (Rhea Seehorn)? "Better Call Saul" executive producers Thomas Schnauz and Peter Gould offer some insight into what the future might hold at the Envelope Live.
For more information on future Envelope Live screenings and events, click here.
---