Sober Brad Pitt is all about his feelings now, unwilling to invest in 'vitriolic hatred'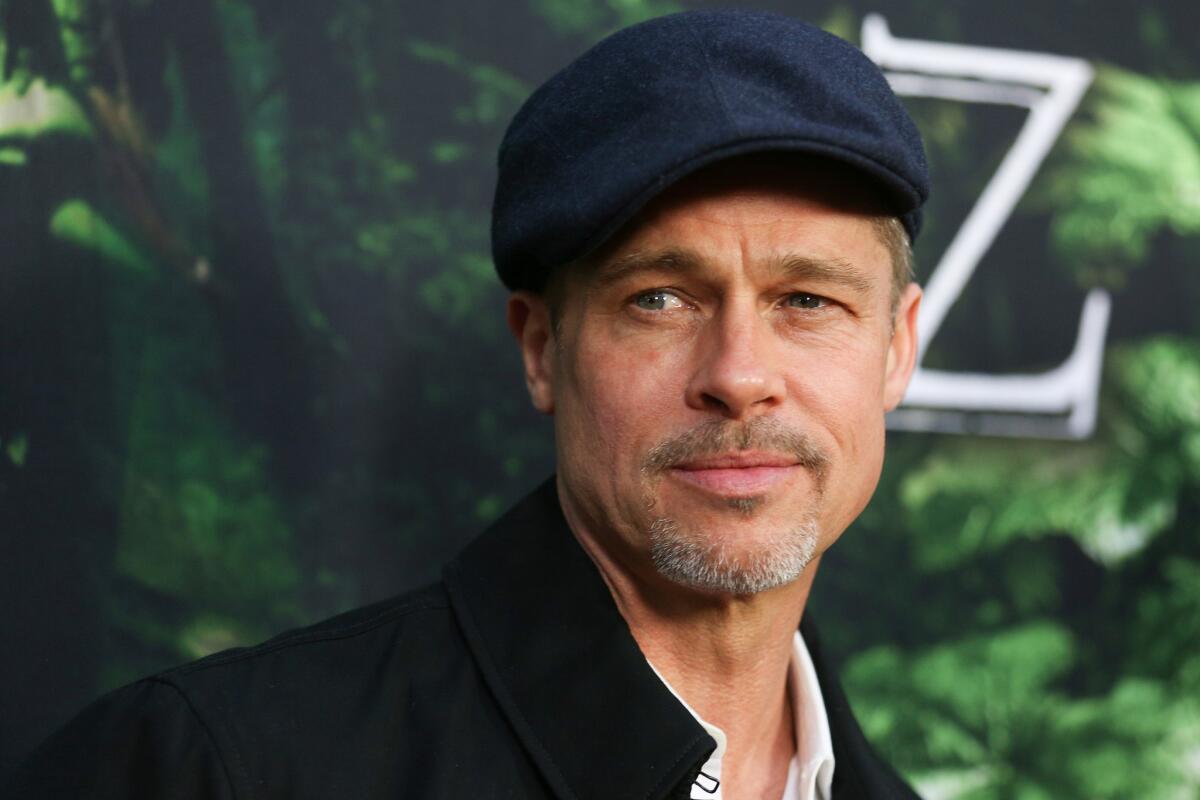 Brad Pitt has become a matcha-swilling, pottery-sculpting couch surfer in the aftermath of his divorce from Angelina Jolie. And he's all the better for it.
He's lonely in the wake of his divorce, living out his days in his solemn L.A. Craftsman with only his narcoleptic bulldog Jacques to keep him company, but also reformed and introspective, he tells GQ in its Summer 2017 issue.
He's not going through a midlife crisis, he said, but is getting "back to feeling," something he's spent a lot of time avoiding.
"I can't remember a day since I got out of college when I wasn't boozing or had a spliff, or something. Something. And you realize that a lot of it is, um — cigarettes, you know, pacifiers. And I'm running from feelings. I'm really, really happy to be done with all of that."
See the most-read stories in Entertainment this hour »
The 53-year-old actor said he crashed at several friends' homes when he and Jolie split.
(Truth be told, all that darkness seems rather undone by the accompanying pictorial that features the former Ozarks boy surreally crumpled up or floating around three of the nation's national parks — designer-clad, of course. Ryan McGinley's images are stunning. Off-topic, but stunning.)
He stopped everything but the drinking when he started his family, but even that became a problem, he said. "I was boozing too much."
Drinking was harder to quit than smoking pot, which he previously associated with his marriage to Jennifer Aniston. His vice ran his and Jolie's Miraval winery "to the ground."
"I had to step away for a minute. And truthfully I could drink a Russian under the table with his own vodka. I was a professional. I was good," Pitt said. Now it's "cranberry juice and fizzy water."
Pitt and Jolie reached a divorce settlement privately in January after battling publicly for months after their September 2016 split over custody of the six kids they share.
Since the split, he has started therapy and loves it ("I went through two therapists to get to the right one"), has taken up sculpting ("I find voice there, that I need") and recently got into the raw truth of R&B ("I've been listening to a lot of Frank Ocean…. And of great irony to me: Marvin Gaye's [divorce album] 'Here, My Dear.' And that kind of sent me down a road.")
Meanwhile, he and Jolie are focusing on bringing themselves and their kids out of this as "stronger and better people." He's doing quite a bit of soul searching and personal inventory, using this period in his life to look at his weaknesses and failures and own them.
"I find it a great opportunity for the introspection. … I'm really good at cutting myself off, and it's been a problem," he said.
The Oscar-winning producer painfully spoke about his approach to fatherhood since his split with Jolie and lamented their marital woes being dragged out and misconstrued by the media with no "delicacy or insight -- it's done to sell."
He marches on by putting "family first," saying he's been bad being emotionally accessible to his loved ones.
"I grew up with a 'Father-Knows-Best'/war mentality — the father is all-powerful, super strong — instead of really knowing the man and his own self-doubt and struggles," Pitt said. "And it's hit me smack in the face with our divorce: I gotta be more. I gotta be more for them. I have to show them. And I haven't been great at it."
Access to his kids was uncertain for a while, and he was "chained to a system" when Child Protective Services was called after a spat with his 15-year-old son Maddox in September. But he and Jolie are working together to sort it out.
"We're both doing our best," Pitt said. "I heard one lawyer say, 'No one wins in court—it's just a matter of who gets hurt worse.' …
[I]t's just an investment in vitriolic hatred. I just refuse."
Follow me: @NardineSaad
ALSO:
Janet Jackson keeps it real in message to fans announcing return to tour
Tearful Jimmy Kimmel shares story of newborn son's heart defect and surgery
Brian Tyree Henry brings big-time depth to his small-time rapper persona on 'Atlanta'
Get our L.A. Goes Out newsletter, with the week's best events, to help you explore and experience our city.
You may occasionally receive promotional content from the Los Angeles Times.