Bruce Jenner: 'For all intents and purposes, I am a woman'
A look at TV personality and former Olympian Caitlyn Jenner through the years.
(Bottom left - Tony Duffy / Allsport; top - Annie Leibovitz exclusively for Vanity Fair; bottom right - Frazer Harrison/Getty Images)
Jenner with family on Father's Day in 1996.
(Genaro Molina / Los Angeles Times)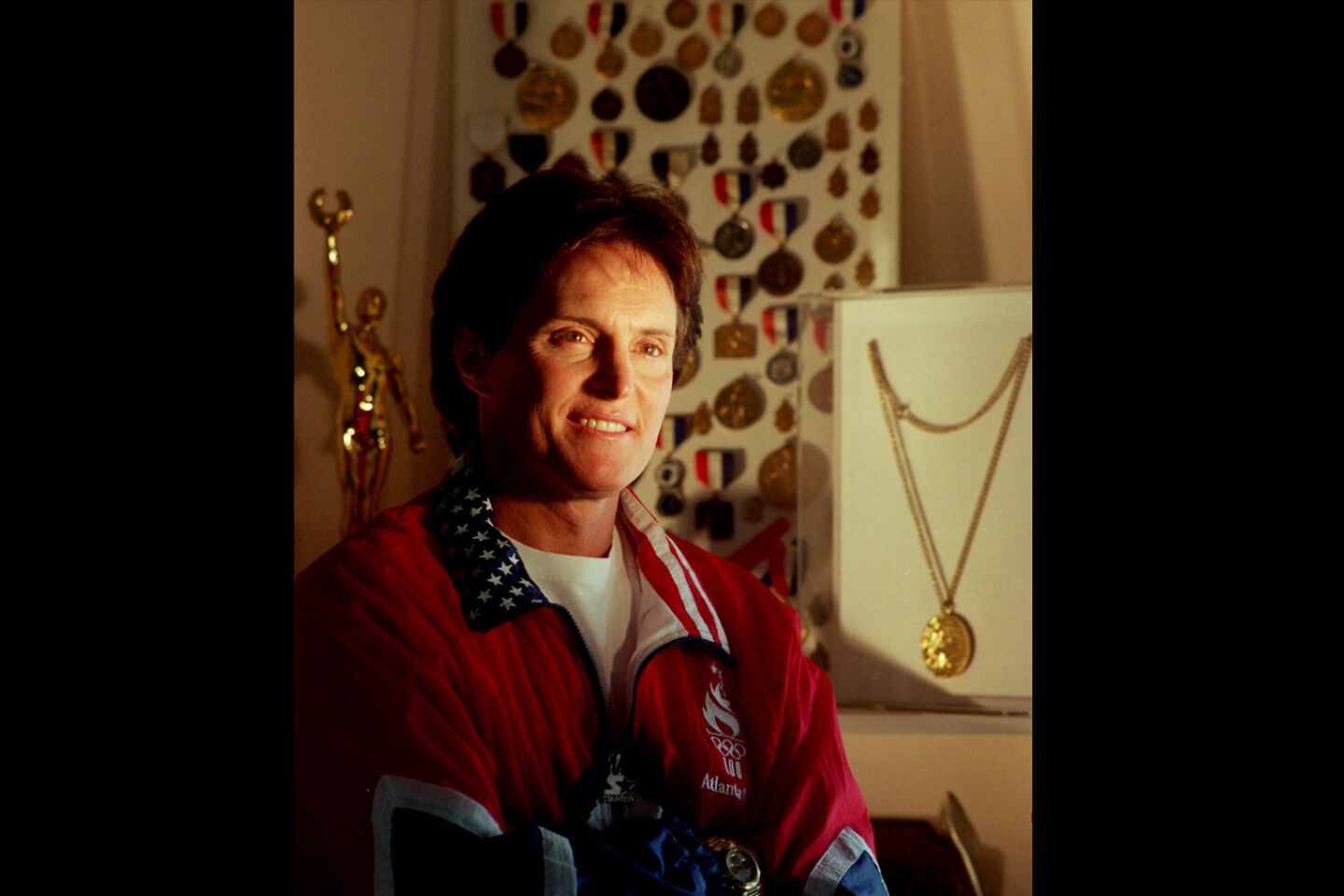 Jenner and medals in 1996.
(Genaro Molina / Los Angeles Times)
Jenner carries the Olympic Flame in the torch relay down Sunset Boulevard on April 27, 1996, nearly 20 years after his victory in the Olympic decathlon in Montreal.
(Frank Weise / Associated Press)
Jenner with then-wife Kris Jenner at the 44th Annual Academy of Country Music Awards in 2009.
(Dan Steinberg / Associated Press)
The former Olympian waves to race fans before the DRIVE4COPD 300 Nationwide auto race at Daytona International Speedway in February 2010.
(John Raoux / Associated Press)
Jenner at the Lakeside Golf Club in 2013.
(Richard Shotwell / Invision)
Jenner arrives at the Annual Charity Day hosted by Cantor Fitzgerald and BGC Partners in September 2013.
(Mark Von Holden / Invision )
Jenner attends the Michael Jordan Celebrity Invitational gala on April 4, 2014 in Las Vegas.
(Ethan Miller / Getty Images for Michael Jordan Celebrity Invitational)
Bruce Jenner confirmed Friday night that he's transitioning from male to female, plainly telling ABC's Diane Sawyer, "Yes, for all intents and purposes, I am a woman."
The much-anticipated interview kicked off with the 1976 Olympic gold-medal winner and reality-TV celebrity reaching for a tissue even before the questions began and explaining to Sawyer, "I've been thinking about this day forever and what I should do with my life and how do I tell my story."
After revealing a lifelong struggle with his gender identity, the "Keeping Up With the Kardashians" dad discussed how that affected each of his three marriages, shared details about his 1980s attempt to transition and told what it was like to bring his six children and four stepchildren up to speed on the secret he'd been keeping.
"I've always been confused about my gender identity since I was this big," the 65-year-old explained. It was, he said, as if God had put a little boy together, adding smarts and athletic ability and more, and then said, "Let's give him the soul of a woman and see how he deals with that."
Jenner wants to continue to be referred to as "he" and "him" for the time being, Sawyer told viewers. During the chat, the "Keeping Up With the Kardashians" star referred to the person he's becoming as "her" and "she," not mentioning a specific name. "If I did," he said, "the media would go crazy."
He said he's been on hormones for a year and a half now and plans to have surgery done on his face and breasts.
He has no idea what another marriage might look like, declaring himself "asexual" for now.
And although Sawyer didn't bring it up, he told her he hasn't made a decision yet about sex reassignment surgery. If he took that step, he said, he would do it "so quietly" that nobody would know. No cameras, no TV shows.
However, while the interview was airing on the East Coast, "Kardashians" network E! announced a new docuseries about Jenner's "new normal," one that will track the reality star living as a transgender woman. The eight-part, one-hour series will premiere July 26, the network said.
The four oldest Jenner kids appeared on the program. Daughter Cassandra Marino, 34, said she'd asked her dad what he wanted to be called. "He said, 'I'm Dad. Call me Dad. I'll always be your dad.'"
Kendall and Kylie Jenner provided a supportive statement to ABC. Kris Jenner had no comment, and Kourtney, Kim, Khloe and Rob Kardashian didn't appear on the show.
"Kimberly has been by far the most accepting. The easiest to talk to," Bruce Jenner said, while easy-going Khloe has had the toughest time.
"Today, millions of people learned that someone they know is transgender," said Sarah Kate Ellis, president and CEO of the Gay and Lesbian Alliance Against Defamation, in a statement. "By sharing this story, Bruce Jenner has shined a light on what it means to be transgender and live authentically in the face of unimaginable public scrutiny. Though Jenner's journey is one that is deeply personal, it is also one that will impact and inspire countless people around the world."
"Every transgender person's journey is unique, and by choosing to share this story, Bruce Jenner adds another layer to America's understanding of what it means to be transgender," said Nick Adams, GLAAD's Director of Programs, Transgender Media. "We hope that after hearing Jenner's story, people will want to learn more about the issues and challenges facing their transgender friends, co-workers, and family members. Stories like these will help create a world in which everyone can express their gender identity without fear of discrimination and violence."
Jenner said this interview would be the last as Bruce Jenner. "She," he said, would be the next to speak publicly.
Follow Christie D'Zurilla on Twitter @theCDZ and Google+. Follow the Ministry of Gossip on Twitter @LATcelebs.
Get our L.A. Goes Out newsletter, with the week's best events, to help you explore and experience our city.
You may occasionally receive promotional content from the Los Angeles Times.