Jennifer Lawrence: Catching pixie-cut fire
Whether she's leading an indie film or starring in a top box-office saga, Jennifer Lawrence is one to be watched. We highlight the movie darling's beginnings and upcoming endeavors.
(Rick Loomis / Los Angeles Times)
Her performance in "Winter's Bone" was so riveting, she earned an Oscar nod. And unlike in the film, Lawrence wasn't afraid to put her good looks on display when she arrived at the 2011 Academy Awards in a figure-hugging red Calvin Klein gown.
(Kirk McKoy / Los Angeles Times)
The Academy of Motion Picture Arts and Sciences tapped Lawrence to reveal the 84th Oscar nominations alongside academy President Tom Sherak. She donned a Prada blue/black eyelet outfit from the spring/summer 2011 collection for the occasion.
(Al Seib / Los Angeles Times)
In her first collaboration with a luxury brand, Lawrence was named the new face of French fashion house Dior, replacing actress Mila Kunis. She followed in the fashionable footsteps of Charlize Theron, Marion Cotillard and Natalie Portman.
(Kirk McKoy / Los Angeles Times)
Her portrayal of Tiffany Maxwell in "Silver Linings Playbook" earned Lawrence her first Oscar for leading actress. As she was called to stage for her win, she took a tumble on the Oscar stairway in her Dior Haute Couture gown - but it seemed to make her all the more lovable.
(Al Seib / Los Angeles Times)
When Lawrence attended the 2014 Golden Globes on Jan. 12, she made an impression on the red carpet with a puffy Dior gown (not to mention a photo bomb on Taylor Swift) and on the stage when she took home the supporting actress Golden Globe for her role in the movie "American Hustle."
(Lawrence K. Ho / Los Angeles Times)
The cast of "American Hustle" took home the most important accolade of the evening at the 2014 Screen Actors Guild Awards: the best cast prize. The win marked Lawrence's second SAG Award after her 2013 lead actor win for "Silver Linings Playbook."
(Al Seib / Los Angeles Times)
In perhaps one of the most memorable moments of the 2014 Oscars, and certainly the most viral, host Ellen DeGeneres recruited a who's who of Hollywood, including Lawrence, to snap a Twitter portrait. The pic, retweeted by more than half a million people, knocked Twitter offline for a few moments.
(Al Seib / Los Angeles Times)
Making it official (for the second time), Lawrence and actor Nicholas Hoult split in August 2013. The pair, who met while filming "X-Men: First Class," had a difficult time making their relationship work due to their busy, not to mention highly successful, schedules.
(Tullio M. Puglia/Getty Images; Craig Barritt/Getty Images for Snowlodge)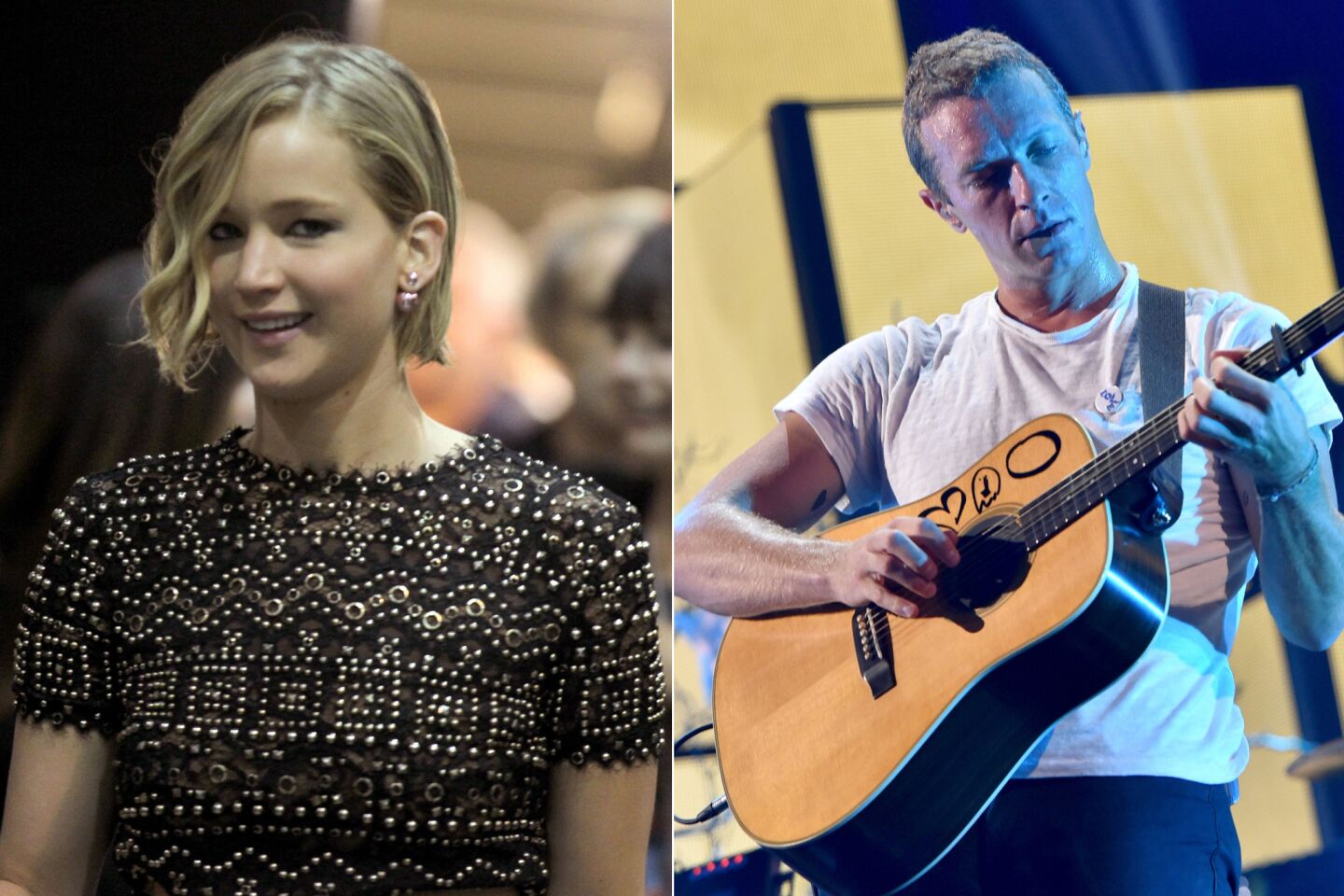 What began as a rumor proved to be true after it was confirmed that Lawrence and Coldplay frontman (and Gwyneth Paltrow's ex) are an item. The new couple have yet to be publicly photographed together. Pictured, Lawrence attends the iHeartRadio Music Festival, in which Martin performed.
(Isaac Brekken/Getty Images for Clear Channel; Kevin Winter/Getty Images for Clear Channel )
Come Christmas 2015, Lawrence will star in director David O. Russell's rag-to-riches tale "Joy," centered on Miracle Mop inventor Joy Mangano. Lawrence said Russell approached her through a text, and she happily obliged.
(Mike Coppola/Getty Images; Kirk McKoy / Los Angeles Times)
Lawrence, with Evan Peters, suited up to play Mystique a third time in Bryan Singer's "X-Men: Apocalypse."
(Alan Markfield / AP)
<i>This post has been updated. See note below for details.</i>
Pixie dust is sprinkling its way throughout Hollywood in the form of pixie haircuts, with Jennifer Lawrence being the latest celeb to bid adieu to her flowing long locks and say hello to the elfin look.
The star of "The Hunger Games: Catching Fire" and "X-Men: Days of Future Past" debuted the chop — that recently claimed Pamela Anderson, Kristin Chenoweth and Beyonce — on Wednesday.
A photo of the Oscar-winning franchise queen du jour was posted on her official Facebook page with the caption: "Headed up north for #GLOBALFANDAY with The Hunger Games Catching Fire cast. Follow this page all day for updates!"
PHOTOS: Jennifer Lawrence's life in pictures
Updates such as her new haircut, we suppose.
[Updated, 4:15 p.m. PST Nov. 6: At the fan event, the playful actress explained why she opted for the shortened look, first joking that it was to upset "Hunger Games" director Francis Lawrence.
"I just did it to make Francis mad," she joked (via the Daily Mail). "I did it just to annoy him. He totally thought it was me giving him the finger."
"But it's not," she admitted. "It's just fried from being dyed so much."]
Given her comically cheeseball smile in the photo, the 23-year-old seems thrilled about the new style.
"She loves it!" a source close to JLaw told E! News.
The new look has the Dior spokeswoman's blond locks cropped short in the back with a long side-swept bang in the front.
That same bang was peeking out from under her beanie at LAX on Monday and marked the return of her natural blond hue after she was filming "Catching Fire" as a brunet.
Still, is anyone else getting post-"Harry Potter" Emma Watson flashbacks too?
ALSO:
Drew Barrymore revels in 'surreal,' 'incredible' second pregnancy
Jennifer Aniston says she got 'choppy bob' haircut out of boredom
Selena Gomez: I'm the 'girl you want to take home to your parents'
Get our L.A. Goes Out newsletter, with the week's best events, to help you explore and experience our city.
You may occasionally receive promotional content from the Los Angeles Times.