Jennifer Lawrence explains pixie cut, slams 'Fashion Police'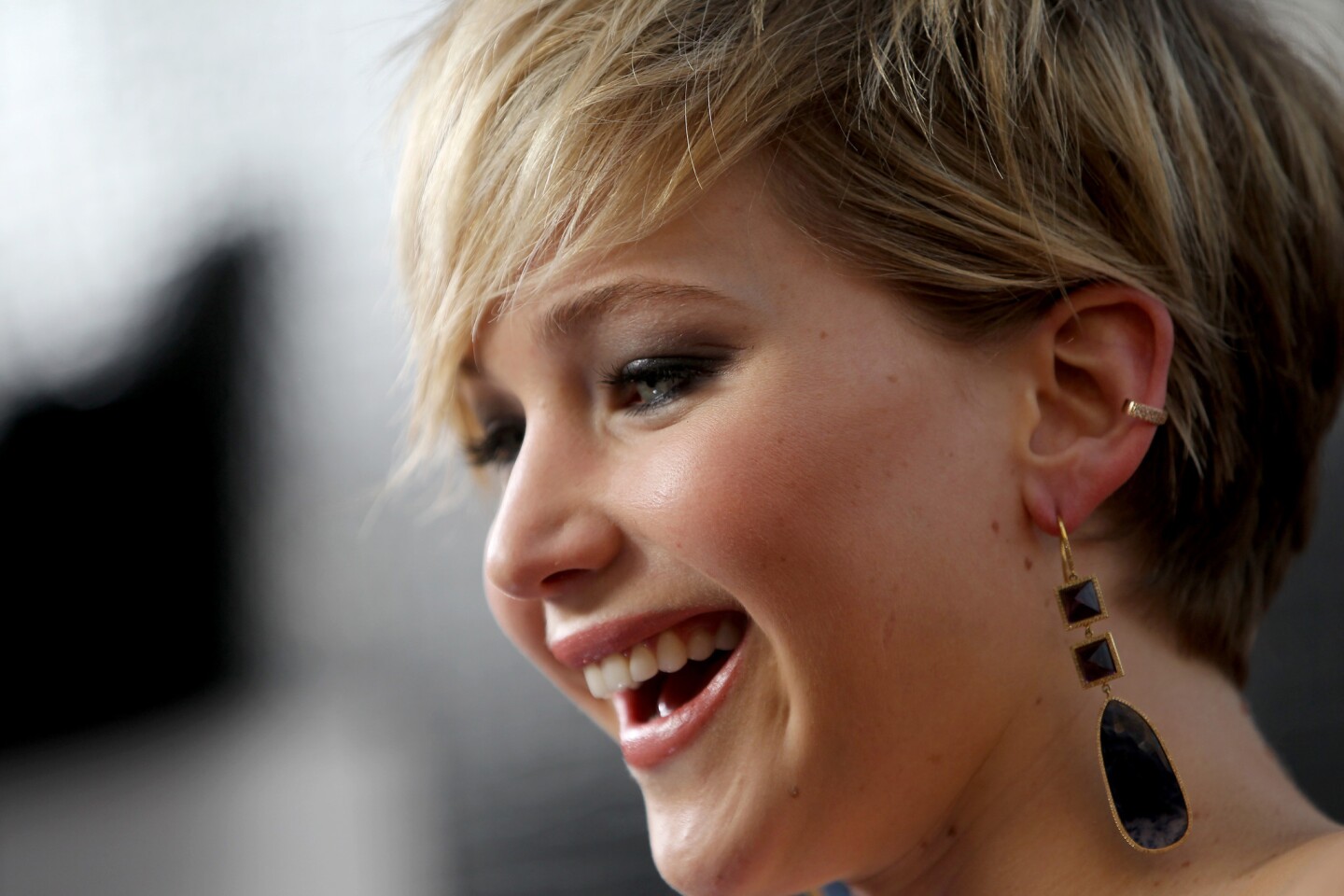 Whether she's leading an indie film or starring in a top box-office saga, Jennifer Lawrence is one to be watched. We highlight the movie darling's beginnings and upcoming endeavors.
(Rick Loomis / Los Angeles Times)
Her performance in "Winter's Bone" was so riveting, she earned an Oscar nod. And unlike in the film, Lawrence wasn't afraid to put her good looks on display when she arrived at the 2011 Academy Awards in a figure-hugging red Calvin Klein gown.
(Kirk McKoy / Los Angeles Times)
The Academy of Motion Picture Arts and Sciences tapped Lawrence to reveal the 84th Oscar nominations alongside academy President Tom Sherak. She donned a Prada blue/black eyelet outfit from the spring/summer 2011 collection for the occasion.
(Al Seib / Los Angeles Times)
In her first collaboration with a luxury brand, Lawrence was named the new face of French fashion house Dior, replacing actress Mila Kunis. She followed in the fashionable footsteps of Charlize Theron, Marion Cotillard and Natalie Portman.
(Kirk McKoy / Los Angeles Times)
Her portrayal of Tiffany Maxwell in "Silver Linings Playbook" earned Lawrence her first Oscar for leading actress. As she was called to stage for her win, she took a tumble on the Oscar stairway in her Dior Haute Couture gown - but it seemed to make her all the more lovable.
(Al Seib / Los Angeles Times)
When Lawrence attended the 2014 Golden Globes on Jan. 12, she made an impression on the red carpet with a puffy Dior gown (not to mention a photo bomb on Taylor Swift) and on the stage when she took home the supporting actress Golden Globe for her role in the movie "American Hustle."
(Lawrence K. Ho / Los Angeles Times)
The cast of "American Hustle" took home the most important accolade of the evening at the 2014 Screen Actors Guild Awards: the best cast prize. The win marked Lawrence's second SAG Award after her 2013 lead actor win for "Silver Linings Playbook."
(Al Seib / Los Angeles Times)
In perhaps one of the most memorable moments of the 2014 Oscars, and certainly the most viral, host Ellen DeGeneres recruited a who's who of Hollywood, including Lawrence, to snap a Twitter portrait. The pic, retweeted by more than half a million people, knocked Twitter offline for a few moments.
(Al Seib / Los Angeles Times)
Making it official (for the second time), Lawrence and actor Nicholas Hoult split in August 2013. The pair, who met while filming "X-Men: First Class," had a difficult time making their relationship work due to their busy, not to mention highly successful, schedules.
(Tullio M. Puglia/Getty Images; Craig Barritt/Getty Images for Snowlodge)
What began as a rumor proved to be true after it was confirmed that Lawrence and Coldplay frontman (and Gwyneth Paltrow's ex) are an item. The new couple have yet to be publicly photographed together. Pictured, Lawrence attends the iHeartRadio Music Festival, in which Martin performed.
(Isaac Brekken/Getty Images for Clear Channel; Kevin Winter/Getty Images for Clear Channel )
Come Christmas 2015, Lawrence will star in director David O. Russell's rag-to-riches tale "Joy," centered on Miracle Mop inventor Joy Mangano. Lawrence said Russell approached her through a text, and she happily obliged.
(Mike Coppola/Getty Images; Kirk McKoy / Los Angeles Times)
Lawrence, with Evan Peters, suited up to play Mystique a third time in Bryan Singer's "X-Men: Apocalypse."
(Alan Markfield / AP)
Jennifer Lawrence's new pixie haircut is "catching fire," but the result came from dye damage and other overstyling.
No, it wasn't just to freak out "Hunger Games" fans who shudder at the thought of Katniss Everdeen without her signature brunet braid.
"No, this isn't how Katniss is going to look in the next movies, don't worry," the 23-year-old star said during a Yahoo chat on Thursday. "I'm wearing a wig [in them]."
PHOTOS: Jennifer Lawrence's life in pictures
"I don't know, I cut it earlier, and it was just kind of like [shoulder-length] and it grew to that awkward, gross length," she said. "I just kept putting it back in a bun, and I said, 'Well I don't want to do this,' so I just cut it off."
It "couldn't get any uglier," she quipped.
Just after that, the trend-setting starlet went on a long-winded tirade about body image in Hollywood after an audience member solicited advice for people experiencing harsh disparagement from their peers.
PHOTOS: 50 most beautiful celebrities
"Well, screw those people," she said. "It's something that everybody experiences. I experienced it in school. The world has a certain idea -- we see this airbrushed perfect model image. ... You just have to look past it. You look how you look. And be comfortable. What are you gonna do, be hungry every single day to make other people happy? That's just dumb."
Then the Dior spokeswoman went after E!'s snark fest "Fashion Police," hosted by sharp-tongued comedienne Joan Rivers.
"And there's shows like the 'Fashion Police' and things like that are just showing these generations of young people to judge people based on things... that they put values in all the things that are wrong and that it's OK to point at people and call them ugly and call them fat and they call it 'fun' and 'welcome to the real world.' And it's like, that shouldn't be the real world. That's going to keep being the real world if you keep it that way. It's not until we stop treating each other like that and just stop calling each other fat ... with these unrealistic expectations for women. It's disappointing that the media keeps it alive and fuels that fire," she said.
"That's something that really bothers me because I love to eat," she finished with a laugh.
Zing!
PHOTOS: Jennifer Lawrence's life in pictures
Lawrence also revealed that she had a thing for 'N Sync frontman Justin Timberlake. Before he left the band, that is.
"My teen crush -- Justin Timberlake. Nineties Justin Timberlake though, like 'NSYNC Justin Timberlake," she added. "I remember when I bought the 'NSYNC CD, and I was listening to it and I was flipping through –- remember how CDs had the pull-out picture things? And I was getting so overwhelmed with hormones that I almost threw up."
Add to the list the Lawrence brothers, "Boy Meets World" actor Matthew Lawrence and "a little bit" of "Growing Pains" alum Kirk Cameron.
During a Global Google+ Hangout, the playful actress again explained why she'd opted for her shortened look, first joking that it was to upset "Hunger Games" director Francis Lawrence (no relation).
"I just did it to make Francis mad," she laughed. "I did it just to annoy him. No, it was just at that awkward length ... the first time I cut it to [shoulder-length], he totally thought it was me giving him the finger.
"But it's not," she admitted. "It's just fried from being dyed so much."
ALSO:
Kaley Cuoco 'marries' fiance Ryan Sweeting on 'Ellen'
Tom Cruise gives peek behind the scenes of his divorce
Lady Gaga on Madonna 'gossip,' her smoky solution for hip pain
Follow Ministry of Gossip @LATcelebs.
---
From the Oscars to the Emmys.
Get the Envelope newsletter for exclusive awards season coverage, behind-the-scenes stories from the Envelope podcast and columnist Glenn Whipp's must-read analysis.
You may occasionally receive promotional content from the Los Angeles Times.