Why is Jenny McCarthy out at 'The View'? She says she didn't fit in.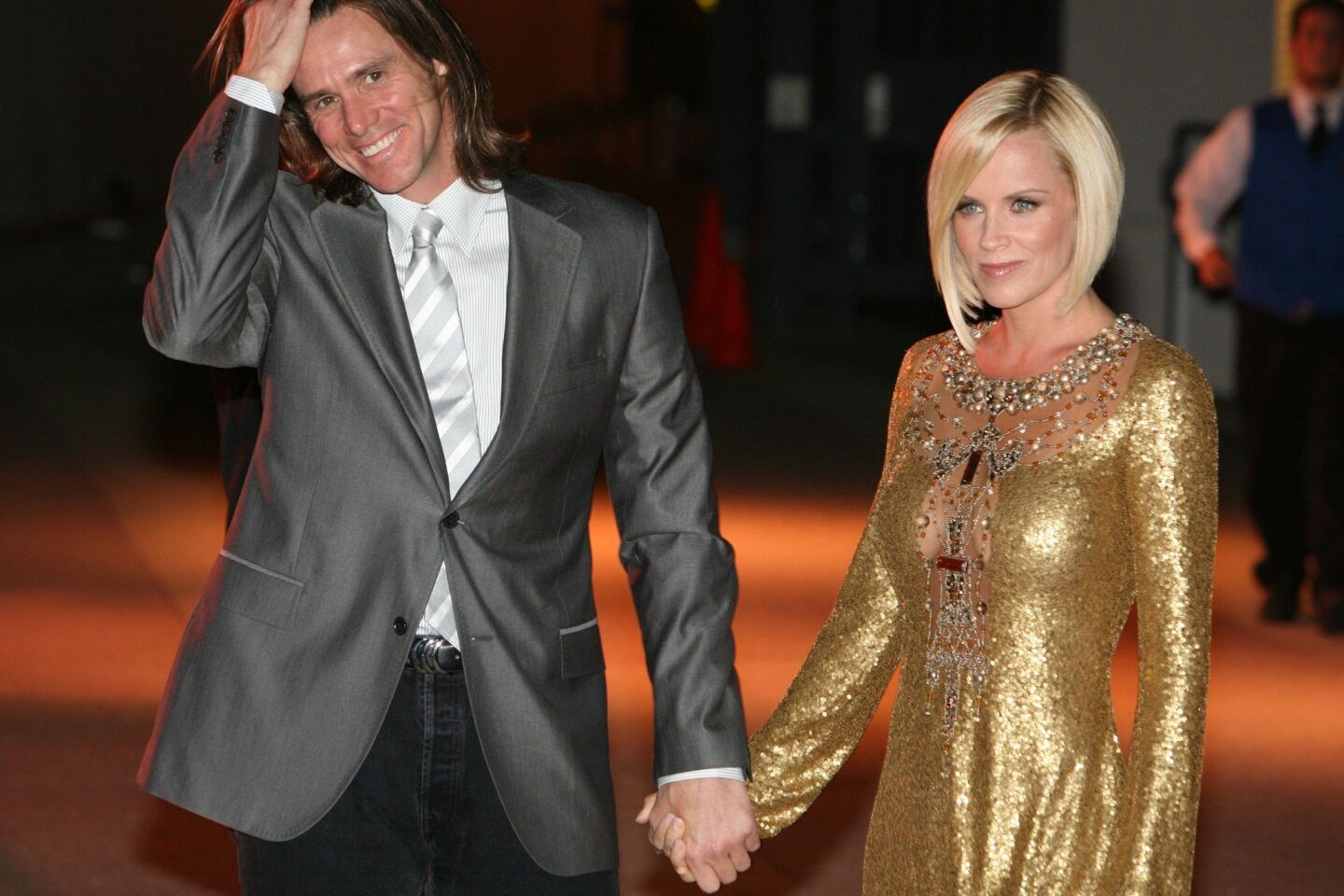 McCarthy began dating comedian Jim Carrey in December 2005, about the time of her divorce from Asher, but the pair kept their relationship under wraps until the summer of 2006. The couple called it quits in 2010.
(Rene Macura / Associated Press)
McCarthy plants a kiss on teen heartthrob Justin Bieber at the 2012 American Music Awards. By this time, she had a few relationships that didn't last very long: one with Boston-based sports agent Paul Krepelka and another with Chicago Bears linebacker Brian Urlacher.
(Matt Sayles / Invision/AP)
Putting her comedic skills to the test, McCarthy began hosting "The Jenny McCarthy Show" on VH1. It was a pop-culture talk show featuring guests such as Nicole "Snooki" Polizzi, Lil Jon and Bar Refaeli. McCarthy is shown here with Philippe Dauman, chief executive of Viacom Inc.
(Stephen Lovekin / Getty Images)
McCarthy joined ABC's weekday talk show "The View" as a co-host following the exits of conservative Elisabeth Hasselbeck and liberal Joy Behar. McCarthy made 17 appearances and acted as a guest co-host eight times before her full-time gig.
(Donna Svennevik / Associated Press)
McCarthy will move on from "The View" with a live, weekly radio show called "Dirty, Sexy Funny With Jenny McCarthy." "It's no secret that I love to talk. I'm excited to do it on SiriusXM without having to interrupt anyone or keep things clean," she said in a statement.
(Ilya S. Savenok / Getty Images)
Why is Jenny McCarthy leaving "The View"? Turns out, she doesn't fit in.
The talk show panelist answered that question during a sit-down interview on "The Howard Stern Show" on Monday.
McCarthy had been on "The View" for about a year following the exits of conservative Elisabeth Hasselbeck and liberal Joy Behar. She said it was her "best year ever," adding that it was "rewarding" and "intriguing" to work with iconic journalist Barbara Walters, who helped create the show when it premiered in 1997 and who said her goodbye to the panel in May.
"I'm the luckiest person," the 41-year-old said during the interview (which contains profanity). "I'm her last hire."
And that's pretty much where the niceties came to an end.
The self-proclaimed "dirty bird," who drew ire from audiences over her waffling stance on vaccination, said she had a "four-hour legal meeting" and realized she would have to "censor" herself too much on the show. She also said she hated it when actors tried to talk politics.
Last week, ABC confirmed that former co-host Rosie O'Donnell would be returning to the table. Sherri Shepherd and McCarthy had announced their exits in late June. The show had planned to undergo major changes after Walters' exit.
So was McCarthy fired? Stern asked. "Yes and no," she said. "I would call it: If I wanted to stay with Rosie and if I was a Republican I would still be there right now."
The former Playboy model also admitted that she played it too safe during her stint at the table.
"I'll tell you something, Howard, it's like halfway into it, it was probably around February, I went, 'God, I'm not allowed to be the best of me here.' I feel like to have a voice, to be able to speak without having to interrupt people, it's very difficult, and I don't like doing it. It's very uncomfortable, so I felt like, 'You know what? Maybe this is just a stepping stone for me to go somewhere where I can actually be my full self.' "
Indeed, the onetime"Singled Out" co-host is getting her own radio show on SiriusXM called "Dirty, Sexy, Funny With Jenny McCarthy," which will premiere Wednesday.
McCarthy also talked about her nuptials with Donnie Wahlberg.
The couple will wed "in the next couple of months."
"Let's just say our children are very much a part of this wedding," she said.
About 80 people will be at the event, and the only celebrities she wants to invite are Shepherd and Donnie's famous brother, Mark Wahlberg, because she hates celebs, she said.
Bad industry to be in then, Jen.
For a Twitter version of "The View," follow me @NardineSaad.
Get our L.A. Goes Out newsletter, with the week's best events, to help you explore and experience our city.
You may occasionally receive promotional content from the Los Angeles Times.