Jimmy Kimmel vs. Matt Damon: A video history
Late night's new paradigm, experts say, is tech-savvy, younger-skewing and much cheaper. That fits a time in which many viewers are forgoing watching an entire program at its scheduled time, opting instead to watch a few minutes on their phones or tablets the next day. With his frequent YouTube videos, ragged skits featuring family members and interactive stunts such as tongue-in-cheek National Facebook Unfriend Day, Jimmy Kimmel's move to 11:35 p.m. shows that his program is tailored for this new era.
(Ricardo DeAratanha / Los Angeles Times)
After a short stint at KRQQ in Tucson, Kimmel came to L.A. and joined KROQ. He spent five years as Jimmy the Sports Guy for the "Kevin and Bean" morning show. Above, hockey star Luc Robitaille, right, shoots at a goal guarded by Kimmel and fellow KROQ celebrity Ted Newcomb during a charity event.
(Los Angeles Times)
While at Comedy Central, Kimmel was part of the Emmy Award-winning hosting team on the game show "Win Ben Stein's Money." He also, with comedian Adam Carolla, created the successful comedy program "The Man Show."
(Jeff Kravitz)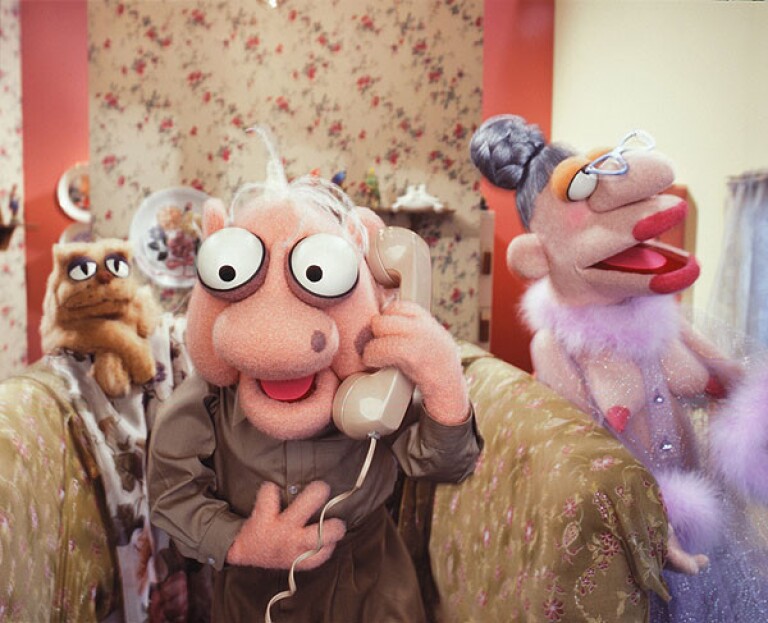 Another success while Kimmel was at Comedy Central was "Crank Yankers." Kimmel played the characters Elmer Higgins, Terrence Catheter, The Nudge, Karl Malone and himself.
(Comedy Central)
In 1999, Kimmel became known to football fans as he performed in comedy skits and made weekly picks for four years with the hosts of "NFL on Fox."
(Ray Mickshaw / Fox)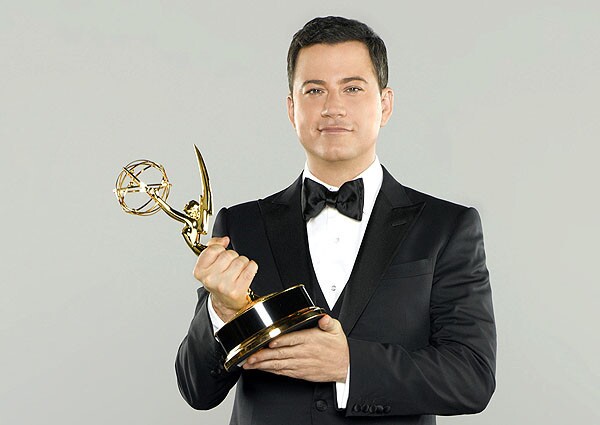 Kimmel has been sharpening his hosting chops, starting with the White House Correspondents' Assn. dinner in Washington on April 28, 2012, and then the 64th Primetime Emmy Awards the following September.
(Bob D'Amico / ABC)
In January 2003, Kimmel left "The Man Show" to host his own late-night talk show, "Jimmy Kimmel Live!" on ABC. He's pictured with his former assistant/intern, Carson Daly.
(Randy Holmes / ABC)
Kimmel finally got to interview David Letterman on Halloween in 2012. Though his new time slot will put him head-to-head against his idol, Kimmel has described Letterman as "the main reason I got into television." To prove what a fanboy he is, Kimmel pulled out pictures of himself as a teenager blowing out candles on a Letterman-inspired birthday cake, and of his car, with its "L8 NITE" vanity plate.
(ABC)
Hey, Jimmy Kimmel, Matt Damon wants the last laugh — and Thursday night he's doing the kidnapping to prove it.
First, a little background. OK, a lot of background.
The actor has been made fun of repeatedly on "Jimmy Kimmel Live" over the years, a gag that started in the show's early days when guests weren't that great and Kimmel was trying to liven up the show by pretending they didn't have enough time for the movie star. (Kimmel later admitted that he did the gag simply to amuse a producer, because the show was so bad they would never have bumped any A-lister.)
Damon did eventually make an appearance on the show, albeit a short one, during a 2006 prime-time special. Kimmel spent so much time recapping all the times Damon had been bumped from the lineup that by the time the actor made it to his chair, they had run out of time. Damon went faux-ballistic.
The taunt then instigated Kimmel's then-girlfriend, comedian Sarah Silverman, to surprise the talk-show host with a 2008 birthday video called "F*@#ing Matt Damon," which went viral.
Kimmel retaliated shortly after with another jab at Damon, featuring Damon's buddy Ben Affleck in a video called "F*@#ing Ben Affleck," chock-full of celebrity cameos, including Brad Pitt, Robin Williams, Cameron Diaz and more.
But the feud (and Kimmel's lack of handsomeness) got him evicted from his Handsome Men's Club, which aired as a post-Oscars special in 2010. Matthew McConaughey declared that Kimmel wasn't handsome, and despite a rebuttal helped by Lenny Kravitz, Jimmy was out the door. And there was his good ol' frenemy, Matt Damon, to slam it behind him. Fortunately for Kimmel, it was only a nightmare, and Affleck returned to calm his nerves.
Kimmel then spoofed Damon's "The Bourne Ultimatum" by bumping the actor from his own film and having it star the host's late-night sidekick Guillermo instead.
Next, Kimmel cast several A-listers in his 2012 post-Oscars special segment "Movie: The Movie." Damon was included -- as a grape. And Kimmel proceeded to cut him out of the fake film.
And the battle rages on.
Now that Kimmel has made his debut in the 11:35 p.m. time slot and is doing battle with late-night heavyweights Jay Leno and David Letterman, it seems that Kimmel's team is angling for a ratings boost, hence the kidnapping.
On Thursday morning, ABC's "Good Morning America" teased to the showdown, which takes place Thursday night. When Damon was booked on the show earlier this month, Kimmel issued this statement: "God help Damon if he dare show his stupid face."
Damon's response: "Words hurt, Jimmy. But not as much as a tire iron. I'm coming for you."
Which brings us to this video, showing Kimmel tied up in a chair and gagged with a tie, with an all-too-smug Damon announcing his takeover.
The show airs tonight at 11:35 p.m. Will you tune in?
ALSO:
PHOTOS: Jimmy Kimmel's career in pictures
Jimmy Kimmel's move signals prime time for late-night shuffle
Kristen Bell talks babies, childbirth and sloth with Ellen DeGeneres

Follow Nardine on Twitter @NardineSaad and Google +. Follow Ministry of Gossip @LATcelebs.
---
Inside the business of entertainment
The Wide Shot brings you news, analysis and insights on everything from streaming wars to production — and what it all means for the future.
You may occasionally receive promotional content from the Los Angeles Times.