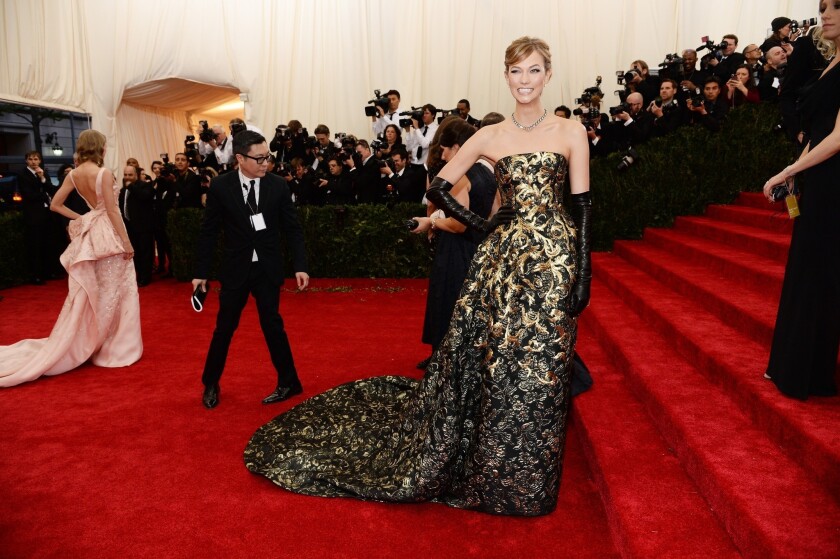 Karlie Kloss has temporarily traded in her lingerie for school supplies and is hitting the books -- at Harvard, no less.
The Victoria's Secret Angel fulfilled the fantasies of those hoping she was a smarty-pants by enrolling in a course at the elite Massachusetts learning institution this spring.
"I am very excited to be spending a few days here on the Harvard Campus in Cambridge for a class this week," the 21-year-old wrote on Instagram last week.
In the photo, the 6-foot-1 model poses with a statue of the university's founder: "I had to pay respect to Mr. John Harvard himself and rub his foot for good luck ;)" she wrote.
Academia never looked so good.
The model co-ed, who's been featured in campaigns for Donna Karan, Louis Vuitton, Lanvin and Coach, is taking a course titled "The Business of Media, Entertainment and Sports," according to Page Six. And going to the revered Ivy League school has always been part of the plan, the model said in a recent interview with the Daily Front Row Berlin.
Kloss provided visual proof of her scholarly endeavors at the Baker Library.
"Late night in the library," she said, photographing her study materials sprawled out on a large desk.
It's not the first time a Victoria's Secret Angel has graced the university's hallowed halls either. Former Angel Tyra Banks attended the Harvard Business School to better run her empire.
"Tyra did it," Kloss previously told the Daily Front Row. "She [attended classes at] Harvard Business School. I can do it, too."
It must have been a busy week for the Midwest native, who also attended the annual Met Gala in an Oscar de la Renta gown and prepared for the event with her pal, country crooner Taylor Swift.
And maybe her business course will help with her latest collaboration with eyewear house Warby Parker. Kloss designed a 1970s-inspired capsule collection for the brand and is featured in Vogue's May issue. Proceeds from sales are set to benefit the nonprofit Edible Schoolyard NYC.
"Very excited to be collaborating with @WarbyParker on a special collection to benefit @ESYNYC featured here in @VogueMagazine this month! More details to come in June, stay tuned....#karliexwarby," she wrote late last month.
Beauty, brains and philanthropy -- quite the winning combo.
---