A tearful but resilient Kathy Griffin vows to tackle President Trump head-on
Kathy Griffin speaks during a news conference at the Bloom Firm in Woodland Hills on Friday. (Video by Al Seib / Los Angeles Times)
Kathy Griffin has apologized repeatedly for the controversial photo that sparked the ire of the president and much of the country earlier this week, but she has no intention of backing down.
That was the takeaway of a Friday press conference during which the 56-year-old comedian expressed her regret for the Tyler Shields photo shoot that featured Griffin in a pussy-bow blouse and raising a bloodied imitation severed head bearing President Trump's visage.
"That apology absolutely stands," Griffin said at the packed morning news conference held at her attorney's office in Woodland Hills. "I apologized because it was the right thing to do and I meant it."
"Then I saw the tide turning," she continued, adding that she has received death threats. "I saw what was happening. It was a mob mentality pile-on."
Public outrage over the photo was immediate on Tuesday, and Griffin apologized soon after, but the damage had already been done.
President Trump and family speculated on Twitter about Griffin's mental health, saying that she should be ashamed and calling for CNN to fire her from her New Year's Eve hosting gig, which the cable news network did.
It was the Trump family's involvement that outraged Griffin's attorney, Lisa Bloom, who sought to focus the news conference on what she said was the inappropriateness of the president's behavior.
Bloom listed several artists who had used violent imagery against Trump or former presidents, including Municipal Waste, Marilyn Manson and GWAR, noting that none of them had ever apologized.
"Unlike these male artists, Kathy has apologized," Bloom said. "Unlike these male artists, Kathy has endured the most powerful man in America, and his family, using their power to target her and her employers after she apologized."
Here's what a defiant Kathy Griffin said at her Trump news conference. (Spoiler: She's not backing down) »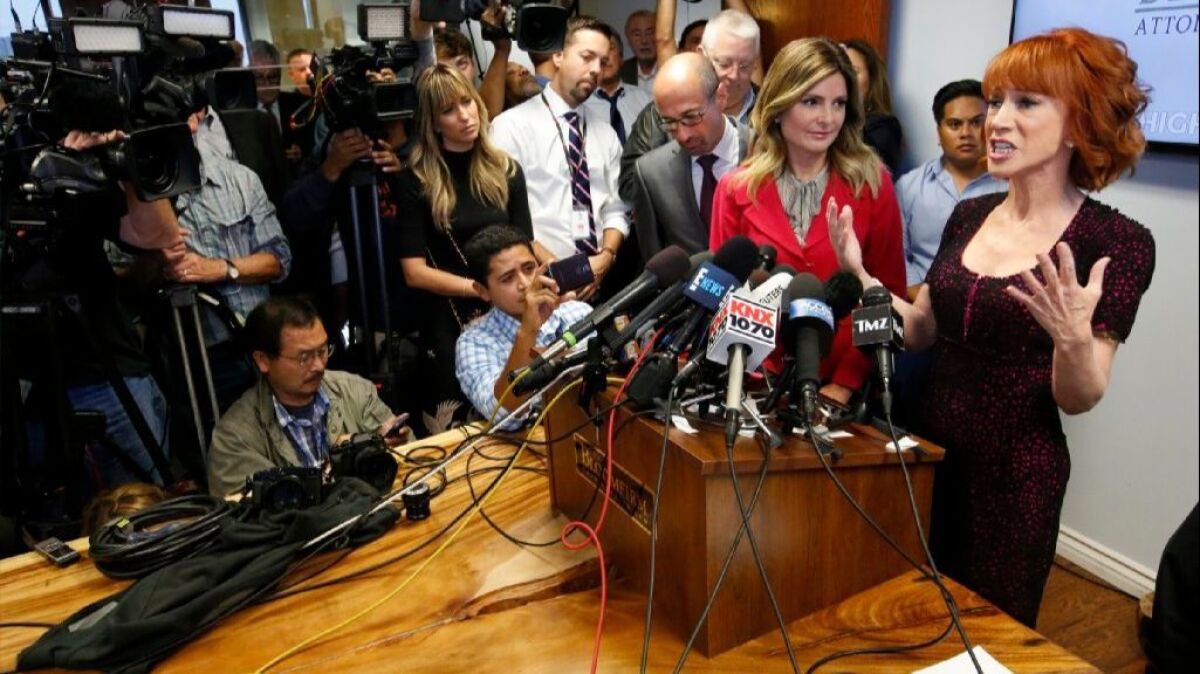 "What's happening to me has never happened in this great country," Griffin said. "A sitting president of the U.S. is personally trying to ruin my life forever."
The photo itself, featuring the president's ketchup-bloodied likeness, Griffin explained, was inspired by Trump's comments about Megyn Kelly during the presidential campaign. "You could see there was blood coming out of her eyes, blood coming out of her wherever," Trump said back then.
Griffin said she was well aware of sexism, having worked her entire life in a male-dominated industry.
"I'm not afraid of Donald Trump," she said. "He's a bully. I've dealt with older white guys trying to keep me down my whole life, my whole career."
But Griffin knew immediately after the photo had gone live that she had made a grave miscalculation.
"I don't know if I'm going to be arrested today. I don't know," Griffin said, referring to the Secret Service's investigation of the photo.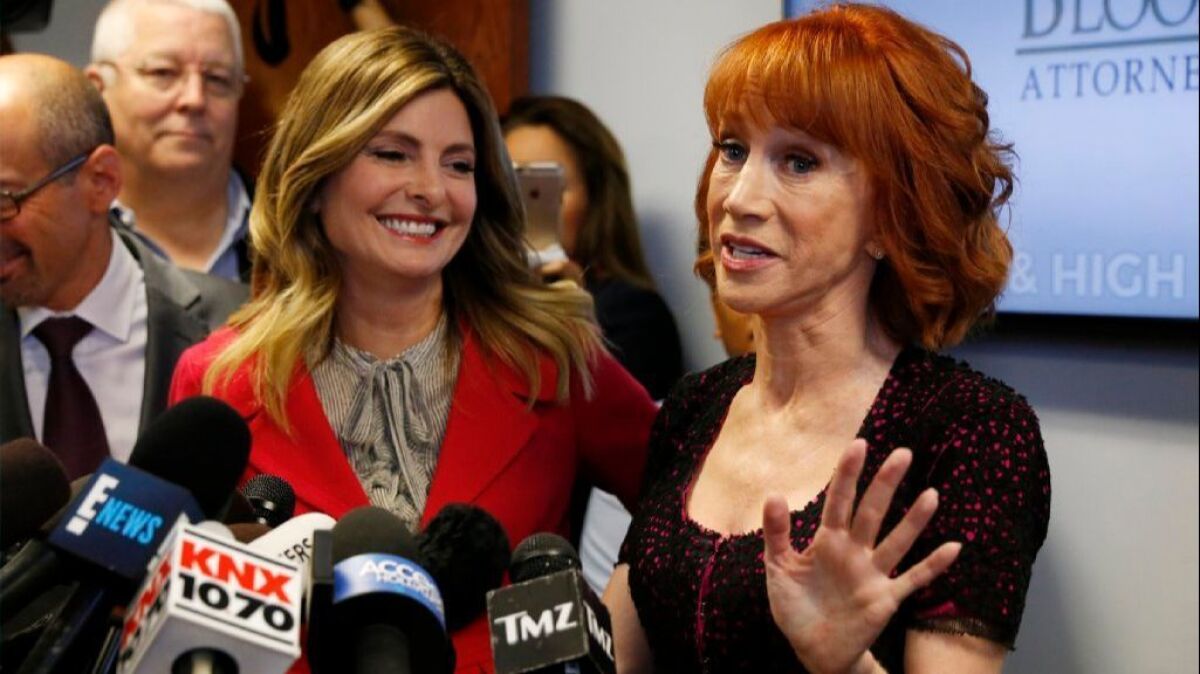 Despite her fear and the loss of an endorsement and several bookings, Griffin promised to redouble her efforts to lampoon the president, because her job as a comedian demanded it.
"I'm going to make fun of him more now. More," Griffin emphasized, just as she had done with past presidents.
"Remember the Monica dress days?" Griffin asked in a nod to the jokes she made during the Clinton administration. "Those were the days. You could make dress jokes all day long and nobody would try to kill you."
The comedian vacillated between somber and frenetic throughout the press conference, making jokes to cover for nerves and often dissolving into tears.
When questioned about CNN co-host and friend Anderson Cooper calling the photo "disgusting and completely inappropriate," Griffin fell silent by her tears, eventually murmuring, "That hurt. That's all."
It's unclear whether Griffin's bravado was all for show or if she's gearing up for a full-fledged fight with Trump and his backers. She admitted, "I don't think I'll have a career after this. He broke me." Then again, she also threw down the gauntlet earlier in the morning: "He picked the wrong redhead."
See the most-read stories in Entertainment this hour »
ALSO
Kathy Griffin talks about her run-ins with celebrities from A to Z
Venues cancel Kathy Griffin appearances in wake of Trump photo dust-up
Perspective: Kathy Griffin proves there's still such a thing as 'too far'
---
Get our L.A. Goes Out newsletter, with the week's best events, to help you explore and experience our city.
You may occasionally receive promotional content from the Los Angeles Times.