Lauryn Hill sentenced to 3 months in prison in tax evasion case
Vanilla Ice, real name Robert Van Winkle, was arrested in February 2014 in Florida on suspicion of felony burglary and grand theft. The rapper-turned-DIY Network personality, who allegedly took items from an abandoned home near one he was renovating for his TV show, cut a plea deal for community service, restitution and a clean record if he behaves for nine months.
(Palm Beach County Sheriff's Office / Associated Press)
Emile Hirsch was arrested Jan. 25, 2015, in Park City, Utah, on suspicion of assault but didn't pose for booking photos until a March 16 court appearance. He allegedly put Paramount Digital Entertainment/Insurge Pictures VP Daniele Bernfeld in a chokehold at Sundance.
(Handout / Getty Images)
Dustin Diamond, who played Screech on "Saved by the Bell," was arrested Dec. 26, 2014, in Wisconsin after a bar fight late Christmas night. A police report said he admitted accidentally stabbing a man who was harassing his fiancee.
(Ozaukee County Sheriff / Associated Press)
Former Los Angeles news anchor Bree Walker was arrested by Anaheim police Feb. 19, 2014, after authorities said she appeared drunk and refused to take a Breathalyzer test.
(Handout / Getty Images)
David Cassidy was arrested on suspicion of felony driving while intoxicated on Aug. 21, 2013, in Schodack, N.Y. The actor was released on $2,500 bail.
(Handout / Getty Images)
Dina Lohan was arrested Sept. 12, 2013, in New York on suspicion of driving while intoxicated after cops pulled her over for driving 77 mph in a 55 zone. She blew a 0.20 on a breath test, cops said, more than twice New York's legal limit of 0.08.
(Handout / Getty Images)
This notorious mug shot of "That '70s Show" actress Lisa Robin Kelly is from March 2012, when she was arrested on suspicion of spousal abuse in North Carolina. Kelly was arrested again in Burbank in June 2013 on suspicion of DUI.
(Handout / Getty Images)
This Clark County Detention Center booking photo shows environmental activist Erin Brockovich, 52, arrested June 7, 2013, on suspicion of boating while intoxicated at Lake Mead near Las Vegas. Brockovich was released from the Clark County Detention Center after posting $1,000 bail.
(HOPD / AP)
Oscar-winning actress Reese Witherspoon became agitated after her husband, CAA agent Jim Toth, was arrested on suspicion of driving under the influence in Atlanta on April 19, 2013, officials said. Witherspoon was subsequently arrested for disorderly conduct.
(Georgia Department of Corrections / AFP)
Stephen Baldwin was arrested Dec. 6, 2012, and arraigned on charges that he failed to file state income taxes for three years, 2008, 2009 and 2010.
(Rockland County District Attorney's Office / Associated Press)
The rapper and reality TV personality was arrested Oct. 18, 2012. According to a police report obtained by the Associated Press, he is accused of throwing his fiancee to the floor twice and wielding two knives while chasing and threatening to kill her 17-year-old son.
(Las Vegas Police Department / Associated Press)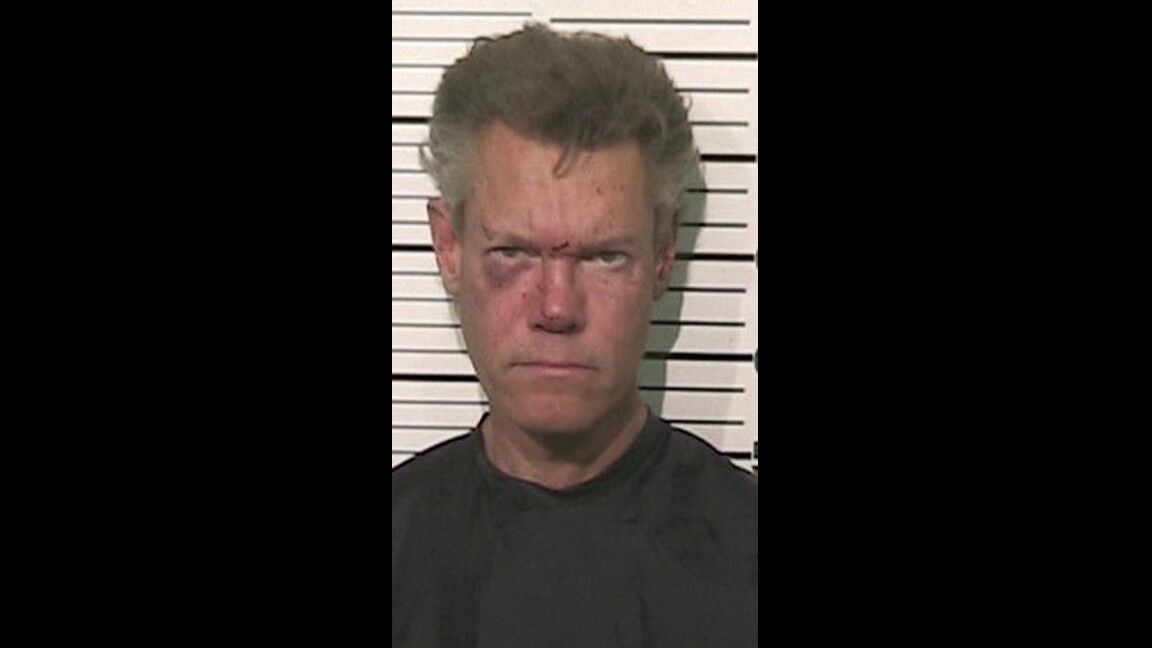 Randy Travis is bruised up in a mug shot taken after he was arrested Aug. 8, 2012, on suspicion of DWI and a third-degree felony count of retaliation. He was naked when he was arrested.
(Grayson County Sheriff's Office / Associated Press)
Amanda Bynes was arrested April 6, 2012, on suspicion of DUI after allegedly clipping the corner of a sheriff's cruiser in West Hollywood. She later pleaded not guilty, and tweeted a request to President Obama asking that the officer who arrested her be fired.
(Los Angeles County Sheriff's Dept. / Getty Images)
Randy Travis was arrested Feb. 6, 2012, on a charge of public intoxication. He was parked at a Baptist church, allegedly smelling of alcohol with an open bottle of wine in the front seat of his Trans Am.
(Denton County Sheriff's Dept. / Associated Press)
Nicolas Cage was arrested April 16, 2011, in New Orleans on charges of domestic abuse battery and disturbing the peace. He was allegedly drunk and fighting with his wife about whether the French Quarter residence they were standing in front of was their rental home.
(Orleans Parish Sheriff's Office / Associated Press)
Flavor Flav -- real name William Jonathan Drayton Jr. -- was arrested in Las Vegas in May 2011 after a routine traffic stop resulted in police officers finding four warrants out for his arrest. The Public Enemy alum had four misdemeanor traffic warrants.
(Las Vegas Metropolitan Police / Getty Images)
David Cassidy's car was stopped Nov. 3, 2010, on the Florida Turnpike for weaving and nearly causing an accident, police said. Cassidy allegedly failed a field sobriety test and later showed a blood alcohol level around 0.14. He pleaded no contest to DUI and got probation.
(Florida Highway Patrol / Associated Press)
MIAMI - NOVEMBER 08: In this handout photo provided by the Miami-Dade Corrections and Rehabilitation Department, Lawrence Former NFL great Lawrence Taylor has been indicted on two felony counts and three misdemeanor charges related to the alleged rape of a 16-year-old allegedly hired as a prostitute, the Rockland County, N.Y., district attorney's office said.
(Handout / Getty Images)
O.J. Simpson's mugshot from his arrest in Los Angeles in 1994.
(Bob Carey / Los Angeles Times)
Lauryn Hill was sentenced to three months in federal prison Monday for failing to pay taxes on an estimated $1.8 million in income.
U.S. District Court Judge Madeline Cox Arleo handed down the sentence in Newark, N.J., ruling that the Grammy-winning singer would have to complete an additional three months under house arrest followed by nine months of supervised release and ordering her to pay a $60,000 fine, according to TMZ, the Associated Press and the Wall Street Journal.
The sentence will begin the July 8, though it is unclear where she'll serve her time, TMZ said.
Hill, 37, pleaded guilty last summer to three misdemeanor counts of tax evasion, admitting that she intentionally failed to file tax returns in 2005, 2006 and 2007. She faced a potential prison sentence of one year for each of the three counts, but her attorney sought probation in the case.
Though Hill pleaded guilty for the time period between 2005 to 2007 when she is said to have earned about $1.8 million, her sentence also took into account additional income and tax losses for 2008 and 2009 and an outstanding tax liability to the state of New Jersey, for a total income of about $2.3 million and a total tax loss of about $1,006,517, the Wall Street Journal reported.
The South Orange, N.J., native "fully paid" her debt by making a last-minute payment to the IRS on Sunday, her attorney Nathan Hochman said before the hearing. He said that the restitution, federal and state taxes and penalties brought the sum to about $970,000.
In the hearing, Hill addressed the judge and likened her situation to slavery.
"I was put into a system I didn't know the nature of.... I'm a child of former slaves. I got into an economic paradigm and had that imposed on me," she said. "I sold 50 million units ... now I'm up here paying a tax debt. If that's not likened to slavery, I don't know what is."
The mother of six said she had always planned to pay the taxes but couldn't because she had left the music business and withdrew from society at the time. Her last album, "The Miseducation of Lauryn Hill," was released in 1998 and earned her several Grammy Awards.
"I needed to be able to earn so I could pay my taxes, without compromising the health and welfare of my children, and I was being denied that," Hill said in court. She had five of her children with Rohan Marley, the son of reggae singer Bob Marley.
After the sentencing, Hochman released this statement (via WSJ):
"The Court today viewed the totality of Ms. Hill's circumstances — her incredible career, her decades of charitable works, her responsibilities to her six children, her full acceptance of responsibility for her actions, and her voluntary and full payment prior to sentencing of over $970,000 of back taxes owed — in rejecting the government's request for a 36 month prison sentence and sentencing Ms. Hill to 3 months of prison and 1 year of probation, 3 months of which to be spent in house arrest."
Last month, her sentencing was delayed by two weeks to give her a final chance to pay the remainder of the money she owed, at least $504,000 in federal back taxes. Soon after, Hill announced that she had inked a record deal with Sony. She released a new track last Friday called "Neurotic Society," which was posted on iTunes, but not without clarifying why she did so via her Tumblr page.
"Here is a link to a piece that I was 'required' to release immediately, by virtue of the impending legal deadline," she wrote. "I love being able to reach people directly, but in an ideal scenario, I would not have to rush the release of new music… but the message is still there. In light of Wednesday's tragic loss [of former label mate Chris Kelly], I am even more pressed to YELL this to a multitude that may not understand the cost of allowing today's unhealthy paradigms to remain unchecked!"
ALSO:
Justin Bieber attacked by a fan in Dubai
Beyoncé discussed Cuba trip on 'GMA,' says she wants more kids
Jennifer Lopez set: Gunshots fired near music video filming in Florida
Follow Ministry of Gossip @LATcelebs.
---
Get our L.A. Goes Out newsletter, with the week's best events, to help you explore and experience our city.
You may occasionally receive promotional content from the Los Angeles Times.