Miley Cyrus, now 21, performs with fabulous singing space kitten
She was born Destiny Hope Cyrus. Destiny Hope had a permanent smile on her face, so her dad started calling her Smiley Miley. Well, when Smiley Miley got older, that name got a little embarrassing, so it was shortened to just Miley.
We take a look at Cyrus' career highlights or lowlights throughout the years.
(Matt Sayles / AP)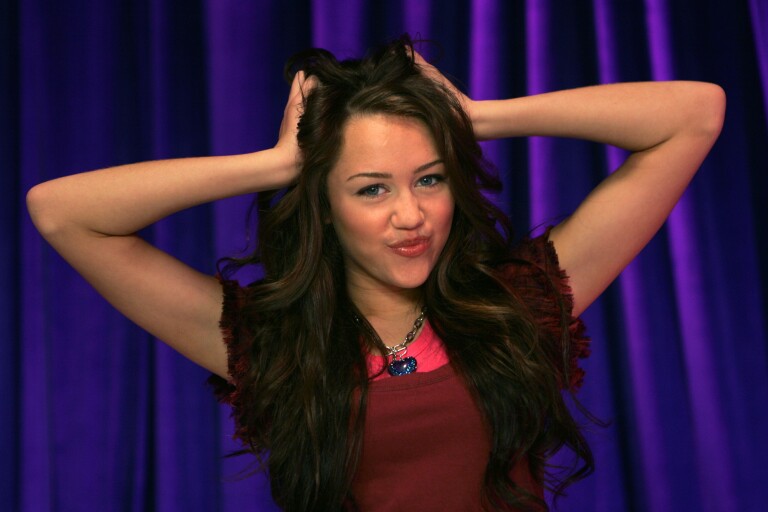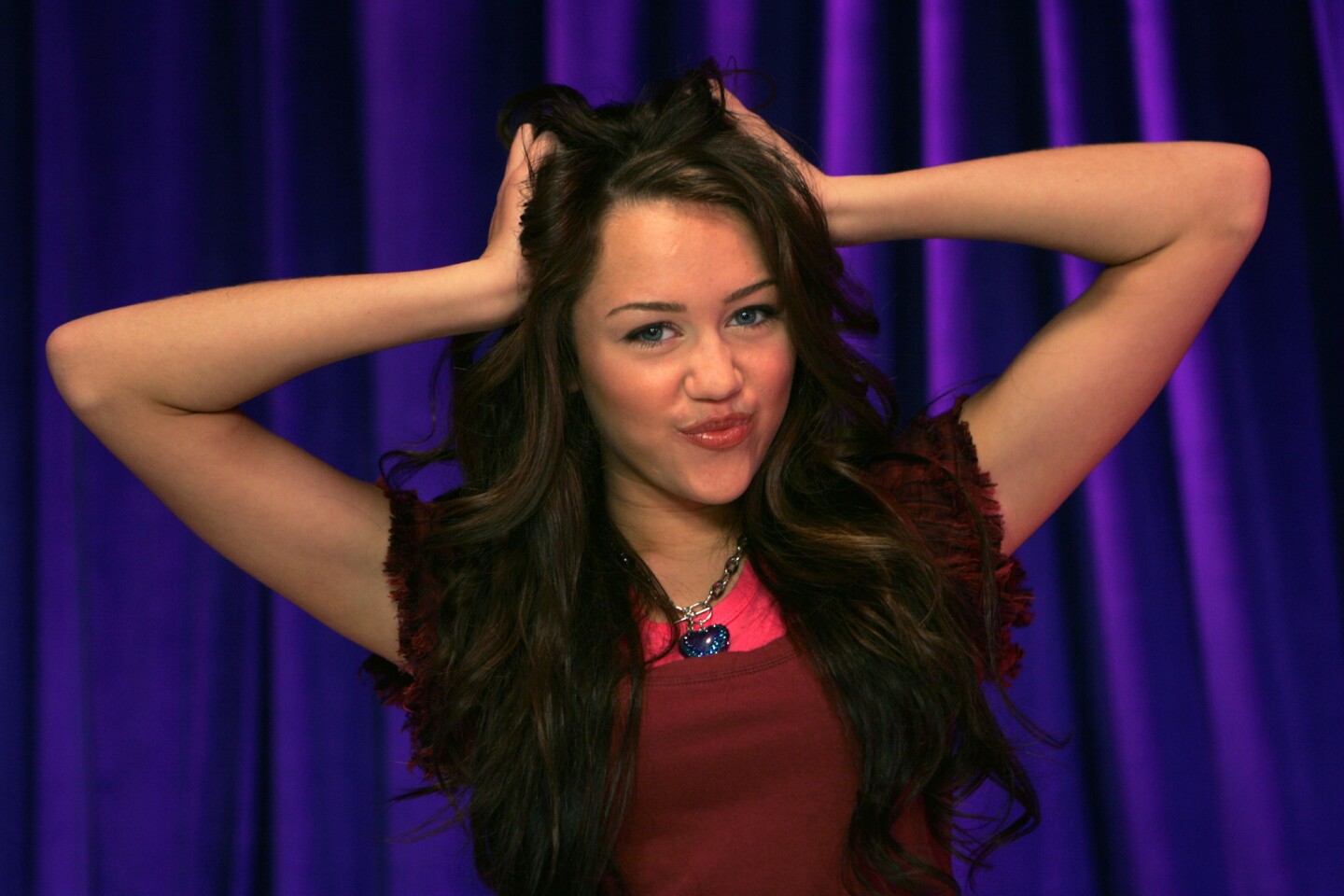 Miley's first TV role took place on her father's medical drama "Doc" in 2003. That same year, she scored a part in Tim Burton's drama fantasy "Big Fish."
(Genaro Molina / Los Angeles Times)
When Miley first auditioned for "Hannah Montana" in 2006, she was told she was too young. She persisted and eventually won the role. During her audition, she mentioned that her real-life father could play her father on the show. That would be country singer Billy Ray Cyrus (pictured), the one with the "Achy Breaky Heart." He auditioned, and he must have been convincing as Miley's dad, because he got the part.
(Joel Warren / Disney Channel)
Miley played herself and her alter ego, Hannah Montana, in her 2007 tour, "Best of Both Worlds." Hard-core fans paid scalpers more than $1,000 for tickets to the show.
(Jeff Christensen / AP)
On top of the huge success of "Hannah Montana," Miley went on to a music career. First she was featured on the "Hannah Montana" soundtrack in 2006. The following year, a double album came out called "Hannah Montana 2: Meet Miley Cyrus." Disc 1 is a second "Hannah Montana" soundtrack; Disc 2 features Miley as herself.
(Lori Shepler / Los Angeles Times)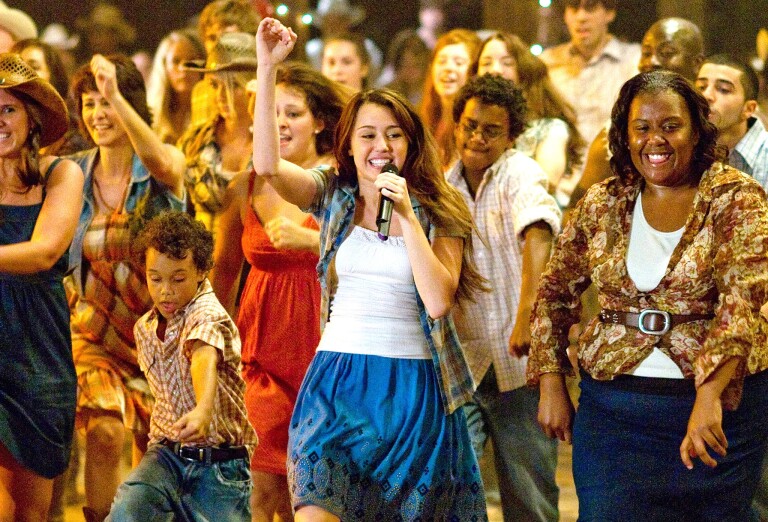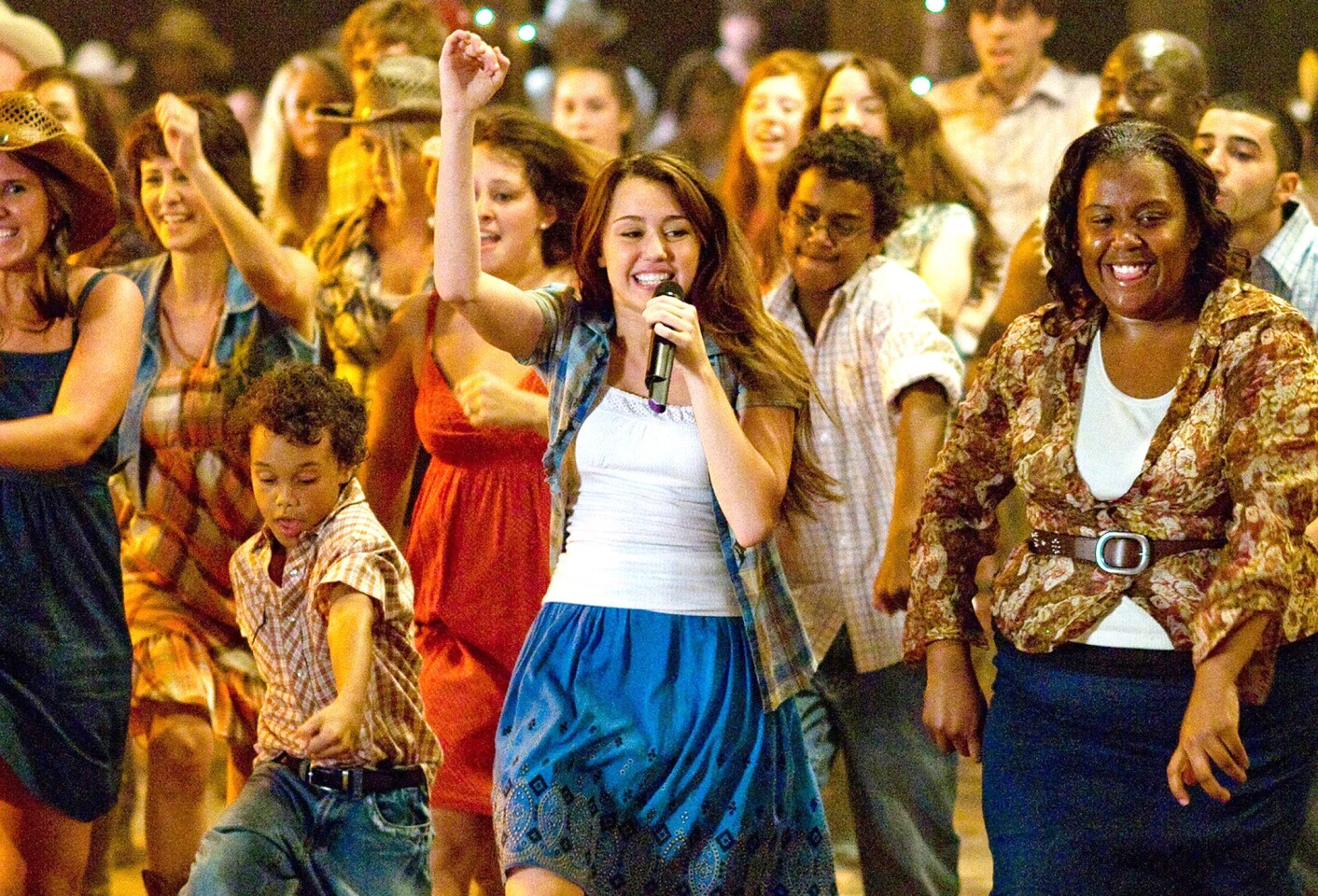 "Hannah Montana: The Movie" was released in 2009. Cyrus went back to her Tennessee roots, playing a teen pop star striving to lead a normal life. The flick also stars Cyrus' on screen best friend Emily Osment (pictured).
(Disney Channel)
Photographer of the stars Annie Leibovitz photographed Cyrus for a magazine spread in the June 2008 issue of Vanity Fair. In one photo, the 15-year-old reclines across her father's lap, her stomach exposed. In another photo, Cyrus appears topless, clutching a creased sheet to her chest. Disney blamed Vanity Fair and Leibovitz for manipulating Cyrus into taking what it deemed unsuitable photos.
(Kevork Djansezian / AP Photo)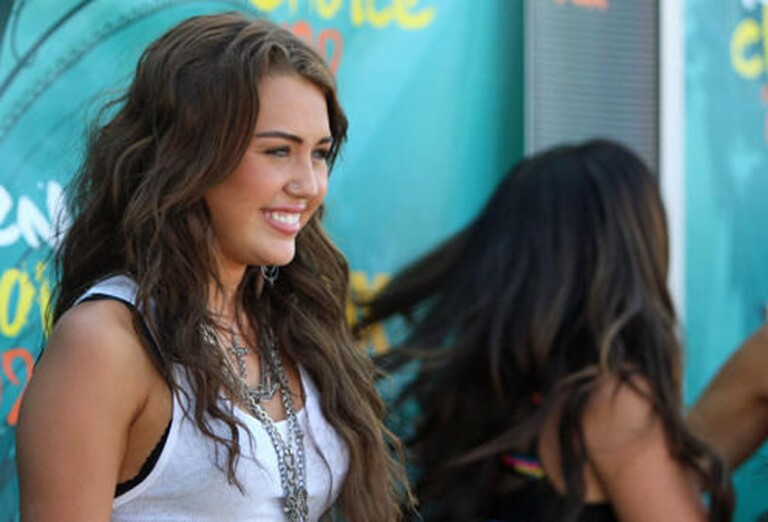 In the next dent sinking Cyrus deeper into the spiral of controversy, the 16-year-old raised eyebrows with a bra-exposed-baring and mini-short-wearing
suggestive performance
of wildly popular single "Party in the USA" at the 2009 Teen Choice Awards. Atop an ice cream pushcart, Cyrus straddled a pole, leading critics to see parallels between Cyrus' actions and those of a stripper.
(Frazer Harrison / Getty Images)
Leaving Hannah Montana behind, Cyrus played a troubled teenager in the coming-of-age romantic film "The Last Song" opposite Aussie rookie Liam Hemsworth as her love interest. The pair's chemistry transferred off-screen and the two began dating on set. Cyrus was previously linked to model Justin Gaston and briefly dated Nick Jonas before Hemsworth, who would later star in "The Hunger Games" saga.
(Sam Emerson / Touchstone Pictures)
Days after Cyrus' 18th birthday, she was found
smoking salvia from a bong,
with evidence leaked in a two-and-a-half minute
video
heard around the world. "I'm disappointed in myself for disappointing my fans," Cyrus told Marie Claire magazine months following the incident. "For me it was a bad decision, because of my fans and because of what I stand for."
(Jay L. Clendenin / Los Angeles Times)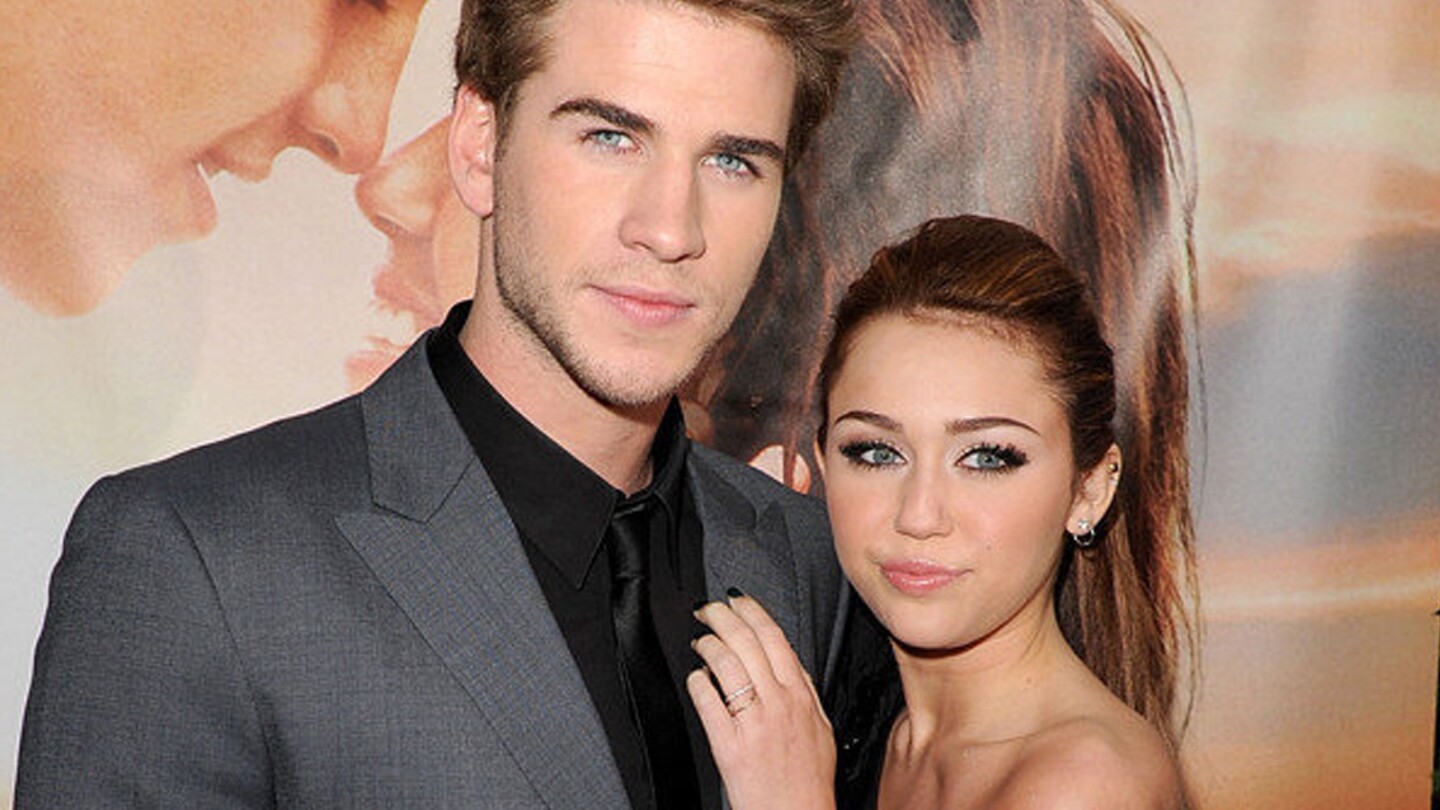 "I feel like my dreams are coming true," Cyrus, 19, shared on Twitter, soon after she revealed her engagement to longtime beau Liam Hemsworth, 22. The "Hunger Games" actor popped the question with a Neil Lane 3.5-carat diamond sparkler set in gold. "I'm so happy to be engaged and look forward to a life of happiness with Liam," Cyrus told People magazine.
(Kevin Winter / Getty Images)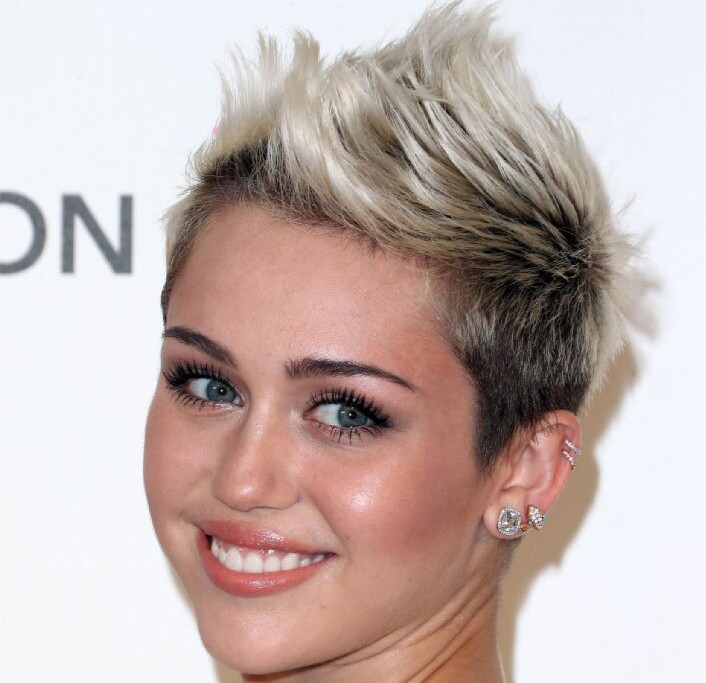 In a very bold -- and blond! -- move, Cyrus chopped off her long chestnut locks for a pixie-cut. The triple threat documented the process on Twitter as stylist-to-the-stars Chris McMillan worked his scissors and style. "LOVE my hair, feel so happy, pretty, and free," Cyrus tweeted after the cut. It was a dream of Cyrus' to cut her hair like 1960s model Twiggy. "One day I'm gonna cut my hair like [Twiggy's]. I know I am. I will one day," Cyrus gushed to "Good Morning America" three years prior.
(Frederick M. Brown / Getty Images)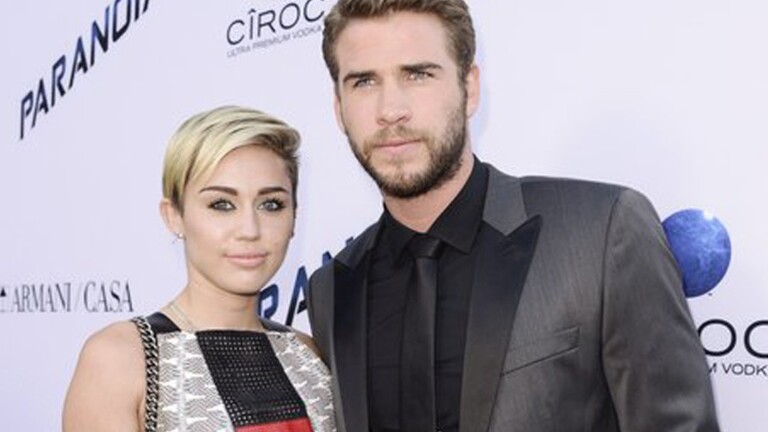 Breakup rumors swirled about the pair in late 2012, early 2013 when shutterbugs caught Cyrus without her engagement ring. Though Cyrus put them to rest when she showed up on her fiance's arm at the Los Angeles premiere of thriller film "Paranoia," starring her beau Liam Hemsworth.
(Dan Steinberg / Invision / AP )
Cyrus ranked No. 1 on Maxim's top 100 list in 2013, beating the Disney likes of Selena Gomez, Vanessa Hudgens and Ashley Tisdale. The men's magazine declared Cyrus "the most beautiful woman in the universe" -- quite the upgrade from the No. 68 spot the year before. She babbled to the glossy: "It feels amazing to be the No. 1 especially because it was voted on by the fans. I have the best fans in the world!"
(Michael Kovac / Getty Images for City of Hope)
For her latest album titled "Bangerz," Cyrus led with the dance anthem "We Can't Stop." The video, rife with oral sex simulations, blow up dolls and a whole lot of her tongue, was heavily edited for the UK audience. And the lyrics also caused a stir. Cyrus sings "Dancing With Miley," which comes out molly, like the party drug ecstasy. Cyrus defended the line to Rolling Stone but then told the UK's Daily Mail, "If you're aged ten [the lyric is] Miley, if you know what I'm talking about then you know."
(RCA)
Cyrus, along with R&B singer-songwriter Robin Thicke, gave a raunchy, lascivious, provocative, you name it, performance designed to fuel the media at MTV's most recent Video Music Awards.
(Neilson Barnard / Getty Images for MTV / Courtesy)
Topping a show that just couldn't be capped, Miley dropped more jaws when she nakedly straddled a giant ball in her latest music video "Wrecking Ball," directed by fashion photographer Terry Richardson. The editor-in-chief of Vogue, Anna Wintour, reportedly planned to feature Cyrus in the magazine's December issue, but gave her the boot after the frenzy.
(Evan Agostini / Invision/ AP)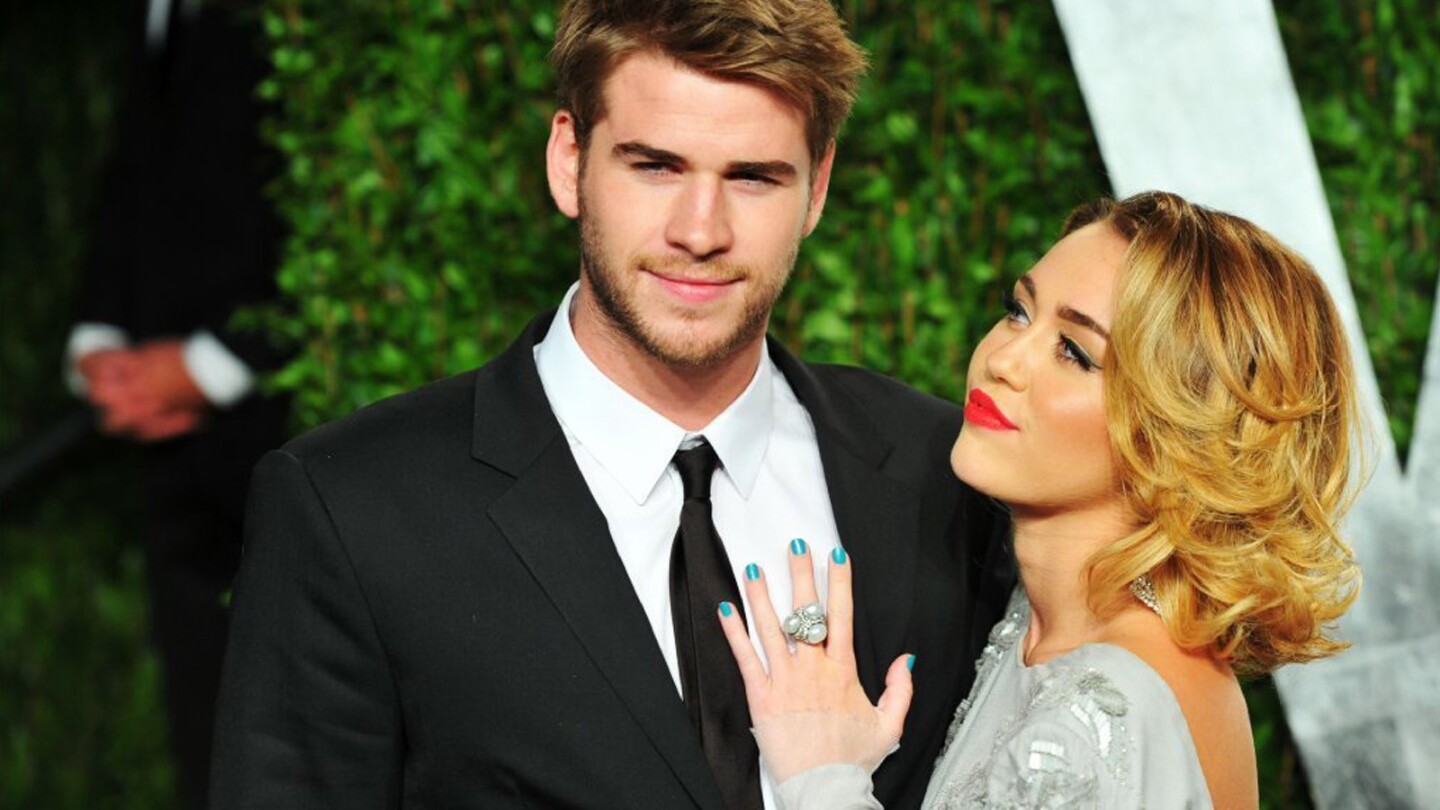 After unfollowing Liam Hemsworth on Twitter, Cyrus sparked some buzz about her relationship status. A few days later, it was announced Cyrus, 20, and Hemsworth, 23, officially ended their engagement. The couple have experienced breakups with each other in the past.
(Chris Pizzello / Invision / AP)
The saga began when Cyrus told Rolling Stone her "Wrecking Ball" video was inspired by Irish singer-songwriter Sinead O'Connor. O'Connor wasn't pleased and wrote an open letter on her website advising Cyrus to stop "pimping" herself and start relying on her talent. Cyrus shot back on Twitter, comparing O'Connor to Amanda Bynes (regarding mental issues). That's when O'Connor issued another letter to Cyrus, declaring Cyrus will suffer from mental illness one day. Finally, O'Connor accused Cyrus of cyber-bullying and demanded an apology to all sufferers of mental illness.
(Robyn Beck / AFP / Getty Images (left); Los Angeles Times)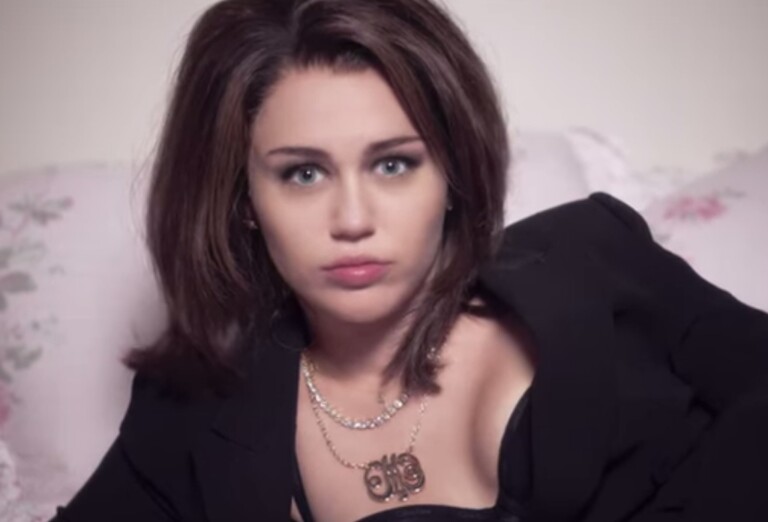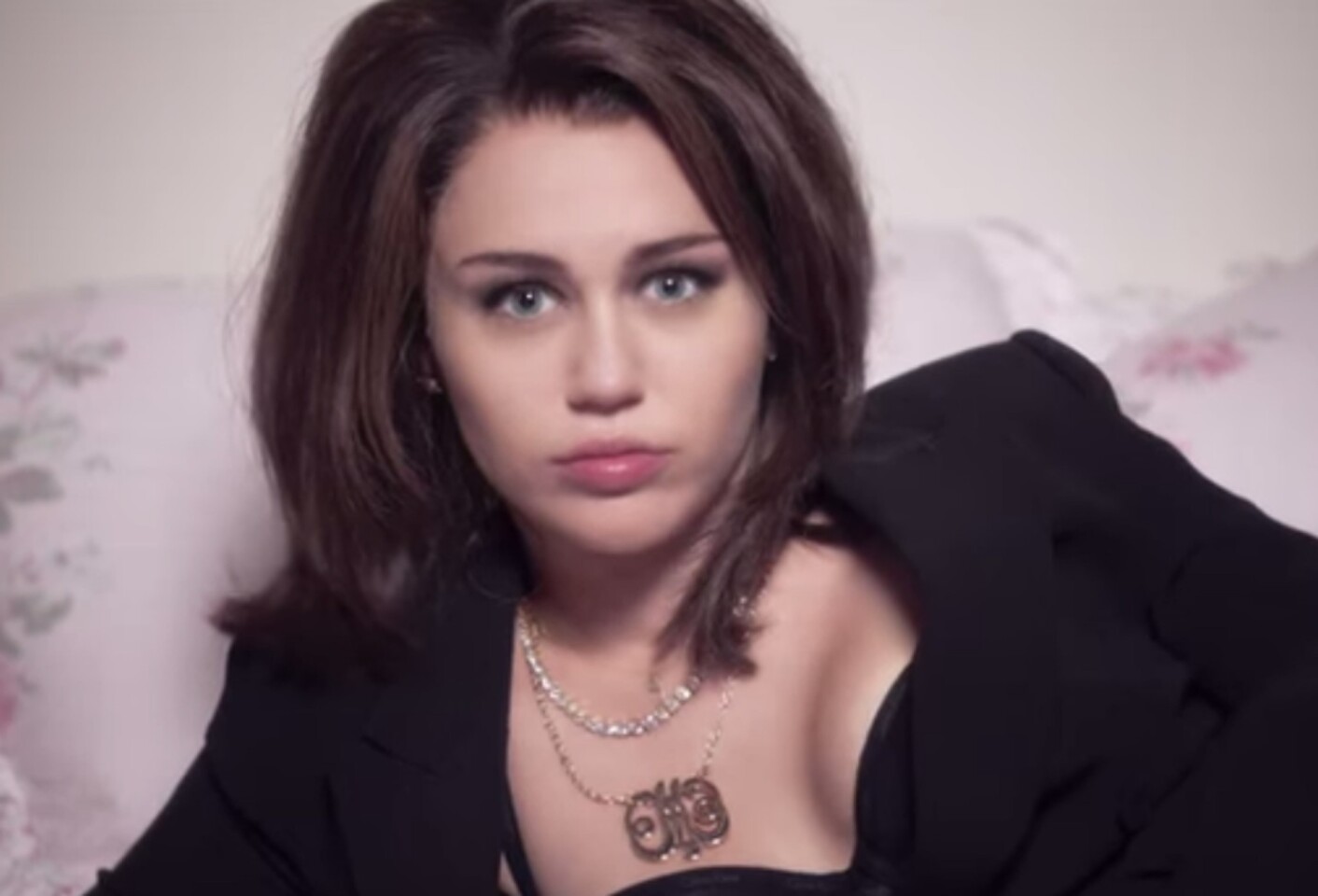 Amid the Sinead O'Connor debacle and weeks after her VMA performance, it was as if Cyrus' name didn't disappear from online headlines. So she couldn't have hosted "Saturday Night Live" at a better time. With a performance that could have been mocked for days, Cyrus wasn't short of a strong delivery. She ridiculed the GOP and her "We Can't Stop" video in a performance titled "We Did Stop (the Government)." In the sketch, she plays a slutty Michele Bachmann paired with a flamboyant John Boehner played by Taran Killam amid the crisis of the government shutdown. Cyrus also portrayed a deep-voiced Scarlett Johansson in an act parodying the film adaptation of "Fifty Shades of Grey," opposite Taran Killam, who played a pervy Christoph Waltz.
("Saturday Night Live")
In an effort to promote her single "We Can't Stop" off her album "Bangerz" - not that it needed any promotion after her performance heard 'round the world at the VMAs - Miley appeared on Jimmy Fallon's late-night talk show. She collaborated with Fallon and his house band, the Roots, for an a cappella rendition of "We Can't Stop." The Brady Bunch-esque clip went viral, racking up more than 2 million views within 24 hours.
("Late Night With Jimmy Fallon")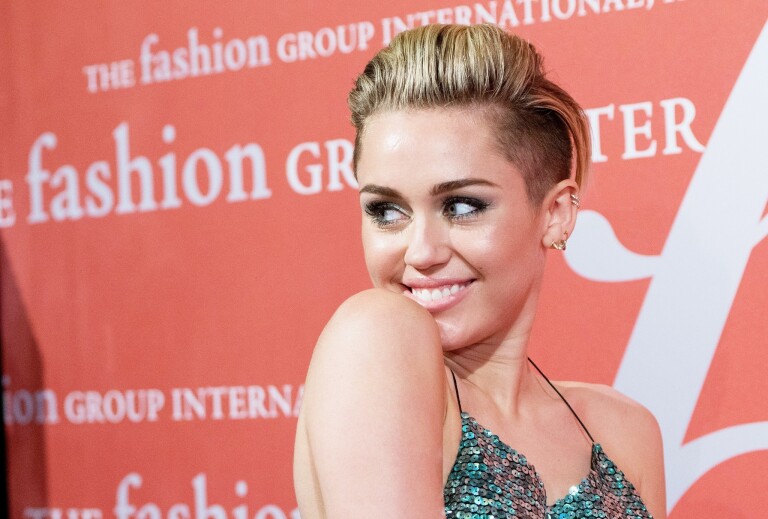 It was as if Miley Cyrus was a new woman when she arrived at the 30th Annual Night of Stars red carpet event. She shocked once more, but this time in a positive way. Bringing the glam factor and keeping her tongue in check, Miley wore a Marc Jacobs mermaid-style gown swathed in sequins. Her hair was slicked back, her makeup done to match the backless gown.
(Dave Kotinsky / Getty Images)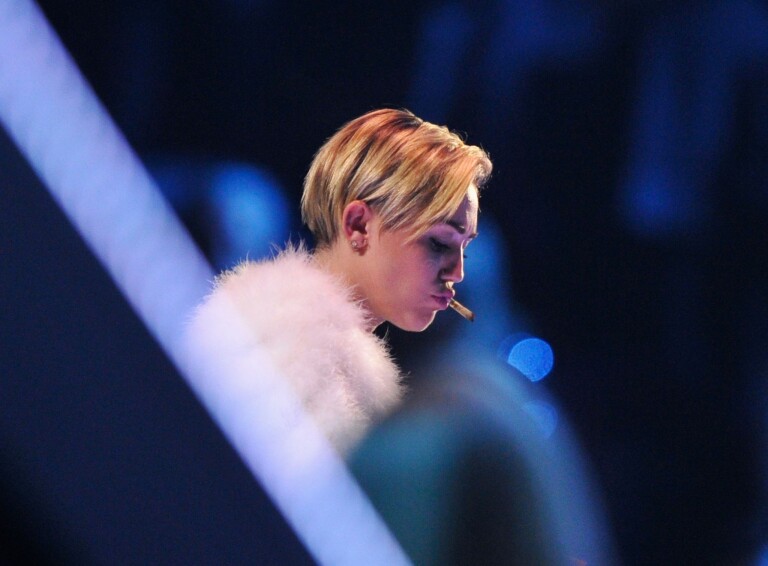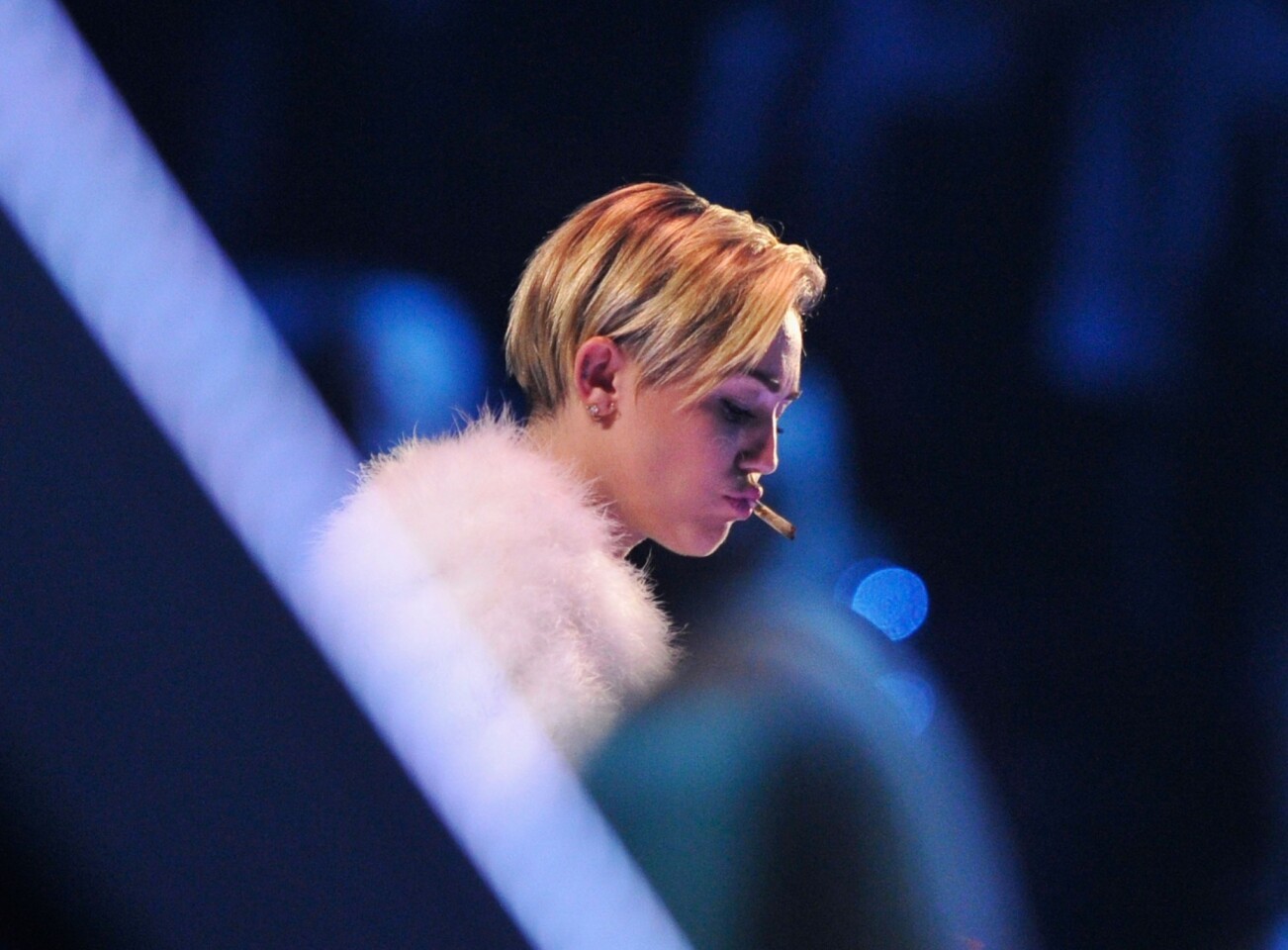 Miley Cyrus proved she and her provocative antics were back at the MTV European Music Awards in Amsterdam. After another twerk-tastic performance, Miley won the highest award of the night for best music video for "Wrecking Ball." She took the stage and lit up what appeared to be a joint. Parents were up in arms once more.
(Gareth Cattermole / Getty Images for MTV)
At the 2013 American Music Awards, Miley performed another rendition of the power ballad "Wrecking Ball" — this time with the help of a flying, lip-synching space kitten. Her tiny two-piece decorated with kitten faces jibed perfectly with the theme. Miley left viewers scratching their heads, and sparking a heap of buzz.
(Kevin Winter / Getty Images)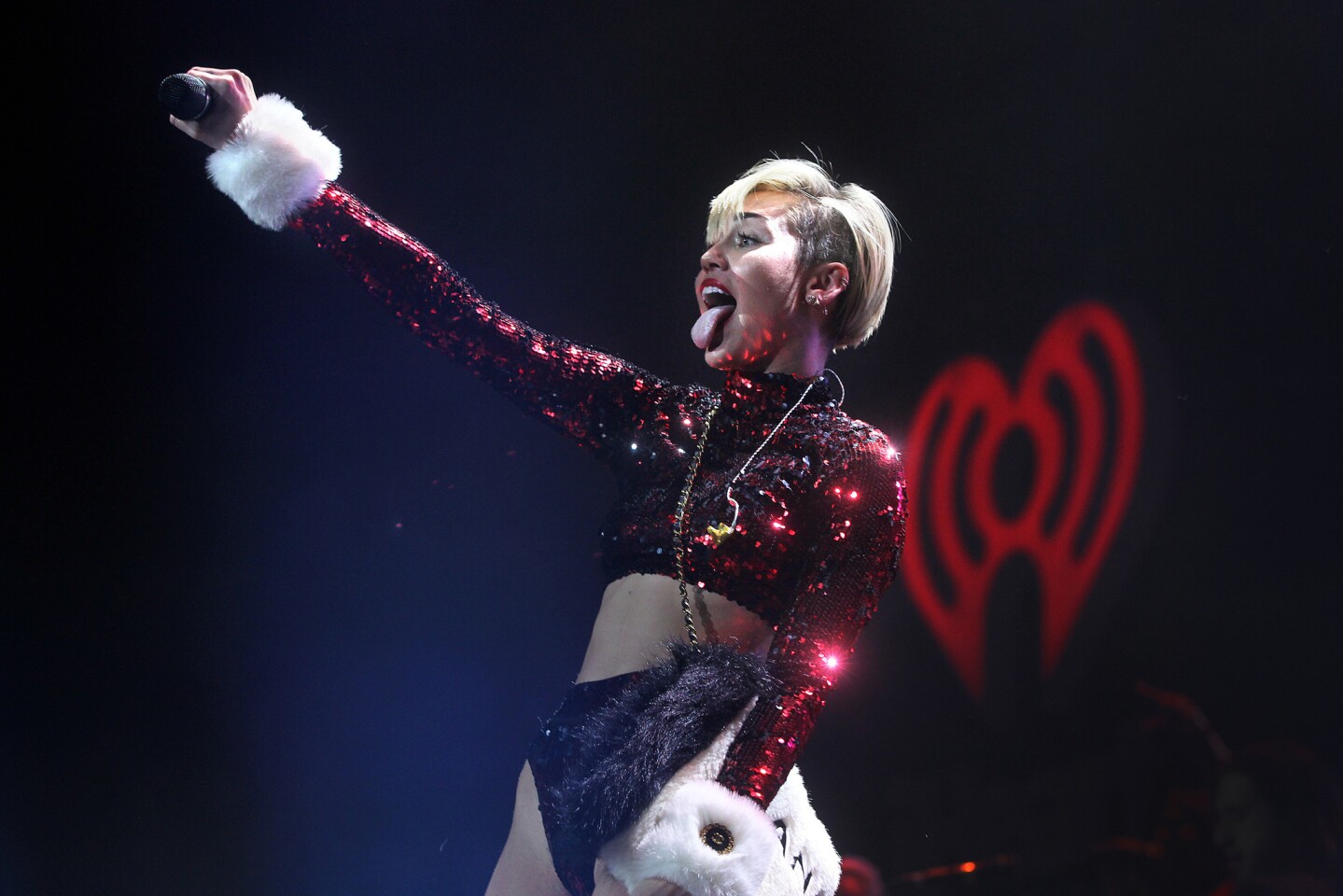 Miley landed on Santa's naughty list the night of her Jingle Ball performance. Well, actually she landed right on Santa when she twerked for him. The tongue-loving musician also managed to lick the Christmas tree. With her powerful vocal chords, Miley rocked the stage with takes on "Party in the U.S.A.," Lana Del Rey's "Summertime Sadness," and "Wrecking Ball."
(Rick Loomis / Los Angeles Times)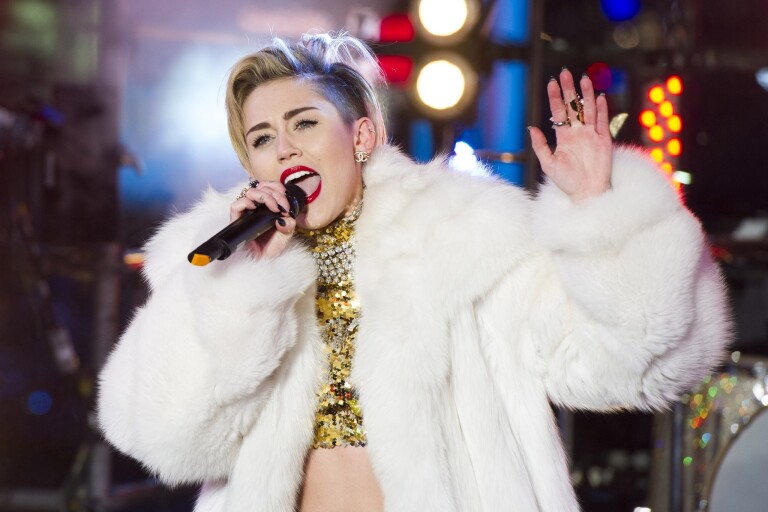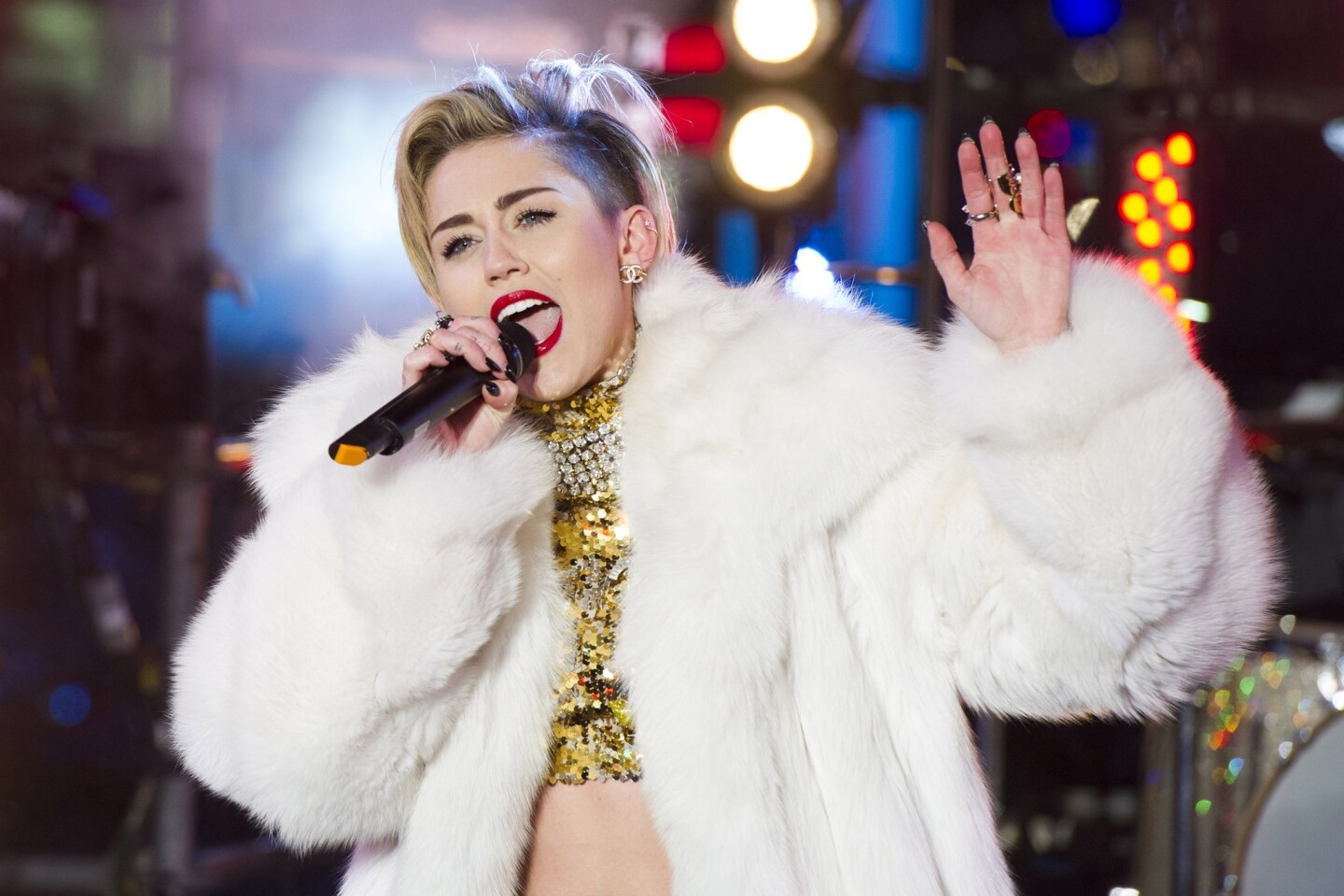 Miley rang in the new year with a performance in Times Square for "Dick Clark's New Year's Rockin' Eve." Feeling a tad under the weather before the show, the pop provocateur managed to put her cold behind her and delivered a performance with punch. And, no, she did not ride into Times Square on a wrecking ball, as many had joked. Though, Jenny McCarthy was spotted on the sidelines playfully licking a hammer a la Miley.
(Charles Sykes / Invision/Associated Press)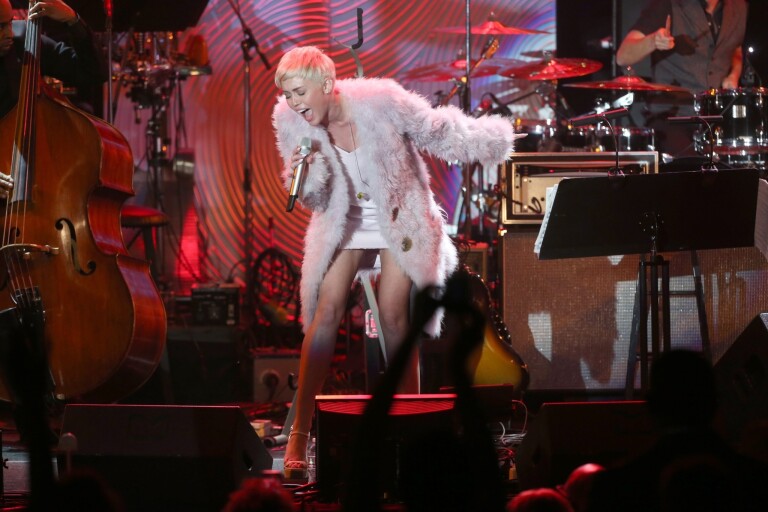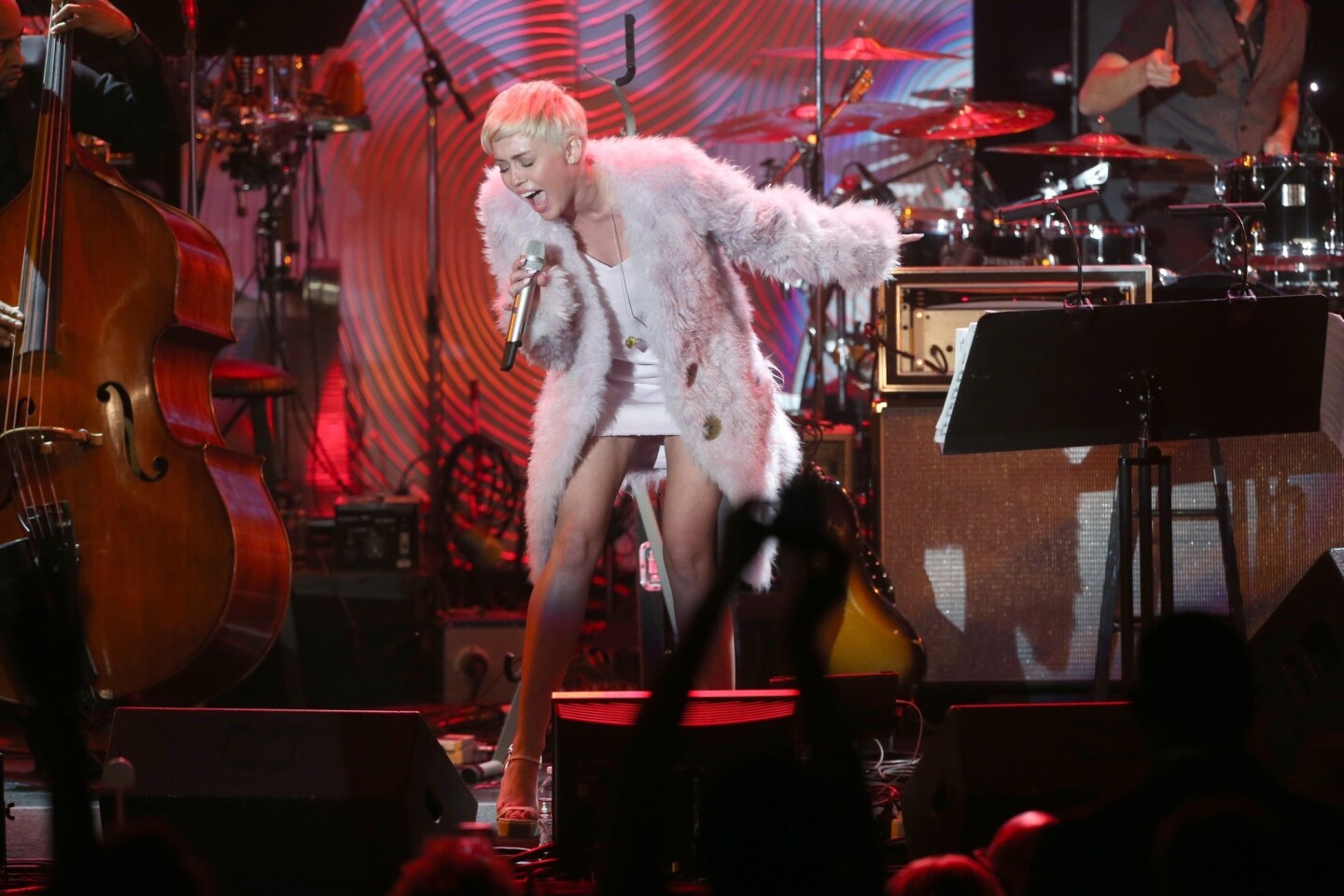 While Miley didn't pick up any 2014 Grammy nominations, she was invited to perform at Clive Davis' Pre-Grammy Gala. She wore a pink fur coat and donned a simple blond pixie cut, yet her performance was anything but subtle. She offered up a conservative take of "Jolene" by Dolly Parton in her three-song set.
(Frederick M. Brown / Getty Images)
Miley teamed up with Madonna for MTV's "Unplugged," a show that's proved anything can happen onstage. Bringing some country flair to her routine, Miley entertained the audience with her usual antics -- tongue wagging, crotch grabbing and twerking. Still, it was impossible to ignore Miley's powerhouse voice, which lent itself to tracks off her chart-topping album "Bangerz." Near the end of the show, Madonna made a surprise appearance and the pair did their thing to Madge's high-energy hit "Don't Tell Me," which morphed into Miley's "We Can't Stop." It isn't called "Unplugged" for nothing.
(Sandy M. Cohen / Associated Press)
On Saturday, Miley Cyrus turned 21. And on Sunday, she performed her hit "Wrecking Ball" accompanied by a flying, lip-synching space kitten.
Forget the literal nature of the official "Wrecking Ball" video, in which Cyrus rides a wrecking ball naked and breaks things. (Get it? She's on a wrecking ball and she's singing about being like a wrecking ball? And hearts are broken? Like a wrecking ball breaks things? It resonates.)
For the American Music Awards on Sunday, the newly booze-legal Cyrus decked herself out in a kitty-conscious, two-piece, almost-an-outfit and invoked the essence of the Internet -- cats -- behind her in a presentation that was anything but literal. Because, literally, what does a lip-synching, flying, occasionally crying space kitten mean? We don't get it at all.
It's best if you just witness a bit of the performance for yourself, above, as featured on ABC's "America This Morning," and look for deeper meaning. Alas, spoiler alert, there's no cameo from Grumpy Cat. Also no little people, dancing teddy bears or black women with large behinds, maybe because Miley's totally been there, done that.
There was a bit of a weird show going on at Cyrus' 21st birthday party on Sunday night at Beacher's Madhouse in Hollywood after the American Music Awards, TMZ reported. Alcohol abounded, of course (otherwise, really, what's the point of a 21st birthday party?), plus strippers and an appearance by a Lorax furry. No word on whether the Lorax got twerked. We can only dream. Or have nightmares.
Also going on in the real-life Land of Miley: Girlfriend's house was burglarized Friday night, with the bad guys making off with over $100,000 worth of loot, according to TMZ, including jewelry and high-end purses. Because it can't all be fun and kittens.
ALSO:
Francesca Eastwood wants annulment from Jonah Hill's brother
Ellen DeGeneres aims to power up Christmas for Toys for Tots kids
James Franco, Seth Rogen parody Kim and Kanye's 'Bound 2' video
Follow Christie D'Zurilla on Twitter and Google+. Follow the Ministry of Gossip on Twitter @LATcelebs and on Facebook facebook.com/ministryofgossip.
---
The complete guide to home viewing
Get Screen Gab for weekly recommendations, analysis, interviews and irreverent discussion of the TV and streaming movies everyone's talking about.
You may occasionally receive promotional content from the Los Angeles Times.