Mindy Kaling kisses and tells on 'Today,' talks image in Vogue
Our favorite funny women and why we love 'em
(Wally Skalij, Jay L. Clendenin, Ricardo DeAratanha/Los Angeles Times)
The "Inside Amy Schumer" star, right, is a daring, foul-mouthed trailblazer who doesn't shy away from raunch or vagina jokes, especially when they highlight disparities in the patriarchy. The Comedy Central star, whose sister Kim Schumer also writes on her sketch show, isn't afraid to self-deprecate and throw herself at the feet of Kimye, either.
(Jay L. Clendenin / Los Angeles Times)
The "Pitch Perfect" actress' tweets and TV interviews have fans thirsting for more Anna thanks to her pithy observational posts, which have been turned into motivational posters, and blunt, self-deprecating, no-nonsense humor. She does a mean lip-synch battle too.
(Jay L. Clendenin / Los Angeles Times)
The "Daily Show" correspondent built on her sketch and improv comedy background by joining the show in 2012. Her witty clips became so popular that the fan favorite was featured as Jon Stewart's replacement in 2015's "Hot Tub Time Machine 2," though she claimed that she was underqualifed to replace the outgoing host in real life. Williams' segments lambasted inequalities faced by women and other minorities.
(Larry Busacca / Getty Images)
This "Daily Show" correspondent became the longest-serving correspondent in 2012 before exiting the satirical news show in 2015 to start her own version of it on TBS.
(Robin Marchant / Getty Images for The Leukemia & Lymphoma Society)
Whether she's sharing fashion-forward "Mindy Project" costumes or sneaking Instagram followers into exclusive parties, she's a multi-hyphenate proving that funny women are here to stay. "The Office" star is an inspirational everywoman, shaming critics and haters with her self-deprecating wit.
(Kirk McKoy / Los Angeles Times)
She writes, acts in and directs her critically acclaimed HBO comedy "Girls," and the curvy wunderkind has taken flak for baring it all on the show. The outspoken savant has also been sounding the alarm on sexism in Hollywood, railing on the industry for typecasting.
(Jay L. Clendenin / Los Angeles Times)
Two words: Golden Globes. Two more words: "Mean Girls." Another two: "30 Rock." Tina Fey has been making us laugh since her days on "Saturday Night Live" (How can we forget her Sarah Palin?) Her back-to-back Globes hosting gig with Amy Poehler also set the standard for award shows.
(Carolyn Cole / Los Angeles Times)
Though we love her dynamic duo with Fey, Poehler also stands on her own as the star of "Parks and Recreation." But the quirky star's willingness to take on just about any zany role during her stint on "SNL" and keep the barbs coming as a co-host of the Golden Globes make us love her even more.
(Jay L. Clendenin / Los Angeles Times)
This "rough" comedian doesn't pull punches on "Chelsea Lately." The author and writer, known for her deadpan humor and drunken dalliances, can hold her own in an interview: Just take her squabbles with TV personality Piers Morgan and how she calls out her male counterparts.
(Genaro Molina / Los Angeles Times)
The "SNL" alum got people to pay attention to female comedy with the 2011 mega-hit "Bridesmaids," which she co-wrote and starred in. The Groundlings vet proved she didn't have to do ubiquitous impressions to get a laugh (though they get us just about every time).
(Jennifer S. Altman / For the Los Angeles Times)
She isn't an outright comedian, but she might as well be when she's off duty. She's shared her own brand of self-deprecating, unfiltered gab on talk shows and endeared herself to viewers with her infamous Oscar fall. "The Hunger Games" star has also spoken up frequently about body image.
(Rick Loomis / Los Angeles Times)
Whether the Groundlings alum is relieving herself in a sink in "Bridesmaids," harness spinning on "SNL" or whipping her costar into shape in "The Heat," the Emmy-winning star is always a scene-stealer. What else? Her poise while taking a weight-lashing from film critic Rex Reed.
(Jay L. Clendenin / Los Angeles Times)
She's among the funny women "SNL" has unleashed on mainstream TV and film. The Groundlings alum can nail just about any impression suggested to her (we happen to love her Oprah Winfrey and Gwen Stefani spoofs). And NBC has enough confidence in the mother of three to give her a variety show.
(Kirk McKoy / Los Angeles Times)
She breathed new life into daytime TV in 2003 when she set up "The Ellen DeGeneres Show" and diversifies the award-winning talker by hosting both real people and celebs. She was the first woman and lead character to come out on a major TV show, but what she does best is make us laugh.
(Al Seib / Los Angeles Times)
She charms her way through TV interviews with her sweet banter and wide-eyed excitement about everything. The "Veronica Mars" star also dabbled in crude humor on "House of Lies." Remember when she freaked out over a sloth? As a mom, she's crusaded for the "no kids" anti-paparazzi cause.
(Ricardo DeAratanha / Los Angeles Times)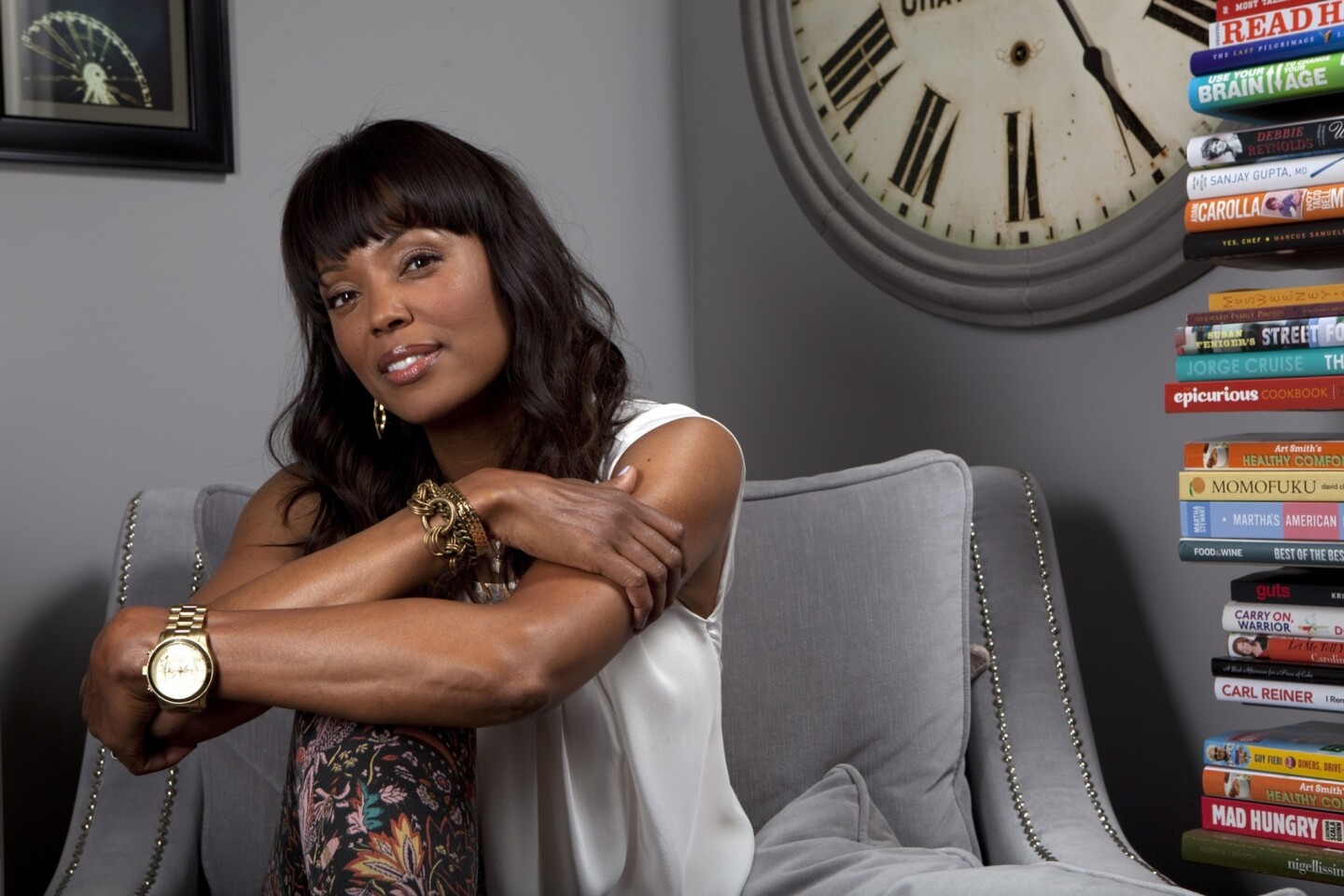 The "Archer" star also hosts "The Talk," wrote two books and emcees "Whose Line Is It Anyway?" She's an avid gamer, tweets a lot and hosted a handful of awards shows. It's no wonder she calls herself "the black female Ryan Seacrest" because she has enough jobs to keep a small country employed.
(Brian van der Brug / Los Angeles Times)
Julia Louis-Dreyfus has won four Emmy Awards for three different comedy series and has been nominated an additional 12 times. The "Seinfeld" alum's brand of comedy is self-deprecating but biting, as seen in HBO's "Veep." In real life, she'll also deliver a punch line or two. Cue Elaine dance!
(Kirk McKoy / Los Angeles Times)
Known for playing lackadaisical April on "Parks and Recreation," she has also made a name for herself with her dry wit and deadpan humor. She's not afraid to be herself even if herself isn't traditionally likable. She can be blunt, caustic, absurd and gutsy in her own awesomely awkward way too.
(Jay L. Clendenin / Los Angeles Times)
She's the "adorkable" star and producer of "New Girl." The L.A. native is quirky but totally relatable, often playing what appears to be a hyper-version of herself on the show, holding her own among a male-dominated cast. She also makes up half of folk band She & Him.
(Kirk McKoy / Los Angeles Times)
The breakout "Pitch Perfect" star also writes, produces and starred in the comedy "Super Fun Night." She holds a degree from one of Sydney's most prestigious law schools, and her success comes at a time when Hollywood is embracing smart, funny women who aren't the stick-figure Hollywood norm.
(Anne Cusack / Los Angeles Times)
Mindy Kaling has seen a lot of action on "The Mindy Project," given her character's very busy love life.
The star, writer and producer of the Fox comedy, which was renewed for a third season this month, has smooched countless guest stars as Dr. Mindy Lahiri, a boy-crazy clotheshorse (think: a much more accomplished, New York version of her "Office" counterpart, Kelly Kapoor, who is still a total hot mess).
In character, Kaling has been involved with James Franco, Ed Helms, Bill Heder, Seth Meyers and Seth Rogen, among others, and on Thursday, "Today" show host Savannah Guthrie asked her if she had a list of Hollywood guys she wanted to guest star so that she could lock lips with them.
PHOTOS: Our favorite funny women and why we love 'em
"If I did, Savannah, have a list of Hollywood men that I'd wanna kiss, is that so terrible?" Kaling joked. "No, it's kind of like one of the perks of the job is like these dudes that I get to kiss, which is fun."
The 34-year-old said she wished she were more like her character.
"She's kissed more men in a season than men that I've met in my entire life," Kaling quipped. "But she lives a really fun, dramatic life that I don't have."
Guthrie also asked Kaling about the "absurd" play called "Matt & Ben" that she and her friend wrote when they were in their early 20s. The play was based on the bromance between Oscar winners Matt Damon and Ben Affleck and starred Kaling as Affleck and her friend Brenda Withers as Damon.
PHOTOS: Our favorite ripped Hollywood hotties
The Indian American star said she played the "Argo" director because she has "a big crush on him"
"I think he's so funny and great. We obviously didn't know anything about them and he's awesome," she said, adding that when she and Affleck met for the first time at a recent award show, he "felt 11 feet tall and so handsome and accomplished," but she was too star-struck to ask him to guest on "The Mindy Project."
When the comedy returns from its winter break April 1, it picks up after a steamy in-flight kiss between Mindy and her co-worker Danny (Chris Messina), that takes place just as she's trying to win back her boyfriend, Cliff (Glenn Howerton).
"You can't script chemistry," Kaling said Tuesday night at Paleyfest, referring to the heated make-out session between Mindy and Danny that involved a major butt-grab. "After a while, it became not if they would do it, but when would they do it."
She told "Today" that the next eight episodes in the season involve a lot of "comedy, sex, lies and secrets."
MORE: For Mindy Kaling, her character's flashy style meshes nicely
"The Office" alum and writer is also featured in Vogue's April "shape" issue (you know, the one that has Kim Kardashian and Kanye West on the cover) and the actress, who is described as "a fluctuating size 10," discusses her love of all things sartorial and her unconventional body image.
"There's a whole list of things I would probably change about myself," she told Vogue. "For example, I'm always trying to lose 15 pounds. But I never need to be skinny. I don't want to be skinny. I'm constantly in a state of self-improvement."
She elaborated on the topic in her memoir, "Is Everyone Hanging Out Without Me," saying she comes up with elaborate revenge fantasies while jogging and basically diets for fun. But she told the mag she does barre exercises and takes an occasional spin class — "but I don't beat myself up over it."
PHOTOS: 50 most beautiful female celebrities
And that doesn't stop the social media-savvy selfie queen from using flashy garments to show off her personality. In Vogue, she wears a colorful Dries Van Noten blouse and skirt and polka-dot Oscar de la Renta pumps.
"I love when your clothes can help you project that you're witty — you know, when your outfit does some of the work for you," she said. "When I'm at my thinnest, I tend to wear things that don't show off my body. But when I'm bigger, I'll go body-con, which comes from a place of, 'This is my perimeter, in case you were wondering if I was actually much bigger.' "
Perhaps Mindy Lahiri's zany sense of style has also influenced the triple threat? In this behind the scenes video, the actress humorously struggles in the Vogue closet when a demure outfit is chosen for her shoot
"It's really tempting not to take chances," she said. "But I don't want to be fearful. I don't want my tombstone to say, 'She hid her imperfections well on the red carpet.' "
ALSO:
'Scandal' gladiator Columbus Short arrested after bar fight
Trace Adkins' wife files for divorce after 16 years of marriage
Patrick Stewart on being Ian McKellen's bestie, shedding solitude
Follow Ministry of Gossip @LATcelebs.
---
The complete guide to home viewing
Get Screen Gab for weekly recommendations, analysis, interviews and irreverent discussion of the TV and streaming movies everyone's talking about.
You may occasionally receive promotional content from the Los Angeles Times.