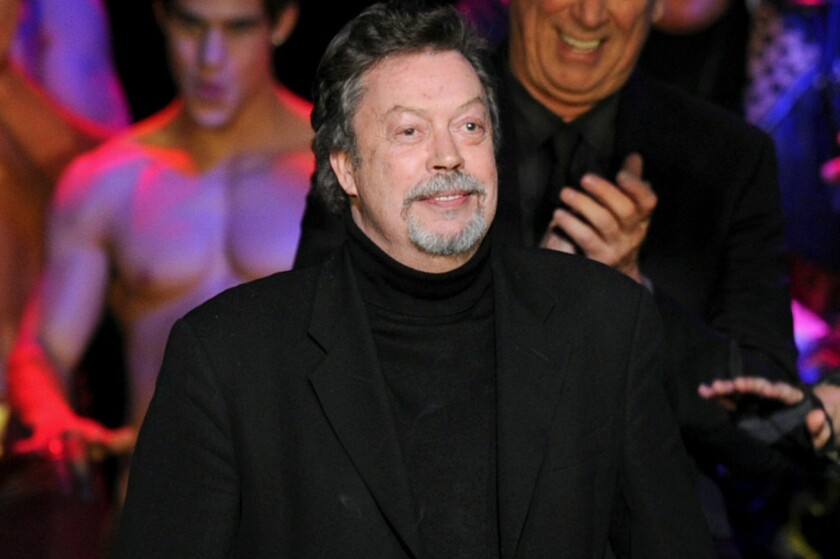 "Rocky Horror Picture Show" actor Tim Curry suffered from a "major stroke" at his home in Los Angeles and is said to be recovering, according to reports.
The British actor, 67, collapsed during the episode but is now said to be "doing great," his Los Angeles agent Marcia Hurwitz told the U.K.'s Daily Mail.
Initial reports said that the famed character actor was rendered speechless after the stroke, but Hurwitz refuted those claims.
"He absolutely can speak and is recovering at this time and in great humor," she said.
PHOTOS: Celebrity portraits by The Times
Curry is said to live alone in an estate in the Hollywood Hills. In 2011, the actor was supposed to appear in Tom Stoppard's U.K. production of "Rosencrantz and Gildenstern Are Dead" but pulled out because of poor health, citing asthma attacks and a chest infection, Playbill reported.
In 2012, he appeared as a preacher in Eric Idle's play "What About Dick?" at the Orpheum Theater in Los Angeles with Russell Brand, Eddie Izzard and Tracey Ullman.
Curry is an acclaimed stage actor in Britain and made his mark globally when he portrayed the transvestite mad scientist Dr. Frank-N-Furter in the 1975 cult musical "The Rocky Horror Picture Show."
In recent years, Curry lent his baritone voice to many voice-acting roles in children's TV series, including "The Wild Thornberrys," "Voltron: The Third Dimension," "Mighty Ducks" and "Aaahh!!! Real Monsters."
Behind the scenes: Classic Hollywood
He first appeared on Broadway in 1975 with his Dr. Frank-N-Furter role in the stage production of "The Rocky Horror Show" after debuting the play in London. He continued his career on Broadway later playing Mozart in "Amadaeus" in the 1980s, Alan Swann in "My Favorite Year" in the 1990s and most recently King Arthur in the 2005 production of "Spamalot." The roles garnered him a handful of Tony Award acting nominations.
His rep did not immediately respond to Times requests for comment.
ALSO:
Angelina Jolie's double mastectomy: Brad Pitt reacts
Sofia Vergara talks thyroid conditions, freezing eggs
Jesse James chops off pinky in gruesome bike shop accident
Follow Ministry of Gossip @LATcelebs.
---