The pathos and perfectionism behind the long-awaited third season of 'Rick and Morty'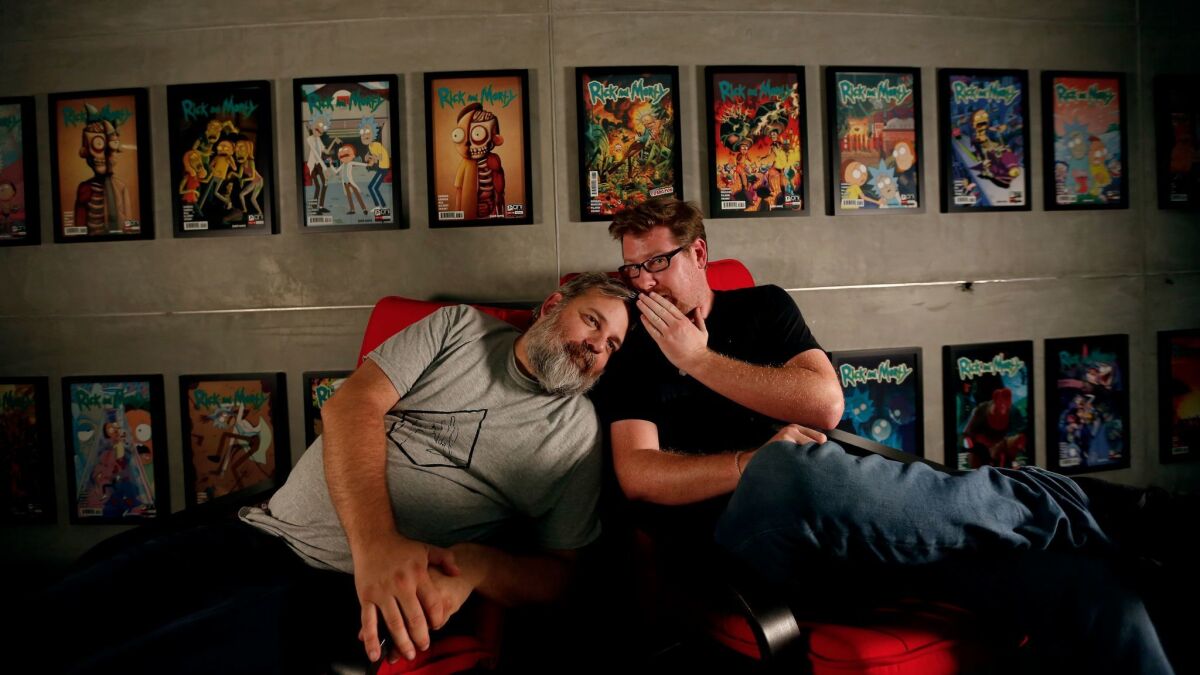 Justin Roiland has every minute of the new season of "Rick and Morty" accounted for, which makes it easy for the cartoon co-creator to pinpoint the exact moment that's making him anxious.
It's the last bit of the sixth episode in the third season. "We need to pop the hood on just the end," Roiland explained inside the Burbank studio that houses the Adult Swim series. "The last three to two minutes."
But Episode 6 wasn't on the to-do list this July afternoon, as line producer Mike Mendel gently reminded him: "Five is our priority."
In an instant, Roiland pivoted and turned his attention to the animated storyboard from the fifth episode, offering a flood of information about one small scene: This joke was cut; that joke came from when he thought he saw Jeff Goldblum at a Starbucks on Ventura (it wasn't him); this is the first time main character Rick Sanchez (voiced by Roiland) has been willingly paired with Jerry Smith (Chris Parnell) on a space outing.
Yet even with the necessary, and happy, distraction of Episode 5, Roiland repeatedly returned to the perceived problem at the end of Episode 6 until co-creator Dan Harmon gleefully appeared with the solution: "It's a classic 'Star Trek' episode with the malfunctioning transporter!"
Referencing classic TV series' easy ability to change characters or twist the plot via broken down teleportation device was truly appropriate for this critically adored and unexpectedly successful sci-fi series. Relief washed across Roiland's face as the two finalized character dialogue.
We care so much and we panic and we freak out that it's not good enough.
— Justin Roiland
A few weeks later, the duo recalled this moment in front of more than 2,000 screaming fans at Comic-Con. "I think [that's why] we're a little late," Roiland told the crowd, addressing fan unhappiness with the one year, nine month and 26 day wait between Season 2 and Season 3 (which premiered at the end of July). "We care so much and we panic and we freak out that it's not good enough."
"If one of us isn't happy," Harmon added, "neither of us has the ability to say 'too bad.' That's a good thing if you're roommates, but it's a bad thing if you're running the show, maybe? No one has ever bullied the other."
That's how it works for this creative team — one attempts to balance the other. Sometimes that works and sometimes it creates a spiral that erupts into an extra long waiting period for a new season. They just wanted the show to be good, they both sweat the small stuff (though a small poll of their studio declared Harmon the biggest perfectionist.)
And that obsessive attention to detail is exactly why consuming 22-minute episodes of "Rick and Morty" feels more like an advanced college course in philosophical and scientific history or a surprise therapy session than the standard animated fare. Everything has a deeper meaning, even Jerry's new post-separation animated attire (the windbreaker and newsboy cap) has been specifically selected to channel that lost-dad look.
The show, which airs at 11:30 p.m. Sundays on Cartoon Network, revolves around mad scientist Rick (Roiland) and the family he has recently reconnected with: daughter Beth Smith (Sarah Chalke), son-in-law Jerry, granddaughter Summer Smith (Spencer Grammer) and grandson Morty (Roiland again). Each episode, Rick takes Morty (or another Smith family member) on a bizarro adventure reminiscent of "Doctor Who" but with twice as much swearing and infinitely more interesting alien high jinks. (Parent alert: As has been evident since the pilot episode, when Rick smuggled alien contraband in his rectum, "Rick and Morty" is definitely for adults.)
But just because the main character burps out half of his lines like Foster Brooks, that doesn't mean it's simple. "Rick and Morty" is grounded in a "Star Trek"-centric love of scientific explanation. And the writing staff has yet to meet a sci-fi theory it didn't want to thread into the show.
For instance, simulation theory is addressed through an intergalactic Dave & Buster's-style video game titled "Roy: A Life Well Lived"; adolescent uncertainty is used to fracture the world's timeline into several new paradox-inducing realities, filled with floating Schrödinger's cats (eerily reminiscent of that flying toaster screensaver).
Even the simplest plot points from the current season — in which Rick transforms himself into a pickle — morph into a reality check about the monotonous upkeep that comes with repairing and maintaining healthy relationships. "Pickle Rick," written by Jessica Gao, was a lesson in mental health, not that any of the characters is going to learn from it.
And that's the dilemma of the series: Just about every episode dances with nihilism yet manages to include beautiful David Bowie-inspired songs about cosmic unity.
Those songs are usually about a totalitarian alien race taking over the galaxy, but they are still somehow beautiful.
"A lot of the flavor of the show is Justin," Harmon says. "I think that's truly the success of the show's feel. It has this juvenile energy to it. The universe. There's something really funny about that. God isn't going to mess with you because he's an old man on a cloud that has some stern disdain for you. God's going to mess with you because he's nuts."
In the writers' room the pair take a moment for an unintentional session of mutual psychoanalysis; perhaps that's just what happens when you've been making weird space fiction together since the mid-2000s.
"A lot of the heavy stuff is Harmon," Roiland says. "Credit me all you want with the insane [stuff], but the butter-passing robot, the "Roy: A Life Well Lived" video game, [that's Harmon]."
It quickly becomes clear that a lot of the real-life quirks they possess have filtered into the series. Harmon points to Roiland's pop culture collection. His office wall is adorned in action figures from "Ren & Stimpy," "Tales From the Cryptkeeper," "Bucky O'Hare," "The Crash Test Dummies," all preserved in their original packaging. The shelves are lined with books, comics, art and an autographed Claudia Black figure from "Farscape."
"For someone as capricious as him, he obsesses about collectibles," Harmon says. "He's worried about squandering money on a wasted opportunity. 'Oh, this Nintendo is only eight dollars now, it's gonna be worth 12 dollars next year, so I'm gonna go buy 90 of them,' which is not only a thing Roiland has done, but it's also a direct scenario from the episode 'Total Rickall.' "
The two sensibilities converge at a shared fear of nothingness. "I can babble more about the nature of a box within a box within a box or whatever, but we do intersect in our fascination with that stuff," Harmon said. "Justin's the first person to tell me about simulation theory. We're both kind of obsessed and terrified about that. The idea that everything's a joke ... that's our intersection, this terror about meaningless. The terror of wasted time. The terror that you could make the wrong decisions because nothing matters."
Many fans have wondered if that common fear, fanned over two seasons of deep exploration of Rick's psychosis, will lead to the introduction of the darkest timeline in the "Rick and Morty" universe this year.
Neither Roiland nor Harmon was comfortable with the "darkest" label their third season has acquired. They chalked it up to a Rick joke that was taken literally. However, there are plenty of uncomfortable changes ahead for the animated family. "I think the cat's out of the bag, at least on the fact that the divorce thing is real," Harmon said, referencing the split between Jerry and Beth. "We're not just going to hit the reset button on that."
Whether the breakup affects fans remains to be seen, but there's one story line from Season 3 that's already taken hold of America: McDonald's Szechuan sauce.
After a surprise streaming of the first episode of the new season on April Fool's Day, one particular story line featuring McDonald's limited-edition Szechuan sauce from 1998 went viral. This very real obsession of Roiland's is now an Internet sensation, and to hear him describe the story behind his infatuation is akin to listening to a 90-year-old man recall the one that got away.
"I must have been 17, 18," says Roiland, his eyes narrowing, as if envisioning the very McDonald's that started it all. "I was eating buckets of McNuggets because that [Szechuan] sauce was insane. My friend worked at McDonalds at the time, and he was going to get me a case of it, and I slept on that. If I'd just been a little bit more proactive, I could have got that case." Here, Roiland raises his hand to solemnly dismiss the thought. "And then it was gone.
"I heard whispers that they brought it back for the Winter Olympics that were in Canada; I was calling around to all the McDonald's." he says, wistfully. Alas, there was no sauce to be found, until one of the series' writers put his obsession in the episode.
"Rick and Morty" fans went nuts for the sauce. One person even showed up to Comic-Con cosplaying as the nugget dressing. The interest sparked the fast food chain to revive the limited edition dip and Roiland, along with a few other special "Rick and Morty" fans, were sent their very own batch. (Roiland had not yet responded to our query about whether the sauce lived up to his memories at press time.)
And eBay is now dotted with Szechuan sauce packets and larger containers of the flavor at prices ranging from $2,500 to $12,000.
The social media attention helps the co-creators put their work into perspective. Harmon uses Twitter as a way to check what's resonating with fans.
"It's an important thing to know. Kind of," he says. "As long as you don't start in your head and go, 'OK, so now the key is fast food restaurant condiments.' It's very healthy if you spend, for instance, three months laboring over a line of dialogue and then something you dumped in there — kind of making fun of your friend for his obsession with this stupid sauce — ends up being the thing that everyone is talking about."
See the most-read stories in Entertainment this hour »
The Best Moments of Comic-Con 2017: 'Star Trek: Discovery,' 'Blade Runner' and more
On Now
Video: The Best Cosplay of Comic-Con 2017
2:04
On Now
"The Tick" Cast Says The Fan Pressure Is Real at Comic-Con 2017
9:45
On Now
Video: Inside the LA Times studio at Comic-Con
On Now
The stars of "Riverdale" talk season 2 at Comic Con
On Now
"Stranger Things" Cast At Comic-Con 2017
On Now
"Inhumans" Cast Was Blown Away By The Comic-Con Panel Turnout
4:44
On Now
Watch: The cast and writers of "Ready Player One" talk Easter eggs and Spielberg's nerd cred at Comic Con
On Now
"Twin Peaks" Cast Talks About Working With David Lynch
5:03
On Now
"Annabelle: Creation" Cast Says They Blessed The Set
6:40
On Now
"Supergirl" Cast Loves To Sing
4:13
Twitter: @MdellW
ALSO:
'Westworld' stars confront the nature of the fembot
Negan promises he's 'just getting started,' but have 'Walking Dead' fans already seen enough misery?
For the love of monsters: An insider tour of Guillermo del Toro's Bleak House before his LACMA show
---
Get our L.A. Goes Out newsletter, with the week's best events, to help you explore and experience our city.
You may occasionally receive promotional content from the Los Angeles Times.