Sex Pistol Steve Jones becomes supervillain in All Time Comics trailer from 'Smells Like Teen Spirit' director
Watch the trailer for All Time Comics.
The grindhouse-channeling world of All Time Comics has come to life.
Samuel Bayer, co-creator of the superhero label and director of Nirvana's "Smells Like Teen Spirit" video, has pulled together a retro powerhouse team to bring the fantasy world to reality. That call sheet includes Sex Pistol Steve Jones as a supervillain, stunt coordinator Eddie Braun, Jackie Chan's stunt crew the JC Stunt Team, and a whole lot of whip-cracking.
"I got all these cool veterans of rock and roll, and the world of music, and the world of stunts, and brought them into this thing," Bayer explained. "I think that's the spirit of what All Time Comics is. What's old is new again."
And we're debuting the trailer for the short right here, right now.
Bayer, who helmed many famous music videos including the Smashing Pumpkins' "Bullet With Butterfly Wings," Hole's "Doll Parts," and Blind Melon's "No Rain," has joined forces with indie comic creator and brother Josh Bayer to create a wholly unique superhero universe in the recently launched All Time Comics.
Their new world (published by Fantagraphics Books) is a fusion of vintage greats such as "The Incredible Hulk" artist Herb Trimpe (who worked on the character Crime Destroyer before he died in 2015) combined with fresh ink names such as Benjamin Marra and Noah Van Sciver.
The result is a mix of pulpy characters jumping in and out of panels with bold "WA-PASH" whip sounds. (Bullwhip is the name one of the All Time Comics superheroes, after all.) Even the pages have a grainy aesthetic, as if they were printed years ago.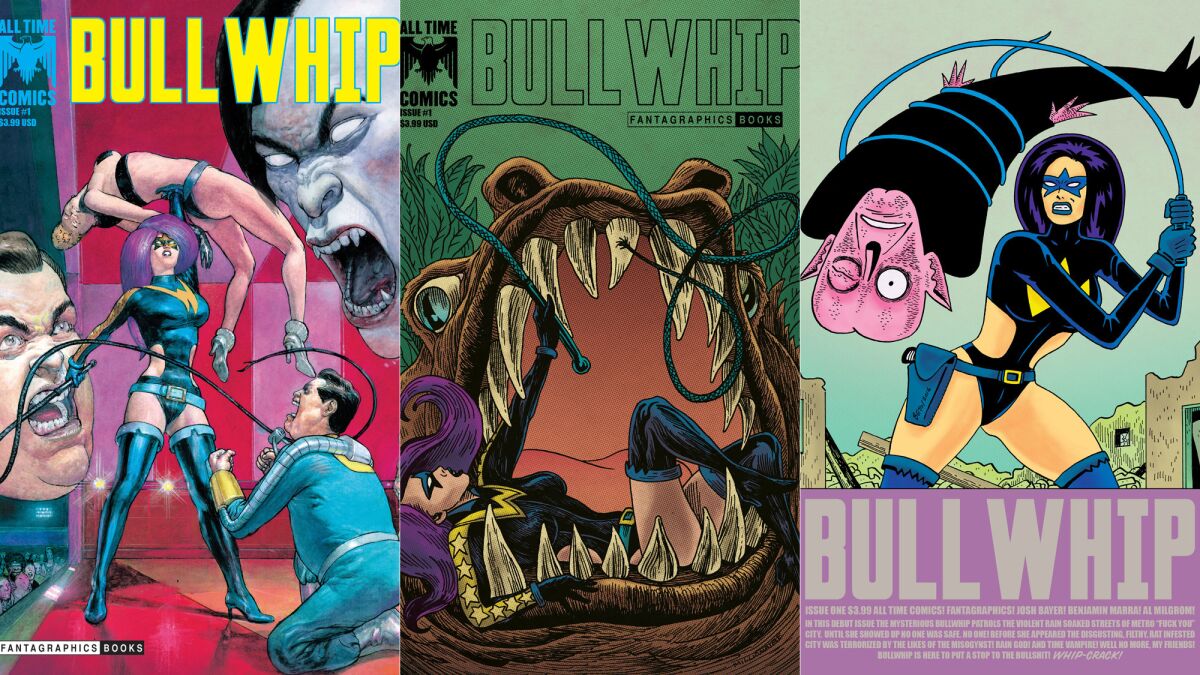 That feel is exactly what the creators of All Time Comics we're gunning for.
"I'm just in love with the way comics felt when I was a kid, like in the '70s," Bayer told The Times over the phone. "When I was reading books in post-Vietnam, post-Watergate, pre-Internet, pre-modern technology days — the days before movies were done about superheroes, where comics still cost 50 cents — there was an amazing cult quality to them, and I think that's what we tried to capture in the books."
The All Time Comics world is made up of a varied group of characters.
"Bullwhip is the ultimate Amazonian kind of Valkyrie, Joan of Arc, femme fatale," Bayer said. "There's Atlas, who's the sort of quintessential atomic superman, there's Crime Destroyer, which is our kind of vigilante that doesn't have any superpowers, but he's got weapons, and courage, and then we have this character Blind Justice who has no powers, and resides in the mental institution, and thinks that bullets can't hurt him, but they really can hurt him."
As for the short, Bayer promises, "shades of the old Batman TV show," which he grew up on.
"Lots of big POWS, and BAMS, and graphics that come up on the screen," Bayer said. "Again it's this mix of old school with modern technology. There's this villain that's played by Steve Jones from the Sex Pistols. He's cool, and he's punk, and there's a great sort of notoriety to not only who he is, but what he can bring to that role."
And apparently when you're working with a punk rock legend, you don't need a costume department.
"Steve brought his own costume," Bayer revealed. Jones, who antagonizes the aforementioned Bullwhip (played on camera by Denise Schaefer), showed up to the shoot in a striped ensemble. "I actually had something made for him, and he showed up in something [else] and I'm like, 'That's kind of incredible, Steve. Let's do that.'"
Other characters from the newly made comic book world include Crime Destroyer (LaMonica Garrett) and his very fly superhero ride. "[It's as] if Batman didn't have a lot of money, but still wanted to make a really sick car, what he would have done," Bayer said of the "souped-up, 1972 Firebird with machine guns where the headlights are supposed to be."
And if you want more form the Bayer brothers, the short's launch will be followed by an All Time Comics party on Wednesday at Meltdown Comics in Los Angeles. So if you want to meet the Crime Destroyer in real life, get thee to Meltdown.
See the most-read stories in Entertainment this hour »
Twitter: @MdellW
ALSO:
Exclusive preview: Why Supergirl's new comic creators decided to wipe her memory of her alien homeland
'The Power of the Dark Crystal' comic takes us beyond Jim Henson's muppet fantasy
Exclusive reveal of 'The Spirit' comic from the 'Love Is Love' anthology
For the love of monsters: An insider tour of Guillermo del Toro's Bleak House before his LACMA show
Get our L.A. Goes Out newsletter, with the week's best events, to help you explore and experience our city.
You may occasionally receive promotional content from the Los Angeles Times.