Q&A: Yahya Abdul-Mateen II on possible 'Aquaman' sequel, Jordan Peele's 'Us' and Black Manta as a hero
For "Aquaman" co-star Yahya Abdul-Mateen II, the journey to his latest role really started with opening up a comic book and becoming a fan.
The Yale School of Drama trained actor admits he was initially skeptical about playing Black Manta, the knife-wielding vengeful mercenary he brings to life in the James Wan-helmed DC superhero hit.
Having never been much of a comics reader, Abdul-Mateen wasn't very familiar with the character. It wasn't until he saw chatter from fans online that he realized Black Manta was more than just his signature helmet.
"They love this character," said Abdul-Mateen. "They love the suit and they love the helmet and they love his wit and his dry sense of humor."
This enthusiasm was what convinced him to seek out some comics and further develop his own understanding of the "Aquaman" villain.
"In my eyes he's the hero of my story. He's coming off a personal win with his father," said Abdul-Mateen. "We meet him at a high. He's coming off this success and his father's just given him this gift. In his mind he's on top of the world. Then Aquaman comes aboard the ship and takes that away from him."
For Abdul-Mateen, Manta is just a guy who's trying to take something back that was taken away from him. A very focused, morally ambiguous, extremely skilled and highly intelligent guy.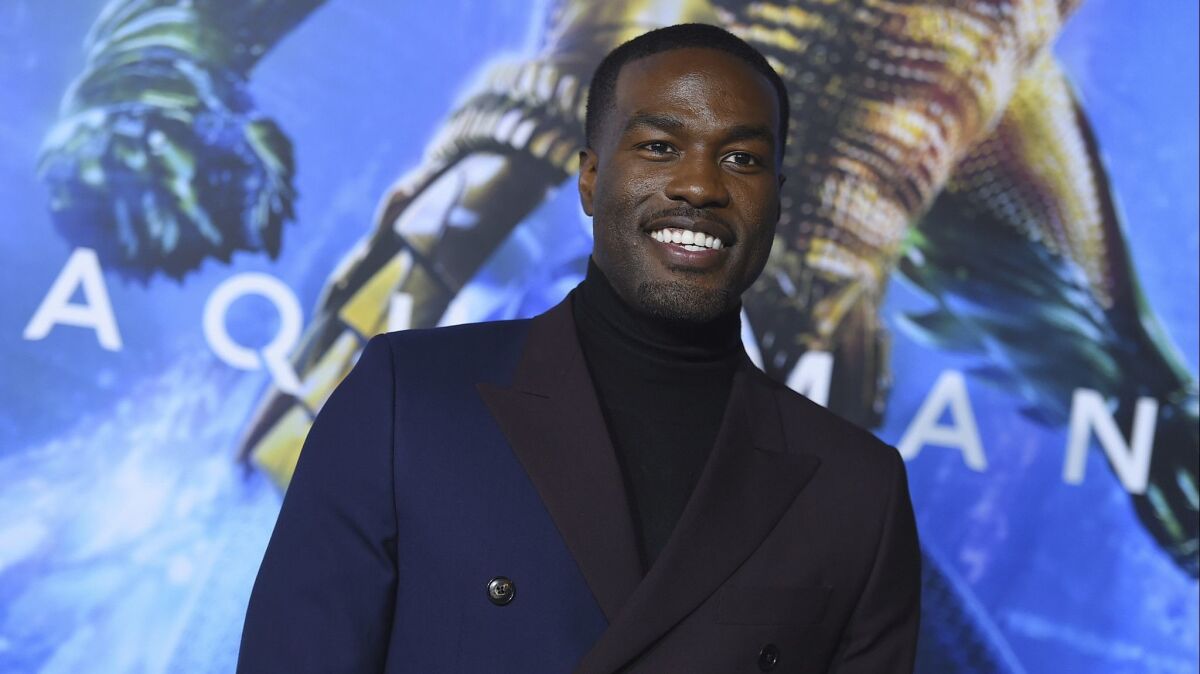 Preparing to play the role of a mortal who holds his own in battle against a muscular half-Atlantean superhero, of course, involved a fair amount of training.
"I had just come off 'The Greatest Showman' so I was really light and I was moving sort of like a dancer," said Abdul-Mateen. "So I told my trainer I wanted to be heavy on my feet. I wanted to feel the ground beneath my feet."
Mindful of not wanting to gain the physique of a bodybuilder, the intensity of the workouts also helped inform Abdul-Mateen's interpretation of Black Manta's mental strength.
Abdul-Mateen has a big 2019 ahead. His post-"Aquaman" film projects include Jordan Peele's hotly anticipated March horror movie "Us," Netflix's "All Day and a Night" from "Black Panther" co-writer Joe Robert Cole and the immigrant love story "Sweetness in the Belly." He's also part of another major event for comics fans: HBO's secretive "Watchmen" series, inspired by the groundbreaking graphic novel by Alan Moore, Dave Gibbons and John Higgins.
Abdul-Mateen discussed his "Aquaman" character, his hopes for Black Manta's future and what would happen if the villain tried to show up in the world of "Watchmen."
Be warned: This interview contains minor plot spoilers for "Aquaman."
What stuck out about Black Manta's character to you?
What struck me was that he wasn't a guy that was going to blast you into outer space. He wasn't going to pulverize you into smithereens. He wasn't out for an evil plot to take over the world.
If he wanted to destroy you he'd come up to you close and drive a knife through your heart. He's a guy who just operates on a completely different wavelength than a lot of the other villains.
He's got one very, very simple agenda, which makes him a very dangerous man. He wants revenge for his father and that's something people could relate to.
What was it like putting on that suit for the first time?
It was really exhilarating because I had been working out for about a month and a half to get myself in shape. I wanted to wear the suit and not have the suit wear me.
When I finally stepped into it I remember feeling so powerful and that every step counted. You could really feel the intimidation factor.
They weren't expecting me to be on set that day, I was just trying on the costume. I put on the costume and walked on set and you could just hear it. It got quiet and all eyes were on me. It was still. I knew I was in something that was really, really cool and kickass.
Black Manta is missing from the final battle but returns in the end credits stinger. Presumably he'll factor into a sequel, if it happens. What do you think is next for the character?
Hopefully we'll get to see more of the guy that I found in the comic books. The guy that I found to be humorous. The guy who was really, really smart and who is a leader and takes charge. A guy who has different sides.
There's so much more to him than just a guy with this drive that we're introduced to in our movie. He's really fascinating and he has so much more to offer.
There's so many more question to be answered: Where does he live? Where does he sleep? What does he like and dislike? I'm hoping that wherever he goes, wherever he shows up, that I have the opportunity to show all of the different facets and sides of this character.
What other DC characters would you like to see Black Manta encounter?
I think the Joker because that's another character that's so unpredictable. Black Manta has a lot of good comedy with Harley Quinn in the "Suicide Squad" series that I really, really like. He doesn't like to work with other people but that was a situation where he was forced to work with people. So you get to see him try to be the adult of the group. I'd definitely like to see him trying to herd the cats and to wrangle some people.
I also would like to see him and Batman in a situation together. Because they're both, supposedly, really wealthy guys, with really, really high IQs and they don't have superpowers. They're engineers that make their own equipment and they're really skilled in hand-to-hand combat. So they're sort of similar in that way and it'll be cool to see what happens when you see them together.
What can you tell us about your upcoming movie "Us" — other than it's Jordan Peele's first movie since "Get Out"?
What can I say? A family goes on vacation and it takes a very mysterious and frightful turn. It's another psychological think piece with an excellent cast. And I think if I keep on talking I'll probably get myself in a little bit of trouble so that's all I can say right now.
What was it like working with Peele?
It's an actor's dream working with Jordan. He's so smart, he cares about the project, and he really, really likes actors. He keeps the morale high on set and he celebrates actors' successes. I felt like I was really working with someone who was taking care of my talent.
Can you even say anything about "Watchmen"?
I can't say anything about "Watchmen."
It's a really good cast — Regina King and Tim Blake Nelson and Jeremy Irons. The world building in this one is going to be pretty special. Damon Lindelof — he's such a brilliant writer and mind for television. I think it's a project that has a pulse on the world right now.
Some people might put "Aquaman" and "Watchmen" in similar categories because they're both based on comic books.
If Black Manta tried to show up in the "Watchmen" world I don't know how long he would last. I think he would turn around and go back the other way. ["Watchmen" is] definitely different. It leans into the mood of the original work.
Twitter: @tracycbrown
Get our L.A. Goes Out newsletter, with the week's best events, to help you explore and experience our city.
You may occasionally receive promotional content from the Los Angeles Times.