Comic-Con 2018: Activations and experiences happening outside the convention center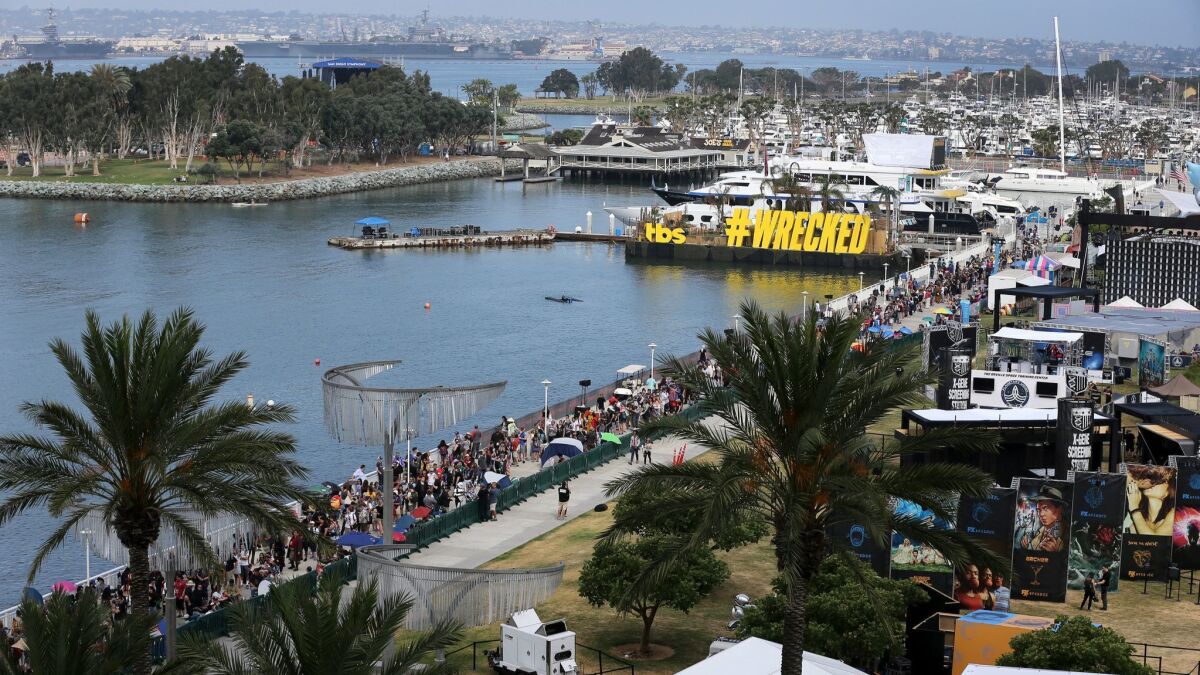 Digital Editor
'Castle Rock' Fan Activation
When: Thursday-Saturday, 11 a.m. -7 p.m.; Sunday, 11 a.m. – 5 p.m. Where: Front Street and Island Avenue. What: Tied to Hulu's highly anticipated Stephen King adaptation from executive producer J.J. Abrams, the experience is designed to give viewers a "unique look" into the small town. Attendees will be able to tour the local bed and breakfast and the Castle Rock Forest, the latter of which also includes a Hulu campsite lounge designed to give viewers a place to relax and recharge as well as give them a sneak peek of the series.
'Cosmos' Ship of the Imagination Experience
When: Thursday, noon-6 p.m.; Friday-Saturday, 10 a.m. – 6 p.m.; Sunday, 10 a.m. – 1 p.m. Where: The Hilton Bayfront Lawn What: Viewers will be able to get an early look at Neil deGrasse Tyson's upcoming "Cosmos: Possible Worlds" through this immersive video experience. Once on the ship, visitors will be able to share a photo of themselves in the actual chair from the set.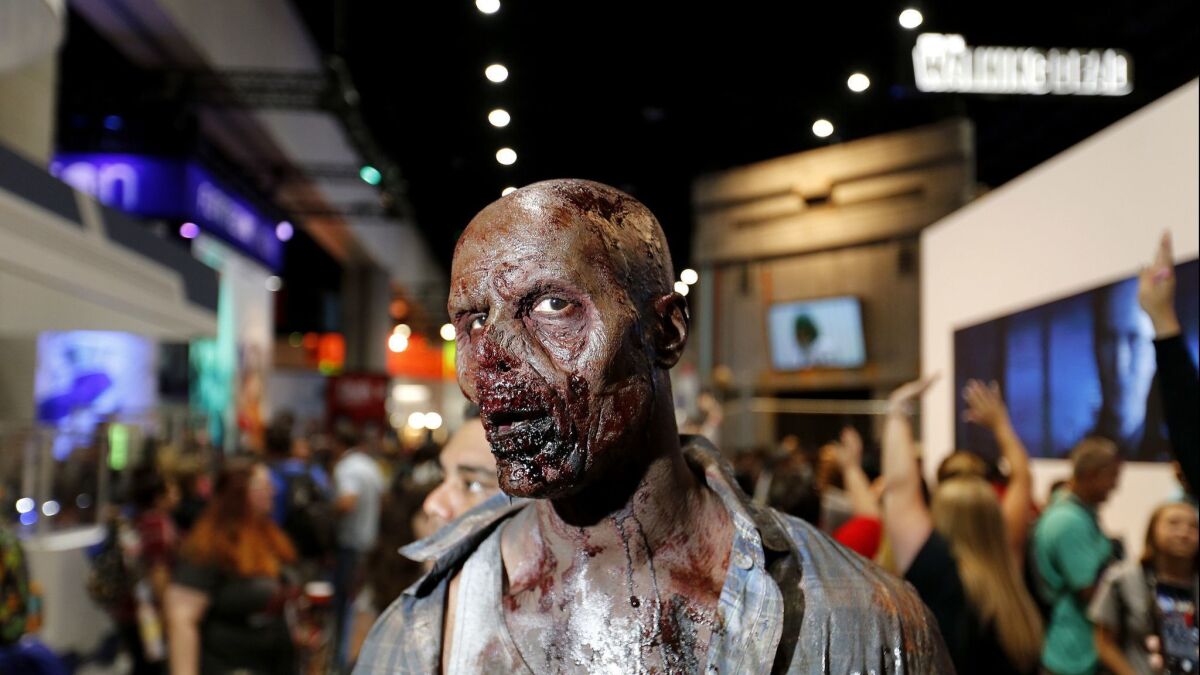 Dead Quarters
When: Thursday-Saturday, 11 a.m. – 6 p.m.; Sunday, 11 a.m. - 4 p.m. Where: Martin Luther King Promenade, in front of the Hilton Gaslamp Hotel (4th Avenue and L Street.) What: Serving fans of both "The Walking Dead" and spinoff "Fear the Walking Dead," the experience is centered on a curated walk-through of settings from both shows, including The Sanctuary and a 22-foot Zombie slide. Fans will also be able to get their photos taken with the walker composter and Negan's "flaming Lucille."
FULL COVERAGE: San Diego Comic-Con 2018 »
The Experience in San Diego
When: Thursday, Friday, 10 a.m – 9 p.m.; Saturday, 10 a.m. – 10 p.m.; Sunday, 10 a.m. – 5 p.m. Where: Lexus Premier Lot next to Petco Park What: There's something for everyone at this inclusive day-and-night experience. Activations include History's "Project Blue Book" Headquarters, which will bring actual UFO cases to life with immersive experiences. Freeform's Marvel drama "Cloak and Dagger" will harness guests into bungees that propel them backwards while slo-mo cameras capture the action. Other highlights include "Ghostbusters World," featuring a demo of the augmented reality mobile game and a chance to try on the iconic franchise costumes, as well as a 40-foot-long inflatable shark for "SharkWeek" that will devour new items every hour. There will also be nighttime screenings of classic movies ("Jurassic Park" on Thursday, "Spider-Man: Homecoming" on Saturday) in addition to live music and food trucks. Full details available here.
FXHibition
When: Thursday, 12-6 p.m.; Friday, 10 a.m. – 6 p.m.; Sunday, 10 a.m. – 2 p.m. Where: The lawn of the Hilton Bayfront San Diego What: Once again, FX will set up several series-themed experiences in between the Hilton Bayfront and the Convention Center. Stations include the "Legion Chamber," an audiovisual art installation that allows participants to disconnect from the outside world and fully immerse themselves in the hypnotic realm of main protagonist David Haller, and an "American Horror Story Eccentricities Gallery" that features a collection of art and oddities which, with the help of augmented reality technology, reveals secrets behind the objects and clues about the upcoming season. Other stops include a "Mayans M.C." deconstructed bike zone, an "It's Always Sunny" water and sunscreen station, an "Archer" sound box featuring classic sound bites from the animated spy series and a 360-degree scanner inserting fans into their favorite shows.
'The Good Place'
When: Thursday, Friday, 10 a.m. – 6 p.m.; Saturday, 10 a.m. – 2 p.m.; Sunday, 10 a.m. – 4 p.m. Where: Gaslamp Square (between the Convention Center and Hard Rock Hotel) What: It's never been easier to get into The Good Place! NBC will bring the comedy's central neighborhood to life as part of an interactive experience that includes shout-outs to the show's biggest moments and photo and video opportunities with several iconic elements from the series. Each attendee will get a customized profile and wristband to enhance their visit, as well as a digital takeaway and a shot at other giveaways. Click here to register early for the experience (and to watch a hilarious video starring D'Arcy Carden's lovable Janet).
'Impractical Jokers' Block Party
When: Saturday, 1-9 p.m. Where: The Park at Petco Park (10th Ave and K street) What: Once again, truTV takes over the San Diego Padres' home turf for its annual block party. This year's activities include a zipline, ball pit, obstacle course, 3D photo experience, a White Castle food truck, music from DJ Cipha Sounds as well as a preview of the upcoming Impractical Jokers: Wheel of Doom mobile game. The day will be capped off with an autograph signing, a live presentation of "Impractically Speaking the Jokers' Live Web Show" and an early screening of the "Impractical Jokers" Aug. 2 mid-season premiere.
'Mr. Mercedes' Immersive Experience
When: Thursday-Saturday, 10 a.m. – 6 p.m. Where: 643 G St. What: Stephen King properties loom large at the Con with this activation tied to the upcoming second season of the acclaimed TV adaptation. Highlights include a virtual reality escape room game inside the lair of serial killer Brady, an augmented reality adventure game that allows individuals to help Det. Bill Hodges crack the case for a possible reward, recreated sets of Finders Keepers, Mercy General Hospital and Brady's lair (actual series props included), a 3-D light project bringing Brady to life in his hospital bed and a shareable photo experience. Fans will also get a sneak peek of Season 2 a month before its premiere. (Fans can pre-register for a fast pass here.)
'The Passage Project Noah' Viral Cell Lab
When: Thursday, noon – 6 p.m.; Friday-Saturday, 10 a.m. – 6 p.m.; Sunday, 10 a.m. – 1 p.m. Where: The Hilton Bayfront Lawn What: Fans get an early taste of the upcoming series adaptation of Justin Cronin's best-selling novel by visiting the Project NOAH lab and seeing one of the "viral" patients up close.
'Purge' City
When: Thursday-Saturday, 11 a.m – 7 p.m.; Sunday, 11 a.m. – 4 p.m. Where: 215 Tony Gwynn Drive What: Tied to the upcoming "Purge" TV series, there will be a one-stop shop filled with emergency candles, masks, energy drinks and whatever else needed to help the public stay awake during the 12 hours of lawlessness known as "Purge Night." There's also a special area assigned for the political rise of the New Founding Fathers of America looking back at "The First Purge" – i.e. the just-released film – and subsequent Purge Nights.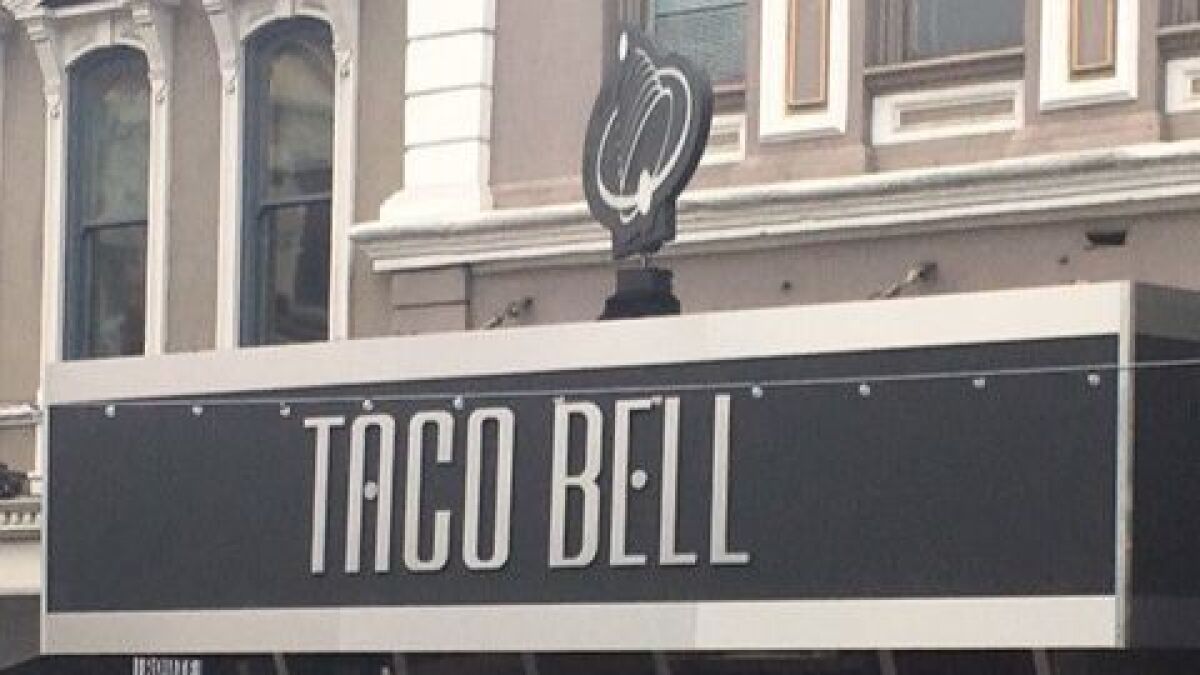 Taco Bell 'Demolition Man' Experience
When: Thursday-Saturday, 6 p.m. – midnight Where: 658 5th Avenue What: To mark the 25th anniversary of the Sylvester Stallone sci-fi thriller, Taco Bell will host a futuristic dining experience inspired by the restaurant from the film. (For those not in know, the film is set in the year 2032 when the Mexican chain was the only one to survive the "Franchise Wars.") In addition to serving up famed elements from the 1993 film, there will also be nacho fries, natch.
'Tom Clancy's Jack Ryan' Fan Experience
When: Thursday-Saturday, 9 a.m. – 7 p.m.; Sunday, 9 a.m. – 5 p.m. Where: Corner of 1st Street. and Martin Luther King Jr. Promenade What: First, attendees must complete the Jack Ryan Training Field by infiltrating, fighting and evading the enemy to secure full field clearance. Guests will then immediately put that training to the test when they are tasked with helping Jack Ryan get out of an escape room recreating the show's pilot episode. There will also be a chance to explore the Middle Eastern bazaar, which has several assignments to be completed as well as, natch, "Jack Ryan" swag.
'South Park': Cartman's Escape Room
When: Thursday-Saturday, 9:30 a.m. – 7 p.m.; Sunday, 9:30 a.m. – 5 p.m. Where: San Diego Wine Center (200 Harbor Drive, No. 12) What: Comedy Central promises fans of the foul-mouthed kids "the most impossible escape place ever invented" at this escape room-meets-trivia experience. Fans will be divided into groups of 10 and tasked with solving a series of puzzles using their "South Park" knowledge to free themselves, that is, before time runs out.
'Star Trek: Discovery' Mirror Universe Gallery Takeover
When: Thursday-Saturday, 11 a.m. – 9 p.m.; Sunday, 11 a.m. – 5 p.m. Where: Michael J. Wolf Fine Arts Gallery (363 5th Avenue) What: For the second year in a row, CBS will create a fully immersive gallery experience to showcase props and costumes from the series, specifically the Terran Empire, as well as a photo opportunity with Emperor's Georgiou's Throne. The gallery will also host the official "Star Trek" shop that will feature Comic-Con-only exclusives.
---
Get our L.A. Goes Out newsletter, with the week's best events, to help you explore and experience our city.
You may occasionally receive promotional content from the Los Angeles Times.