'Everybody showed up': James Cameron on the special bond of the 'Aliens' cast 30 years later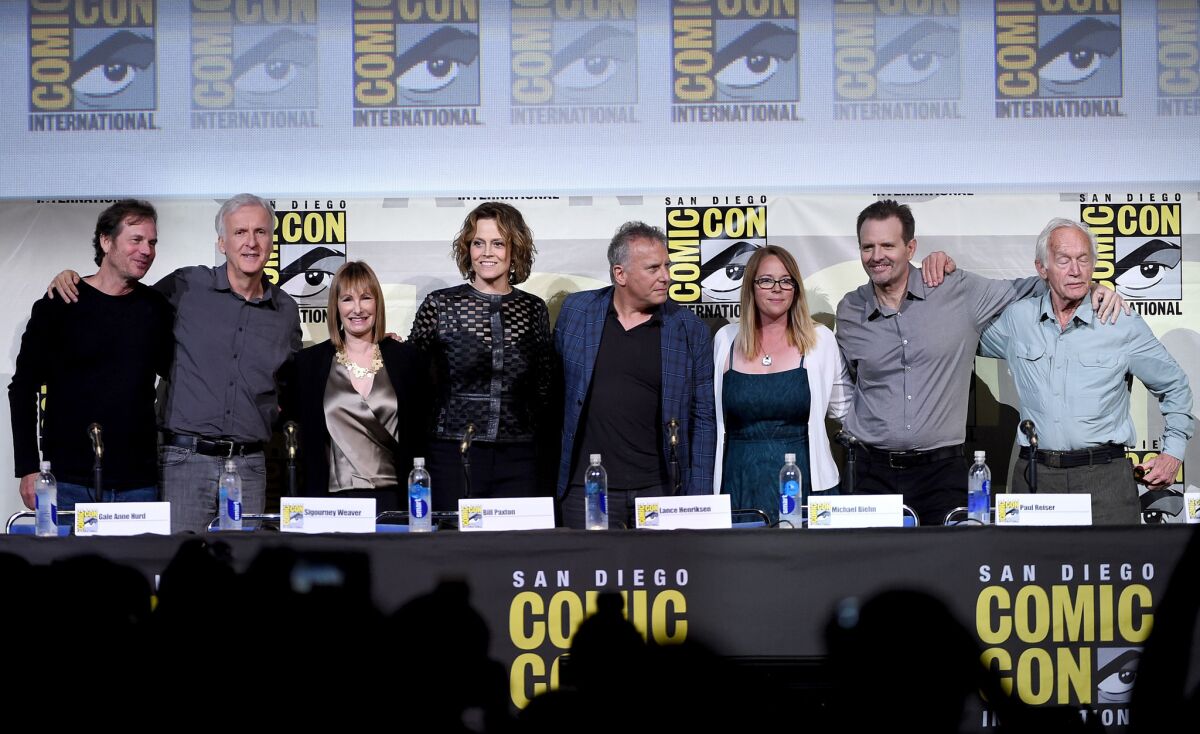 Many films and TV shows host reunion panels at Comic-Con but few can probably boast the attendance figures of the "Aliens" 30th anniversary gathering Saturday in Hall H.
And that was the best way to explain what was so special about the Oscar-nominated 1986 classic, said director James Cameron.
"I think the fact that we're all here today, that everybody showed up at this reunion," said the director-- gesturing down the table to co-producer Gale Anne Hurd and stars Sigourney Weaver (Ripley), Bill Paxton (Hudson), Michael Biehn (Hicks), Lance Henriksen (Bishop), Paul Reiser (Burke), and Carrie Henn (Newt) — was a testament to how much the film means to all of them.
Fans of the enduring, and highly quotable, sci-fi/horror/action classic learned plenty about the film as the panelists, clearly still a mutual admiration society, reminisced about their time on LV-426.
Among the takeaways from the lively and funny discussion were that Sigourney Weaver was not only the star, but the glue that helped hold the tight-knit cast together; Paxton was actually worried that audiences might tire of his panicky character; and Reiser never saw the hissable Burke as the "bad guy." "You say bad guy, I say misunderstood," he joked. (Henn noted the seating arrangement that put them side-by-side. "He tried to kill me!" she said with a laugh.)
See the most-read stories in Entertainment this hour >>
Herewith a few highlights:
-Biehn recalled with a grin the night that he and Paxton sneaked into a press screening and watched from the projector room.
-He said it! At one point Paxton said, "I just have three words to say: Game over, man!" to the delight of the crowd.
-Cameron says the scene in the movie where Bishop does the knife trick over Hudson's hand was not sped up, that Henriksen actually moved at that speed.
-Weaver revealed that she is not as tough as Ripley in real life, saying she can't watch "The Walking Dead," produced by Hurd, because she is highly suggestible and is afraid "I'm going to see zombies everywhere."
-Reiser admitted that he was jealous that, since Burke wasn't military, he didn't get to do the boot camp with the other actors. "They had all the equipment and I had a little notebook and pencil and that was it."
-Cameron said he has always been haunted by a moment during filming in which, as he applied slime and goo to her face, Henn told him, "You know, it should be illegal for you to be able to do this to little kids."
-Henn, now a fourth-grade teacher who occasionally has to sign DVDs for parents, recalled returning to her Holiday Inn that day, still covered in slime and goo, and being mortified to walk into a black-tie affair. Cameron asked her, "Permanent trauma, yes or no?" She replied "Affirmative." (Just kidding, she said no.)
-As for the future of "Alien," Weaver said Neil Blomkamp has written an "incredible script" for the next "Alien" installment, and she loves it so much that once she and the writer-director are free of their next commitments they hope to begin work on it. Of the film, and concerning Biehn's involvement and the possible exploration of a romantic relationship between Ripley and Hicks— who is apparently alive? — she promised that for fans "It's everything that they're looking for."
There was also a proposal between audience members during the Q&A — she said yes! — and the happy couple was invited onstage to pose with the panel. "We're all invited to the wedding, right?" asked Weaver.
MORE ENTERTAINMENT NEWS
'Justice League,' 'Wonder Woman' and 'Suicide Squad': The Warner Bros. and DC Entertainment course correction
Inside Comic-Con 2016: Fandemonium and costumes galore!
Christina Grimmie died of gunshots to the head and chest, autopsy report says
Get our L.A. Goes Out newsletter, with the week's best events, to help you explore and experience our city.
You may occasionally receive promotional content from the Los Angeles Times.