Comic-Con 2017: Best of the Convention Hall floor
San Diego Comic-Con opened its floor for preview night Wednesday revealing rows upon rows of oddities, art and swag. But how does one distinguish between the treasures and the trash? Is it worth sacrificing an hour of your life just to stand inside a giant pineapple from the animated series "SpongeBob SquarePants?" We're here to answer these pressing questions for you.
Together we combed through the body pillows, DVDs and limited edition enamel pins to bring you the most interesting and innovative things hiding inside the massive convention hall. This is your guide to the Comic-Con floor.
SpongeBob's house — Nickelodeon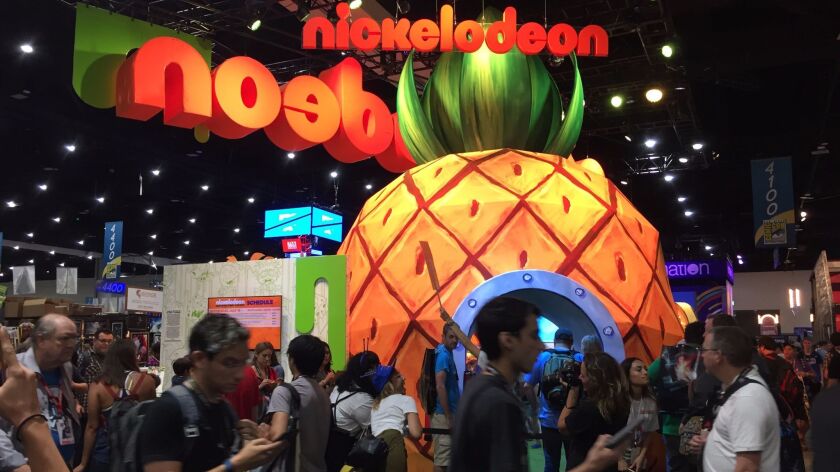 If you've ever wanted to visit SpongeBob's pineapple under the sea, you're in luck. At this life-sized version of SpongeBob's house, you control the way characters move with your own actions. Those looking for more '90s Nicktoons nostalgia can also check out Helga Pataki's shrine to her beloved football head (a.k.a. Arnold) from "Hey Arnold!"
(Booth 4113)
"Legend of Korra" statue — Mondo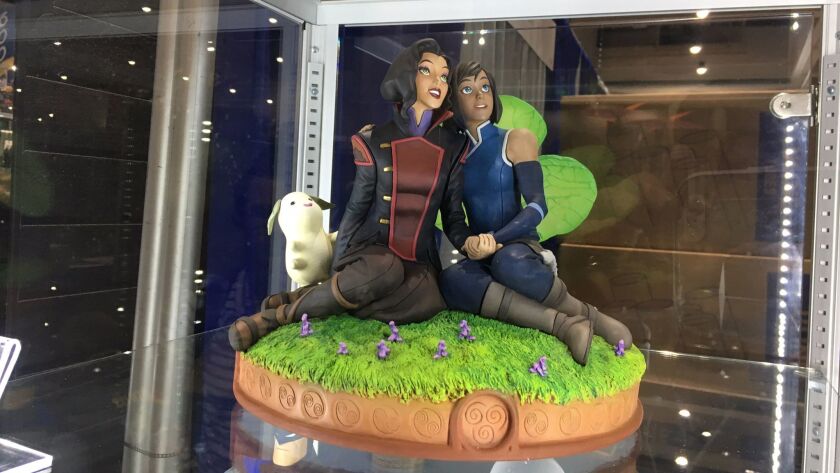 A Korrasami statue that tells the story of what happened right after "Legend of Korra" ended. Looks like Korra and Asami, who walked off into the Spirit World hand in hand in the last moment of the series, are enjoying the honeymoon phase of their newfound relationship. Among Mondo's other fun offerings are an amazing "Alien" tiki mug and Marvel-themed enamel pins galore.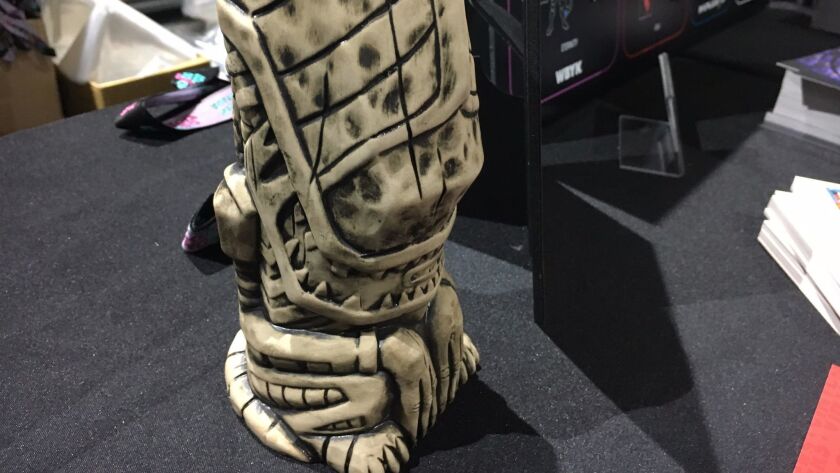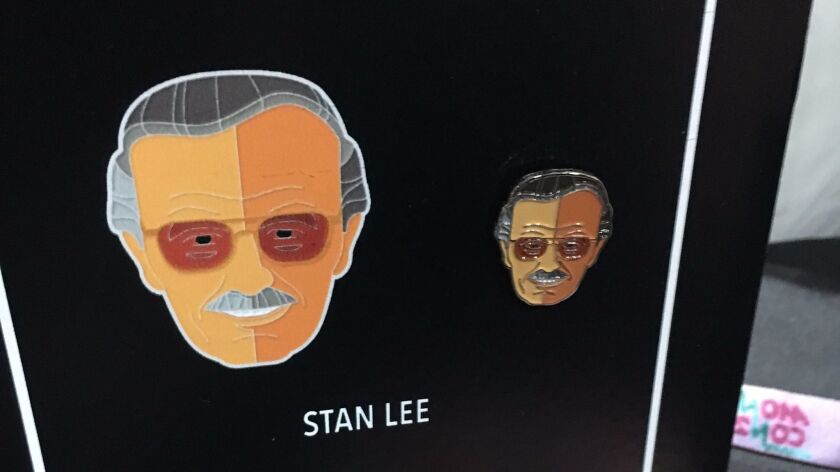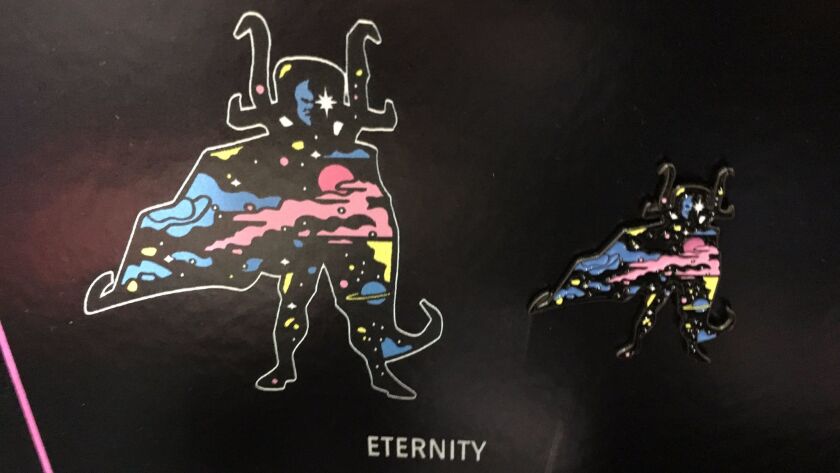 "Doctor Who" rainbow TARDIS gear — BBC America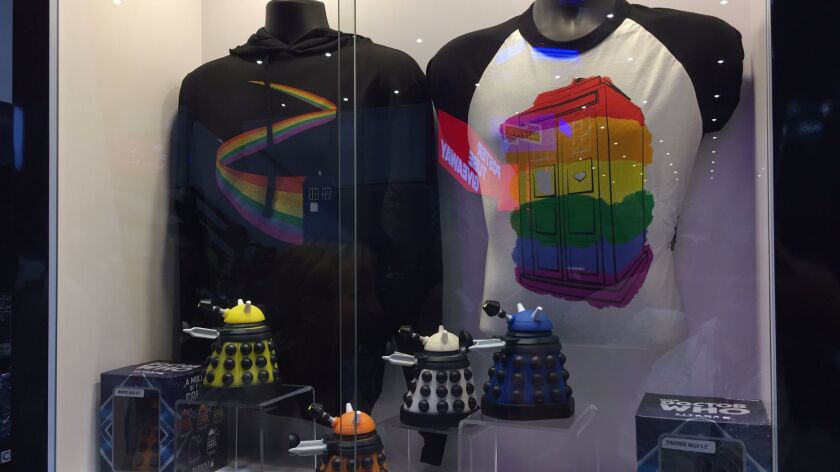 Add some color to your "Doctor Who" wardrobe and maybe find out what's at the end of the rainbow. Plus, what better way to celebrate "Doctor Who's" first openly gay companion, Bill?
(Booth 4129)
Retro-style "Star Wars" figures — Gentle Giant Ltd.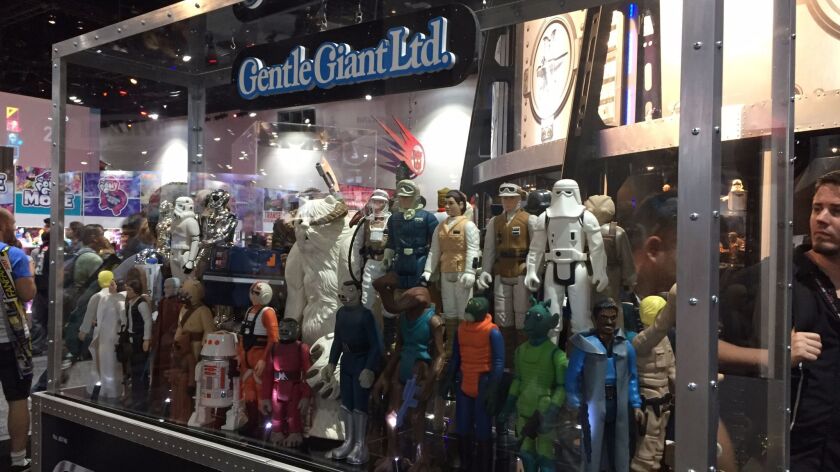 Why mess with a classic?
(Booth 3513)
Everything "Saga" — Image Comics/Skybound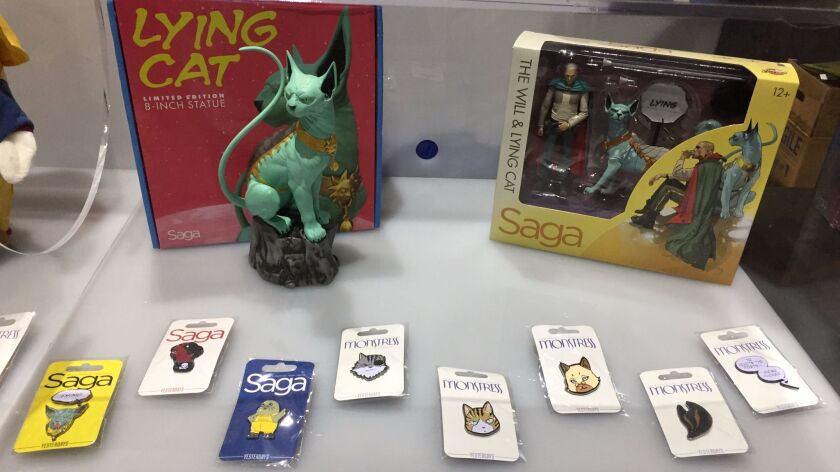 How many ways can you own "Saga's" Lying Cat? At least three ways (statue, figure and pin). Unfortunately, these versions do not actually point out when a person is lying so you'll still have to do your own fact checking regardless of how many pins you buy. Also, what "Saga" collection would be complete without a plush of Ghüs, the cutest side character in the comics' history?
(Booth 2729)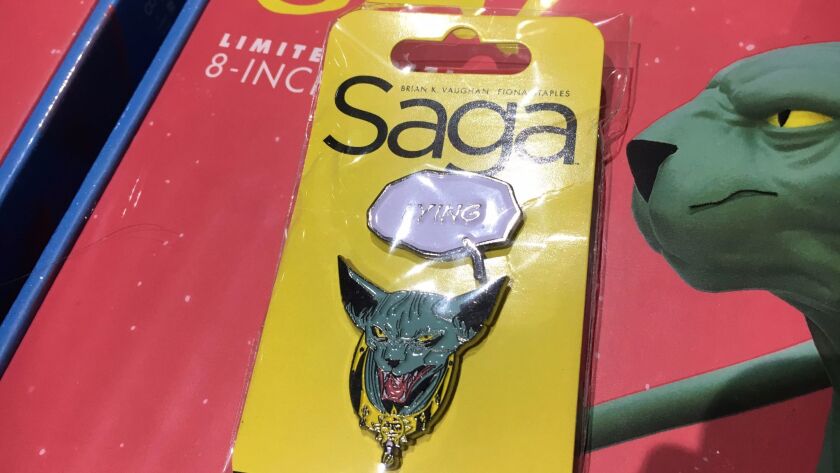 Giant Lockjaw — Marvel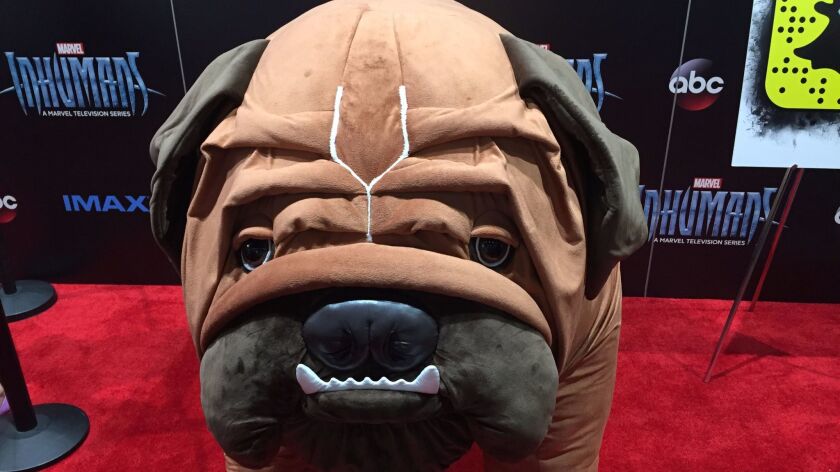 Lockjaw, Marvel's giant bulldog-like creature with the power to teleport, is about to become a household name. Partly because he'll be appearing in the upcoming "Inhumans" TV series, but mostly because the plush version of the character is beyond adorable. And if you think the life-sized version is cute, you should check out the smaller plushes that are actually for sale.
(Booth 2329)
Wonder Woman statue — Sideshow Collectibles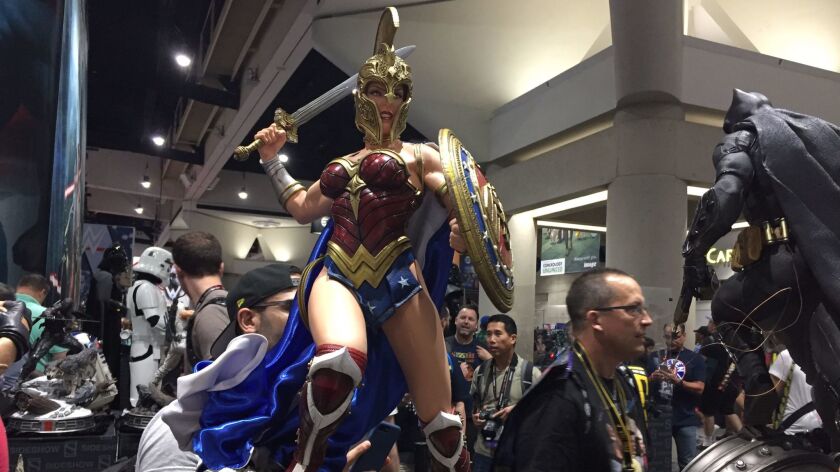 Behold: Wonder Woman in all her Amazonian glory. In statue form.
(Booth 1929)
"Scott Pilgrim" game — Oni Press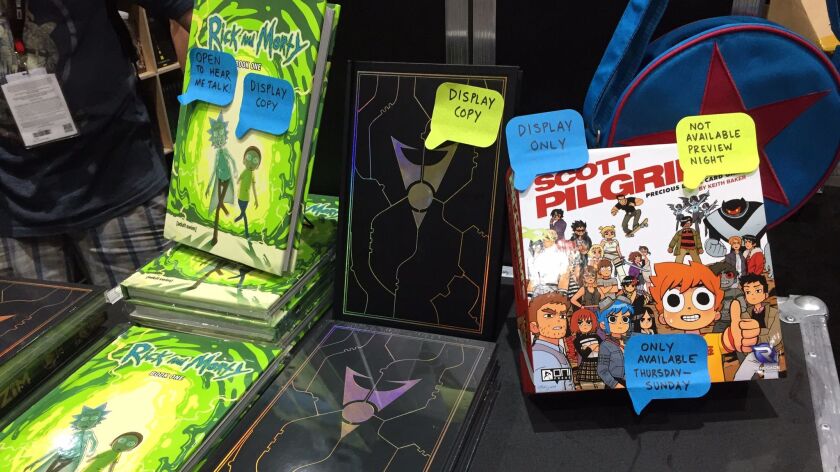 Fans won't find a brand new "Scott Pilgrim" comic at SDCC but you can find this limited exclusive version of Scott Pilgrim's Precious Little Card game.
(Booth 1833)
The Night King mask — Composite Effects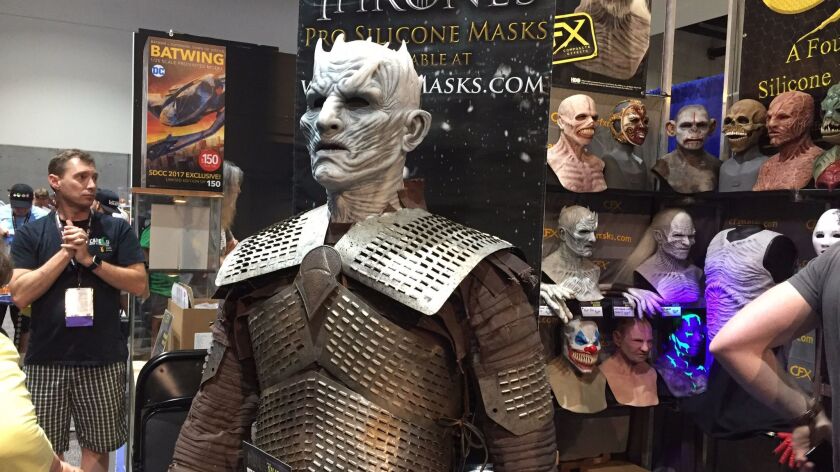 This is perhaps the closest most fans will get to coming face-to-face with the Night King. Don't worry, you won't need any Valyrian steel to keep yourself safe from this super realistic silicone mask.
(Booth 2944)
"Love is Love" — IDW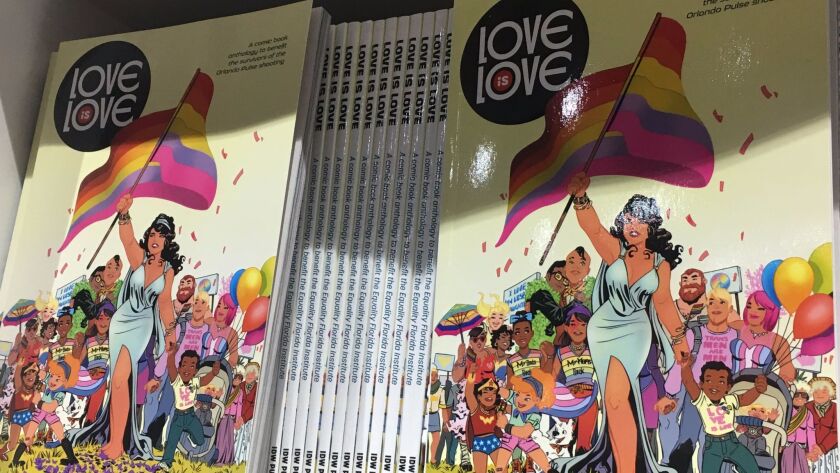 A compilation of short comics and art pieces in response to the Orlando shooting at Pulse nightclub in 2016. Writers, artists and comedians such as Damon Lindelof, Phil Jimenez, Patton Oswalt and Patty Jenkins all contributed to this collaboration (published by DC and IDW).
(Booth 2743)
Vintage Movie Posters — Reel Art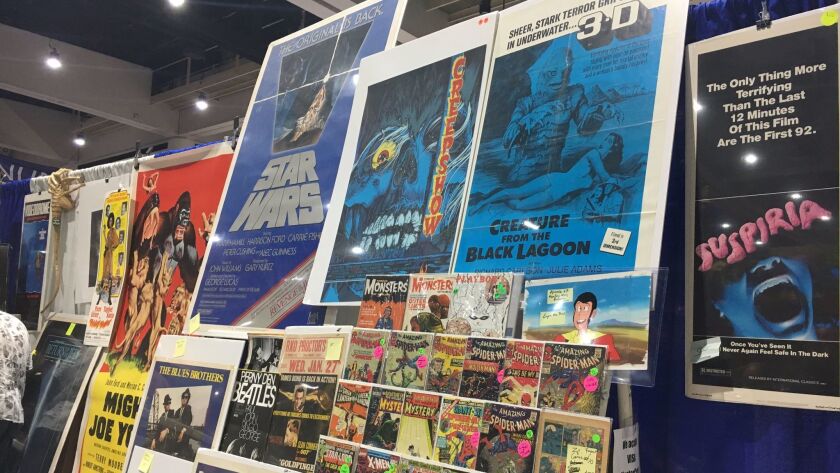 In a nod to the recently passed George Romero, Reel Art is selling a "Creepshow" Mondo print and a few originals at their booth. And not to be outdone, they also exhumed "The Creature from the Black Lagoon" for fans of the movie that may have inspired Guillermo del Toro's "The Shape of Water," whose trailer dropped yesterday.
(Booth #723)
Wonder Woman's First Comic Book Appearance — Heritage Auctions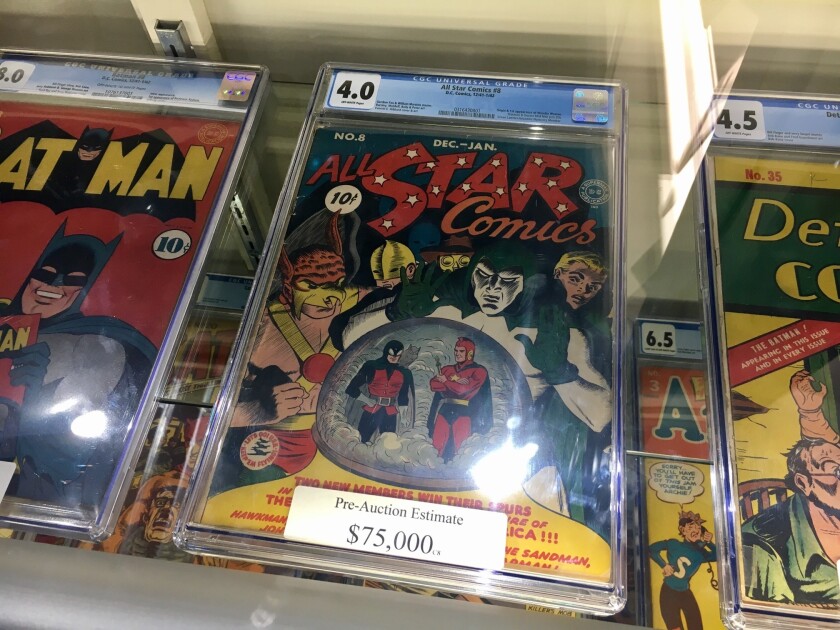 The comic that Wonder Woman made her debut in is being sold for a reasonable $75,000. This price might be inflated thanks to the recent success of the Warner Bros. live action film. And while Diana Prince (a.k.a. Wonder Woman) may not be on the cover, her short story in this comic showcases an origin story that has followed her for 76 years.
(Booth #900)
Disney Vinyl — Disney Music Emporium
Don't be the last millennial on your block without a Disney score on vinyl. Just make sure when you purchase the record that you remind everyone that this album is on vinyl, thus making the sound warmer or whatever it is folks that collect records nowadays claim. We tip our hats to the lovely optical illusion created by Captain America's spinning shield.
(Booth #4049)
Outlander — Starz
Do you like free T-shirts and actors with questionable Scottish accents who are paid to be nice to you? Then look no further, because the Starz booth is here to please. Surrounded by delightful gents with giant mallets, the "Outlander" spot in the convention hall is a nice bit of fun wedged between sparring superheroes and the undead.
(Booth 4029)
The Best Moments of Comic-Con 2017: 'Star Trek: Discovery,' 'Blade Runner' and more
On Now
Video: The Best Cosplay of Comic-Con 2017
2:04
On Now
"The Tick" Cast Says The Fan Pressure Is Real at Comic-Con 2017
9:45
On Now
Video: Inside the LA Times studio at Comic-Con
On Now
The stars of "Riverdale" talk season 2 at Comic Con
On Now
"Stranger Things" Cast At Comic-Con 2017
On Now
"Inhumans" Cast Was Blown Away By The Comic-Con Panel Turnout
4:44
On Now
Watch: The cast and writers of "Ready Player One" talk Easter eggs and Spielberg's nerd cred at Comic Con
On Now
"Twin Peaks" Cast Talks About Working With David Lynch
5:03
On Now
"Annabelle: Creation" Cast Says They Blessed The Set
6:40
On Now
"Supergirl" Cast Loves To Sing
4:13
Twitter: @MdellW
ALSO:
'Westworld' stars confront the nature of the fembot
Negan promises he's 'just getting started,' but have 'Walking Dead' fans already seen enough misery?
For the love of monsters: An insider tour of Guillermo del Toro's Bleak House before his LACMA show
---
The complete guide to home viewing
Get Screen Gab for weekly recommendations, analysis, interviews and irreverent discussion of the TV and streaming movies everyone's talking about.
You may occasionally receive promotional content from the Los Angeles Times.