Where to go for Free Comic Book Day 2019 in Los Angeles
Click through to check out the covers for every single Free Comic Book Day 2019 title.
(Clockwise from top left: IDW, Boom! Studios, Marvel, Image, DC, Oni Press, Viz, Dark Horse)
"Riverdale Season 3"
(Thomas Pitilli / Archie Comics)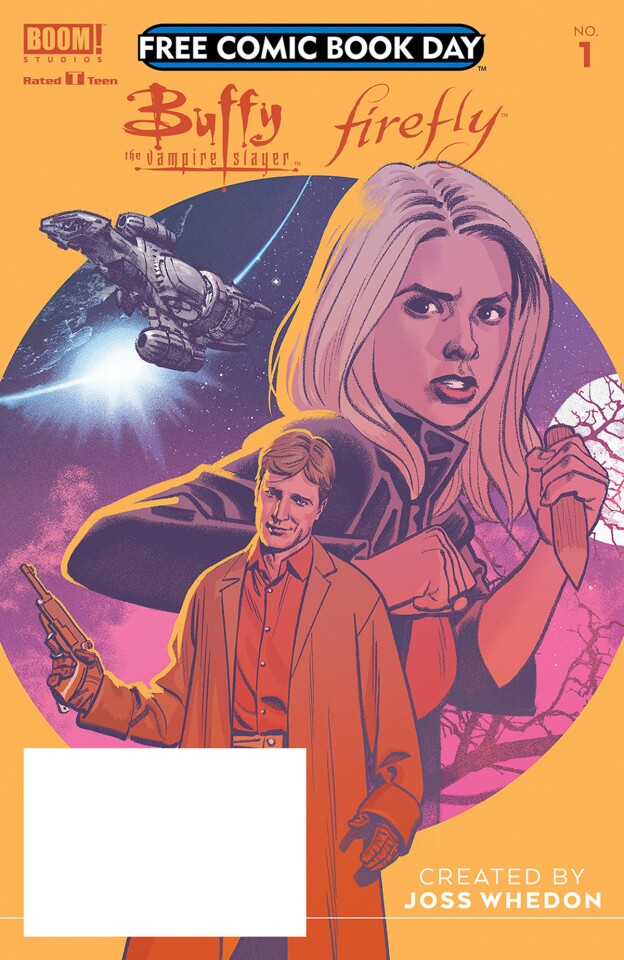 "Welcome to the Whedonverse"
(Greg Smallwood / Boom! Studios)
"Stranger Things" and "Black Hammer"
(Chun Lo / Dark Horse)
"Under the Moon: A Catwoman Tale"
(Isaac Goodhart / Dc)
"Teenage Mutant Ninja Turtles"
(Dave Watcher / Idw)
"Deadly Class: Killer Set"
(Wes Craig / Image)
"Avengers"
(Ed Mcguinness / Marvel)
"Doctor Who: The Thirteenth Doctor"
(Will Brooks / Titan Comics)
"Descendants: Dizzy's New Fortune"
(Natsuki Minami / Tokyopop)
"Bloodshot"
(Daniel Brereton / Valiant)
"Interceptor"
(Daniel Warren Johnson / Vault Comics)
"Pokemon: I Choose You!"
(Ryo Takamisaki / Viz)
"Animosity Tales"
(Rafael De Latorre / Aftershock Comics)
"Dragonfly and Dragonflyman"
(Jamal Igle / Ahoy Comics)
"Grumble vs. The Goon"
(Eric Powell / Albatross)
"Casper's Spooksville"
(Eric Shanower / American Mythology)
"Punchline"
(Matthew Weldon / Antarctic Press)
"Lady Mechanika"
(Joe Benitez / Benitez Productions)
"Go Fish"
(Arcana Studios)
"Lumberjanes: Shape of Friendship"
(Alexa Sharpe / Boom! Studios)
"Captain Canuck"
(Rob Brunette / Chapterhouse)
"Minecraft"
(Cassie Anderson / Dark Horse)
"Dear Justice League"
(Gustavo Duarte / Dc)
"Marge's Little Lulu"
(John Stanley / Drawn & Warterly)
"Bob's Burgers"
(Ryan Mattos / Dynamite)
"Vampirella"
(Ergun Gunduz / Dynamite)
"Zagor: The Alien Saga"
(Michele Rubini / Epicenter Comics)
"My Favorite Thing Is Monsters"
(Emil Ferris / Fantagraphics)
"Cristiano Ronaldo's Striker Force 7"
(Jeevan Kang / Graphic Pop)
"Blastosaurus"
(Richard Fairgray / Golden Apple Books)
"Wolfie Monster and the Big Bad Pizza Battle"
(Joey Ellis / Graphix)
"H1 Ignition"
(Yanick Paquette / Humanoids)
Kodansha Comics' all-ages sampler with "Witch Hat Atelier," "Cardcaptor Sakura" and "Magus of the Library."
(Kodansha )
"Star Wars Adventures"
(Derek Charm / IDW)
"Spawn"
(Francesco Mattina / Image)
"A Sheets Story"
(Brenna Thummler / Brenna Thummler)
"Gillbert"
(Art Baltazar / Papercutz)
"The Tick"
(Ian Nichols / New England Comics)
"Ghost Hog"
(Joey Weiser / Oni Press)
"Lucy & Andy Neanderthal: Big and Boulder"
(Jeffrey Brown / Random House)
Treasury of British Comics presents "Funny Pages"
(Rebellion)
"The Dark Age"
(Red 5 Comics)
"Hope"
(K. Lynn Smith / Source Point Press)
"Midnight Sky"
(Scott Van Domelen / Scout Comics)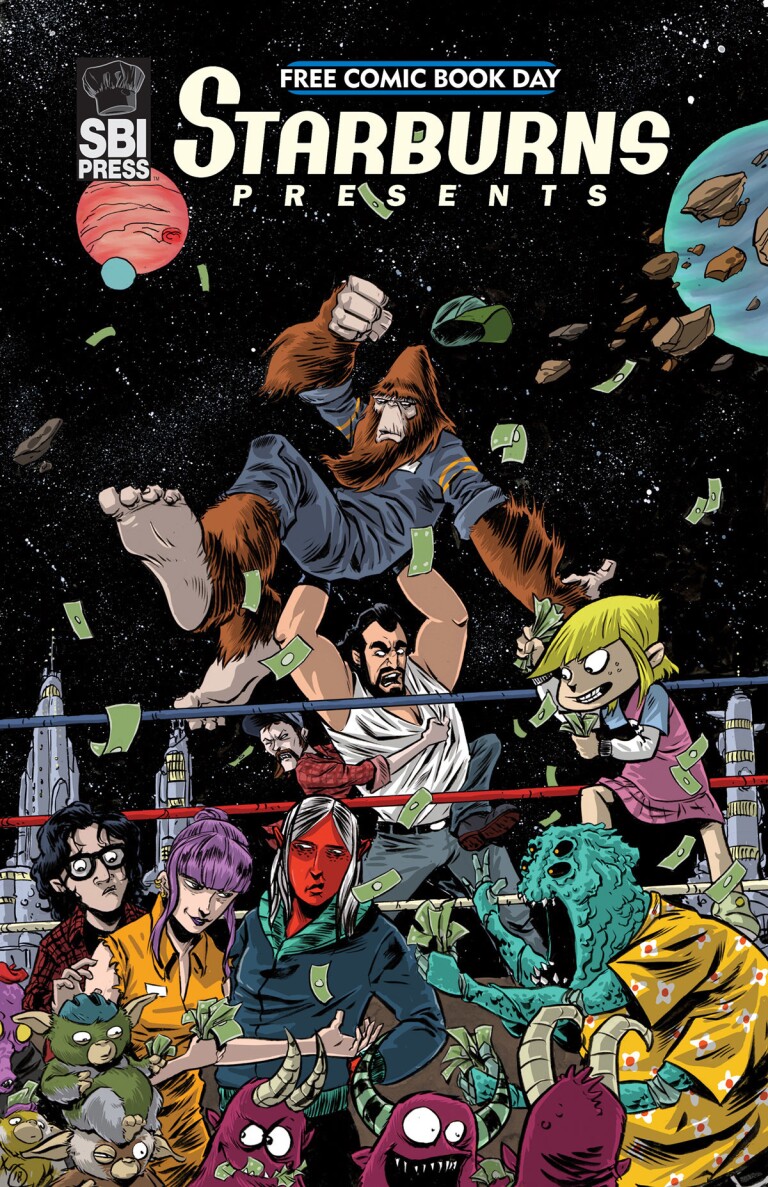 "Starburns Presents"
(Kelly Williams / Starburns Industries Press)
"Robotech"
(Hendry Prasetya / Titan Comics)
"Street Fighter: Sakura vs. Karin"
(Omar Dogan / Udon Entertainment)
"Kino's Journey: The Beautiful World"
(Iruka Shiomiya / Vertical Comics)
"My Hero Academia"
(Kouhei Horikoshi / Viz)
"Malika: Fire & Frost"
(Sunkanmi Akinboye / Youneek Studios)
"Defend Comics" (Educational)
(Derek Charm / Comic Book Legal Defense Fund)
"The Overstreet Guide to Collecting" (Educational)
(Billy Tucci / Gemstone Publishing)
The stars have aligned: Saturday is Free Comic Book Day and Star Wars Day.
It's the perfect occasion for "Star Wars" fans, the comic book faithful and even the newly geek culture-curious to head over to their local comic-book store to celebrate.
First observed in 2002, Free Comic Book Day is held on the first Saturday in May. Founded on the belief that there is a perfect comic book out there for everyone, each person who visits a participating comics shop on FCBD is guaranteed at least one free comic book.
And Star Wars Day, of course, is one of the greatest pun-based holidays around ("May the Fourth be with you"). It's probably the one thing the First Order and the Resistance can agree on.
Now, FCBD doesn't mean you can just walk into a store and grab any comic book for free. In the gallery above, you can check out the covers of all 51 FCBD titles that will be available this year. One of the best things about FCBD is that each participating store celebrates the day in its own way.
From holding cosplay contests and hosting comics-creator appearances and signings to adding charity components to their special day, here are some spots in and around L.A. to check out.
Golden Apple
Where: Los Angeles
Guests: Gerry Duggan ("Avengers," "Deadpool"), Siike (Venom Vlog), Richard Fairgray and Paul Eiding ("Blastosaurus"), Marc Andreyko ("Supergirl"), Omar Mora ("The Unearthians"). More details here.
Earth-2 Comics
Where: Sherman Oaks
Guests: Jody Houser ("Doctor Who," "Stranger Things," "Faith"), Monica Kubina ("DC Superhero Girls," " Star Wars Adventures"), Will Pilgrim ("Marvel Preludes: Avengers Endgame"), Tayla Perper ("Steven Universe," "Teen Titans Go!") and more. Full list of guests available here.
The Comic Bug
Where: Manhattan Beach
Guests: Derek Charm ("Star Wars Adventures," "The Unbeatable Squirrel Girl"), Fabrice Sapolsky ("Spider-Man Noir"), Jason Shawn Alexander ("Spawn"), Lisa K. Weber ("Hex 11"), Kelly Sue Milano ("Hex 11"), Lynly Forrest ("Hex 11") and more. Full list of guests available here.
Other: Festivities will continue at the store's Culver City location on Sunday.
Hi De Ho Comics
Where: Santa Monica
What: The store is hosting its own comic-con with guests including Omar Spahi (Dreamer Comics Podcast), Jay Sullivan ("G.I. Joe"), Christie Shinn (Hora Tora Studios), David Pepose ("Spencer & Locke"), and folks from Comadres y Comics Podcast, Stranger Comics, Aftershock Comics, Fanbase Press, Tokyo Pop and more.
Other: Cosplay contest. Additional info here.
Galaxy of Comics
Where: Van Nuys
Guests: Nilah Magruder ("Marvel Rising"), Trevor and Paul Hankins ("Powers Squared")
Other: Food trucks, prize wheel and donations for the Comic Book Legal Defense Fund. Additional details here.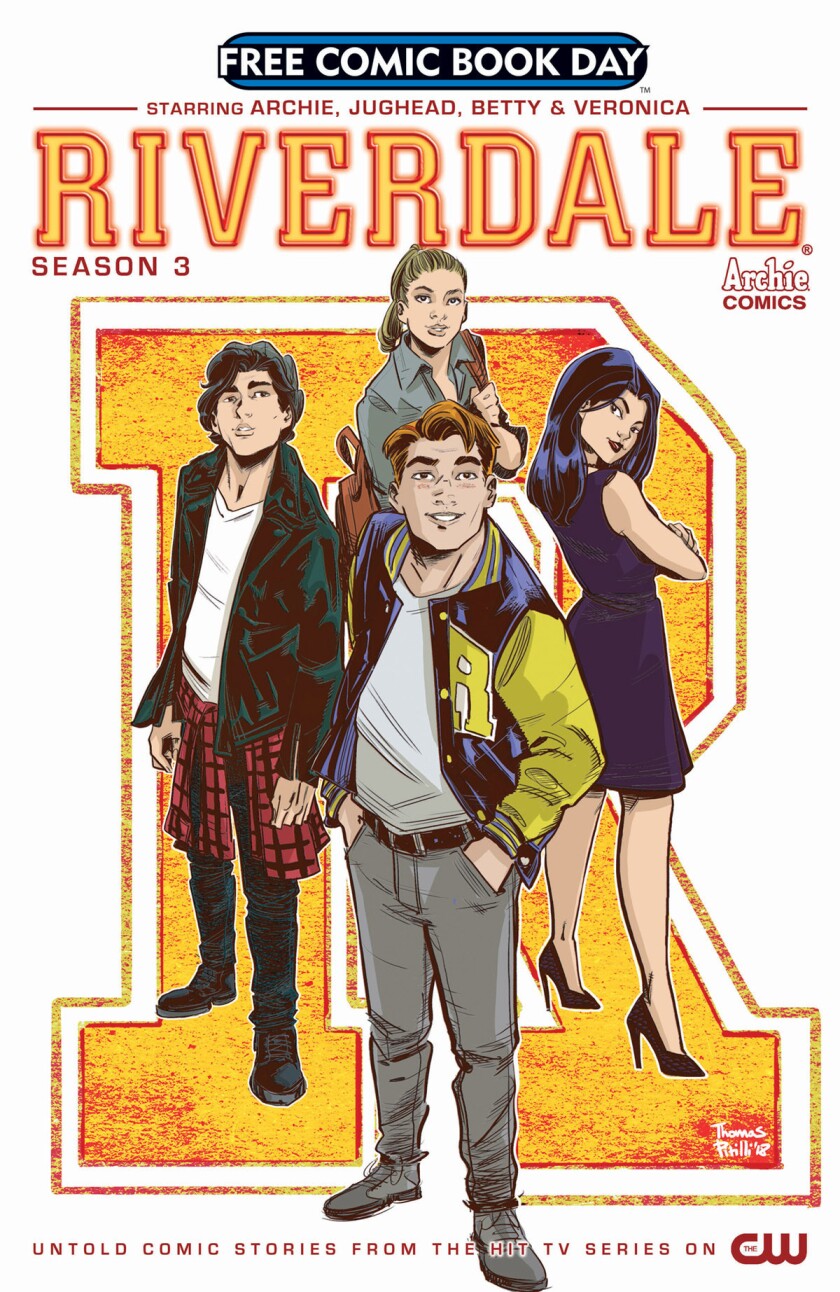 Collector's Paradise
Where: Pasadena
What: Artists Rick Basaldua, Susan Lee and Andres Salazar will be doing sketches for kids.
Other: The store also has a Winnetka location. More info here.
Comics Factory
Where: Pasadena
What: Artist David Green (Star Wars Trading Cards) will be doing free Star Wars sketches.
Other: Charity raffle for the Light Bringer Project. Additional info here.
Pulp Fiction Comics
Where: Long Beach
Guest: Kim Dwinell ("Surfside Girls")
Other: Food and donation drive for the L.A. Food Bank (for extra FCBD books). Additional info here.
Emerald Knights Comics and Games
Where: Burbank
What: A pop-up nerdy marketplace with vendors including +3 to Charisma, 1980who, Becca Quant, Cantrip Candles, Crafty Geek Girls, and more. Full list of vendors and additional info here.
Nostalgia Books & Comics
Where: San Gabriel
Guests: Javier Hernandez ("El Muerto," co-founder Latino Comics Expo) and Denny Riccelli ("Cousin Herald"). More info here.
Comic book shops are not the only places to celebrate FCBD. A number of local libraries such as the L.A. Central Library and the Sorensen Library (in Whittier) are holding FCBD and Star Wars Day-themed events with free comic books, scavenger hunts, crafts, STEM activities and more.
Other L.A. County libraries with events to check out include Cudahy Library, View Park Bebe Moore Campbell Library, Malibu Library and Bell Library.
Twitter: @tracycbrown
---
The complete guide to home viewing
Get Screen Gab for weekly recommendations, analysis, interviews and irreverent discussion of the TV and streaming movies everyone's talking about.
You may occasionally receive promotional content from the Los Angeles Times.