Comic-Con: 'Game of Thrones' panel discusses Sansa's and Arya's tough times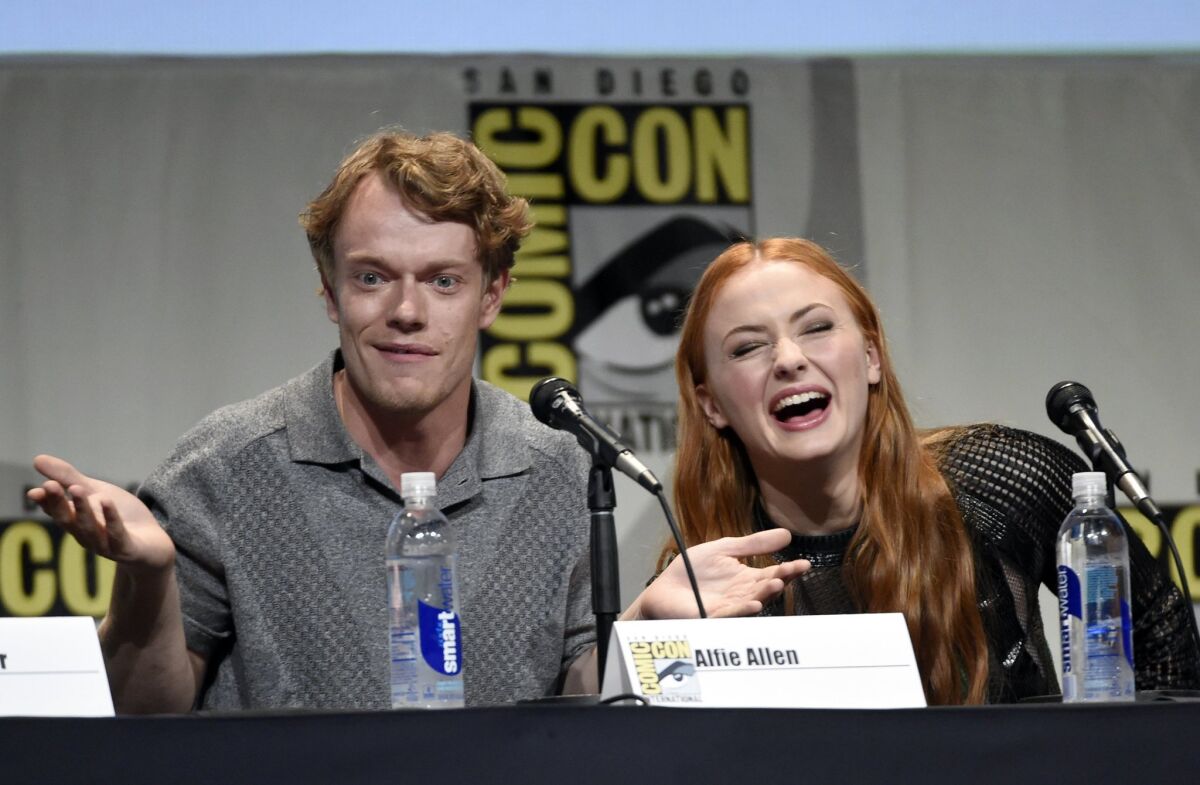 It's tough being a Stark.
Just like in the series itself, the "Game of Thrones" panel at Comic-Con International did not shy away from controversial topics and the terrible things that tend to happen to those of House Stark.
Sophie Turner was asked to discuss Sansa's rape, which left the fandom shocked (because it deviated from the books) and divided.
"There's one thing that Sansa still is despite what happened to her" said Turner. "She's still strong."
For Turner, Sansa displays a different type of strength and a different method of fighting than some of the other Starks (which is probably why she is one of the few remaining Starks in the series).
"I think Sansa has gone through a lot, but she has developed skills," said Turner. "She's still just as strong as she was before [the rape]. What she's been doing this whole time, this whole series, is she's been just getting by [to survive]."
"[Sansa] could've fought back if she wanted to," Turner said. "But she didn't. She's one of those characters that does her scheming in her mind."
As for why the scene focuses more on Theon than Sansa?
"I really don't know why they chose to focus on Theon because I was giving a great performance," Turner said.
When asked by a fan about Sansa's relationship with Theon going forward, Turner said that that was something they were trying to figure out all season (even before his witnessing her rape, she does think he murdered her brothers).
"I think because she grew up with him, she'll always trust in him that little bit," Turner said.
Of course, Sansa was not the only Stark who suffered this season.
Arya is now blind and Maisie Williams said the contacts she has to wear are uncomfortable. She also said she hadn't known her character's fate before fans told her that Arya goes blind.
Arya and Williams have some difficulties ahead, especially if Arya has to fight in her newly impaired state.
"It takes [the writers] like three seconds to write, 'Arya fights blind,' but it would take me a lot longer to master that," Williams said.
Although it would be a nice change from the all the sweeping Arya did this season.
The Stark men were absent from the panel, but they were missed -- sort of.
"We couldn't wait for him to be gone, actually," Williams joked when asked about Jon Snow's death. "That hair. So annoying."
Twitter: @tracycbrown
For more news, follow @LATherocomplex on Twitter. And for additional Comic-Con coverage, check out our Los Angeles Times Comic-Con team on this Twitter list.
Get our L.A. Goes Out newsletter, with the week's best events, to help you explore and experience our city.
You may occasionally receive promotional content from the Los Angeles Times.