USC students keep their 'Harry Potter' love alive in a screenwriting class about the franchise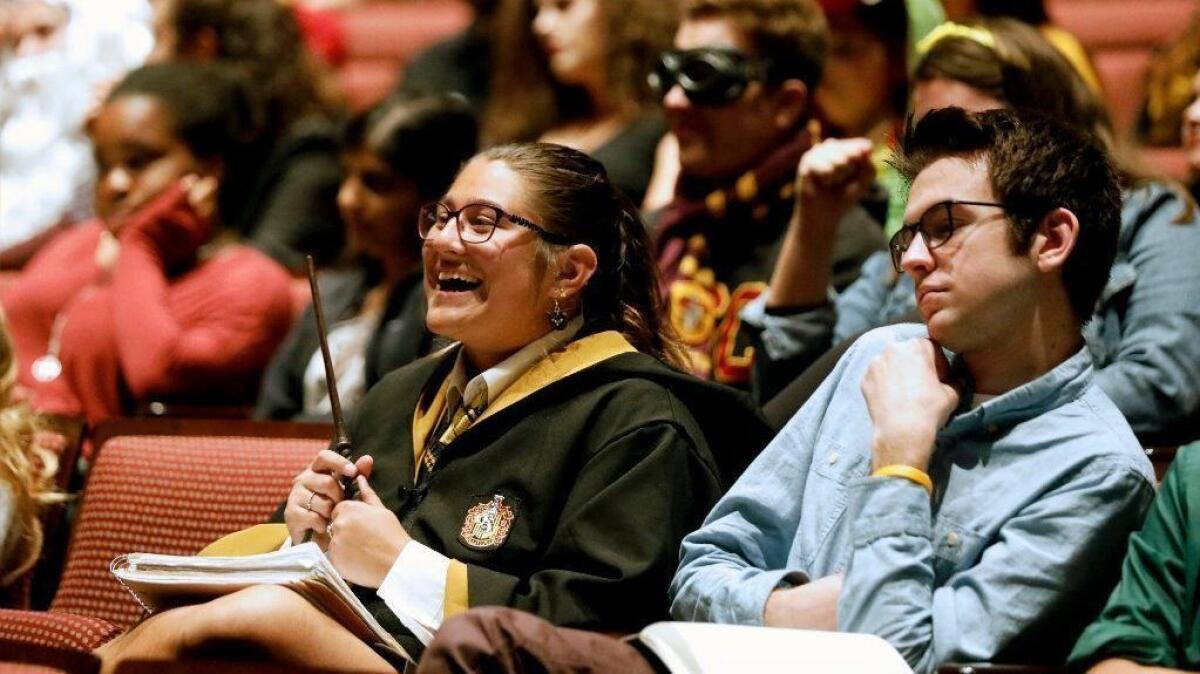 After stuttering through a string of mostly incomprehensible words, Ronald Weasley suddenly drops down on one knee and asks Fleur Delacour to the Yule Ball. She thinks he's joking. The audience audibly chuckles.
This audience includes a Lucius Malfoy, a Severus Snape, a couple of Luna Lovegoods and at least three Bellatrix Lestranges. Or rather, these are students dressed as those "Harry Potter" characters, as well as a couple hundred of their University of Southern California classmates, many of whom showed up to their screenwriting class that evening in cosplay.
During the fall semester, these USC students were able to dive into the cinematic building blocks of J.K. Rowling's Wizarding World through a course called "The Harry Potter Franchise: Adaptation, Ethics, Genre and the Magic of Story."
On stage, their classmates wrap up the performance of the brief scene, which was based on an event that was merely mentioned in passing in 2005's "Harry Potter and the Goblet of Fire," the fourth film in the series adapted from Rowling's popular fantasy books.
This particular script, written by one of the students as a midterm assignment, was one of a handful chosen to be performed by students in class that evening.
"We're taking a look at the nature of adaptation," the course's professor, Janet Batchler, told The Times. "We're diving into the movies in a way to help people understand 'Why did the filmmakers make the choices that they made?'"
Offered as an iteration of the "Screenwriters and Their Work" series from USC's School of Cinematic Arts for the very first time, Batchler's recently wrapped class was designed to examine the storytelling of the "Harry Potter" series through its specific filmmaking perspective.
The premise of the course alone attracted "Harry Potter" fans of all stripes — from those who originally fell in love with the books to ones who saw all the movies first — and from all across campus.
"Harry Potter," of course, is no stranger to academia, especially as the subject of literature courses. Dating back to at least 2003, the Wizarding World has also been the focus of science seminars, child development classes, education studies courses and even law classes at universities around the world.
But Batchler believes her course might be the first in the U.S. to focus specifically on the films.
"I love that it's a screenwriting class and not just a cinema and media studies class," said Melanie Holpert, who studies communications and history. "The things that we've learned in this class are so universal, not just in regards to 'Harry Potter,' but to becoming a good writer and understanding storytelling as a whole."
As if the promise of getting college credit for studying "Harry Potter" weren't enough, Batchler further won over her students by handing out a sorting quiz on the first day of class.
In the "Harry Potter" series, every student attending Hogwarts School of Witchcraft and Wizardry is sorted into one of four Houses based on the traits favored by each of the school's founders: Gryffindor, Hufflepuff, Ravenclaw and Slytherin.
It's a rite of passage for Hogwarts students that not only determines where they will live, but also influences their future friendships and how they are perceived by others. Of course in the Wizarding World there is no quiz. They use a magical hat.
"[Students] can get house points for making a very cogent point in class, which encourages people to speak up and raise their hands and contribute something," Batchler, herself a Ravenclaw, explained.
Some of Batchler's students, though, already knew their house affiliation from taking the quiz at Pottermore, the official online portal for all things "Harry Potter."
And sorting in the real world is just as serious for fans who have had seven books and eight films to influence their opinions on each of the houses. Though there were exceptions, many of the "Harry Potter" series' heroes were in Gryffindor, while a majority of those affiliated with Slytherin were villains.
"I created six email accounts for Pottermore because I'd been trying to get into Gryffindor," said Nisha Malhotra, a senior and now proud Hufflepuff.
"Hufflepuff is the best house because Helga Hufflepuff, the founder of that house, basically said, 'Here's a novel idea: Maybe we should treat all the students equally,'" she added.
The house points system helped foster a sense of community in the class that was already bound by a shared love for the series.
"What I love the most about this course is there are [nearly] 300 people and the students are from everywhere on this campus," said Vincent Powell, a Gryffindor student in USC's MFA program.
"Architecture students and art students and dance students … we have all these different paths but there is something that unites us with the story of Harry Potter, which is the basis of the class. The universalism of 'Harry Potter.'"
For Powell, it's "Harry Potter's" ability to connect with readers and audiences across various backgrounds and beliefs that has set it apart from other franchises.
In addition to examining each of the eight film installments, discussion topics for the course ranged from storytelling techniques to the ethical implications of certain choices the filmmakers made in their adaptations, as well as "Harry Potter" fan culture and the participatory culture of fandom.
As Batchler explained in class, fandom involves the various acts of interacting with a text (such as books and movies), from discussing its meanings and significance with others to creating supplemental art or stories rooted in that world.
Which means the course itself is a pretty meta "Harry Potter" fandom experience.
Even the class's midterm assignment was an example of fan-created content — students were tasked with adapting a scene from any of the "Harry Potter" books that was omitted from the films.
"['Harry Potter'] is more than just a story," said Matthew Maceda, a USC sophomore and Hufflepuff. "It's being a part of your house and going to the theme parks and and all that. There's an entire culture that lets you be immersed in that world itself."
Beyond the inspiring story of a young wizard destined to take down a magical villain who is trying to conquer the world, the "Harry Potter" series has remained popular because fans have been able to engage with different aspects of Rowling's world: supplemental books and essays by the author, stage plays, games and the Wizarding World theme parks.
But fan-made embellishments unaffiliated with official "Harry Potter" channels have also been vital in keeping the series relevant long after its initial conclusion.
"This was so formative for my middle-school years," murmured a student as Batchler shared clips from "A Very Potter Musical" to the class.
Just as "Harry Potter" inspired some to create fan art and fan fiction, the series inspired plenty of others to pursue their own creative endeavors.
Jennifer Frazin, an MFA student and Ravenclaw, said she wrote her USC admissions essay about how "Harry Potter" inspired her to become a writer.
"I grew up with those books," said Frazin. "They're the reason that I write.
"I really can't think of any other series like 'Harry Potter' where you love it so much that you feel a need to share it with the world."
Now that's magic.
Twitter: @tracycbrown
Get our L.A. Goes Out newsletter, with the week's best events, to help you explore and experience our city.
You may occasionally receive promotional content from the Los Angeles Times.