Marvel's new series 'Jessica Jones' is not for kids, and that's a good thing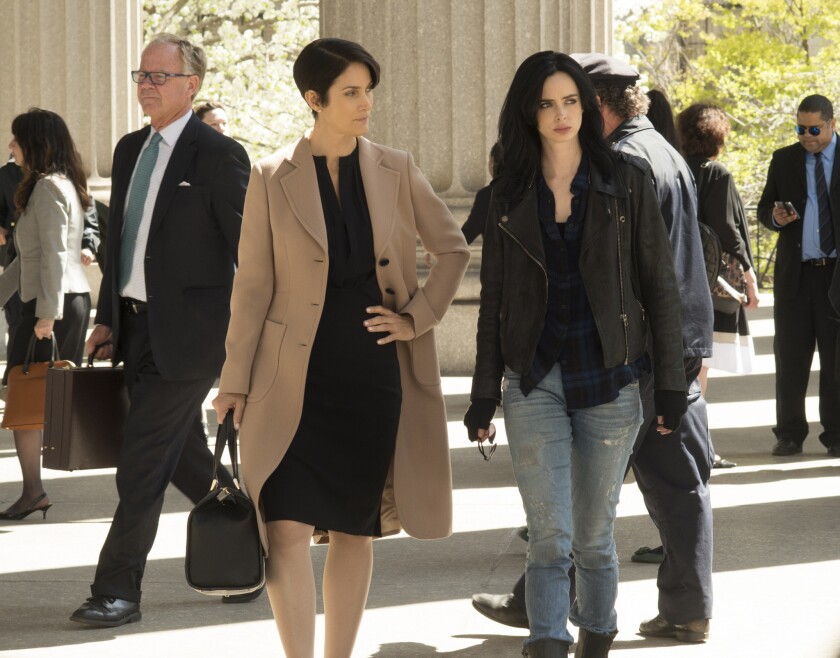 This past weekend at New York Comic Con, Marvel and Netflix surprised the crowd with a screening of the "Jessica Jones" pilot. And according to our round-up of first impressions posts from the lucky viewers, the new series offers something not often found in a world of fantastical superheroes: reality.
Adapted from Brian Michael Bendis' "Alias" comic, the series is centered on a struggling ex-superhero named Jessica Jones (Krysten Ritter), who hangs up her cape after a brutal experience. Plagued by her past, Jones seeks solace, and a rent check, as a personal investigator.
SIGN UP for the free Indie Focus movies newsletter >>
The Netflix show is produced and created by Melissa Rosenberg ("Twilight") and also introduces another Marvel hero, Luke Cage (played by Mike Colter) and the nefarious Kilgrave, aka the Purple Man, (played by "Doctor Who's" David Tennant), which may explain why the many teaser trailers for this series have been tinted purple.
Up until now, very little was known about this new Marvel creation, but those who got an early look seem pretty pleased with what was screened.
Abraham Riesman at Vulture was impressed with what he saw.
In his first-impression article he described "Jessica Jones" as "shockingly and refreshingly honest in its depiction of sex and sexuality — especially compared to the rest of Marvel's cinematic and televised output, which tends to be heterosexual and vanilla on the rare occasions when it dares to be sexual at all." He goes on to describe a sex scene taken directly from the Bendis' comic book, so "Alias" purists should be happy.
"It's the way real-life grown-ups have sex, not the way neutered TV superheroes do," Riesman wrote. "The audience at Comic-Con seemed to simultaneously clutch its pearls and lean forward in titillated fascination."
Clearly those who weren't familiar with the original comic series, which was the first contribution to Marvel's R-Rated "MAX" imprint, were in for a bit of a shock. Eric Goldman of IGN noted that the sexual content "caused some nervous laughter from the audience of several thousand people, some who brought kids - though Marvel TV's Jeph Loeb did forewarn them that the Netflix material has already proven it's not really kid-oriented."
Sexual intrigue and shock aside, the bigger takeaway from both fan and critical reaction was that "Jessica Jones" was going to dive into larger issues the Marvel Cinematic Universe has all but avoided, and the Netflix "Daredevil" series has (thus far) only dipped its feet in.
Main character Ritter will struggle with PTSD, addiction and a whole host of other problems, but according to Kelsea Stahler of Bustle, she's no shrinking violet, "At one point, [Ritter] threatens a pipsqueak with the line, 'You turn that thing on and I'll pull your underwear through your eye' and my heart soared." Stahler wrote. "This is the female 'superhero' we've been waiting for."
io9's Katharine's Trendacosta praised the "noir" beats in the premiere episode along with the decision to focus the drama on the titular character's emotional journey, as opposed to the novel discovery of her superhero powers, "Rather than spending a lot of the first episode telling the audience who everyone is, the first episode focuses, rightly, on Jessica—who she is, what she's gone through, and her goals." Trendacosta writes. "Her development takes center stage and everyone else orbits her."
In fact, it sounds like very little time is spent explaining anything at all in "Jessica Jones."
"The first episode creates a truly terrifying villain [David Tennant as the character Kilgrave] not by giving him a monologue, but showing the devastating effects he has," Trendacosta explains. "There's not a lot of exposition in Jessica Jones, but the atmosphere and the characterization makes threats feel very, very real."
Not too much more was said about the Tennant character, which could mean that they're slow-burning the villain (who was not at New York Comic Con). However, the crowd reportedly went "nuts" for the New Luke Cage and Jessica Jones.
It will be interesting to see where "Jessica Jones" lands with fans. It's only the second female-lead Marvel offering since since the debut of "Agent Carter." Meanwhile, Marvel movies just pushed back the long-promised "Captain Marvel" flick. Again.
Here's hoping Carter and Jones can kick down the door for more.
All thirteen episodes of "Jessica Jones" will premiere on Nov. 20.
---
Inside the business of entertainment
The Wide Shot brings you news, analysis and insights on everything from streaming wars to production — and what it all means for the future.
You may occasionally receive promotional content from the Los Angeles Times.