How Disney's Paradise Pier, the 'antithesis' of Walt, became California Adventure's Pixar Pier
The early days of Disney's California Adventure theme park next door to Disneyland boasted a number of peculiar design choices: a paparazzi-themed family ride, a coaster alluding to reckless drivers on Mulholland Drive and an extreme sports story line to its rafting ride.
Most of the above have been removed or fixed over the park's 17 years. Additions such as the cartoonish take on Route 66 that is Cars Land — arguably the most conceptually realized area in the entire Disneyland Resort — as well as gradual enhancements to Grizzly Peak, a land that conjures the majesty of national parks, have over the years turned the once-maligned California Adventure into an honorable theme park.
But one oddity has remained: Paradise Pier.
Paradise Pier's conceit was always surreal — a place within a theme park that evokes the kind of theme park Disneyland was built to reject. Even Disney has occasionally appeared perplexed by its existence in some of its official materials.
Writing in "The Imagineering Field Guide to Disney California Adventure," the company states that the carnival-like amusement piers that inspired the land were the "antithesis of what Walt [Disney] wanted to create with Disneyland."
Now the second attempt to reimagine the pier will open Saturday, taking the Victorian theme of the last refurbishment and giving it a Pixar makeover. The move will add more character to the pier — now broken into two areas, Pixar Pier and Paradise Gardens Park — and, in the sort of marketing coup that executives dream of, a whole lot of Incredibles, the superhero family currently setting records at the box office.
The task presented to Walt Disney Imagineering, the company's highly-secretive arm devoted to theme park experiences, wasn't an easy one. Pixar Pier is not the sort of grand universe that invites guests to fully immerse themselves (think New Orleans Square, Cars Land and the upcoming Star Wars: Galaxy's Edge).
Instead, in less than half a year, designers had to graft story lines onto many existing structures, the kind designed to evoke the piers of Santa Monica and Santa Cruz rather than anything out of a Pixar universe.
Disney senses your cynicism. In the pre-show to the Incredicoaster, the superhero-themed makeover of California Screamin', the young Violet Parr is heard sarcastically remarking that the family name has just been slapped on an "old ride," while fashion designer Edna Mode points out that it's all in the name of corporate synergy. Just because it's so self-aware doesn't mean it can't be funny.
The Incredicoaster is the centerpiece of the redesign. Set in "The Incredibles" home base of Municiberg, the story centers on the city honoring the superheroes by dedicating a roller coaster to them. Baby Jack-Jack, too short to ride the attraction, escapes the watch of Edna and runs rampant amid the tracks.
The ride still goes from zero to 55 mph in four seconds, and now in more elongated and enclosed tunnels we see larger-than-life figures — a 53-foot Elastigirl, for instance — punctuated by lighting and digital effects. A highlight: seeing Jack-Jack turn into a ball of gelatinous, psychedelic-colored goo.
Imagineer Tracey Noce, who served as the coaster's creative director, said she insisted the ride feature tangible figures rather than simply loading it up with digital screens, a welcome move that not only lessens one's chance of motion sickness but recognizes that we go to places like Disneyland to see hand-built creations. Because the characters don't move — though they are enhanced by lighting and some effects — a seat further back in the coaster makes for a better viewing experience so as to not see static figures ahead of a curve.
"You're the conveyance system," Noce said. "You're moving by it so fast."
Her preference was for clarity rather than chaos. She notes that Jack-Jack's lasers are illustrated by clean, clear lights rather than frantic motion. "With the lasers, they're pinging back and forth but that's a graphic because you're moving so quickly," she said. "If we tried to pulse them you would lose that graphic quality."
Guests, however, won't spend too much time in Municiberg. Though the midcentury vintage Tomorrowland-meets-Googie design aesthetic gives it a welcoming, retro-cool feel, the bite-sized Incredibles area soon gives way to a "Toy Story"-themed section, where Jessie's Critter Carousel is under construction and set to open next year.
"Sometimes you need those sweet moments for the family," said Imagineer Jeffrey Shaver-Moskowitz. "This is kind of that. Not everything is an immersive land. Sometimes you just want to see your favorite characters and you want moments with them. We haven't gotten to use 'The Incredibles.' We haven't gotten to use 'Inside Out.' We may not do a full Cars Land version of Municiberg, but with the Incredicoaster, when you're in that you're immersed in that story.
"It doesn't have to be land-size to immerse you," he said. "We can do that on a smaller scale."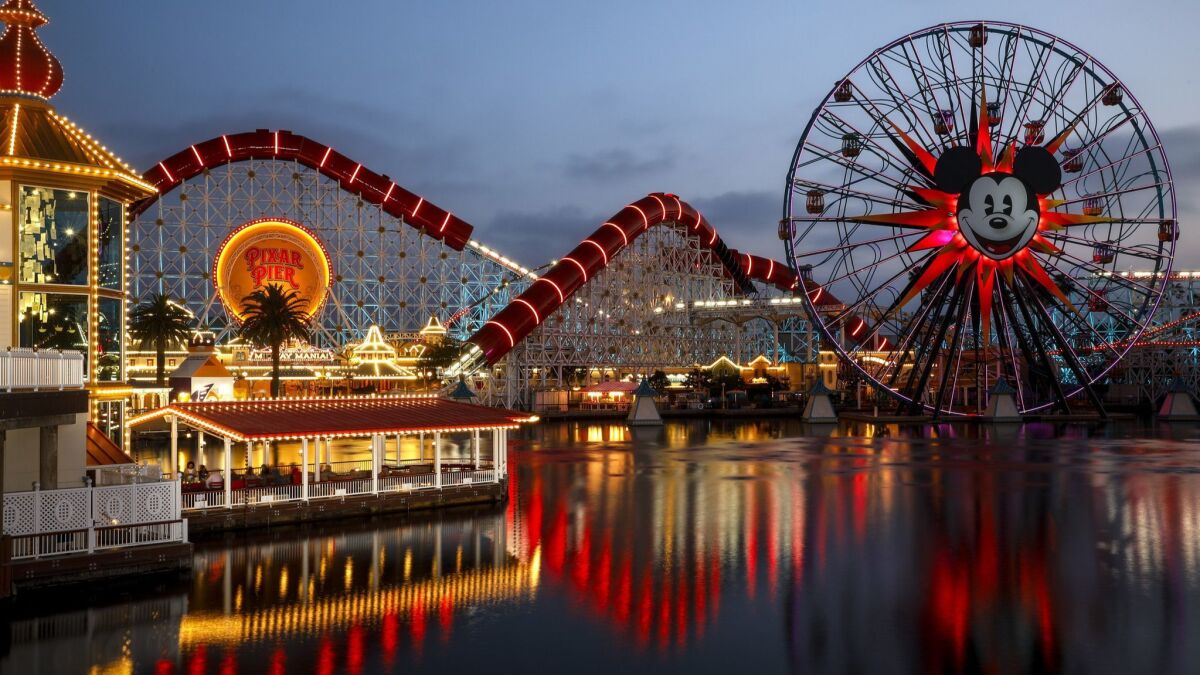 The bulk of the carnival rides of the former Paradise Pier, as well as the Little Mermaid-Ariel's Undersea Adventure, are now Paradise Gardens Park. Pixar Pier is a boardwalk-like area that's split into neighborhoods — one dedicated to "The Incredibles," another to "Toy Story" and one still in development themed to "Inside Out."
But even this raises questions.
The Pixar characters do not live in a shared world, despite some corners of the internet continuing to insist otherwise ("We don't subscribe to that," said Roger Gould, Pixar's theme parks creative director). So what does the cast of "Toy Story" think about the Incredibles cutting through the neighborhood via a roller coaster? And aren't the stars of "Inside Out" largely confined to a human brain? How did Joy, Sadness and Anger escape? And why are they on a pier selling spicy hot dogs?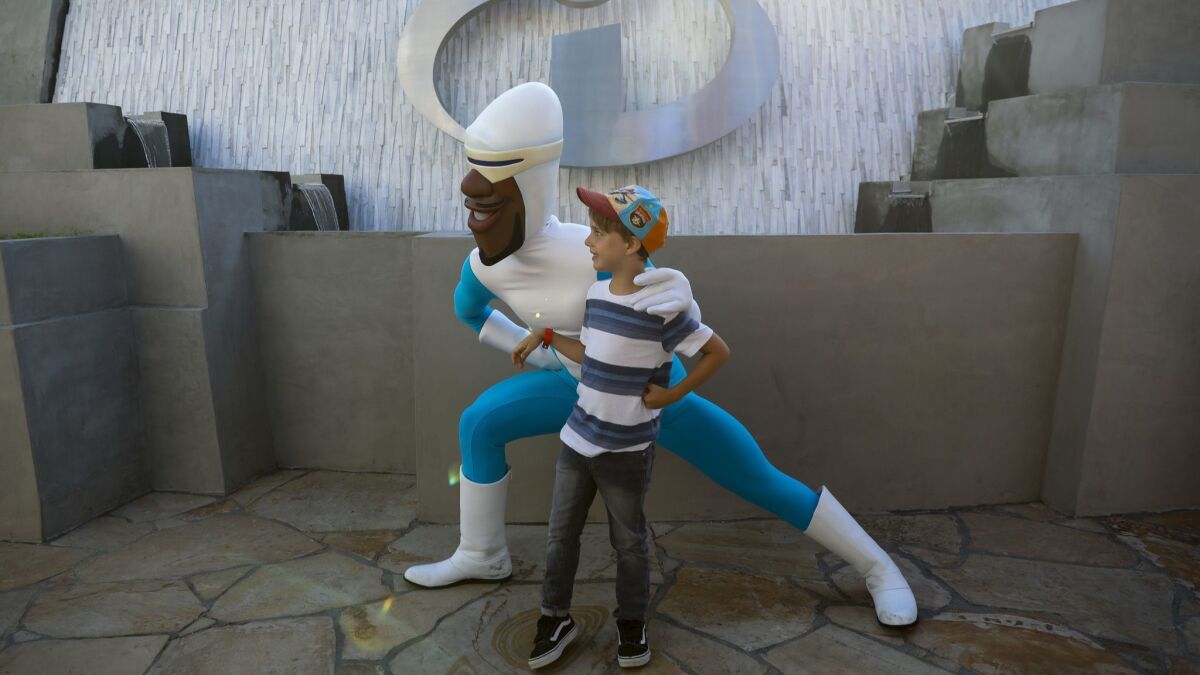 Imagineers and Pixar's designers have indeed been grappling with similar questions. There's a reason, after all, that there are no steering wheels in the cars of nearby Radiator Springs Racers, as allowing guests to feign taking over the mind of a sentient automobile would be grotesque.
"We're careful, even in a parade float, that Mr. Incredible might be able to see Mike and Sully (of 'Monsters, Inc.'), but they do not make eye contact," Gould said. "They're living within their own story. That's a really clear philosophical framework but it can get really, really tricky."
A candy shop, Bing Bong's Sweet Stuff, is targeted to open later this summer, and next year will bring a compact family-focused "Inside Out" attraction tucked inside the Incredicoaster area.
"In our 'Inside Out' headquarters, you're a mind-worker," Gould said. "So you're going inside Riley's mind. What we find in a lot of our stories is that you're an honorary something. In Toy Story Land (opening June 30 in Walt Disney World), you're an honorary toy."
But no mental gymnastics are required for Lamplight Lounge, the two-story gastropub-like restaurant at the entrance to Pixar Pier. The spot replaces Ariel's Grotto, currently leaving the Disney princesses without a Disneyland dining location to call home. With its emphasis on craft cocktails and craft beer, as well as plenty of mocktails, the spot seems aimed at adults, which is made clear by the lower floor's grand center bar and fire pit-adorned seating.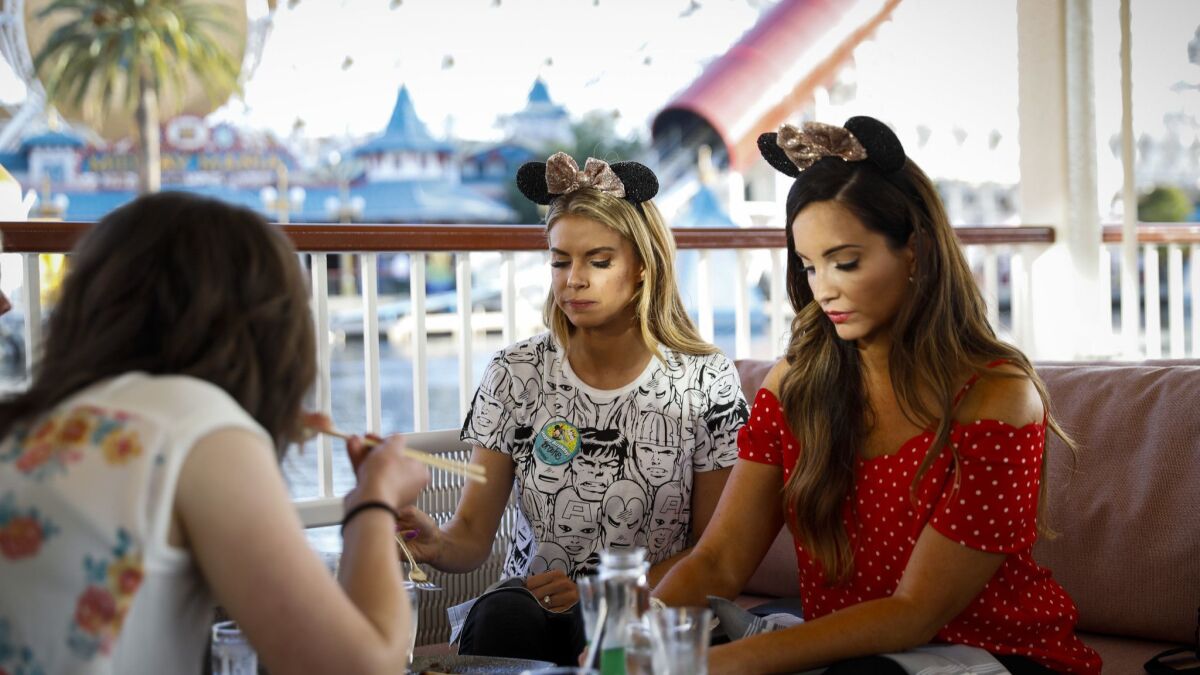 Ironically, when California Adventure opened a key criticism was that the park catered more to adults than children, and Lamplight feels like an acknowledgment that the Disneyland Resort is a locals park currently in need of more places for grown-ups to hang for extended periods.
A converted-warehouse look with hidden dining nooks and plenty of original Pixar art, Lamplight is moderately adventurous in its upscale pub fare. The menu ranges from an artisan burger to sushi, and even gets creative with potato skins (they're more like mini potato cakes).
The idea, essentially, is that Lamplight is where Pixar creatives come to unwind. Expect a lively, loud spot that will perhaps unintentionally underscore the theme of this land. While at first glance it appears the premise of Pixar Pier is simply Pixar, the boardwalk is largely a celebration of play.
Whether it's a young superhero running amok on a coaster or old-fashioned midway-style games — or the interactive ones of Toy Story Midway Mania — Pixar Pier is an attempt to create a more festive, animated boardwalk. Food stands — the "Inside Out" Angry Dogs and "Toy Story" Poultry Palace, the latter made to look like a giant fried chicken meal box — are a bit goofy but colorful and tasteful enough to add to the Pier's newfound youthful tone.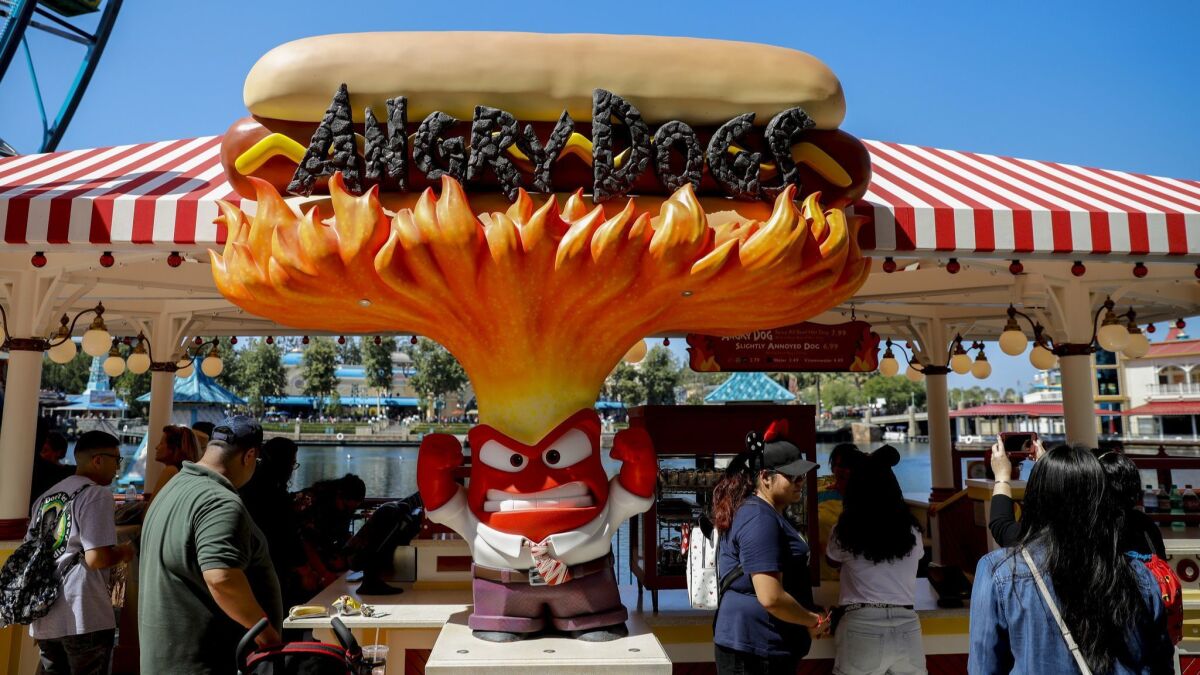 A bandshell is currently home to the lighthearted Pixarmonic Orchestra, but here's hoping this spot ultimately houses mini theatrical shows. Fingers crossed for a "WALL-E"-inspired romantic street performance with robot puppets. Additionally, to not utilize "Coco" for a Day of the Dead fest would be a head-scratching oversight.
Considering this pier has now undergone two overhauls in less than two decades, it's something of a theme park flex space, and the worlds of Pixar give it plenty to tap. If Pixar Pier isn't the immersive and painstakingly designed land that theme park fans increasingly expect, it can be an evolving space to inspire interaction, with characters, guests, games and future Pixar stories.
"It's something a little different that we're doing," said Shaver-Moskowitz. "We're telling a studio's collection of stories in one place, and we're looking forward to the new stories that come in because there's moments where we can go in and pepper in those new stories."
Imagineers Shaver-Moskowitz and Noce joked that Pixar Pier is like "Pixar tapas." And, of course, the long-term success of any small-plate restaurant is reinvention.
ALSO
This is your brain on Disneyland: A Disney addict's quest to discover why he loves the parks so much
Still crazy after all these years: Pirates of the Caribbean anchors a Disneyland on the brink of great change
About Disneyland's Pirates of the Caribbean bride auction redo and why people hate it and love it
Follow me on Twitter: @toddmartens
Get our L.A. Goes Out newsletter, with the week's best events, to help you explore and experience our city.
You may occasionally receive promotional content from the Los Angeles Times.