At the 'Solo: A Star Wars Story' news conference, Ron Howard answers the one question on everyone's mind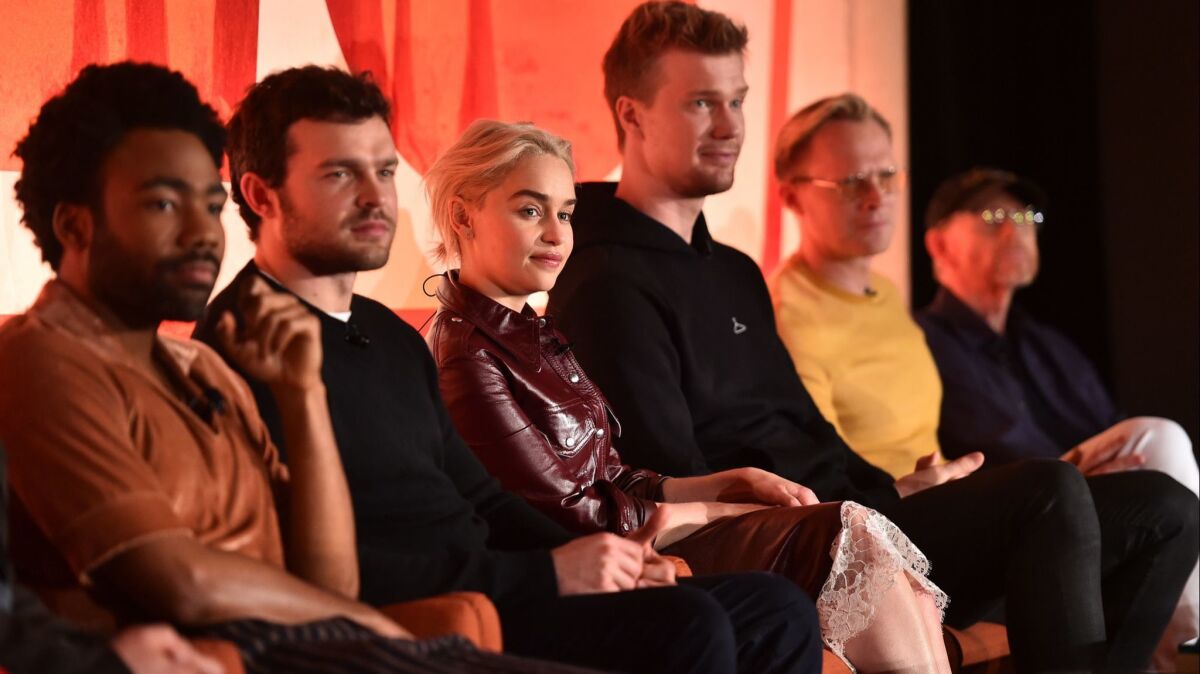 Sitting on stage with the cast and writers of "Solo: A Star Wars Story" for a news conference on Saturday, director Ron Howard was finally asked the one thing on everybody's mind.
How hard was it for him to find the perfect role for his brother Clint Howard once he took on the film?
"It was pretty damn easy," Howard said over the laughter that broke out among those gathered for the early-afternoon event at the Pasadena Convention Center.
But the seemingly innocent question also gave Howard the opportunity to address a different elephant in the room: How he came to be the director of "Solo" in the first place.
"Solo" made headlines last year when the film's original directors, Phil Lord and Christopher Miller, were let go from their duties due to "creative differences" in June, months after principal photography had already begun. Just two days later it was announced that Howard had officially taken the reins of the standalone "Star Wars" movie.
"I did come into ['Solo'] late," Howard acknowledged. "It was a lot of work that Phil and Chris had done. And unfortunately, with creative differences, there was this circumstance where they were not going to carry on.
"Within [Lord and Miller's footage] there were a lot of things that were really strong and already worked and we knew we wanted to keep, and other things that hadn't been done yet," Howard continued. "And [there were] other scenes that I was given the opportunity to experiment with and explore."
"I sat down with [writers] Larry and Jon [Kasdan] and started talking about this and that. And there was this great scene with L3[-37] and it just sort of came up in conversation that L3 needed somebody to be pissed off at," added Howard, to explain how the role for his brother came into existence.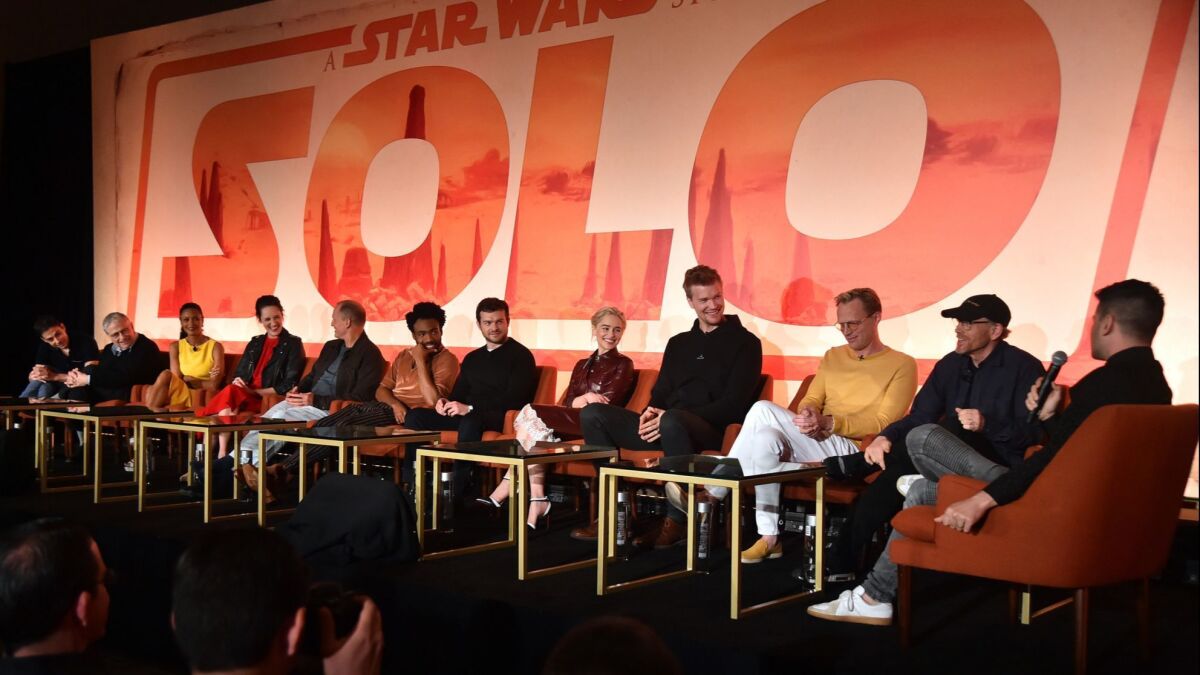 Also on stage with the "Solo" logo as a backdrop were cast members Alden Ehrenreich (Han Solo), Woody Harrelson (Tobias Beckett), Emilia Clarke (Qi'ra), Donald Glover (Lando Calrissian), Thandie Newton (Val), Phoebe Waller-Bridge (L3-37), Paul Bettany (Dryden Vos) and Joonas Suotamo (Chewbacca) and writers Jonathan Kasdan and Lawrence Kasdan. Everybody kept things mostly spoiler-free as they discussed their roles and love for the "Star Wars" universe.
"It's really wild. It's really exciting. It's kind of bigger than you can even wrap your head around," Ehrenreich said of stepping into the shoes of Han Solo. "Particularly being in the Millennium Falcon is very, very cool."
Ehrenreich also had some good news to share during the conference. Original Han Solo actor Harrison Ford surprised him during an earlier interview to gave "Solo" a positive review.
"It's just such a huge deal to have him really genuinely enjoy the film," Ehrenreich said.
Perhaps one of the biggest Han Solo fans in the room was writer Lawrence Kasdan, who shared how he was drawn to the character from the first moment he saw him in "A New Hope."
"When I first saw Han Solo in the cantina, I immediately sparked to him. He lifted up the whole movie instantly. And I loved the movie," said Kasdan, adding that you can see everything you need to know about him in the few minutes of that scene.
"[Han Solo] is the kind of character I have loved always. This is a character who's reckless, who's cynical, doesn't trust anybody. Who's a little bit stupid. I love that. He just does things he shouldn't do," Kasdan said.
Glover, who grew up loving the "Star Wars" films and considers them on par with the Bible, explained how playing Lando Calrissian was just something he had to do.
"When I heard they were making these, I told my agent, 'If they're making anything with Lando in it, I have to be Lando.' And he was like: 'I hear you. I don't like your odds,' " Glover said. "That was exactly what I needed to hear. I really auditioned like it was the only role I wanted in the world. It really was."
A Han Solo origin story, "Solo" also features plenty of characters brand new to the "Star Wars" universe.
Among those is Qi'ra, played by Clarke, who is one of the few people who already know Han at the beginning of the film.
"She's a pretty mysterious character you need to keep tabs on throughout the movie," said Clarke, before hinting that what viewers don't see on screen about Qi'ra's story is probably just as important as what people do see.
Waller-Bridge, who plays new droid L3-37, explained how her character is "a revolutionary."
"She's a self-made droid, so she created herself out of parts of other droids. Which sounds kind of frightening when you put it like that," she said. "She turned herself into a unique creature that's kind of taller, stronger, more independent than she originally was.
"She has an agenda that's bigger than the sum of her parts. It's great to play a droid with a message," added Waller-Bridge.
Of course, every "Star Wars" movie needs a good villain and in "Solo," that villain is played by Bettany.
"He's deliciously bad and really OK with it," Bettany said of his character, Dryden Vos. "[He's] just super happy about being evil."
"Solo: A Star Wars Story" hits theaters May 25.
Twitter: @tracycbrown
Get our L.A. Goes Out newsletter, with the week's best events, to help you explore and experience our city.
You may occasionally receive promotional content from the Los Angeles Times.