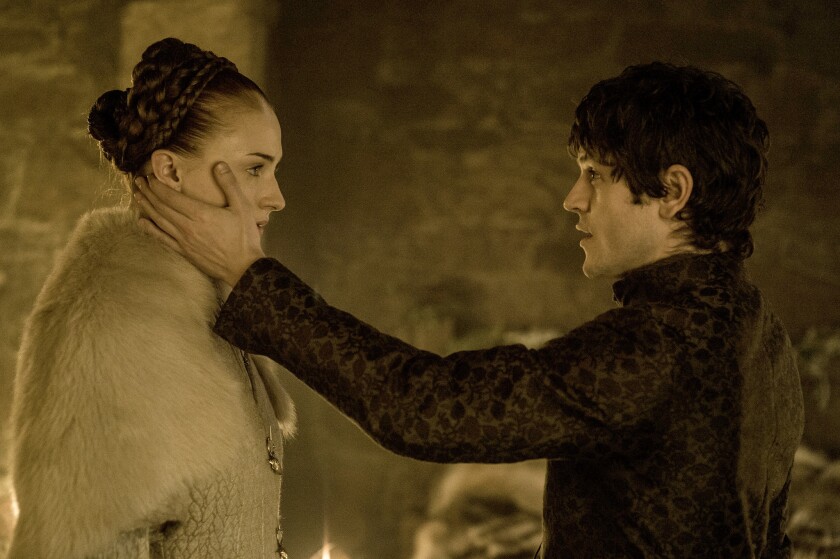 Over the past five seasons of "Game of Thrones," few characters have held as strong a misery poker hand as Sophie Turner's Sansa Stark. But all that is about to change.
Forced to watch her father's execution, passed around like a plaything from one cruel sadist to another, subjected to one of the most horrific rape scenes in television history, Sansa has often been little more than a pawn in the machinations of manipulative power players.
Like us on Facebook to watch exclusive live video chats with your favorite TV stars
In Season 6, Turner is happy to report, things are finally looking up for the long-suffering character.
Speaking to The Times recently, Turner said Sansa -- last seen leaping off a castle wall at Winterfell hand-in-hand with Theon Greyjoy (Alfie Allen) to escape from the psychopathic Ramsay Bolton (Iwan Rheon) -- will come into her own in the next season, which premieres April 24.
"I'm so excited," Turner said. "This is the season I've kind of been waiting for for Sansa, and I feel like fans have been as well. Those people that get frustrated at her for doing nothing -- this is the season where she actually does something."
As for what exactly Sansa does, with the show starting to overtake the story threads laid out in George R.R. Martin's books, Turner was clearly wary of revealing any spoilers. But she did offer a hint.
"This isn't Sansa being a pawn in other people's games and being shipped around by different people," she said. "She is taking charge and she is bringing the people that she wants with her to get what she wants. She becomes a leader in her own right."
The notion of Sansa, who started the series as a kind of pampered, spoiled brat lost in her romantic fantasies, finding redemption and grabbing the reins of power is an intriguing one. For Turner, who has seen sympathy and affection for Sansa grow among "Thrones" fans slowly but surely over the years, it's a long-awaited personal vindication.
"It's such a relief," she said. "I always saw this potential in Sansa right from the very beginning, from the moment I started playing her, and other people just didn't see it, I guess. And now it's just fun because I get to prove all the haters wrong."
Twitter: @joshrottenberg
ALSO:
HBO close to deal for Seasons 7 and 8 of 'Game of Thrones'
'Fear the Walking Dead' heads to sea as the zombie apocalypse overwhelms L.A.
Melissa McCarthy is returning to the revival of 'Gilmore Girls.' Everyone can exhale now
---