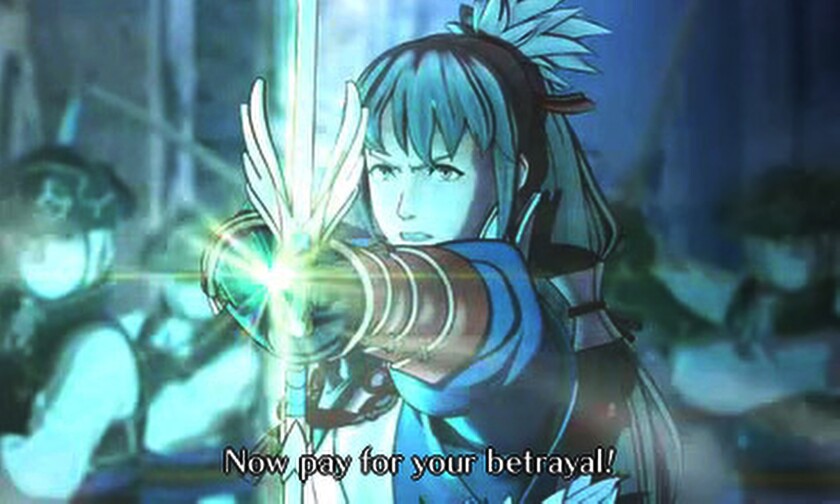 In my first 25 hours with Nintendo 3DS' "Fire Emblem Fates," families argued, attempts at flirting were rebuffed and relatives threw a fit over poorly cooked meals. Were it not for the swords and the spells and the half-fox/half-human, the game wouldn't be all that different from the last month or so of my life.
Though there is sword and sorcery here, including a main character who has the ability to turn into a dragon, "Fire Emblem Fates" is really about family drama. In this case, it's about the pull of one's blood family versus the connection with an adopted one. Do you help the step-brothers and step-sisters who always supported you, or the brothers and sisters you've only just met?
See more of Entertainment's top stories on Facebook >>
The player's avatar, which can be male or female, was kidnapped at a young age and raised as a warrior prince/princess. Her (I chose a female avatar and named her Kes) adopted-but-criminal family took good care of her, and it's clear she's tight with her siblings. But her father — a.k.a. the king — is a monster.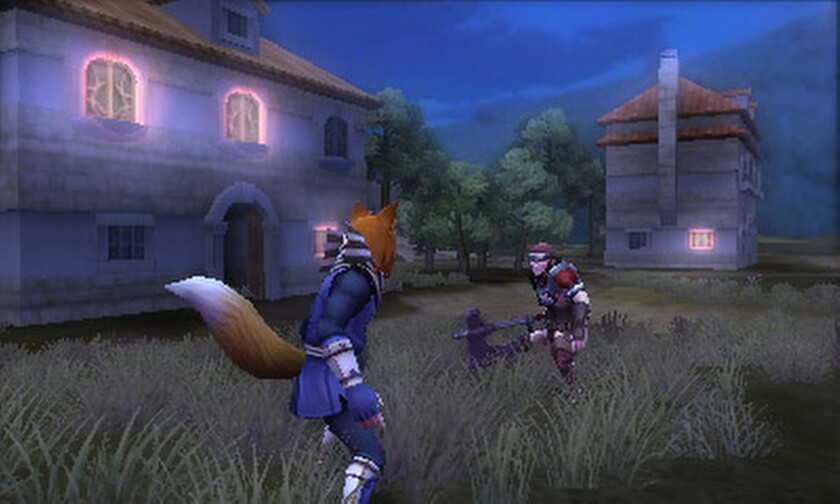 He tricks his stolen daughter into laying a deadly trap for her birth mother, and here is where "Fire Emblem Fates" splits into two different games — one is called "Conquest" and the other "Birthright." Upon her death, Kes must either fight to avenge the murder of the mother she never knew she had ("Birthright") or stand with her adoptive brothers and sisters to cause a revolution from within, one with the goal of removing the evil king from power ( "Conquest").
So like any dealings with family, "Fire Emblem Fates" is complicated. It's essentially one massive game split into two giant ones, "Fire Emblem Fates: Birthright" and "Fire Emblem Fates: Conquest"; each is sold separately, at $39.99, and should be considered full games.
I've spent the bulk of my time with "Birthright." Narratively, it's the game that feels most logical, though the battles in "Conquest" are tougher and the riches are sparser. The first five chapters of each game are the same (if you buy both editions, you only play the opening once), and players in Chapter 6 will make a decision regarding which side in a war is the most just.
And because there's a lot of shades of gray when it comes to wars and dragons; there will, in fact, be a third game, "Fire Emblem Fates: Revelation," available for a $20 download March 10. In "Revelation," your character basically goes rogue and refuses to pick a side.
Got all that? Possibly not. It's needlessly confusing and arguably consumer unfriendly. I've spent a good number of hours wondering whether "Fire Emblem Fates" simply gives players too many choices. What if, perhaps, I'm playing the game with the duller characters and cheesier script? What if "Fire Emblem Fates: Conquest" is where all the good melodrama is? What if the most thought went into "Revelations"?
Maybe it's best to just devote your entertainment allotment to works that don't encourage split allegiances? I'll probably never have the time to play three games, so I want to spend my time with the one that's the best.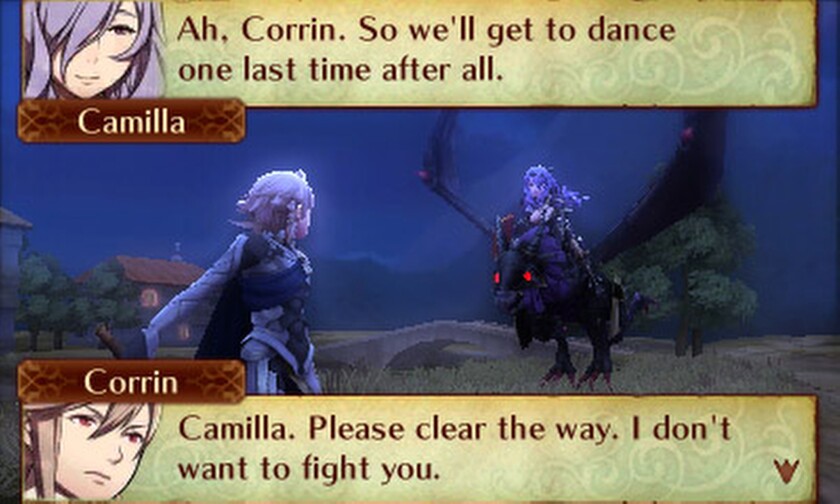 And yet "Fire Emblem Fates" slowly started to sell me on all its split narratives. The Japanese-developed game throws a few curves at the player to sufficiently make the choice over which game to play somewhat excruciating.
Though the missions in "Conquest" may offer some deeper strategy — those in "Birthright" are usually framed as straight good versus evil — I couldn't justify sending Kes back to a place that had deceived her for almost the entirety of her life. That meant turning her back on her adoptive brothers and sisters, who appear largely unaware of Kes' true lineage
That also means taking arms against those who are considered family. Sigh. So I've spent the bulk of my time in "Birthright" hanging at the home base castle and getting to know my new-old family. I'm hesitant to allow Kes to get too close to any of them, as I know her oldest friends are fighting for the opposing side. By and large, even though characters who marry gain critical advantages at war, I've opted to nurture a loner.
And thus, "Fire Emblem Fates" has succeeded in making war feel reckless and pointless. That's not to say battles aren't fun. They're once again treated as mini-puzzles — maneuver troops around a grid-like board, and line up color-coded weapons to try and have an advantage over the enemy. Then watch them fight.
But I'm far more concerned with whether Kes is on the right path and if it's possible to find love when one's trust in humanity has been eroded. The woman I chose for her — another loner — turned out to be a bad match. Now I'm not sure anyone else in the game is good enough for Kes.
And even when dealing with matters of the heart, there is action here. This goofily engrossing fantasy series now allows characters to hang out in a hot spring. "Fire Emblem Fates" isn't as racy as, say, an average episode of "Game of Thrones," but things can get steamy. But where do you place one's affection's when even your family turns out to be deceptive?
Yet despite the winding story, lengthy crusades and familial power struggles, the game's thesis is a rather familiar one: Make love, not war.
--------------------------
'Fire Emblem Fates'
Developer: Intelligent Systems
Publisher: Nintendo
Platform: Nintendo 3DS
Price: "Fire Emblem Fates" is sold as two games, one titled "Birthright" and another named "Conquest." Each features a different story and retails for $39.99.
---