Tyrese Gibson's insider view of 'Fast & Furious - Supercharged' at Universal Studios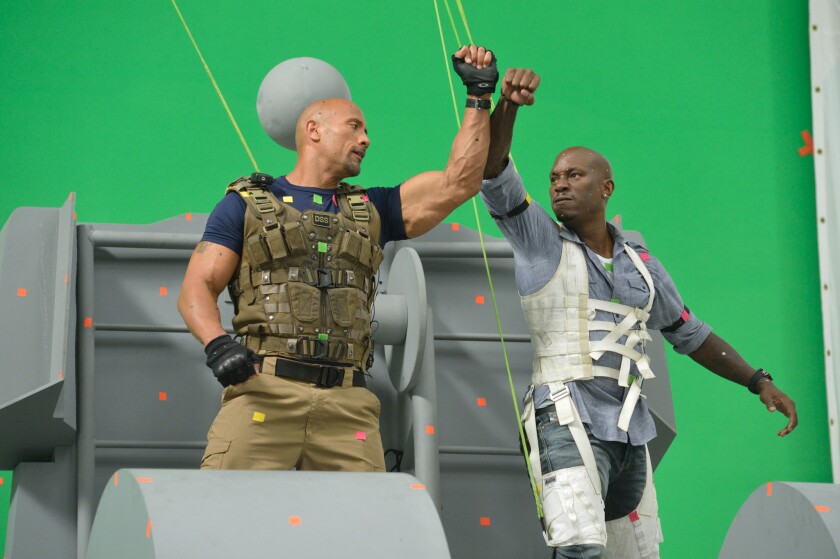 Tyrese Gibson has been in two of Hollywood's most lucrative film franchises — those would be the "Fast and Furious" and "Transformers" movies. And with the debut Wednesday of "Fast & Furious — Supercharged," the newest attraction at Universal Studios, Gibson can say he's been in movies that have become two blockbuster thrill rides.
"What's crazy is that the first theme park I'd ever been to was Universal," says Gibson, who is also a Grammy-nominated singer, songwriter, TV producer and former fashion model. "I've got pictures of me when I was up there at 8 years old, so to be a part of the 'Transformers' and the 'Fast and Furious' rides, just shows me that anything is possible."
It also means the actor's daughter Shayla will have, as Gibson says during a recent phone interview, "a special kind of bragging rights" at her school when Universal reveals "Fast & Furious — Supercharged," the new grand finale of the Studio Tour.
"What we have is this 600-foot ride that you don't even know is there. It's a thrill ride on steroids," says Chick Russell, executive producer for Universal Creative. "Each tram will also give different experiences for you to encounter as you go through."
The idea is to give tram riders a sense of being right in the middle of an action movie, which is why Gibson and his fellow franchise stars Vin Diesel, Michelle Rodriguez, Dwayne Johnson and Luke Evans all participated in the making of the ride.
"Since we are in Hollywood," says Russell, "besides making this the finale of the tour, we wanted to find a way to make it so that real actors would appear in front of you."
But, as Gibson explains, filming a live-action movie, even one loaded with special effects, isn't the same as the shoot for a ride as technologically complex as "Supercharged."
"I asked a million questions," Gibson says. "What are we doing? What does it mean when we move our arms like this? What signals does it send to your computer? I've never done anything like it. I had a lot of fun, and it was good to do it with my brothers and my sister, Michelle."
"Supercharged" is a hydraulic motion-based ride that fuses special effects with a state-of-the-art 3D audio system and 3D-HD imagery projected onto the world's longest 360-degree screen. Spanning nearly 400 feet, it encircles Studio Tour guests in a 65,000-square-foot structure on the backlot. The system includes water and wind to hype up the realism, though when traveling through the streets of L.A. at perceived speeds in excess of 120 mph, there might not be a need to add anything.
"A clear piece of Mylar allows us to project images, almost like a hologram, onto the set. We have a rear projector screen with some projectors above that will project the characters on the [Mylar]. We line it up just right so that it looks like the characters are there on this real truck that comes up on the set," Russell says.
"When the guests go in, their eyes tell them that this is real. I'm seeing Dom and Roman and all of the cast walking around in a real environment."
The ride itself begins in a truck repair shop, complete with Roman Pearce's (Gibson) suped-up tow truck and grappling hook. This becomes an essential part of the ride as the story progresses and the action picks up seemingly outside of the shop. The story also plays out throughout the Studio Tour, even when you're not in the "Supercharged" section.
"Supercharged" is the latest of the theme park's recent ride and attraction upgrades that have been going on the past few years.
A 2008 fire in Universal's famous backlot destroyed some of the venerable studio's long-standing structures, including the "King Kong" attraction, which once was the Studio Tour's centerpiece. It was replaced in 2010 with the King Kong 360 3-D drive-through movie experience, a ride that was created by director Peter Jackson and proved to be a popular addition.
In something of a five-year plan, the park opened "Transformers: The Ride — 3D" in 2012, the "Despicable Me: Minion Mayhem" motion simulator in 2014 and in April of this year, it expanded on 2008's "The Simpsons Ride" with a whole Simpsons-themed land of Springfield.
After "Fast & Furious — Supercharged" debuts, the park will continue its revamp with the opening of "The Wizarding World of Harry Potter" in spring 2016.
Universal's rebuilding has been a success. The theme park's attendance rose from 4.31 million in 2009 to 6.15 million in 2013. With "Fast & Furious — Supercharged," park planners hope to continue that trend by offering visitors the chance to ride with Dom and his crew.
"There's just something about being immersed in their world and feeling what they feel with the speed and the impact of what's going on around them," Russell says. "You just can't get that anywhere else."
For Gibson and his fellow "Fast & Furious" cast members, the chance to be a part of the attraction was not just another gig, but something special apart from the movie that extends the franchise.
"I know so many people are caught up in the box office receipts, and rightfully so — it puts a weird kind of pressure on you to be in a movie where it seems like every man, woman and child has seen it. It's a little scary," Gibson says.
"But here, we're being immortalized, you know? I was hitting the gym real hard. This is a different kind of pressure. I got to make sure I'm not looking chunky."
Beyond his place in posterity, Gibson, an L.A. native born and raised in Watts, also has to look good for someone closer to home, as he discovered when he overheard daughter Shayla talking with Vin Diesel's kids Hania and Vincent after the actors finished the "Supercharged" shoot.
"Vin and I were listening to [Hania] and his son Vincent having a conversation with Shayla because [Hania] had been at school bragging about [the ride] with her friends, and Shayla had been bragging about it with her friends," Gibson says. "Shayla's birthday is coming up, so I'll probably have to bring about 40 kids."
But Gibson doesn't mind.
"This is why we work as hard as we do," Gibson says, "to give our kids unique bragging rights."
---
The complete guide to home viewing
Get Screen Gab for weekly recommendations, analysis, interviews and irreverent discussion of the TV and streaming movies everyone's talking about.
You may occasionally receive promotional content from the Los Angeles Times.