The famously close-mouthed cast and creators of HBO's "Westworld" opened up a little Saturday night at the Los Angeles PaleyFest. The panel of hosts and cowpokes finally confirmed a long-running fan question from the series finale and shared stories about what it was like working on a show in which you're not sure if you're a human or a robot.
Show creators and co-showrunners Jonathan Nolan and Lisa Joy joined Evan Rachel Wood (Dolores Abernathy), Thandie Newton (Maeve Millay), James Marsden (Teddy Flood), Ed Harris (Man in Black), Jimmi Simpson (William) and executive producer Roberto Patino at the Dolby Theatre in Hollywood for an evening of spoilery talk about sentience and Harris' eyebrows. Here are highlights of everything we learned from the "Westworld" panel.
(Warning: Season one spoilers follow.)
On Now
Video: PaleyFest 2017: Evan Rachel Wood of 'Westworld'
On Now
Video: PaleyFest 2017: 'Westworld' co-showrunners Jonathan Nolan and Lisa Joy
On Now
PaleyFest 2017: Thandie Newton of 'Westworld' on her character's choices
On Now
Video: PaleyFest 2017: James Marsden of 'Westworld'
On Now
PaleyFest 2017: Jimmi Simpson of 'Westworld'
No one knew what the maze was while filming
Harris and Marsden's characters spent a large part of their time in "Westworld" hunting down the mysterious maze. When asked about the maze, and if they knew that the big reveal would be that the maze is a literal puzzle box hidden inside a can of pig's clover, Marsden replied, "Oh yeah of course." Much to the delight of the crowd.
Harris conceded, "I still don't know."
Wood had a few ideas and shared her original theory that the maze would lead to "Westworld" character (and park co-creator) Arnold. Truly, the cast was kept in the dark almost as much as the audience.
'Samurai World'
A whole new world of hosts was revealed in the final episode of "Westworld." The fan-dubbed "Samurai World," with hosts dressed up as ancient warriors, was uncovered as Maeve was blasting her way through the park's cavernous control rooms. So what's next for this new world? No one was saying. The tight-lipped showrunners downplayed the entire thing.
In the absence of news, Newton offered up "Under the Sea" as a potential future world for the series to explore. "No humans, just fish," Newton said.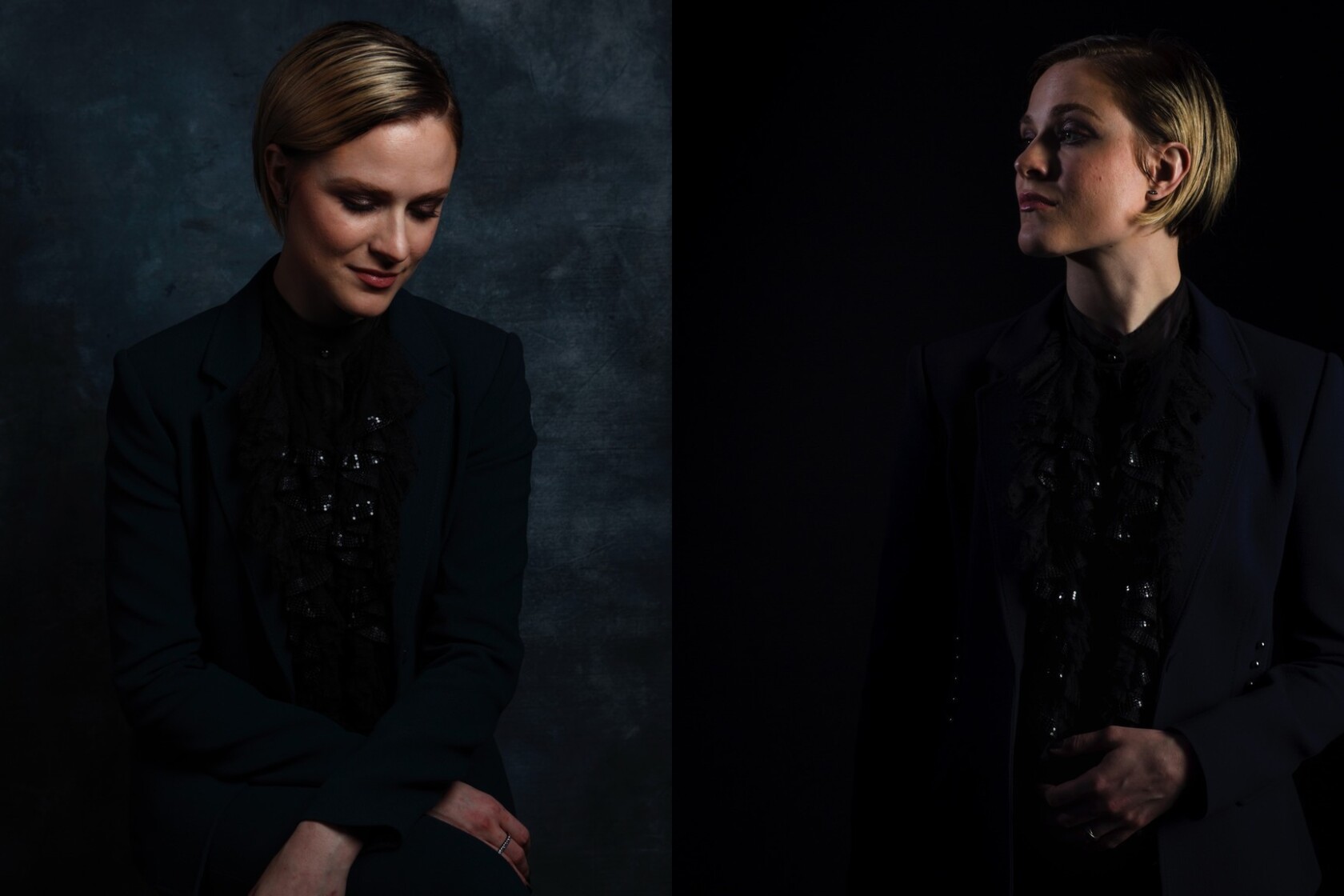 Evan Rachel Wood, of HBO's "Westworld."
(Jay L. Clendenin / Los Angeles Times)
Jimmi Simpson, from HBO's "Westworld."
(Jay L. Clendenin / Los Angeles Times)
Thandie Newton, of HBO's "Westworld."
(Jay L. Clendenin / Los Angeles Times)
Ed Harris, from HBO's "Westworld."
(Jay L. Clendenin / Los Angeles Times)
James Marsden, from HBO's "Westworld."
(Jay L. Clendenin / Los Angeles Times)
Husband-wife team, Jonathan Nolan and Lisa Joy, co-creator and showrunners of HBO's "Westworld."
(Jay L. Clendenin / Los Angeles Times)
Confirmation: Maeve did go off-script. She's officially sentient
A long-running question from the "Westworld" finale was also answered. When the host Maeve attempts to flee the park on a guest train she's told by Bernard (Jeffrey Wright) that her actions are all programmed (or scripted) into her code. Her decisions to escape the park were someone else's orders. Undeterred, Maeve continues to the train, but before she reaches her freedom, she has a change of heart and quickly gets off and heads back into the park. Why Maeve made this decision is still a matter of speculation. (One theory is that she returned to find her host daughter.)
Whatever Maeve's reasons, the act itself was confirmed at PaleyFest as her first authentic moment of sentience. "It was really the first decision she's ever made," said Nolan.
The moment was even designed and shot to feel that way, switching to handheld cameras for Maeve's split decision, to try and capture Newton's performance in a new manner. "For me it's a very emotional moment in the episode," Nolan said. "You're witnessing the birth of free will."
The player piano will return with even creepier adaptations of modern-day music
The player piano is now a "Westworld" staple, and yes, the old-timey contraption will return to delight audiences with eerie renditions of modern-day music. A few favorite covers from the first season included Soundgarden's "Black Hole Sun," Radiohead's "No Surprises," and The Cure's "A Forest."
So what's on tap for season two? No real surprise that Nolan was hesitant to reveal any future "Westworld" covers, however, Joy had a particular creepy tease.
Joy noted that she and Nolan have been spending a lot of time with a little girl in their home. (Nolan quickly confirmed it was the married couple's daughter, which received a hefty laugh from the crowd.) As a result, they've been hearing the soundtracks to a lot of children's movies and television shows and, according to Joy, the exposure has proven to be incredibly inspiring. "There may be a strange shout-out to a very innocent and joyful song, that we will take and co-opt and make dark," Joy said. "Just to traumatize our daughter."
Jimmi Simpson's eyebrows clued the actor into one of "Westworld's" big reveals
Despite playing a sizable role in nine of the 10 "Westworld" episodes, the true identity of Simpson's character William wasn't revealed until the finale. Turns out, William was the younger version of Harris' character (who was only referred to as the Man in Black for most of the series). The big twist surprised many fans despite some online theories predicting the outcome. (More on that later.) But did the actors themselves ever predict that they were linked?
The cast was given information about the characters bit by bit, a decision both showrunners expressed interest in continuing into the second season. This meant most of the actors were left completely in the dark for weeks— or even months. However, Simpson claimed that he got a big hint about William's future thanks to his eyebrows.
Apparently the makeup artist pulled Simpson aside in the middle of the day just to look at his eyebrows. "I was walking to lunch and Lisa [Joy] was walking down the lane and I started thinking, 'If they want to change the look of my face they must want me to look like someone else. So who could I possibly look like in this cast? And this man [Harris] was the only person I settled on." When Simpson asked Joy if the eyebrow tweaking was for that reason, her face went blank and she responded, "I don't know. Don't tell Jonah."
Joy recalled her conflict over the reveal. "If I say something, Jonah is going to kill me, but I also don't want [Jimmi] to be insecure about his eyebrows," she said.
And when Harris was asked if he now thought of his younger self as Simpson, the actor responded, "I'm just wondering what's wrong with my eyebrows?"
Fan theories drive the ultra-secretive Nolan nuts, but they're still game
"Westworld" fan theories started churning from the premiere of the pilot episode, and as the series moved forward so did the online speculation. In fact, some of the theories were so good they actually guessed the Simpson/Harris twist.
"It's annoying sometimes when people guess the twists, and then blog about it after you spent two years [working on a project meant to keep the world guessing]," Nolan said. "It's gratifying on one level because if someone guesses your twist that means you've done an adequate job laying the tracks for it. I'm not a big believer of the rug-pull."
Joy, who admitted that she stays off the Internet when it comes to "Westworld," didn't seem as disturbed and used "Game of Thrones" for reference. She noted that everyone can read the "Game of Thrones" books and not be surprised by a pivotal twist like the Red Wedding. "But it's still incredibly immersive and incredibly engaging," Joy said of the fellow HBO epic. "I don't necessarily think that knowing the ending spoils something for people."
The audition process for some of the hosts was 'completely sadistic'
An audience question about the creation of the rundown host Old Bill, the cowboy bartender seen in the pilot episode chatting with Anthony Hopkins, opened a window into the difficult casting process.
Nolan called the audition piece the actors were given "completely sadistic."
Basically each actor reading for the part of a host was given several different personalities to play. In between each character transition, the actor was instructed to channel a clock that's breaking, or someone having a stroke. This direction was later revealed as the state they would revert to during the diagnostic check run on all the "Westworld" hosts. And it was the only thing the showrunners were watching during the audition process.
As for the creation of Bill himself and his jerky robotic movements, Nolan explained that they created the odd feel by overlaying the blinks from a previous take onto one of the actor's eyes — subtle touch that really made Bill appear like a malfunctioning host.
We may not know much about season two — when it's airing, where it will take place — but we do know one thing: We won't be seeing Harris in a samurai suit anytime soon. "I'm the Man in Black," Harris said. "Not the man in a samurai suit."
See the most-read stories in Entertainment this hour »
Twitter: @MdellW
ALSO:
'Westworld' stars confront the nature of the fembot
Negan promises he's 'just getting started,' but have 'Walking Dead' fans already seen enough misery?
For the love of monsters: An insider tour of Guillermo del Toro's Bleak House before his LACMA show
---