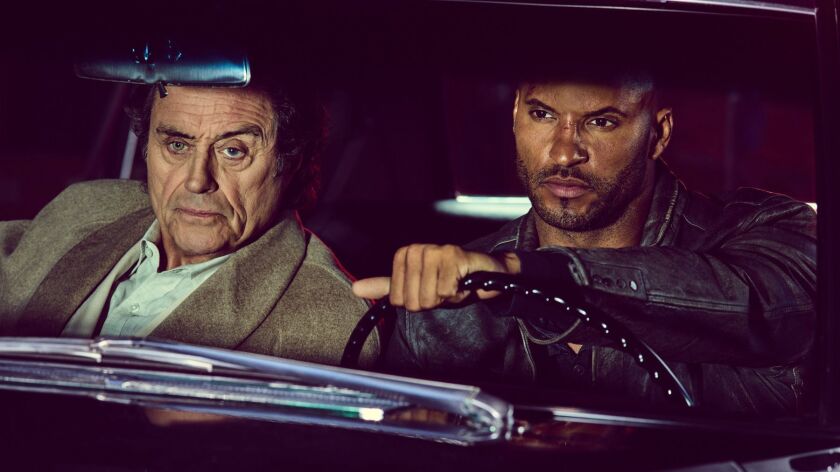 The opening sequence for new Starz series "American Gods" is not for the weak-of-stomach. A clan of Viking raiders lands on the shores of what eventually will become America. Infested with flies, lacking food, these shores are uninhabitable; the crew cannot pass on into the woods, so they must vacate this new world. Unfortunately, now there's no wind.
A sacrifice to the gods must be made.
What follows is a bacchanal of blood. Heads explode, limbs catapult through the air, torsos are cleaved entirely in half. It's hard to watch without wincing yet strangely captivating.
"It felt like poetic expression of the lengths that gods expect their worshipers to go to pay their respects," explained Bryan Fuller, co-creator of the series that launches Sunday.
The macabre art of marrying beauty with the grotesque is one of Fuller's specialties. The showrunner's menu from the TV series "Hannibal" could make the audience's mouth water despite full knowledge that each entrée was most likely made of people. Combine that with the sensibility of co-creator Michael Green, who crafted the bold and expansive (but too soon for its time) "Kings," and you've got a production that isn't afraid to blow out the bizarre, to push for new and inventive types of storytelling, something they experienced together while working on the first season of "Heroes."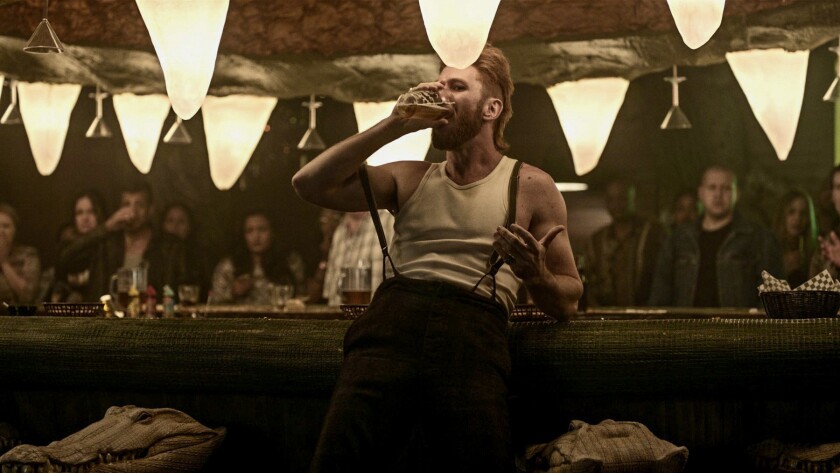 Taking a break from finishing the last episode of the season (which includes coloring, sound mixing and tackling a "terrifying" dry erase board that lists every FX shot still left to complete), Green and Fuller chatted over the phone from New York about their bloody excursion into myth.
"It was a bit of a tonal land grab," Green said of their barbaric introduction, which the two wrote together, "to tell people that we are going to be going grand, that things were gonna be a bit lavish, a bit lush and also, at times, appropriately ridiculous."
Consciously ridiculous, even; both proudly point to the show's introduction as their Monty Python fan fic moment. "There's something a little Python-esque about the ridiculousness of the savagery there," Green added, "the flying limbs and beautiful ballet of blood."
Adapted from the 2001 Neil Gaiman novel of the same name, "American Gods" follows the beginnings of a divine war set between the old and new gods of our world. As with most tests of faith, things are going to get gruesome for the both the followers and their idols. "The violence is nothing compared to the Old Testament," Fuller is quick to point out, "so I think we're in good company as far as religious stories go."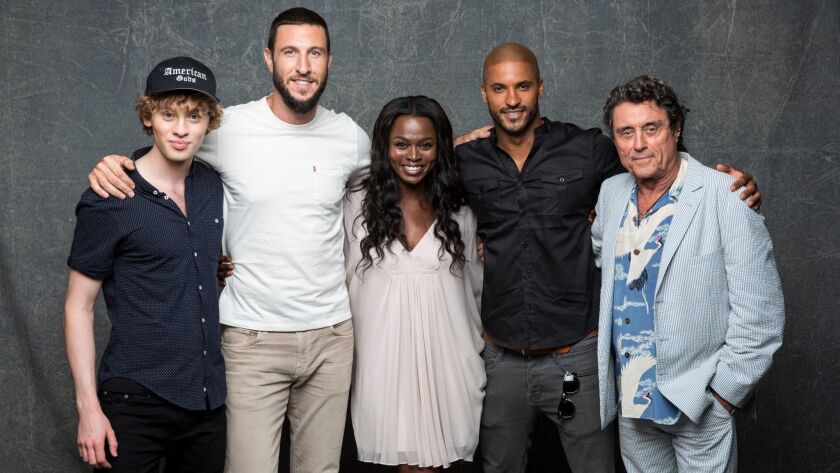 Leading the old gods is Ian McShane as Mr. Wednesday, a powerful deity who tries to enlist the help of elder divinities including Easter (Kristin Chenoweth), Czernobog (Peter Stormare) and Mr. Nancy (Orlando Jones). Heading up team new gods is Media (Gillian Anderson) and Technical Boy (Bruce Langley).
Surprisingly, Green and Fuller say, the toughest role to cast wasn't one of the colorful immortals but Mr. Wednesday's human driver, who serves as the series' protagonist.
Shadow Moon, the reserved ex-con who lands a front row pew for the heavenly brawl, is a cornerstone character in the novel, and Green and Fuller looked at more than 1,200 actors for the part before settling on former "The 100" actor Ricky Whittle.
"Ricky was put through the paces for months, by his count he did 16 different reads at different points," Green said. "It took months and Ricky just kept showing up. He just has an endless supply of light in him."
Personal body guard to Mr. Wednesday, Moon chauffeurs his employer across the Midwest to recruit deities to Mr. Wednesday's army. The present hasn't been kind to the fabled lords of the past; modern humans are more likely to worship the new gods of social media, fame and technology. The result has weakened the once powerful immortals, leaving them vulnerable.
As Mr. Wednesday tries to bring the ancients back together, several conversations about the creation of this nation emerge. Most of the "American" gods are not natives; they were brought to this countrythrough the religions, folklore and superstitions of different cultures and countries. Which, given the political turmoil surrounding immigration, takes "American Gods" out of cultural mythology and into current events, something Fuller and Green did not anticipate. has the opportunity to move the conversation started in the novel to a new audience on television.
"We didn't finish filming until early November and then the election happened," Fuller said. "Unfortunately for the country, and perhaps fortunately for us, it amplified the themes and the stories in a way that we couldn't have predicted as progressive-minded writers." They hope to "initiate new conversations about compassion for immigrants and their stories," he added.
Also, perhaps, a new appreciation for Americana. The art of realist painter Edward Hopper, who depicted countless U.S. landscapes and was made famous for capturing lonely cafe corners in his painting "Nighthawks," was mentioned as a color palette inspiration, but with a higher contrast.
The wide-open landscapes of the 1991 feature film "Thelma & Louise" were another source of inspiration, as were the films of the Coen brothers. "They have a very strong visual eye for how to represent America, American landscapes and American oddity," Green said.
Strip away the fantasy and magic, and the real fear propelling the series is that of the unknown; even gods, it seems, are afraid of change.
See the most-read stories in Entertainment this hour »
On Now
Cast of 'American Gods' drop divine secrets on the new Starz series
On Now
Liam Cunningham and Isaac Hempstead on finding the humor in 'Game of Thrones'
On Now
Acting opposite a giant Hollywood monster on 'Kong: Skull Island'
On Now
Luc Besson takes us inside his next space odyssey 'Valerian and the City of a Thousand Planets'
On Now
Norman Reedus on the secret Walking Dead' cast Comic-Con ritual
On Now
The cast of 'Orphan Black' reveal what they want to see resolved in the series finale
On Now
'Supergirl' cast on inspiring little girls to pick up a cape of their own
On Now
Video: Comic-Con: Wishing there could be a body swap between Fitz and Mac on 'Agents of S.H.I.E.L.D.'...
On Now
Charlie Hunnam on the hyper-stylized antics of 'King Arthur: Legend of the Sword'
On Now
Comic-Con: Ana Gasteyer and Wyatt Cenac on 'People of Earth'
Twitter: @MdellW
ALSO:
Review: Starz 'American Gods' is as stellar as it is supernatural
'Westworld' stars confront the nature of the fembot
Negan promises he's 'just getting started,' but have 'Walking Dead' fans already seen enough misery?
For the love of monsters: An insider tour of Guillermo del Toro's Bleak House before his LACMA show
---