The Anime Expo, which runs from July 4-7 at the Los Angeles Convention Center, is expected to draw up to 100,000 anime fans from around the world for its menu of exhibits, live events and special screenings.
A highlight this year is a screening celebrating the 40th anniversary of one of the most successful franchises in animation history — "Mobile Suit Gundam."
On July 4 at 2 p.m. the 2018 feature "Mobile Suit Gundam Narrative" will be shown at the Regal at nearby LA Live followed by a discussion with voice actors Griffin Puatu and Erika Ishii and script writer Harutoshi Fukui who also wrote the novel the film is based on.
The "Gundam" film will be shown in the multi-sensory 4DX format, along with "Mobile Suit Gundam 00 the Movie–A Wakening of the Trailblazer" (2010) and "Detective Conan: Zero The Enforcer" (the second-highest grossing Japanese film of 2018) in the "4DX Anime Film Festival" within the Expo.
Ironically, when Yoshiyuki Tomino's first "Mobile Suit Gundam" series premiered on Japanese television in 1979, it flopped. The saga of psychically gifted teen-agers who pilot gigantic robots into battle, "Gundam" didn't find its audience until 1981-82, when the TV series was recut into three theatrical features.
Since then, there have been more than 20 TV series, plus numerous theatrical features and direct-to-video films. More than 500 million model kits of the various Gundam robots have been sold worldwide. In 2017, a "life-sized" figure of the RX-0 Unicorn Gundam was unveiled at DiverCity Tokyo Plaza, in hopes of creating a new tourist attraction ahead of the 2020 Tokyo Olympics. The RX-0 stands almost 65 feet tall and weighs 49 tons.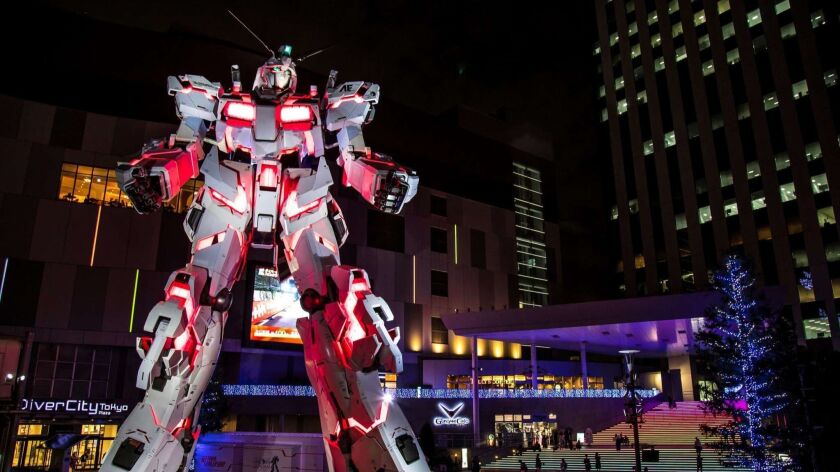 Tomino's "Gundam" reinvented the robot sci-fi genre. In early series like the 1963 "Tetsujin 28–go" ("Gigantor" in America), the robots were remote-controlled machines. Boy-hero Jimmy Sparks treated Gigantor like a pet that could fly around or attack enemies.
The Gundams, instead, suggest a fantastic combination of a gigantic space suit, a one-person spaceship and an flamboyant suit of samurai armor. Seated in a hi-tech cockpit, the pilots steer their "mobile suits" through gun battles, hand-to-hand combat and sword fights on land, under water and in space. The space battles often defy the laws of physics, but they're so exciting to watch, no one cares.
The "Gundam" franchise reflects the ongoing cross pollination between American and Japanese entertainment. The influence of "Gundam" can be seen in Japanese and Western sci-fi, from the cyborgs in Hideaki Anno's watershed "Neon Genesis Evangelion" (1995) to the two-person battle robots in Guillermo del Toro's "Pacific Rim (2013)."
In addition to the films of Akira Kurosawa, Tomino cites "Destination Moon" and "Star Wars" as influences on his own work. Like George Lucas' Galactic Empire or Gene Rodenberry's Federation, his "Gundam" universe offers a broad canvas that's enabled the filmmakers to explore questions of politics, economics, ecology, and prejudice.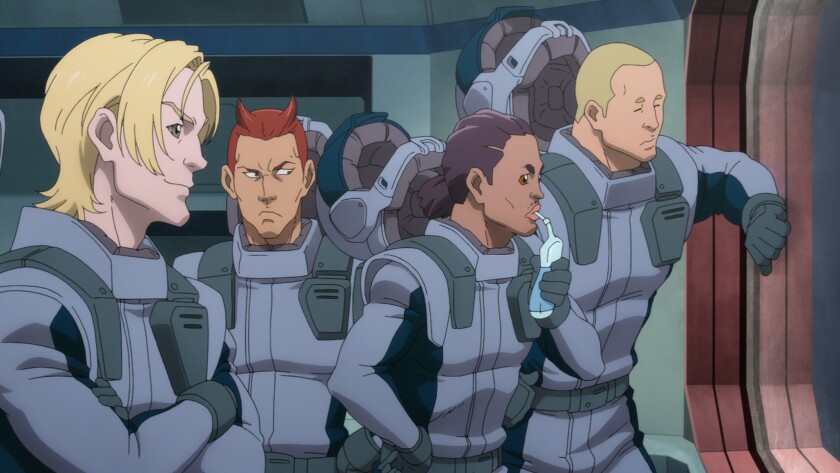 Coming-of-age stories, identity crises, young romances and questions of honorable conduct for a warrior (rooted in the samurai tradition of bushido) are set against greater conflicts, often between older, oligarchic societies and newer, more liberal political entities—especially the Earth fighting its orbiting space colonies.
Many of the key characters have psychic abilities that suggest the next step in human evolution—and heighten tensions. Michele Luio (Ishii) and Jona Basta (Puatu), the central characters in "Gundam Narrative" foresaw a threat in the coming war and saved many lives: They were dubbed "Miracle Children." In other stories, the psychics are referred to as "Newtypes," who may be perceived as beacons of the future—or threats to the established order. In the 2004 series "Gundam Seed Destiny," a clique of oligarchs calls for a purge of "our pure and blue world."
"G-Saviour," a Japanese-Canadian live-action "Gundam" feature, failed to make much of an impact in 2000. But comic book and television writer Brian K. Vaughan has signed to write the screenplay for a new live-action film for Legendary Entertainment. And the animated versions continue.
Not bad for a franchise that flopped 40 years ago.
Info box:
What: Anime Expo
When: July 4-7 (plus a pre-show night July 3)
Where: Los Angeles Convention Center, 1201 S Figueroa St, Los Angeles 90015.
Tickets: four-day admission: $126. (ages 14 and up); $35. (children 6-13); four day admission for Active Military & Veterans: $70.; single day adult admission: $40-75.; children 5 and under: free.
Information: https://www.anime-expo.org/
---