Between N.W.A's Rock Hall induction and his Coachella set, Ice Cube doesn't mince words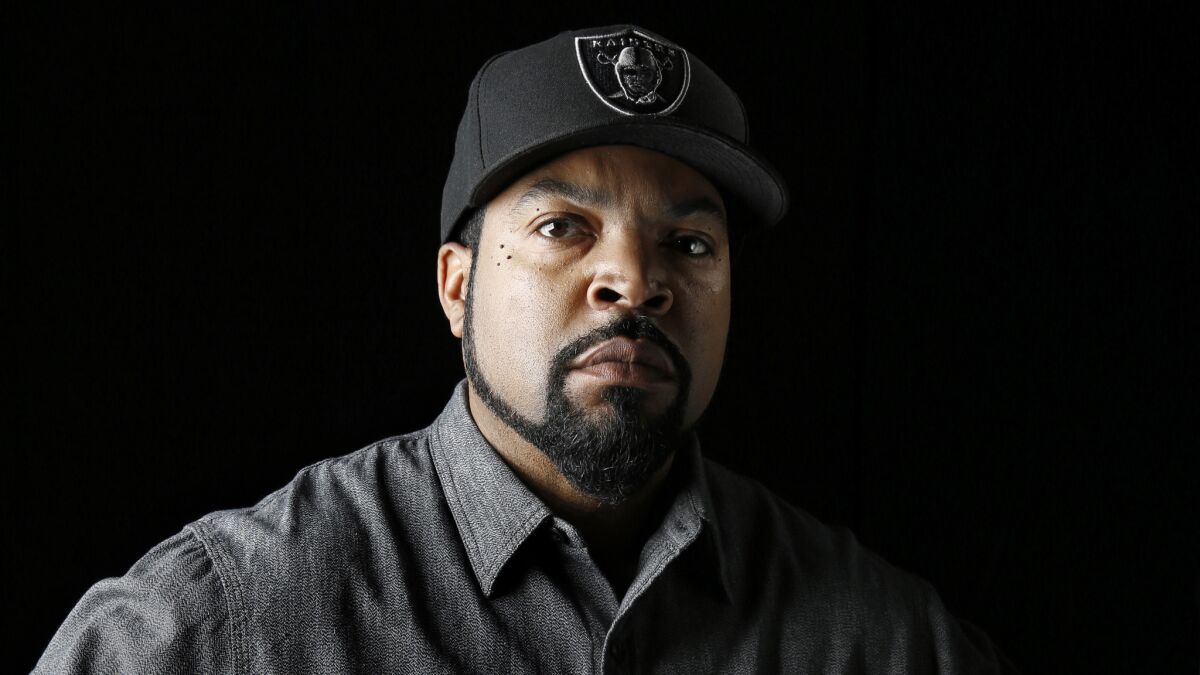 Los Angeles Times
Despite being one of the most recognizable figures in music, the hip-hop pioneer and multifaceted entertainer Ice Cube didn't raise as much as an eyebrow among fellow customers when he settled into a booth at a bustling Jerry's Famous Deli near his San Fernando Valley home.
It's a stark contrast from the scene hours later at Hollywood's historic Chinese Theatre, where Ice Cube will walk the red carpet and pose for photos with his costars and fellow rap favorites Common, Eve and Nicki Minaj at the premiere of his latest movie, "Barbershop: The Next Cut."
See more of Entertainment's top stories on Facebook >>
Right now, though, Cube would rather be under the radar. He only ever comes here for meetings, he says, apologizing for the establishment's lack of cool. He doesn't bother eyeing the menu, nor does he remove his black Louis Vuitton sunglasses, which coupled with his familiar Raiders cap obscure most of his face.
"When I've got so much going on I like to stay as focused as possible," says the man born O'Shea Jackson. And there's a lot on Cube's proverbial plate these days.
After attending the premiere of the latest entry in his hit "Barbershop" franchise, which opens Friday, Cube headed to New York where he and the other surviving members of N.W.A — Dr. Dre, MC Ren and DJ Yella — were inducted into the Rock and Roll Hall of Fame. The group made headlines that night for hitting back at criticisms of their induction by proclaiming "Hip-hop is here forever," and days later he traded words on Twitter with KISS' Gene Simmons, who told a reporter he was "looking forward to the death of hip-hop." (N.W.A is only the fifth hip-hop act to be inducted into the hall.)
And this weekend, Cube will make his debut at the Coachella Valley Music and Arts Festival with a plum main-stage slot on Saturday ahead of another high-profile L.A. act, Guns N' Roses.
All of this continues the victory lap that has followed the blockbuster success last year of "Straight Outta Compton," the biopic that traced the controversial late-'80s rise and split of N.W.A — a group as jarring as they were influential — amid the shadow of Reaganomics, the war on drugs and brute LAPD force.
Released in August and co-produced by Cube alongside Dre and the widow of the group's fallen founder, Eazy-E, "Straight Outta Compton" was as polarizing as N.W.A's defiantly obscene music once was. (Cube's son, O'Shea Jackson Jr., starred as him.)
Though critically lauded, accusations that the film shied away from the less heroic moments in the group's history sparked fresh examinations of its lyrics, which were often rife with violence, misogyny and homophobia.
"Straight Outta Compton" took in $200 million globally. Its Academy Award snubs served as a flash point in the #OscarsSoWhite backlash, and the film's success reignited interest in the group's stance against police brutality at a time when a generation of young black men and women — some not even born when the group's lightning-rod anthem "F— tha Police" was released in 1988 — are pushing back against social injustice.
At 46, Ice Cube has gone from being a member of a group that proclaimed itself the most dangerous in the world to a solo rap star who helped define West Coast rap in the '90s with stark, clear-eyed narratives of angry disenfranchised lives in the ghetto to a major Hollywood player, whose bona fides and broad reach have been proved multiple times over. He has produced and starred in multiple hit franchises including "Friday," "Barbershop" and "Ride Along," and his movies have grossed more than $1.8 billion at the box office.
Over lunch — and between rehearsals for Coachella — Cube opened up about his career moves and why rap is just as rock and roll as anything else.
N.W.A was expected to perform at the Rock Hall induction. Why not?
It's probably a little of everyone's fault that it didn't come together. It's probably a good thing. When we all come back together, we want it to be enormous.
Did that add any pressure to your Coachella performance?
It doesn't add any pressure to me because I know how my show is going to be. Doing an N.W.A show is different. But I know how my show is going to be; it's going to be big.
You've been doing this a long time now. Do you ever get nerves going onstage?
I don't get nervous. You know what could really throw me off? Messed-up sound, a messed-up production. Especially on that level. No matter how good your show is, you can't beat [messed-up] sound. That's the only thing that makes me nervous or anxious.
Last summer N.W.A partially reunited for a performance ahead of the biopic's release. What was that moment like for you?
You know it's always cool getting us back together. You get nostalgic.... We've still got our voice and flavor and people want to see it. And that's cool because we feel like it was something special, and it still is. It's moments that you always remember.
There are groups you always want to see. I remember seeing Run-DMC and Public Enemy for the first time and every time I can see them onstage after that I cherish it because I know it's only a moment in time. Hopefully people look at us the same way.
Talks for a "Barbershop" movie had been ongoing since the second installment 12 years ago. Why now?
You can't make a "Barbershop" movie and make it authentic unless you talk about what's really happening on the ground in Chicago. These youngsters are killing each other. That's a good reason to make this movie. It's not doing it because we can, it's doing it because we should.
Last year was the 20th anniversary of "Friday," the first of many successful franchises you've produced for an often underserved audience. Will another sequel ever get made?
It's on New Line and Warner Bros. It's solely on them. Do they want to pay for an ensemble with a lot of great comedians that are more expensive than they were then? Right now, the answer is "no," so the movie won't get made. It's a shame … I'd love to take the movie somewhere else, but they won't give it up. Technically, they gave up "Ride Along" and "Straight Outta Compton." They don't want to give up nothing else, but they don't want to pay for it either.
The success of "Straight Outta Compton" was astounding. What do you think audiences connect with the most about the film?
I think the core audience felt nostalgic — people know the story of N.W.A and it made them feel like they were right back at that time. The younger audience got a history lesson. They knew Cube from this, Dre from that. Some of them didn't even know we were in a group together. It was a history lesson but it was so poignant because of what we were going through in the movie and kids are going through in the streets now. Look at Ferguson [Mo.], and so forth. It connected generations. Now people understood why we were doing the music we were doing.
Were you at any point affected by some of the film's controversy? Specifically the reexamining of lyrics and the criticisms of misogyny.
No. The lyrics have been out there, plain to see, for 25 years. It is what it is. It was history. It was all a part of the fabric that made up what the group means to everybody. Controversy was part of the deal.
That's what I love about how Universal handled it. They never shied away from controversy. They knew it was coming. We didn't make the record without controversy, we're not gonna make this movie without controversy.
There wasn't a part of you upset at the criticism?
Not at all. Because so and so can make their own movie. There's been several movies made about Elvis, go make your own N.W.A movie if you don't like the way the one the four surviving members, and everybody else we could find that was around, put together. If you can do one better than that, knock yourself out.
You've been teasing your upcoming album for a few years. How's it coming?
About a year and a half ago, I stopped working on it to finish all of these other projects. "Ride Along 2" and "Straight Outta Compton" were being shot at the exact same time on two different coasts. I had "Barbershop 3" coming, I shot another movie, "Fist Fight" [due next year]. I owe my music fans more attention than just trying to get into the studio when I have two or three days off. It's not that I have to start from scratch, there's some tracks I have that will work. I just have to top it off.
Getting inducted into the Hall of Fame has to feel great, especially after being passed over three times before.
I'm humbled and honored. I don't think I'm a better artist because I'm in the Hall of Fame, and I wouldn't think I was any less of an artist if I didn't make it. These things are cool, but never have [and] never will I hang my hat on awards and accolades. My reward is when a project works. Anything else is just another layer of icing on my cake. I don't agree with competing with other artists anyway. All artists should be thanked for putting stuff into the world that we can love, or hate.
And the notion that N.W.A isn't rock and roll?
I don't want to sound like an ungrateful guy, or arrogant. But a group like N.W.A is supposed to be in the Rock and Roll Hall of Fame. We are just as much rock and roll as any other artists that's in that hall. Rock and roll is not a guitar, it's not long hair — that's not rock and roll. Rock and roll is a state of mind, a state of nonconformity. It's not about an instrument, it's about spirit.
Not seeing how N.W.A is rock and roll — if you don't see that, then you really don't get what it was all about.
MORE COACHELLA:
Coachella 2016: Live coverage of the bands, the fashion, the scene
They're baaack: Coachella reunions of N.W.A and GNR promise a flashback to the angry '80s in L.A.
10 Coachella acts to catch beyond the headliners: Chris Stapleton, Kamasi Washington, Lush and more
---
Get our L.A. Goes Out newsletter, with the week's best events, to help you explore and experience our city.
You may occasionally receive promotional content from the Los Angeles Times.