Alicia Alonso, Cuba's living legend of ballet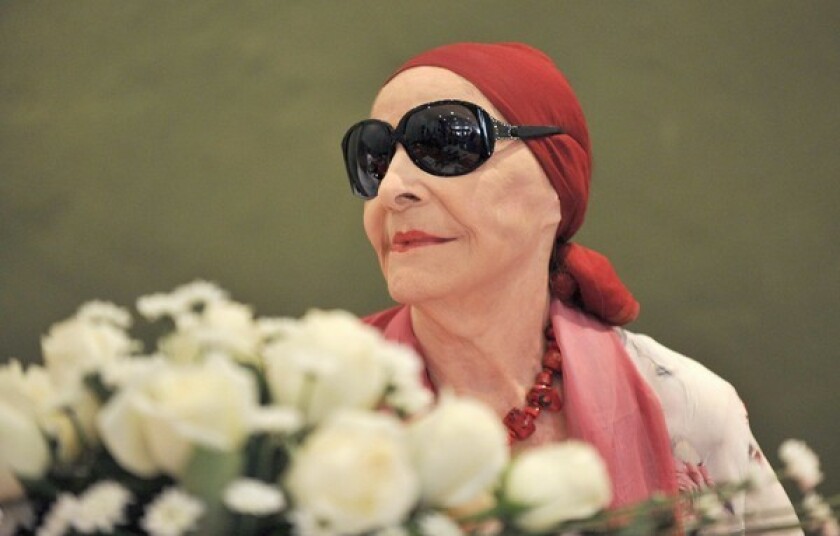 To her admirers, Alicia Alonso is the gracious grande dame of Cuban classical ballet. To detractors, she's a conservative cultural czarina who has clung to power even longer than Fidel Castro.
But even some of her fiercest critics will concede that Ballet Nacional de Cuba — the 63-year-old company that Alonso principally founded and rules as artistic director — still rates among the hemisphere's most technically skilled ensembles, despite financial hardships, dancer defections and other woes.
Nor is there much disagreement that Alonso, at 90, remains a regal and colorful presence, sort of a Caribbean Greta Garbo swathed in head scarves, drop-dead outfits and strong opinions about art, politics and, well, everything.
Speaking by phone last week from Washington, D.C., for example, Alonso was asked whether she thought the recent loosening of travel restrictions that has allowed more Cuban and U.S. artists to perform in each others' countries would continue, despite the prevailing economic and political status quo between the distant neighbors.
A theatrical pause ensued.
"I think it's the question the people in the United States have to answer themselves," Alonso replied. "We always like to share. We have proved it all over the world. And art is the best way to improve relations between one country and another one, because through the art we are becoming more human."
Southern California audiences will be the latest beneficiaries of the thaw in cultural relations when Cuban National Ballet performs June 15 through 19 at the Segerstrom Center in Costa Mesa and June 23 through 26 at the Dorothy Chandler Pavilion. The Orange County program, "The Magic of Dance," is a sort of greatest-hits compendium of excerpts from "Swan Lake," "Giselle," "The Sleeping Beauty," "The Nutcracker" and other canonical works. At the Chandler, the company will perform "Don Quixote," with choreography by Alonso, accompanied by the L.A. Opera Orchestra.
Like other dance companies led by controversial artists with oversize public personas, Ballet Nacional de Cuba over the decades has become practically synonymous with Alonso. Her tenacious dedication in helping to sustain a privileged art form in an impoverished society has earned praise from the international dance community and a slew of career honors: citations from the Cuban government, encomiums from Spain and France, designation as a UNESCO goodwill ambassador.
The admiration is compounded by the widespread (though officially unconfirmed) knowledge that Alonso is nearly blind, a condition that reportedly began with detached-retina problems resulting from dancing.
Switching easily between English and Spanish, Alonso chatted about her long, singular career, launched when she was a precocious 9-year-old.
"When I was a child, I used to dance a lot in my room. My mother used to play a tape, and I used to dance all by myself. I didn't know what I was doing, I would just move and move and move. Right then I said to my mother, 'This is what I want to do for the rest of my life.'"
Visiting New York with her father in the 1930s, when she was 18, Alonso fell in love with the city's energy. She gained a foothold in the dance world by working in Broadway musicals ("Great Lady," "Stars in Your Eyes"), then joined the fledgling New York Ballet Theater (later American Ballet Theatre).
There, she collaborated with George Balanchine, one of her many encounters with legendary choreographers including Bronislava Nijinska, Jerome Robbins and Agnes de Mille. It was Balanchine who devised the devilishly difficult part for Alonso in "Themes and Variations" in 1947 that helped secure her reputation as a brilliant principal performer.
"Each time he put something more difficult in it, and he would say, 'Do you think you can do it?' And I would say, 'I will try, Balanchine,'" Alonso recalled. "He would look at you and say, 'Do this.' He didn't waste time. He worked very hard."
In the late 1940s, Alonso decided to take her experience to Cuba to create a national ballet company. With her husband, Fernando, she established what was originally called the Alicia Alonso Ballet, renamed Ballet Nacional de Cuba after the revolution.
Her tenure as in effect Ballet Nacional's artistic-director-for-life has made Alonso a target for European and U.S. dance writers who assert that her company, though well drilled and beautiful to watch, is yoked to a virtually unchanging core repertoire of classics. That, in turn, has been cited as a factor in prompting dozens of Cuban dancers over the years to flee their island homeland for better opportunities abroad.
On the record, at least, her colleagues profess to be unconcerned that Alonso has not designated a successor, raising doubts about how the company may fare once she leaves the scene.
"I'm sure like everything in life it will go on," one of the company's current stars, Barbara García, said by phone. "Yes, it's an uncertain future; we don't know how it will continue. I imagine it will continue."
As for the formidable comandante of Cuban dance, she has in fact announced the age at which she plans to step down from her duties. About 200 years ought to do it, she reckons.
"I love life," Alonso said. "Amo la vida."
---
From the Oscars to the Emmys.
Get the Envelope newsletter for exclusive awards season coverage, behind-the-scenes stories from the Envelope podcast and columnist Glenn Whipp's must-read analysis.
You may occasionally receive promotional content from the Los Angeles Times.