Achim Freyer is consumed by 'The Ring of the Nibelung'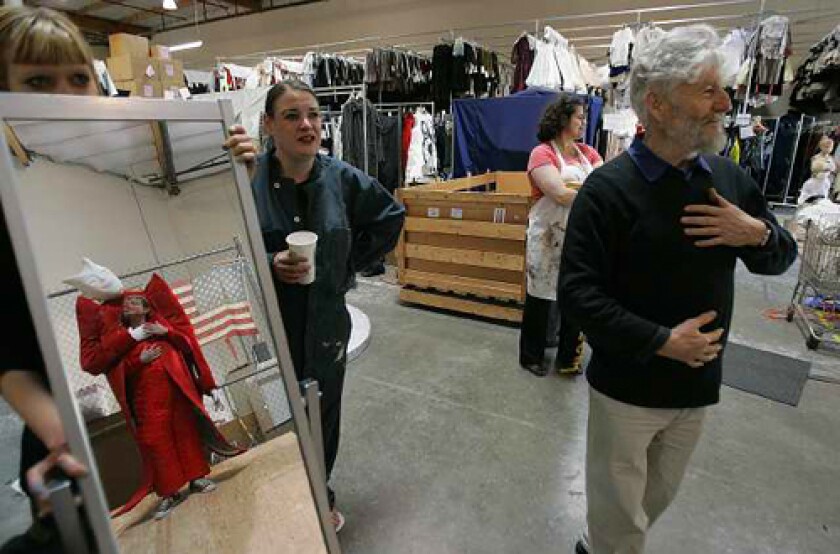 A female voice floats from a loudspeaker, sounding preternaturally calm amid the morning chaos inside Los Angeles Opera's costume shop on South Alameda Street downtown.
"We're ready for a dwarf in Fitting Room 2," the voice intones.
In recent days, the costume shop has been transformed into a world of dwarfs and giants, gods and goddesses, maidens and monsters. Some can grow taller or smaller, like Alice after those "Eat Me" and "Drink Me" treats in Wonderland. Body parts and clothing accessories defy all conventional rules of proportion.
"It blurs the line between what's a costume and what's a set piece and what's a prop," observes John Musselman, administrative assistant for the shop, from his post at the front desk. "Some amazing things are going on back there."
Fitting Room 2 may be ready for a dwarf, but on this particular morning, less than three weeks before opening night, Los Angeles Opera is nowhere near ready for the first chapter of its most ambitious undertaking to date: the company's $32-million production of Richard Wagner's four-part mythological epic about gold and greed, "The Ring of the Nibelung."
The first opera of the four, "Das Rheingold" (The Rhinegold), opens Saturday; "Die Walküre" (The Valkyrie) begins April 4, and "Siegfried" will be unveiled Sept. 26. "Götterdämmerung" (The Twilight of the Gods) is scheduled to arrive at the Dorothy Chandler Pavilion on April 23, 2010.
After that, three performances of the four operas in sequence will be given between May 29 and June 26, 2010, as the centerpiece of a citywide Ring Festival L.A. That mega-event, still in gestation, will take place from April 2010 until the following June.
Scampering through the costume shop, paintbrush in hand, is the director-designer at the helm of all four operas, Achim Freyer This bearded, 74-year-old German, sporting black Converse-style sneakers and a swirling meringue of white hair, has become -- with all apologies to J.R.R. Tolkien -- L.A.'s new Lord of the "Ring."
Now you see him, now you don't; he's tweaking the seam of a big-shouldered overcoat or painting red veins on the white of an enormous eyeball. Freyer's daughter Amanda, who serves with her father as costume designer, is also busy in the backroom with a brush.
Freyer's mission: to create a timeless world for Wagner's epic that pays homage to its distinguished history yet rejects all previous staging conventions. "We have so many technical things that Wagner did not have," he says.
Filling many roles
Wagner coined the German word gesamtkunstwerk in 1849 to refer to an operatic performance encompassing music, theater and the visual arts. Freyer tends to use it too.
The director -- who confesses "my English is small" -- communicates with non-German speakers during rehearsals with the translating help of Christina Baitzel, whose official title is not translator but special assistant to L.A. Opera General Director Plácido Domingo for the "Ring."
Even with little knowledge of German, one can pick out the word gesamtkunstwerk in Freyer's speech several times as he discusses the challenge of serving as a costume designer, member of the lighting design team and stage director of "Das Rheingold," tasks that usually fall to three people.
When he switches to English, Freyer's brief words sum up the personal toll of the job that has already gobbled up four years of his life: "I have too many to do!"
After decades of gloomy Northern European winters, the Berlin-born Freyer, when in Los Angeles, likes to follow the sun.
Before and after the morning session in the costume shop, he participates in a series of rehearsal-break conversations held in plastic chairs in the alley outside the opera's rehearsal space at Pico and La Brea. But he makes a habit of dashing to place the chairs at the best ray-catching angle depending on the time of day -- never mind that the ideal position might also heighten the possibility of being backed into by a truck.
In the sun, Freyer's hair looks less like meringue and more like a white-hot flame as he talks about how he got cajoled into this gargantuan undertaking by the late Edgar Baitzel, formerly L.A. Opera's chief operating officer.
Before his international career as a director of theater and opera, Freyer trained as a painter, and about four years ago he had reached a point in his career when he'd decided to give up stage work to "paint, paint, paint, all the time."
That was just about the same time that Baitzel approached Freyer about directing a new "Ring" cycle. Baitzel died last year of cancer; Christina Baitzel is his widow.
Freyer says that Edgar Baitzel, also a German native, chatted with him about doing a production of "The Threepenny Opera" by German dramatist Bertolt Brecht and composer Kurt Weill -- a logical choice for Freyer, who was a Brecht meisterschüler (master student) and has staged work for the Berliner Ensemble, founded by Brecht and his wife, Helene Weigel, in 1949.
But, Freyer recalls with a laugh, Baitzel told him, " 'The Ring' is better," in an offhand manner that suggested trading a single piece of musical theater for some 15 hours of Wagner was akin to choosing an apple instead of a banana.
Freyer resisted; he considered himself not only done with stage work but also finished with Wagner. "I had done 'Tristan und Isolde.' That was enough," he exclaims, referring to a 1994 production in Brussels.
But then, Freyer says, he and Baitzel, who had overseen productions of the complete works of Wagner in 1983 as assistant manager of the Bavarian State Opera in Munich, Germany, started talking of gesamtkunstwerk, the blending of disciplines. "I thought, I can make a painting with the story," Freyer says. "I think I can do the gesamtkunstwerk. I tried to find a way of painting with theater, and with music."
L.A. Opera's dream of presenting the "Ring" predates Baitzel and Freyer. In 2000, the company announced plans to mount a "Ring" cycle staged by German director Peter Mussbach in collaboration with Industrial Light & Magic, George Lucas' special-effects team, but the post-Sept. 11 economic slowdown scuttled plans for a high-tech "Ring," whose budget estimates had gone as high as $60 million.
At that point, Freyer was not on the "Ring" radar -- but in the next few years he established himself as a force at L.A. Opera with two notable productions: in 2002, a controversial, abstract staging of Bach's B-minor Mass that led to boos in the audience and angry letters to The Times and, the next year, a well-received production of Berlioz's "Damnation of Faust," featuring giant masks, flying effects and the Los Angeles Children's Chorus appearing as 54 angels' heads popping up through holes in the stage.
In new territory
Says Domingo of the Bach production: "It was my first season as an artistic director, and I wanted to program works that hadn't been seen here before. The Mass wasn't even an opera. I thought it was a fantastic production, but perhaps some audience members thought it was eccentric to see a sacred oratorio in an opera house, no matter how interesting the staging."
(Of people who bring such preconceptions with them into the theater, Freyer says cheerfully: "Not my problem.")
Still, adds Domingo, "Any resistance to Freyer's style was swept away with his production of 'Damnation of Faust.' Although he is one of the great theatrical geniuses of our time, his work was little known in the United States. We knew he would be able to give us a breathtaking 'Ring' that would fit in with what I see as L.A. Opera's vision . . . innovative, imaginative and thought-provoking."
Capturing the drama
For his part, L.A. Opera music director James Conlon -- who counts among his credits nine Wagner-heavy years as chief conductor of the Cologne Opera in Germany -- is confident that Freyer is capable of creating the "timeless, placeless place" in which the "Ring," Conlon believes, must exist.
"I think the power of myth always goes beyond the mundane," the conductor says. "The biggest cliché of the last few decades has been to reduce the subject to a specific.
"I've seen Marxist 'Rings,' Freudian 'Rings,' Jungian 'Rings,' 'Rings' in tuxedos -- all the things that in the '50s and '60s were considered rebellious are clichés now," Conlon continues. " 'The Ring' is Freudian and it's Jungian and it's Marxist and it's Keynesian and Buddhist and Christian -- it's all of those things, but not one of those things."
Another of Conlon's "Ring" requirements: that the visuals not upstage the opera. Although he does not name names, he says that film or stage directors who occasionally drop in to stage an opera often forget that. "In the case of Achim Freyer, he has lived with opera as a part of his culture -- he's not someone who's 'dropping in' on 'The Ring,' " Conlon says. "The drama is in the music."
Freyer agrees -- but among his many dreams is to stage a "Ring" without music, with actors speaking Wagner's text to emphasize its poetry. He'd also like to stage Dante's "Divine Comedy" someday and has his eye on mounting "Les Chants de Maldoror" (The Songs of Maldoror), a poetic French novel about an evil misanthrope consisting of six cantos written between 1868 and 1869 by the Comte de Lautréamont. The work has been cited as an inspiration by Surrealist painters including Salvador Dalí and Marcel Duchamp.
"I have only dreams," Freyer says -- not a wistful suggestion that there are many things in life he can only dream of but instead an assertion that there's no room for anything less than dream-worthy in his life.
While in Los Angeles, despite the demands of "Ring," Freyer plans to continue another of his dreams: his painting.
His 1970 watercolor "Seestück" (Seascape) is on view at the Los Angeles County Museum of Art through April 19 in the exhibition "Art of Two Germanys/Cold War Culture." And L.A.'s Ace Gallery plans a show of his work in 2010 in conjunction with Ring Festival L.A.
"It is completely separate, but it is the same person," Freyer says of himself as director and as visual artist in his quirky, gesamtkunstwerk-y way. "I do 'The Ring,' and I paint."
And despite his initial reservations, "The Ring" now holds a place among his dreams.
"When I hear a work for realization, it's like I am pregnant, and I must give birth -- I know, the image is very feminine," he says. "The piece is so strong and so hard and so philosophical and so political that I must tell it on the stage."
---
The complete guide to home viewing
Get Screen Gab for weekly recommendations, analysis, interviews and irreverent discussion of the TV and streaming movies everyone's talking about.
You may occasionally receive promotional content from the Los Angeles Times.