At 'Aquaman' premiere, Jason Momoa proves 'bringing culture to the carpet' matters
Jason Momoa likes to go big or go home.
The actor has shredded on a trident-turned air guitar for thousands of Comic-Con fans, competed with Jimmy Fallon in a late-night spear-throwing contest and released an Atlantean roar on the set of "Saturday Night Live."
But at the Los Angeles movie premiere of "Aquaman" on Wednesday at the TCL Chinese Theatre, his passion for the King of the Seven Seas reached another level.
Just watch the haka he performed on the blue carpet below. With fierce synchronized movements, it's a ceremonial group dance historically performed by New Zealand's indigenous Māori community.
Momoa was "bringing culture to the carpet," as DC's Cyborg actor Ray Fisher put it at the premiere. Performed before hundreds of fans watching behind barricades across the street, this Polynesian tradition reflected the spirit of the latest DC Comics film, which opens nationwide on Dec. 21.
Read More: Jason Momoa performs a haka at the 'Aquaman' premiere
Momoa portrays Arthur Curry, a half-human son of the sea queen Atlanna and a lighthouse keeper, who dares to save the underwater utopia of Atlantis. Nicole Kidman portrays his mom, Amber Heard his love interest, Willem Dafoe his uncle and Patrick Wilson his half-brother.
Aquaman was created in 1941 as a Caucasian and blond-haired hero, so casting Jason Momoa, who is of Native Hawaiian and Native American descent, has been celebrated as adding more multicultural heroes to comic-book movies.
"It's important for people to see different culture represented on screen because it'll give us a little more understanding of one another. So they can get an idea that, 'You know what? We're all the same, at the heart of it,'" said Fisher, whose DC character was originally written as a person of color in 1980.
Both he and Ryan Potter of the DC Comics series "Titans" attended Wednesday's event in support of the leading man.
"I'm a huge fan of his. For me as an Asian American actor, Jason Momoa is another rep for Pacific Islanders," Potter said. Momoa actually inspired him to audition for the DC character Beast Boy after a chance meeting at a Whole Foods in the Valley.
Read More: With 'Aquaman,' 'Destroyer' and 'Boy Erased,' Nicole Kidman is everywhere
Potter added, "I think after the success of a film like 'Crazy Rich Asians,' Hollywood is now bringing eyes back to projects that maybe otherwise would have been overlooked, giving opportunities to directors like James Wan and actors like Jason Momoa."
"The climate is changing in terms of what is 'blockbuster worthy,'" Potter said. "There are faces of all different ethnicities, backgrounds, races, creeds, cultures that are now getting a little bit of limelight, and how Aquaman and DC are bringing some love to Jason and his people is brilliant."
While director Zack Snyder originally recruited Momoa and costar Amber Heard to play Aquaman and Princess Mera in "Justice League," James Wan stepped in to helm this standalone feature. Snyder serves as executive producer.
Momoa told The Times that it was "effortless" working with the franchise's new filmmaker: "Amazing. He totally respected where we started and changed it into a whole other world."
With Wan in the director's chair, the 2018 flick is much lighter in tone than Snyder's DC Comics movies. Momoa seemed thankful for that, comparing it to "Indiana Jones" or "Star Wars."
"I just want [audiences] to have fun. It's got a hell of a lot of action," he said on the carpet while fans screamed.
"There's a lot of themes in this that are beautiful, and I feel like when you walk away from it, like any good movie, it's gonna stick with you for a little bit," Momoa added. "There's a lot of cool things that kids will be pretty stoked and families get to go home and discuss."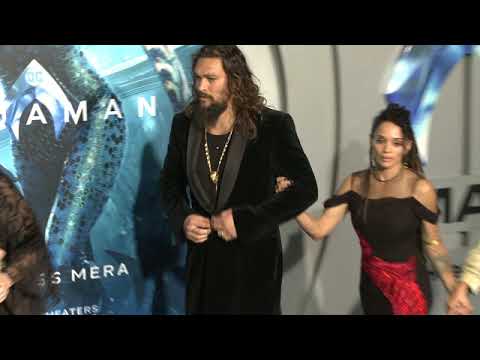 Jason Momoa with family at 'Aquaman' L.A. premiere
In the movie, Momoa's Aquaman is just as candid as the actor is in person. Just as the sea king on screen quips about Mera being a redhead and jabs frequently with PG-13-rated curse words, the actor did not filter much at the premiere.
Take this comment made on the carpet: "It'd be pretty cool to be Aquaman so I could take all of the trash in the ocean, bind it all up and then call my friend Superman, have him melt it and suck all the toxins out. Swallow it and poop it out."
His childlike energy was contagious, especially with his personal superheroes present: his mom, Coni Momoa, and wife Lisa Bonet. Momoa's son, who joined him in the haka, and daughter were also seeing it for the first time Wednesday.
For this former islander kid, who spent his childhood summers with his father in Hawaii, the journey to a superhero still feels "surreal. It's the craziest thing in the world."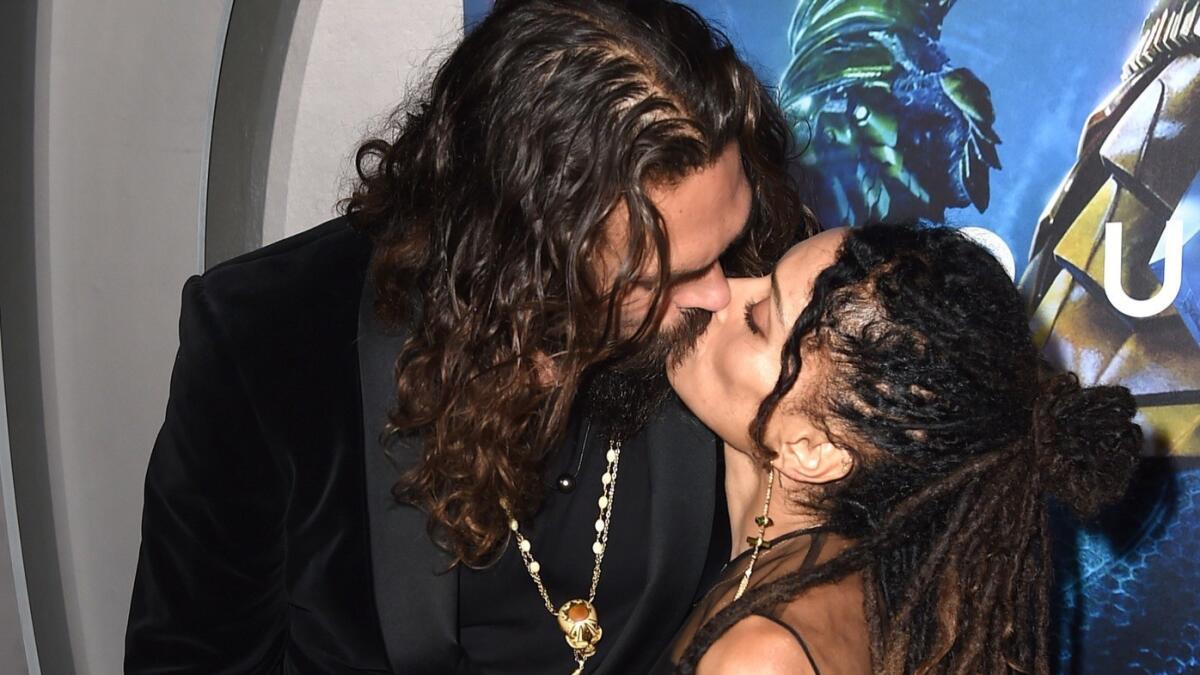 Review: 'Aquaman' makes a splash with underwater spectacle galore and Jason Momoa's superheroic star turn

Get our L.A. Goes Out newsletter, with the week's best events, to help you explore and experience our city.
You may occasionally receive promotional content from the Los Angeles Times.