21 Images
Scarlett Johansson: Life in pictures
Scarlett Johansson | Life in pictures
A look at some notable moments from the life and career of actress Scarlett Johansson.
(Robert Gauthier / Los Angeles Times)
'The Horse Whisperer' | 1998
One of Johansson's earliest film roles was as Grace MacLean, a teen injured in an accident with her horse, in "The Horse Whisperer" opposite Robert Redford.
(Elliot Marks / Touchstone)
'Ghost World' | 2001
It was her performance in "Ghost World" (left, with Thora Birch) that really got people's attention. Johansson played Rebecca, a high school grad preparing for the next stage of her life in the comic book-based film.
(Tracy Bennett / United Artists Films)
'Lost in Translation' | 2003
Johansson followed "Ghost World" with the much-adored Sofia Coppola flick "Lost in Translation," co-starring Bill Murray. Her performance as Charlotte, a recent college graduate questioning her marriage while in Japan with her husband, yielded a Golden Globe nomination.
(Yoshio Sato / Focus Features)
'Girl with a Pearl Earring' | 2003
Johansson's turn as the shy Griet, a servant at the home of painter Johannes Vermeer who becomes the subject of one of his commissioned paintings, earned her another Golden Globe nomination.
(Jaap Buitendijk / Lions Gate Films)
'A Love Song for Bobby Long' | 2004
Johansson earned her third Golden Globe nomination for her portrayal of Pursy Will, a young woman who returns home after the death of her estranged mother, in "A Love Song for Bobby Long."
(Ron Phillips / Lions Gate Films)
'The Island' | 2005
Scarlett spiced things up by taking on an action film called "The Island." Reviews were lukewarm.
(Doug Hyun / DreamWorks/Warner Bros. Pictures)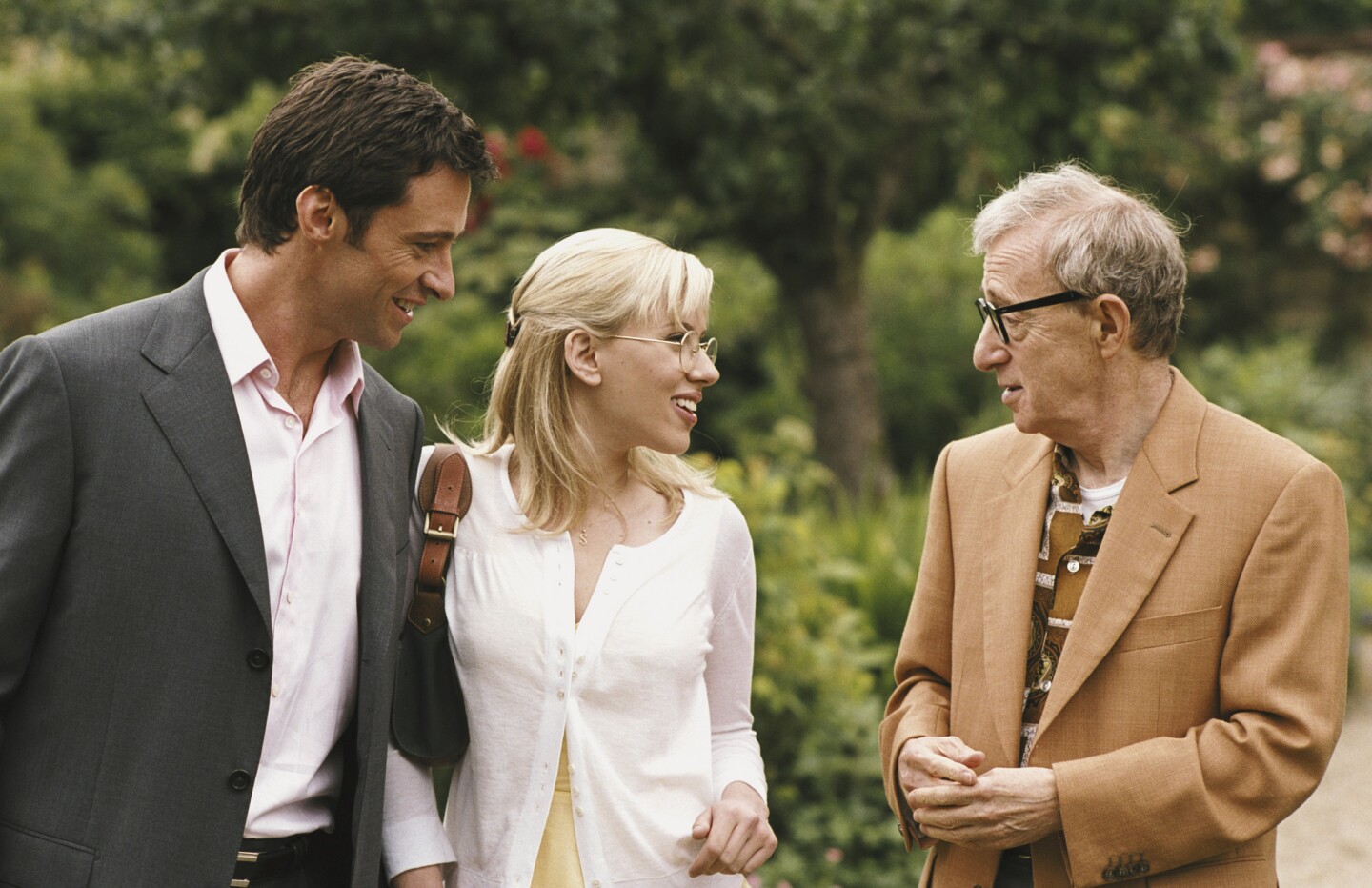 Woody Allen films
After Johansson starred in two Woody Allen films, "Match Point" and "Scoop" (here, with Hugh Jackman, left, and Allen), many speculated that she was his new muse.
(Clive Coote / Focus Features)
Vanity Fair cover | 2006
Scarlett is often cited by men's magazines as one of the sexiest women alive. It was Vanity Fair, however, that finally convinced Scarlett to bare all. She posed with a nude Keira Knightley and a clothed Tom Ford on the cover of the magazine.
(Annie Leibovitz / Associated Press)
'Anywhere I Lay My Head'
Scarlett is well-known for her husky speaking voice, but few know her for her singing voice. She earned indie-cred by singing with Jesus and Mary Chain at Coachella, and in May 2008 she released her debut album, "Anywhere I Lay My Head."
(Brea Souders / Rhino Records)
'Vicky Cristina Barcelona' | 2008
Johansson, again working with Woody Allen, plays Cristina, an American who visits Barcelona with her friend Vicky where they meet artist Juan Antonio (Javier Bardem). Cristina eventually becomes involved with Juan Antonio and his wife, Maria Elena (Penelope Cruz).
(Victor Bello / The Weinstein Co. )
'The Spirit' | 2008
Johansson's first venture into the superhero genre is as the villain Silken Floss, a scientist femme fatale, in "The Spirit," the movie based on the Will Eisner comic.
(Lionsgate)
'Iron Man 2' | 2010
Johansson first appears as S.H.I.E.L.D. spy Natasha Romanoff (Black Widow) in "Iron Man 2." She reprises the role in 2012's "The Avengers" and 2014's "Captain America: The Winter Soldier."
(Francois Duhamel / Marvel Entertainment)
'A View from the Bridge' | 2010
Johansson made her Broadway debut as Catherine Carbone in the revival of Arthur Miller's "A View from the Bridge," with Liev Schreiber. Her performance earned her a Tony Award that year for lead actress in a play.
(Joan Marcus / Boneau/Bryan-Brown)
'Hitchcock' | 2012
Johansson plays "Psycho" actress Janet Leigh in "Hitchcock," a movie about the making of the iconic film.
(Suzanne Tenner / 20th Century Fox)
Scarlett Johansson and Ryan Reynolds
The actress married actor Ryan Reynolds in 2008, but their relationship fizzled and they divorced in 2011.
(Gabriel Boouys / AFP / Getty Images)
'Her' | 2013
In Spike Jonze's "Her," the actress lent her sultry voice to the character Samantha, an intelligent operating system that Joaquin Phoenix's character falls in love with.
(Warner Bros. Pictures)
Lawsuit
Johansson sued French writer Gregoire Delacourt because his novel "La première chose qu'on regard" includes a character who is a look-a-like model for the star. A French judge ruled the book is defamatory but dismissed her claim that it fraudulently exploited her image, celebrity and name.
(AFP/Getty Images)
'Under the Skin' | 2014
Johansson added another nonhuman role to her resume as the alien seductress in "Under the Skin."
(Toronto Film Festival )
'Lucy' | 2014
Johansson turned superhuman for the film "Lucy," where she plays a drug mule who is accidentally dosed by the drug she is to transport, which activates enhanced physical and mental abilities.
(Universal Pictures)
Scarlett Johansson and Romain Dauriac
Johansson began dating Romain Dauriac in 2012. The couple, who have one daughter together, were married Oct. 01, 2014.
(Dominique Charriau / Getty Images)