After Thousand Oaks tragedy, Cal Lutheran University cancels performances of Columbine-centric play
When a gunman opened fire Wednesday night in Thousand Oaks, targeting a bar packed with college students and alumni, 13 people died, including a graduate of California Lutheran University.
The tragic headline was far too familiar to eight students at the school, who have been rehearsing for their staging of "columbinus," which centers on the Columbine High School massacre in Littleton, Colo., nearly 20 years ago.
The two-hour, three-act play was set to open Thursday night, complete with a post-show conversation with its director and actors, as well as faculty members from the university's psychology and criminal justice departments.
However, the initial weekend's three performances through Saturday have since been canceled, along with Thursday's classes, said the school's media representative. At press time, the university was unsure whether the next four performances (Nov. 15-18) would still take place as scheduled.
The documentary drama, written by "The Humans" playwright Stephen Karam and the late PJ Paparelli, depicts the devastating events of Columbine on April 20, 1999, as well as its aftermath.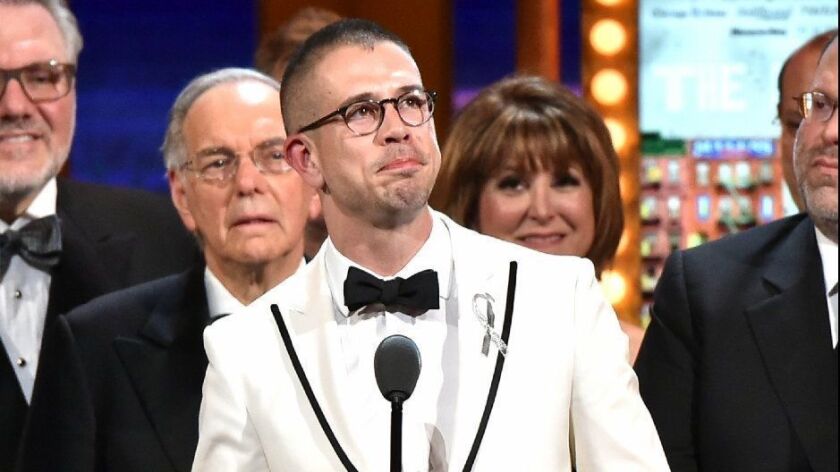 "I'm heartbroken to learn about the shooting in Thousand Oaks. My thoughts are with everyone affected by the shooting and the families of the victims," Karam said when reached by The Times on Thursday afternoon.
"PJ's belief was that theater couldn't solve anything, but it could create space for a conversation about such incomprehensible violence, however unresolvable the questions around these senseless killings seem," Karam added. "I believe creating a dialogue is more healing than leading with the impulse to look away."
Written over four years of intense research, the unsanitized "columbinus" intertwines police evidence, excerpts from the two shooters' journals and interviews with parents, survivors and Littleton community leaders to illuminate the realities of America's adolescent culture.
The piece first premiered at Maryland's Round House Theatre in 2005, and a revised edition — incorporating new survivor accounts from Columbine as well as the 2012 movie theater shooting in Aurora, Colo. — opened in Chicago in 2013.
The Cal Lutheran students putting on "columbinus" prepared for the task by watching documentaries on the tragedy, as well as the survivor interviews and news coverage that followed.
"We started from a place that was very grounded in history," director Brett Elliott recently told the Ventura County Star of the cast's extensive research. "Right from the start, the cast was really moved by and convicted by the truth that is behind the writing and conception of the play."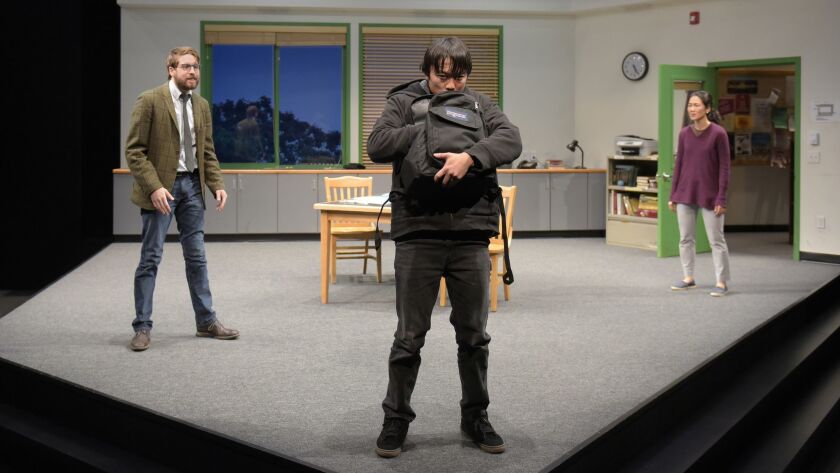 FULL COVERAGE: 12 killed in Thousand Oaks bar shooting »
Cal Lutheran's production of "columbinus" isn't the only show in California exploring school shootings. Beverly Hills' Theatre 40 recently mounted a production of "26 Pebbles," Eric Ulloa's play that zooms in on the Sandy Hook massacre in Newtown, Conn., in 2012; Julia Cho's one-act play "Office Hour," which examines the "classic shooter" stereotype, made its Bay Area debut this past spring at Berkeley Rep.
And though Cal Lutheran's production is currently on hold, "columbinus" will still play elsewhere, as a staging in Tampa, Fla., is slated to open in January; it was programmed in response to the high school shooting in Parkland earlier this year.
"This is an important work that we want to get out to the public," said Karla Hartley, producing artistic director of Stageworks Theatre, which is mounting "columbinus" in Florida alongside Innovocative Theatre.
"The beauty of live theater is that you get to sit next to someone who is not like you and have the same experience of sitting and watching a play," Hartley told The Times. "Gun control is an important issue, especially here in Florida, and in light of all of the violence that keeps happening, it's still a topic we need to explore."
As Wednesday night's tragedy has proved yet again, these unthinkable acts of violence are all too common in America.That still bothers Karam, who was in New York City when he woke up to the news of the Thousand Oaks tragedy.
"When I worked on 'columbinus' with PJ Paparelli, there was a lot of tension about whether examining what was, at the time, the worst school shooting in U.S. history had merit. Many hoped it would remain an isolated case of evil, of sociopathy," the playwright told The Times.
"It was difficult to even get schools to allow their students to see the play; the fear was a show about gun violence in schools might provoke more gun violence in schools. Countless other shootings have made it clear that these incidents aren't going away, and the problem is getting worse."
Twitter: @cashleelee
---
UPDATES:
3:30 p.m.: This article has been updated with additional details.
This article was originally published at 3:05 p.m.
---
Inside the business of entertainment
The Wide Shot brings you news, analysis and insights on everything from streaming wars to production — and what it all means for the future.
You may occasionally receive promotional content from the Los Angeles Times.