Cal Lutheran students appeal cancellation of Columbine play after Thousand Oaks tragedy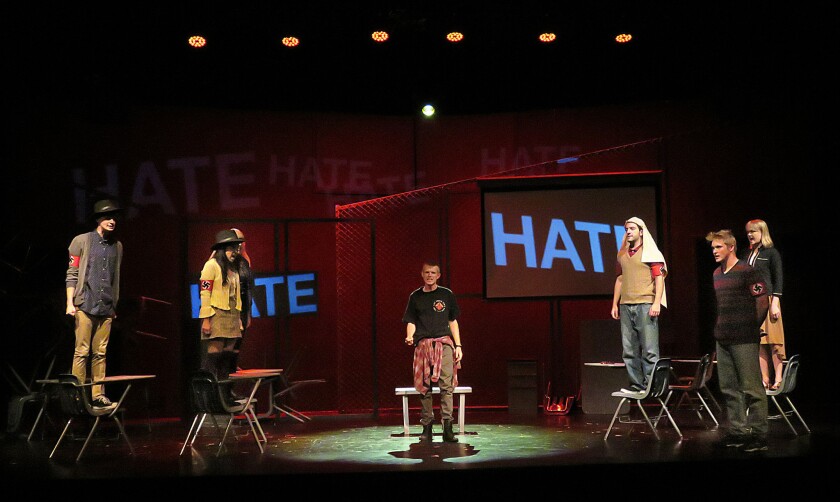 Wrapping up a final dress rehearsal on Wednesday night, Gabrielle Reublin was optimistic about the show's sold-out opening the following day. A senior at California Lutheran University, she and her seven fellow student actors had been rehearsing their staging of "columbinus," which centers on the Columbine High School massacre in Littleton, Colo., nearly 20 years ago.
They were getting notes from their director — suggestions about how to make the truth they were telling even more resonant for their local Thousand Oaks audience — when their phones were suddenly flooded by calls, texts and news alerts. A gunman had opened fire on their local bar, killing 12 people.
"We were all in shock together," Reublin said. "Before this, we'd come to the show, get into it, and feel all of these horrible things, and then we'd be able to go home and separate ourselves from this reality and we'd be OK.
"But now, there's no line and we're feeling this constantly now," she added. "It's literally so close to home, and there's people we know who are involved. It's so hard."
The actors spent the rest of the night consoling one another, checked on friends and called their parents to tell them they were safe. Early Thursday morning, sophomore Victoria Karr was in the school chapel when a crew member of the play informed her that the school administration had canceled the first weekend's performances of "columbinus." At press deadline on Friday afternoon, decisions were still being made about the second weekend's shows (Nov. 15-18).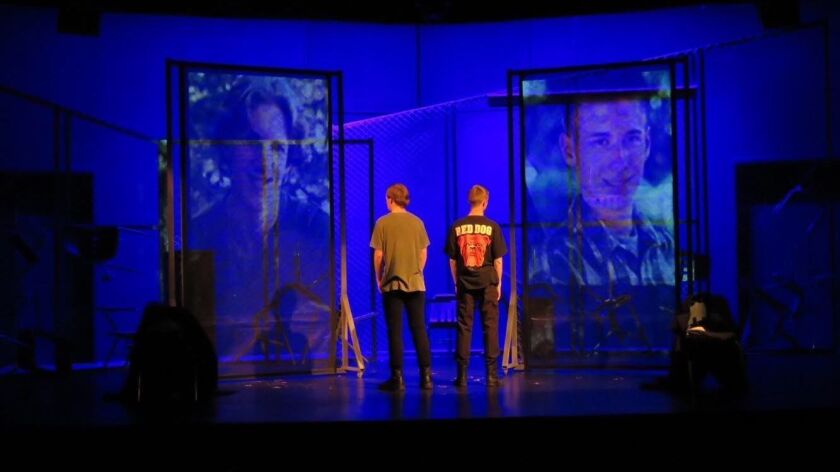 RELATED: After Thousand Oaks tragedy, Cal Lutheran University cancels performances of Columbine-centric play »
On Thursday afternoon, the cast and crew gathered in the theater department, in the same room where they had their first table read. They discussed the fate of their play, which was set to be followed by post-show conversations with its director and actors, as well as faculty members from the university's psychology and criminal justice departments. Should they reschedule the run for the spring instead? Would it ever be appropriate, or even possible, to perform the show?
"We all agreed that now, more than ever, we have to tell this story," said Jordan Erickson, a junior who has lived in Thousand Oaks his entire life. "Thousand Oaks is — well, I mean, I guess it was — considered one of the safest cities in the country. In light of recent events, this story is even more important to share with the people of this community.
"We as a group have gone through so much to put this play on," he went on, "and we believe that theater can be used as therapy, a way to express our grief through the show and honor the people who lost their lives that night."
Not every actor was on board with this decision at first.
"I was having some pretty serious second thoughts about doing it, because I gotta do and say a lot of really, really gross stuff, for an audience that's affected by something so eerily similar," said Jonathan Irwin, a sophomore who portrays one of the Columbine shooters in the play.
"But talking with the cast and realizing the importance, it changed my opinion," he continued. "This show is blunt and truthful, and it doesn't really give you any room to breathe. It will force the audience to acknowledge that these things happened and are happening and are still problems."
The piece in question — a 2005 documentary drama written by "The Humans" playwright Stephen Karam and the late PJ Paparelli — depicts the tragic events of Columbine on April 20, 1999, as well as its aftermath. It draws from police evidence, excerpts from the two shooters' journals and interviews with parents, survivors and Littleton community leaders to illuminate the realities of America's adolescent culture.
RELATED: He was a bouncer, she loved music, he wanted to join the Army — these are the victims of the Borderline shooting »
The cast plans to appeal to the administration by penning a letter, urging that the second weekend's performances continue as scheduled, and are more necessary than ever. They've prepared for performances by watching documentaries, survivor interviews and news coverage on the 1999 massacre, as well as keeping up to date with the latest tragedies.
While the appeal process isn't clear — especially as some members of the cast have had to evacuate because of the Woolsey fire — the ensemble remains devoted to putting on their performances.
"I feel humbled by the commitment these folks have made to the show and the material," said Brett Elliot, the play's director. "The reason for even doing this play in the first place is to get the conversation going, so that hopefully we can figure out what the hell is going on and why it keeps recurring. I hope we get a chance to continue this discussion in this way, with this play."
Twitter: @cashleelee
---
Your essential guide to the arts in L.A.
Get Carolina A. Miranda's weekly newsletter for what's happening, plus openings, critics' picks and more.
You may occasionally receive promotional content from the Los Angeles Times.