L.A. Chamber Orchestra to premiere Anna Clyne's 'Prince of Clouds'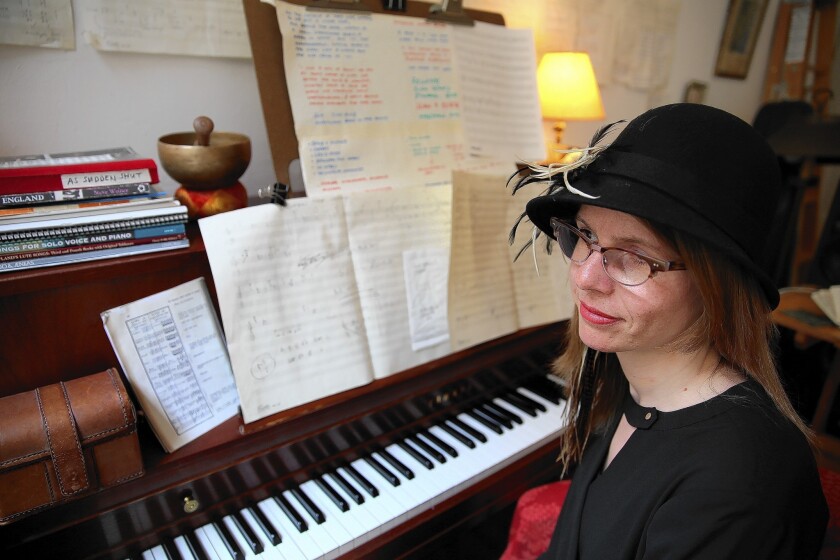 CHICAGO — When London-born Anna Clyne was 7, friends of her parents gave her family a piano with randomly missing keys. Undeterred, Clyne not only played that piano but by age 11 had written a few little songs for herself and a flute-playing friend.
She had fun doing it, she remembers, but "I never thought I would become a composer."
These days, there is no longer any doubt on her part or anyone else's. Her idiosyncratic music has been performed not only at Symphony Center in Chicago but also in Los Angeles' Walt Disney Concert Hall, New York's Carnegie Hall and London's Barbican Centre.
Today a composer in residence for the Chicago Symphony Orchestra, Clyne still enjoys writing music for friends. "Writing for orchestras can be an anonymous endeavor because you're writing for people with whom you have no personal connection," Clyne says over tea at the Artists Café. "But I've gotten to know the orchestra's musicians very well as people, which makes for a more intimate experience."
CHEATSHEET: Spring 2014 arts preview
Musical relationships and lineage lie at the heart of Clyne's composition, "Prince of Clouds," scheduled for its West Coast premiere with the Los Angeles Chamber Orchestra next weekend at the Alex Theatre in Glendale and UCLA's Royce Hall. A LACO co-commission with the Chicago Symphony Orchestra, IRIS Orchestra and the Curtis Institute of Music, Clyne's first double-violin concerto will feature violinists Jennifer Koh and Jaime Laredo, with whom Koh studied at the Curtis Institute.
"Prince of Clouds" is paired with Bach's seminal Concerto in D minor for Two Violins, which the two musicians will also play, and the lineup reinforces Clyne's notion of musical legacies. "Jaime was Jenny's mentor at Curtis, and that became the initial inspiration for the piece," explains Clyne, 34. "We have a literal family, but we also have a family tree through our teachers and their teachers."
Clyne and Koh, last seen in Los Angeles in LA Opera's "Einstein on the Beach," are also close friends, a friendship sparked when Esa-Pekka Salonen first suggested four years ago that Koh listen to some of Clyne's music. Koh did, , then contacted Clyne. ""Everything about our working together feels absolutely right," Koh says. "We both understood how invested we were in 'Prince of Clouds,' and that made for a very happy collaboration. It was such a beautiful gift."
Chicago Symphony Orchestra's music director, Riccardo Muti, calls Clyne "an artist who writes from the heart," noting that she also defies categorization.
"She's quite eclectic, like a lot of modern composers, and she is also constantly moving forward," observes Gerard McBurney, the CSO's artistic programming advisor. "She never seems to repeat herself."
PHOTOS: Faces to watch 2014 | Classical music
What does her music sound like? It might be lush and symphonic or electronic, gentle or loud, ethereal or atonal. The score might include someone breathing, a warped voice reading from a novel or even the taps of an elderly man's cane on concrete.
Yet her music is also often quite melodic, something she traces to working-class parents more interested in the Beatles, Bob Dylan and folk music than in classical composers. She went on to study cello at Edinburgh University, along with English and chemistry, but says that when she graduated she had taken just one composition class.
She moved to New York "with a suitcase and a cello," supporting herself as a free-lance cellist, waitress and florist, also cleaning stairwells and halls at her Brooklyn apartment house to get a rent discount. She composed at night until, at 23, she received a scholarship to the Manhattan School of Music to study composition.
"I thought I would be so far behind, but now I look back and think I was fortunate," Cline says. "I already knew what I wanted to say. I just didn't have the tools. I think it's harder when you're younger because you're bombarded by all these tools and have to figure out what to do with them."
Her relatively late arrival in the music world doesn't appear to have been a problem either. Her website includes not only extensive lists of collaborators and presenters but also awards and honors extremely numerous for someone so young. In a review last year, critic Mark Swed referred to her as "a rising star."
PHOTOS: Best classical concerts of 2013 | Mark Swed
Clyne's unpredictable music impressed Boosey & Hawkes President Zizi Mueller, who first signed her in 2008 for the music publisher's Emerging Composers program, then to the company's composer roster in 2010. "It's one thing to take risks when nobody's paying attention," Mueller says, "but she's continued to do it. She references early music, psychology and literature. She's a real explorer."
Consider "Night Ferry," Clyne's first long orchestral piece and one which Muti went on to conduct here and on tour. She concedes that it was "a great challenge," but it was one she hardly went about in a conventional way. She knew it would be paired with Schubert, but she was not inclined to listen to lots of Schubert.
"When I'm writing, I don't like to listen to music," she says. "You want to create a fresh palette in your imagination."
Instead, she read about Schubert, learning that he suffered from cyclothymia, a form of manic depression with great mood swings. She also read such poetry as Seamus Heaney's "Elegy" for poet Robert Lowell, who also was manic depressive. Then, seeking a visual image as well, she put seven large pieces of canvas up on her studio wall and created a collage of ideas with paint, ribbon, gauze and poetry. She divided the 21-minute commission into seven parts of three minutes of music each, then alternated painting and composing.
What Clyne calls a "sonic portrait of voyages within nature and of physical, mental and emotional states" fared well in Chicago and last year in her native London. It also captured the attention of LACO Music Director Jeffrey Kahane, who had heard Muti conduct the piece in San Francisco.
PHOTOS: LA Opera through the years
"I was absolutely bowled over and deeply moved," Kahane says. "I was particularly struck that a young composer writing for a large orchestra for the first time would write a piece that had such confidence and yet was so deeply affecting emotionally."
That experience led Kahane to program in 2013 "Within Her Arms," an elegy Clyne wrote on her mother's sudden death in 2008. Originally commissioned by the Los Angeles Philharmonic, the evocative piece received its world premiere at Disney Hall in April 2009 as part of Salonen's Green Umbrella series. "I knew that the Los Angeles Philharmonic had done it, but I felt it deserved a second hearing in Los Angeles," Kahane says. "Our audiences should hear it, and our orchestra should play it."
Now comes "Prince of Clouds," which Clyne will soon follow with other works for violinist Koh, including a score for solo violin and chamber orchestra scheduled for Carnegie Hall in December and a violin concerto that Koh will perform with the CSO in May 2015.
LACO also hopes to find another place on Clyne's dance card, Kahane says. "We've certainly talked a number of times about various projects we'd like to do together, but she's so busy."
---
The complete guide to home viewing
Get Screen Gab for weekly recommendations, analysis, interviews and irreverent discussion of the TV and streaming movies everyone's talking about.
You may occasionally receive promotional content from the Los Angeles Times.