'Ready Player One' cast on the time Steven Spielberg broke a million points on 'Missile Command' on the set of 'E.T.'
At Comic-Con Steven Spielberg unveiled eye-popping footage from his upcoming "Ready Player One," offering a first glimpse at the tale of a young gamer searching for the ultimate Easter egg in a virtual reality game packed with a brain-boggling array of pop cultural references.
Not that the Oscar-winning director needs to prove his gaming-nerd bona fides. During a visit to the L.A. Times studio "Ready Player One" author Ernest Cline revealed how the filmmaking legend earned his stripes decades ago.
"[Spielberg] used to have a little arcade at Amblin back in the '80s and he was obsessed with breaking a million points on 'Missile Command,'" said Cline. The only problem? He had a movie to make. So what was a director hell bent on notching his high score to do?
Haul "Missile Command" out into the woods, hook it up to production generators on the set of "E.T. – the Extraterrestrial," and keep playing, naturally.
"And there, out there in the forest, playing between setting up shots," Cline said approvingly, "he broke a million points on 'Missile Command.'"
That level of hardcore dedication and nerdery will be on full display in "Ready Player One," co-scripted by Cline and Zak Penn, which stars Tye Sheridan as Wade Watts, a teenager in a ravaged future circa 2045, in which people escape their grim real lives by escaping into the virtual world of the "OASIS."
When the creator of the OASIS dies, Wade adopts the avatar Parzival and embarks on an epic quest to win ownership of the realm, a la Willy Wonka and the Chocolate Factory, by finding the aforementioned Easter egg.
The 2018 Warner Bros. release is primed to hit all the right retro-nostalgia buttons with "cameos" by iconic characters such as Gandalf, the Iron Giant, Duke Nukem, Freddy Krueger, the car from "Christine," and the DeLorean from "Back to the Future."
Joining Sheridan as Wade/Parzival are T.J. Miller as i-R0k, the world's "first virtual hitman," Olivia Cooke as Art3mis, an ally who drives the sleek red cycle from "Akira," and Ben Mendelsohn as Nolan Sorrento, the nefarious head of a corrupt corporation known as IOI who's also after the Easter egg.
Working with Penn and Cline to adapt the VFX-heavy "Ready Player One" to the big screen, Spielberg pushed to expand certain characters from the book into bigger roles, such as Miller's i-R0k.
Miller, who arrived in cosplay dressed as Duckie from "Pretty in Pink," shared another tale of nerdery from his director: What does Spielberg geek out over?
Billy Wilder's Oscar-nominated 1957 drama "Witness for the Prosecution."
"He'd been watching this movie over and over and over again for like a week, or weeks, because he'd become very obsessed with it," recalled Miller. "We watched it and he'd ask us questions like, 'Don't you love that first tracking dolly shot when they first come into the courtroom?' He just had the whole thing completely memorized and wanted to ask all about the little tiny things. That's pretty nerdy."
Watch the full L.A. Times interview with the cast and writers of "Ready Player One" – including Penn's own "Jurassic Park" pinball high score story and Mendelsohn's eerily accurate impersonation of the pterodactyl from "Joust."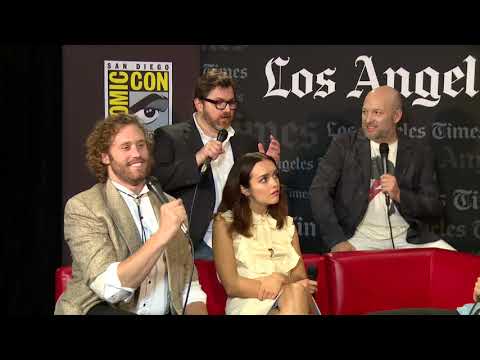 Cast of "Ready Player One" at Comic Con.