Inside Comic-Con's Hall H, the most important room in Hollywood
Hall H is the 65,000-square-foot centerpiece of Comic-Con, and has hosted many of Hollywood's biggest properties, including "Iron Man" and "Twilight." (July 19, 2017) (Sign up for our free video newsletter here http://bit.ly/2n6VKPR)
Aromatic top notes of hot dogs and cooling nachos waft through the air, mingling with the distinct bouquet of 6,500 amped-up human bodies. Many have forgone showers and sleep to camp out overnight in the humid summer heat for the chance to be here, to cram themselves, elbow to elbow, into one of the seemingly endless rows of unforgiving folding chairs.
Year after year, this is the scene that plays out inside this modern geek cathedral — the superfans come to worship spandexed gods and wonder women, TV heroes, monsters and aliens while the people who created those characters, or paid for them, watch and listen and pray for buzzy pleasures to be transformed into profit.
This is Hall H in the San Diego Convention Center during Comic-Con International, the most important room in Hollywood.
For those with a movie franchise or a new television series of a certain type, mounting the stage at Hall H is like scaling Mt. Everest (with, given the number of screaming fans, just about the same oxygen levels). Find yourself on the elevated dais and the commercial potential of your project multiplies exponentially. An appearance in Hall H may not guarantee box-office success, but it sure helps.
Downey Jr. dances, Arnold surprises, Spider-Man rushes the stage: Every year of Comic-Con in one giant timeline »
"Iron Man" debuted here a decade ago, ushering in a new era of billion-dollar superhero franchise obsession. The stars of "Twilight" became reluctant overnight megastars on this hallowed stage where Steven Spielberg, Francis Ford Coppola and Guillermo del Toro have trod, courting a genre geek demographic that has come in from the fringes to take over the world.
Year after year, Batman, Superman, "Star Wars" and most of Hollywood's biggest properties have come to stoke the flames of fan mania, sometimes to extremes. Once, a man in a free "Harry Potter" shirt stabbed a fellow attendee near the eye with a pen in a dispute over personal space after getting a sneak peek at the fourth "Resident Evil" movie.
Lined with jumbo screens, Hall H is the 65,000-square-foot state-of-the-art centerpiece of the almost 50-year-old pop culture confab, which starts Wednesday and now draws more than 130,000 voracious sci-fi, fantasy, comic book, television and film fans each year.
It is the ultimate marketing destination for any film or television series remotely connected to the comic-book community, and while it's great to land a panel in Ballroom 20 (capacity: 4,800) or the Indigo ballroom (2,663) or even Room 6BCF (2,160), Hall H is the address for success.
In 2007, for example, not many predicted that the star of "Swingers" and director of "Elf" and "Zathura" would deliver a game-changer about an obscure comic-book superhero in a flying suit. But Jon Favreau knew he had a hit when the surprise "Iron Man" sizzle reel he showed in Hall H played to the rafters, kick-starting the fan interest that turned Robert Downey Jr. into a mega-star and launched the Marvel Cinematic Universe.
The comic fans were so vocal and supportive that we literally got a distribution deal the next day because of their reaction at Comic-Con.
— Director Matthew Vaughn ("Kick-Ass," "X-Men: First Class," "Kingsmen: The Secret Service")
"Kingsman" helmer Matthew Vaughn had his own career-changing moment when he took the same stage in 2009 with his indie superhero movie "Kick-Ass," moments after James Cameron had screened 25 minutes of footage from his 3-D space epic "Avatar."
"I just thought, 'Oh, my gosh, how are we going to pull this one off?' Luckily, the comic fans were so vocal and supportive that we literally got a distribution deal the next day because of their reaction at Comic-Con," Vaughn said. "I'm eternally grateful."
Longer than the Hall of Mirrors at Versailles, Hall H has played host to as many, if not more, memorable moments in history. No peace treaties have been signed within its walls, but the entire Avengers lineup did assemble for the first time here in 2010, two years after Robert Pattinson walked onstage, became a star and discovered exactly why fans of his new sparkly vampire YA franchise were dubbed "Twihards."
"It's like the sound you hear at the gates of hell," the then-22-year-old described it to The Times. "When you can't see where it's coming from, it's the most terrifying sound — 6,000 people screaming."
Anchoring one corner of the 2.6 million-square-foot city-owned convention center, Hall H has seen and helped the entertainment industry change, its significance fueled by the Internet, the explosion of geek culture, fanboy-baiting blogs and social media. Once reserved for blockbuster films, its stage is increasingly filled with television programming, which has blossomed for many of the same reasons.
Ever since ABC's "Lost" and NBC's "Heroes" graduated from Ballroom 20 in 2009, television has launched a campaign on Hall H with fan favorites like HBO's "Game of Thrones" and AMC's "The Walking Dead." This week, streaming giant Netflix will make its Hall H debut with the hit series "Stranger Things," the original movie "Bright" and the manga adaptation "Death Note."
The TV takeover at Comic-Con "is a natural progression, because genre TV has never been bigger," said Tammy Golihew, executive vice president of scripted marketing and communications for Warner Bros. Television, which will bring "Supernatural," "The Big Bang Theory" and "Westworld" to Hall H this year.
Lisa Gregorian, WB TV's president and chief marketing officer, likens it to headlining a rock concert.
It's a mini rock concert for the attendees in that room... and it plays BIG.
— Warner Bros. television executive Lisa Gregorian
"It's a mini rock concert for the attendees in that room," said Gregorian, whose team starts planning for Comic-Con as far as eight months in advance. "It's the difference of playing in a nightclub or an arena; there's a completely different vibe in Hall H than in any other room at the convention, and it plays big."
The very existence of Hall H is proof of the power shift in popular culture. Founded in 1970 as a one-day comic book convention, Comic-Con was the antithesis of arena-sized popularity. But by 1991, growing crowds had pushed it into the newly constructed San Diego Convention Center.
"The tent just got wider and wider," recalled veteran genre marketing consultant Jeff Walker. "Because the fans kept coming."
By 2004, organizers realized that their previously primo venue, Ballroom 20, was too small, so they turned the massive exhibition hall on the southeastern corner into a programming destination.
The first movie panel to take place in Hall H that year was a fairly low-key presentation for "Batman Begins" that director Christopher Nolan and star Christian Bale didn't even attend. In 2006, Zack Snyder brought his new film, an eye-popping war epic about the Battle of Thermopylae.
Shortly after the first teaser for "300" debuted in Hall H, bootlegs of the clip were being uploaded and shared on YouTube en masse, a huge problem for the piracy-paranoid studio set but a boon for both "300," which became a box-office success, and Hall H, which was now a kingmaker.
Studios got a crash course in digital marketing as Comic-Con became an increasingly vital element of blockbuster-making. Clips and trailers, ready to debut immediately online, eventually replaced and prevented the shaky-cam bootleggers, as each studio attempted to maximize the reach of its message and control its buzziest viral moments.
"For a while, people would try to manufacture it," said Rachel Walker, Jeff's daughter and a second-generation Comic-Con marketing guru who's been attending the convention since she was 2. "But for '300' and 'Iron Man,' it was totally organic — 'We need to see that again, right now.'"
New online avenues also expanded Comic-Con's marketing potential and fan base. In 2008, working with Summit Entertainment, Jeff Walker reached out to online fan groups devoted to the young-adult lit sensation "Twilight" to let them know that the film, set to star Pattinson and Kristen Stewart, would have a panel at the convention.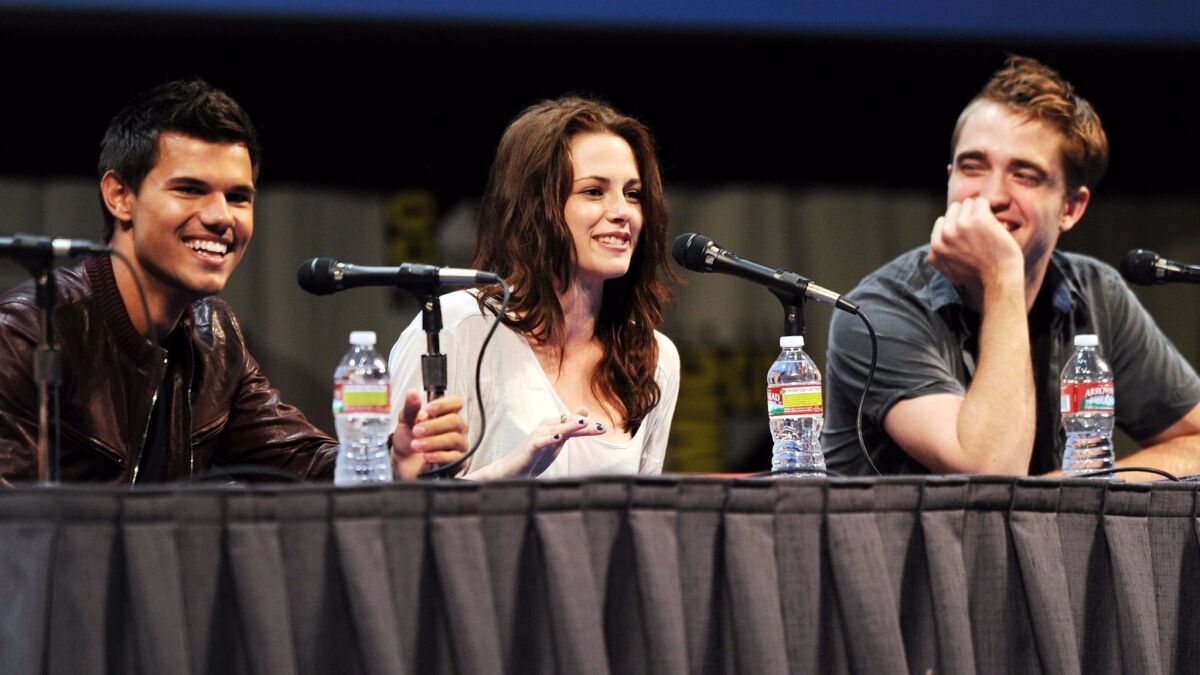 "We had thousands of girls who had never been to Comic-Con before waiting in line overnight to be the first ones in there in the morning," he said.
That year in Hall H, a new and thunderous noise greeted the "Twilight" stars (much to the consternation of many in the fanboy corps): The sound of women, whose fervent fandom is often credited as a turning point for overnight line-waiters and spurred a need for organizers to develop safety policies for Hall H campers.
Now, producing iconic Hall H moments has become as essential a part of a successful Comic-Con showing as the opportunistic activations and viral marketing campaigns that fill the Gaslamp Quarter around the convention center.
Con-goers vividly recall Tom Hiddleston lording over the crowd in character as Loki; Ryan Reynolds reciting the Green Lantern oath with a young fan in the audience; the sight of all the Avengers, onstage together for the first time; "Lost's" creators bidding farewell to the show's final season; and the hordes of Capitol drummers that poured into the hall to bring "The Hunger Games: Mockingjay — Part 2" to life.
In 2014, Warner Bros. reportedly spent hundreds of thousands of dollars to install 20-foot-tall screens that wrapped around the length of Hall H, a dazzling surprise for those in the room who got immersive previews of "The Hobbit," "Jupiter Ascending," "Mad Max: Fury Road" and "Batman v Superman: Dawn of Justice."
Twice, filmmakers have closed their panels by leading the entire audience of thousands out of Hall H to surprise events, albeit with varying commercial results (Edgar Wright's box-office disappointment "Scott Pilgrim vs. the World" versus J.J. Abrams' "Star Wars: The Force Awakens").
Some have brainstormed even wilder stunts that, alas, never came to fruition. Sacha Baron Cohen, who arrived in character as Borat in 2006, pitched the idea of being hauled into Hall H by a cart drawn by goats, bringing chickens with him through the crowd.
The same year, in town with the Hilary Swank horror flick "The Reaping," producer Joel Silver "wanted to drop locusts on everyone," Walker said with a chuckle. "Arnold wanted to rappel down a building. Angelina was going to come in on horseback. At least, that was the idea. But none of these happened."
At least, not yet.
Arnold wanted to rappel down a building. Angelina was going to come in on horseback.
— Veteran Comic-Con marketing consultant Jeff Walker
Some huge Hall H programming coups just unfold organically, said David Glanzer, Comic-Con's chief communications and strategy officer.
"One year, we scheduled a presentation in a small room for a location-based augmented reality game," he said. "Just a matter of a few weeks prior to our convention, however, the game exploded and we had to move the presentation for 'Pokemon Go' from the small room to Hall H."
Studios have learned the hard way that mounting costly Comic-Con campaigns don't always pay off in blockbuster box office (See: Disney's attempts to launch a "Tron: Legacy" franchise at the con for three years in a row.)
Small indies still get the chance to make huge splashes in the nonprofit Comic-Con's biggest venue, daunting as it may seem to fill that cavernous hall. This year, Rachel Walker points out, the Sundance indie "Brigsby Bear" starring "Saturday Night Live's" Kyle Mooney and "Star Wars" royalty Mark Hamill gets a Hall H berth.
"At the end of the day, you're playing to whoever's there," she said, "and you're either rallying your base to have more of a connection with you and then go out and spread the gospel, or you're introducing your property to new fans."
"It's very hard to look at something that happened in Hall H and say it backfired or was a mistake, because even in the worst of circumstances, you're cementing your relationship with your hard-core fans," added the elder Walker, who's witnessed the explosive growth at Comic-Con — and more recent media hand-wringing over the event's expansion into downtown San Diego and Hollywood studios' commitment to the annual confab — since organizers were hosting panels in rooms a fraction the size of Hall H.
"The demise of Hall H and Comic-Con has been written about every year," he smiled gently, "and it hasn't happened yet."
See the most-read stories in Entertainment this hour »
The Best Moments of Comic-Con 2017: 'Star Trek: Discovery,' 'Blade Runner' and more
On Now
Video: The Best Cosplay of Comic-Con 2017
2:04
On Now
"The Tick" Cast Says The Fan Pressure Is Real at Comic-Con 2017
9:45
On Now
Video: Inside the LA Times studio at Comic-Con
On Now
The stars of "Riverdale" talk season 2 at Comic Con
On Now
"Stranger Things" Cast At Comic-Con 2017
On Now
"Inhumans" Cast Was Blown Away By The Comic-Con Panel Turnout
4:44
On Now
Watch: The cast and writers of "Ready Player One" talk Easter eggs and Spielberg's nerd cred at Comic Con
On Now
"Twin Peaks" Cast Talks About Working With David Lynch
5:03
On Now
"Annabelle: Creation" Cast Says They Blessed The Set
6:40
On Now
"Supergirl" Cast Loves To Sing
4:13
ALSO:
'Westworld' stars confront the nature of the fembot
Negan promises he's 'just getting started,' but have 'Walking Dead' fans already seen enough misery?
For the love of monsters: An insider tour of Guillermo del Toro's Bleak House before his LACMA show
---
Get our L.A. Goes Out newsletter, with the week's best events, to help you explore and experience our city.
You may occasionally receive promotional content from the Los Angeles Times.