'N Sync fans flood Hollywood Boulevard for 'It's Gonna Be May Day'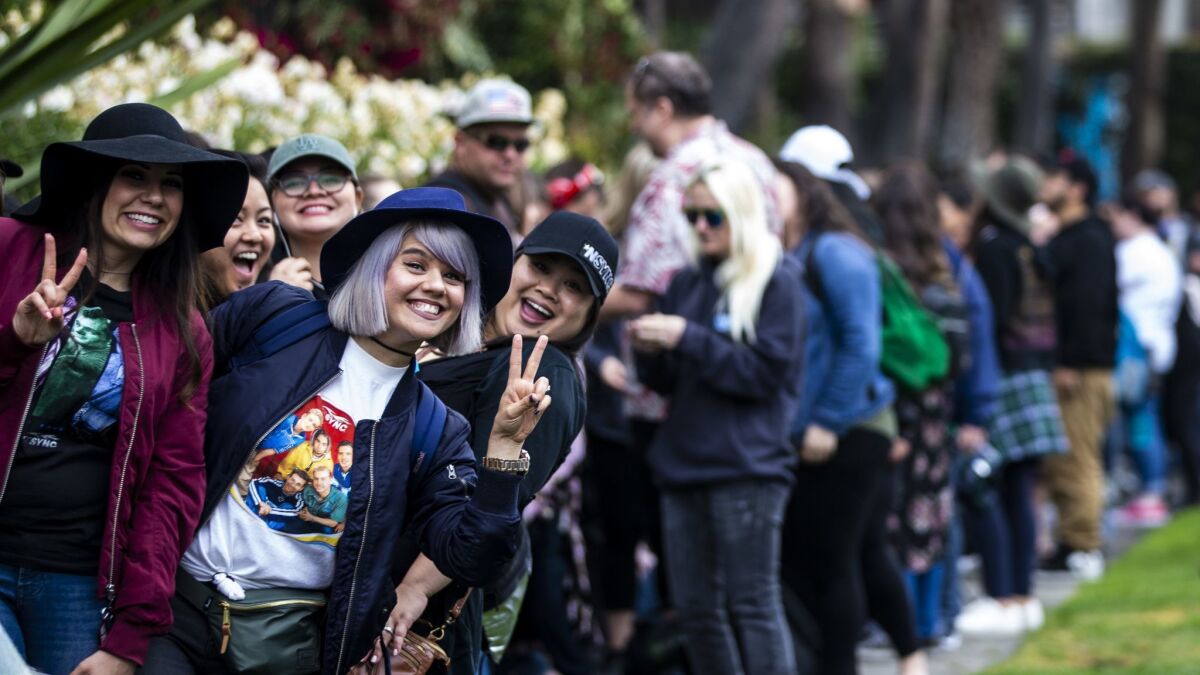 Though 'N Sync rose to fame in the mid-'90s, members JC Chasez and Lance Bass insist that it's only in recent weeks that they have been able to see themselves from the perspective of their fans.
Of late, the two had been collecting memorabilia to prepare for Monday's star ceremony on the Hollywood Walk of Fame, which also commemorates the 20th anniversary of the act's self-titled U.S. debut.
"We saw it from a different angle," said Bass. No surprise, as over the last two decades, 'N Sync has sold nearly 30 million records in the U.S. and an additional 42 million worldwide.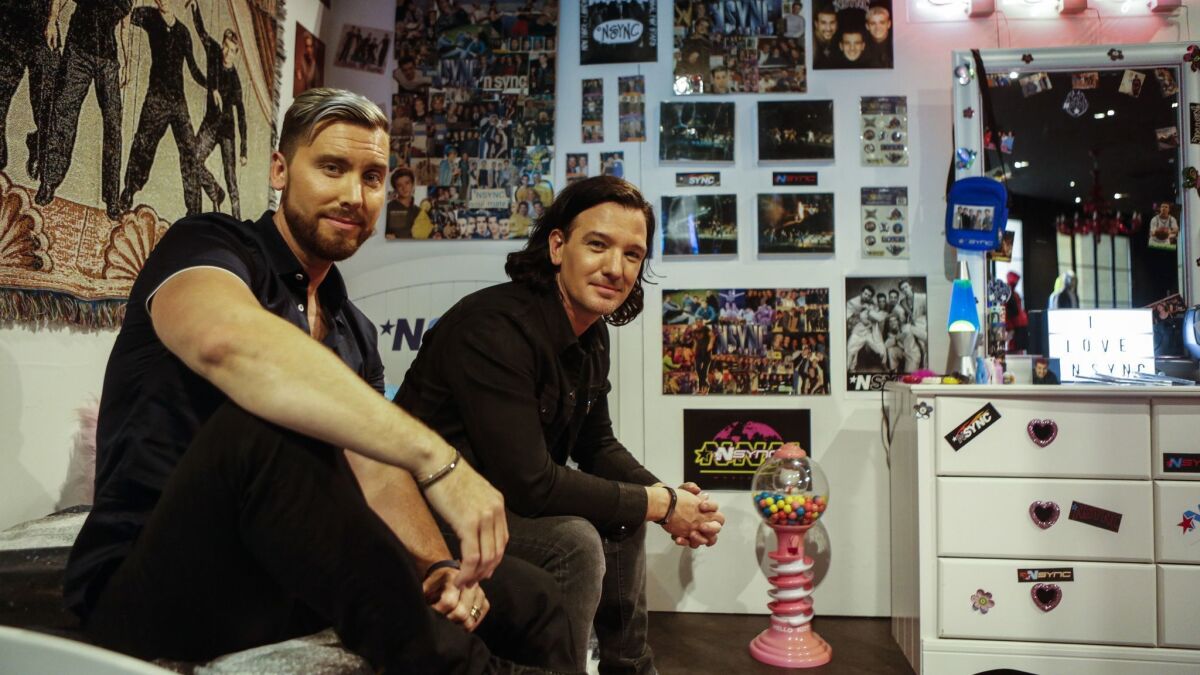 "As long as we were in the group, we didn't get to listen to the radio," Bass added. "We didn't get to watch TV. We didn't see what everyone else saw. When we look at pictures, we remember that day — how silly that shoot was — all of this stuff, but this is the first time we're seeing a lot of it from this angle."
On Monday, the five members of 'N Sync — Bass, Chasez, Justin Timberlake, Joey Fatone and Chris Kirkpatrick — reunited, sans music, to celebrate the group receiving the 2,636th star on the Hollywood Walk of Fame.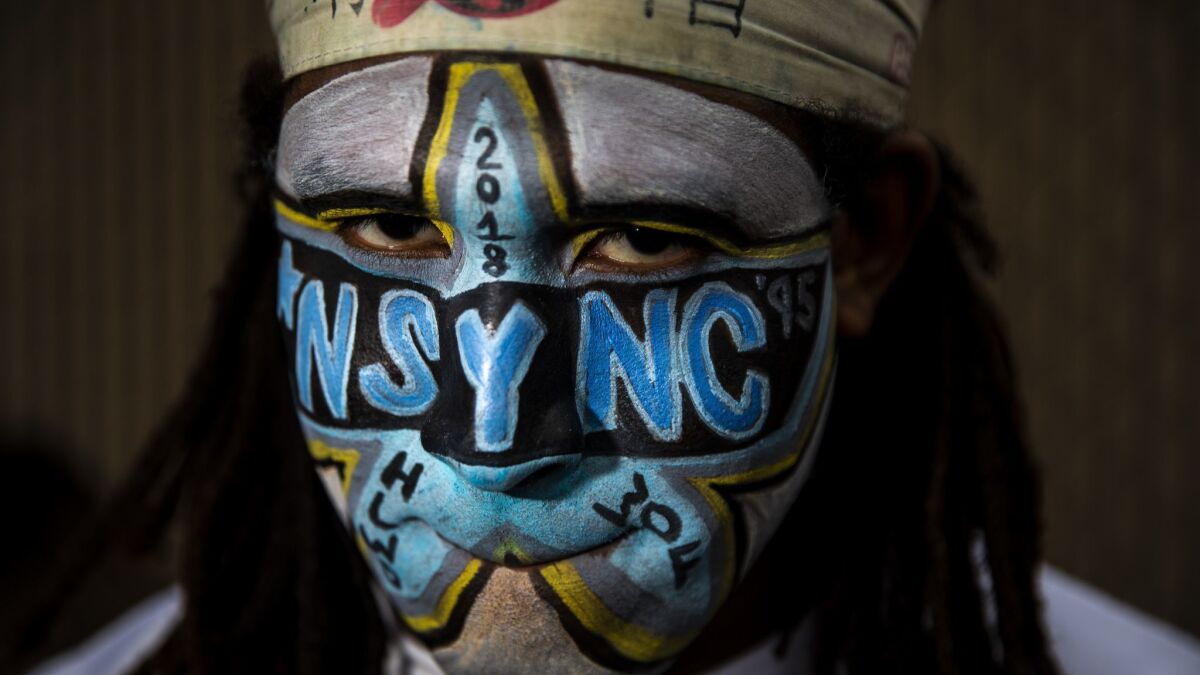 For fans, April 30 is an unofficial holiday. They call it "It's Gonna Be May Day," a reference to the last line in "It's Gonna Be Me," a song from the band's 2000 album "No Strings Attached," in which Timberlake sings, "It's gonna be me," but which has often been wrongly heard as "It's gonna be May."
And the band has been happy to oblige. "By the way, in case any of you didn't know, tomorrow, it's gonna be May," Chasez sang during the ceremony.
That was the only singing Monday, even after fans chanted "one song" and sang a portion of the 'N Sync single "Tearin' Up My Heart." Neither worked.
Instead, the act offered fans a free museum and shop celebrating 'N Sync's history. The Dirty Pop-Up event, held at Hollywood & Highland's Cinematic Pictures, runs through Tuesday and features band photos, tour outfits and a human-sized replica of a box that marionette dolls of the group's members were sold in.
Over the weekend, an estimated 2,000 people visited the pop-up. Many of those fans attended the star ceremony, stretching to catch glimpses of the band. They stood on suitcases, ice chests, ladders and the shoulders of friends.
Stephanie Sweeney, 32, of Oakland, and her two friends — sisters Mayra Esparza, 38, and Evelyn Esparza, 34, of San Francisco — were first in line for the ceremony. The rules from the Hollywood Chamber of Commerce were clear: No fans could line up before 7 a.m. Monday.
But for die-hards, passion always overrules protocol.
Sweeney and her friends had been in line since 6:30 p.m. Sunday, this after arriving in Hollywood about 1 p.m. to stake out the area.
Like many of the fans who flocked to Hollywood Boulevard on Monday, Sweeney came because 'N Sync had a defining role in her life, from her teenage years into adulthood. She even has two 'N Sync tattoos — the band's name in black ink on her lower back and song lyrics from "Girlfriend" on her left side.
"They made me the person I am today," she said, noting that kids once bullied her over her love of 'N Sync but that she learned from the experience to become a stronger person and not to conform.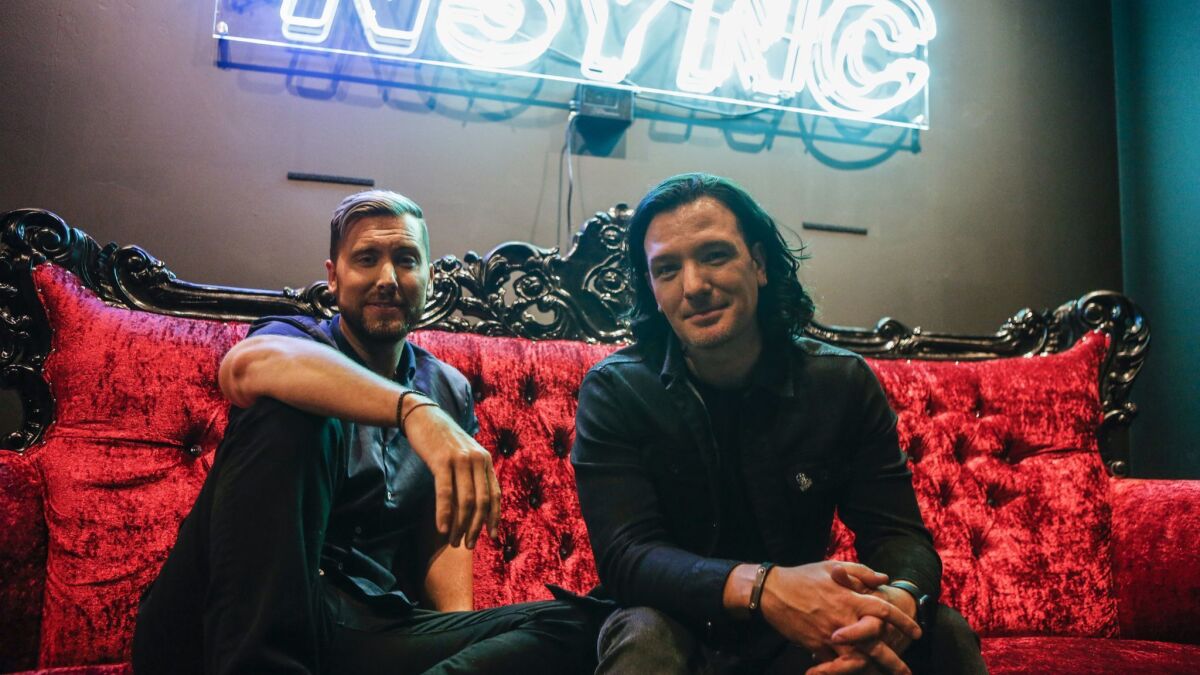 Curtis Collins, 32, said he found inspiration primarily in Bass, who came out as gay in a 2006 People Magazine cover story. Having grown up in the largely Mormon city of American Fork, Utah, Collins saw Bass as a role model when he came out about 10 years ago, first to his friends, and then to family.
Thus, it was worth it, Collins said, to show up at 6 a.m. to wait in line with fellow fans. After all, he waited several hours Sunday to see the pop-up display and got the opportunity to see Bass. "Seeing somebody you looked up to as a kid [come out] made it see more normal, more OK," Collins said.
By early afternoon, the line of fans was almost half a mile long.
Fernanda Santamaria, 27, held an Ecuador flag, proud of the 10-hour journey she'd taken to Los Angeles. Over the weekend, she saw Timberlake at the Forum as part of his Man of the Wood tour.
Santamaria has a bank account where she saves 10% of every paycheck to pay for her trips to the U.S. to fund her 'N Sync and Backstreet Boys fandom.
Whereas some boy band fans see supporting both as a betrayal, Santamaria laughs off the idea that you can't love each. After the ceremony, Santamaria was flying to Miami for a Backstreet Boys cruise. Total cost: $3,000.
"It's something I had to do at least once in my life," she said. "I'm enjoying doing in my 20s what I didn't get to do in my teenage years."
♦ ♦ ♦ ♦ ♦ ♦ ♦ ♦ ♦ ♦
'N Sync's Dirty Pop-Up
When: Noon to 8 p.m., ends Tuesday
Where: 6801 Hollywood Blvd.
Cost: Free
Info: www.NSYNC.com.
---
Get our L.A. Goes Out newsletter, with the week's best events, to help you explore and experience our city.
You may occasionally receive promotional content from the Los Angeles Times.