Inara George gets fatherly guidance from Van Dyke Parks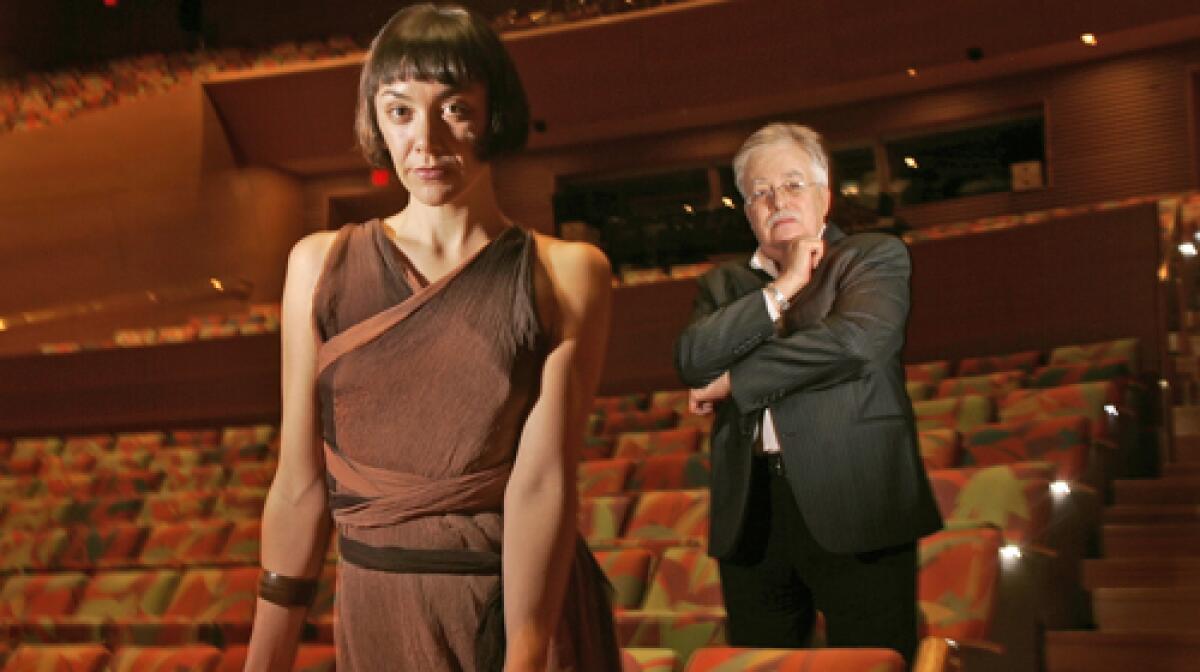 Los Angeles Times Staff Writer
Mike Andrews, the producer of Inara George's new album, "An Invitation," calls it "the father-and-daughter record she never got to make." That might sound strange to students of Los Angeles rock history, who know that the singer's father, Lowell George, the eccentric and brilliant leader of the rock band Little Feat, died in 1979 of a heart attack at age 32.
But it's not so strange when you observe the relationship between Inara George and the paternal figure who collaborated with her on the album. Eccentric and brilliant in his own right, arranger-conductor Van Dyke Parks was her father's best friend and occasional studio partner. In fact, when Parks recorded the new album's orchestral parts at Sunset Sound studios in Hollywood late last year, he was working in the same room where he'd done production for Lowell and Little Feat in the early '70s.
"An Invitation" is more than the realization of a long-anticipated personal collaboration. On a symbolic level, it marks a convergence of two generations steeped in the city's musical DNA.
On one side is the era of freewheeling creativity that churned at Warner Bros. Records in the late '60s and early '70s, when Parks and Lowell circulated with the likes of Ry Cooder and Randy Newman, Captain Beefheart and the Mothers of Invention. The other part of its legacy is the current bohemian indie-pop scene that has nurtured Inara, bringing her into contact with fellow free spirits such as Eleni Mandell and Becky Stark. (Their informal trio, the Living Sisters, performs today at the Topanga Days Festival.)
So here they are, the old-school Parks, in overalls and bow tie, and the beaming daughter of Topanga, now with a musical bond to add to their lifelong friendship.
"I think I met Inara on the day she was born; I'm not sure of that, but certainly shortly thereafter," says Parks, 65. "So all of this is really a profoundly satisfying moment for me."
George, sitting near Parks in the Hollywood house where she lives with her husband, movie director Jake Kasdan, smiles in agreement, savoring the full-circle shape this partnership represents.
"It was just as much a part of his thing as it was mine once I handed it to him," she says of the new music. "I mean, to have somebody like Van Dyke make an orchestration of your little song, very few people have had that experience, and it's really exciting."
Actually, quite a few people have had the experience of working with Parks, as arranger, producer, composer or accompanist, but it's still a pretty select group, starting with such names as U2, Fiona Apple, the Byrds, Randy Newman, Tim Buckley and Brian Wilson.
A big part of it all
Born in Mississippi and raised in New Jersey and Pennsylvania, Parks moved to California in the early '60s and became a key figure in the decade's creative explosion. Working at Warner Bros., he produced Newman's first album, and his own 1968 work "Song Cycle" has endured as a cult classic of daring pop expressionism.
His legend grew when he served as lyricist for Brian Wilson on the Beach Boys' storied epic "Smile," which was eventually shelved and only completed and released this decade.
When Parks took his seat at Disney Hall for Wilson's performance of the album in 2004, the audience gave him a standing ovation.
Parks became disillusioned with the music industry's accounting practices in the early '70s, and though he's kept his distance from the business, he's worked steadily and put out four more albums of his own, the last in 1989.
He's a little coy on the subject of a new one, saying that his use of large ensembles would require a major investment. Still, the material is there. "I write songs all the time," he says. "I think it's safe to say I have an album of songs. . . . I think I'm going to put one or two of them up on MySpace because I want to remind people that I have an interest in the song form as the most powerful political weapon of our time, and I want to be part of it."
Parks also has connected with younger artists, working in recent years with Rufus Wainwright, the Scissor Sisters, Silverchair, Vic Chesnutt and Joanna Newsom, among others.
"It's rewarding to be useful and to escape the ageism which is rife in this town," he says. "What I want is to just grow musically. And the way that I nurture that essentially is by having the opportunity to arrange for people. That will probably be my epitaph.
"I've always maintained my best instrument is my ear," he continues. "I'm assiduously interested in exactly what's happening. What are the notes she's playing and what are the notes she's singing? Is she slightly flat or is she slightly sharp? Can this word be heard? Should this word be referenced, commented upon, at that time or later, or telegraphed perhaps?"
Roundabout destiny
If it took longer than expected for this seemingly inevitable collaboration to occur, you can blame George's late entry into music.
"I think if there was something that I did get from being the daughter of 'somebody' it's that I hesitated in that direction," says the 33-year-old singer. "I just didn't think that that was a thing I should do. I wasn't really interested, and also I didn't want to have any comparisons. I feel like there's no way I could be better than him. Even to be compared to him seems like disaster."
Instead, George pursued acting, but eventually she "fell into" music, playing with the bands Lode and Merrick before working as a solo artist.
"I never sensed that she was ambitious, and I never felt that she was anything but just gifted," says Andrews, who also produced her 2005 debut album "All Rise." "Her voice welcomes you. It doesn't stun you or trouble you, it just soothes."
When the album comes out in August from the L.A. independent Everloving Records, George's career figures to get a bump. So far it has unfolded at a relaxed pace, in part because of her attraction to side projects. In addition to the Living Sisters, she's been kept busy by the Bird and the Bee, her jazz/electronic project with Greg Kurstin.
"When I had all my eggs in one basket, it wasn't as much fun," she says. "It is a bit of a balancing act, but I think you just make sure you say yes to the things that you really want to do and no to the things that feel they're extra fat."
"An Invitation" will receive extra exposure because George and Parks plan to tour, a rare activity for the arranger.
"I have decided at the age of 65 to only do what fascinates me," says Parks, who also will perform July 16 and 23 with George and a small group at Tangier in Los Feliz. "I want to make an effort on this record."
That's good news for the label and George's other supporters, who know that it's not easy to get this kind of album made.
"We were fortunate that someone wanted to pay for this record," says Andrews. "To convince a record company to spend money on an artist that's not famous, combined with an artist who has a track record of not selling records, that's a gamble. But I think it's like beachfront real estate on an island that no one's ever visited, and once people get there, they're gonna be like, 'Wow.' "
richard.cromelin @latimes.com
Get our L.A. Goes Out newsletter, with the week's best events, to help you explore and experience our city.
You may occasionally receive promotional content from the Los Angeles Times.