Hollywood's Global meltdown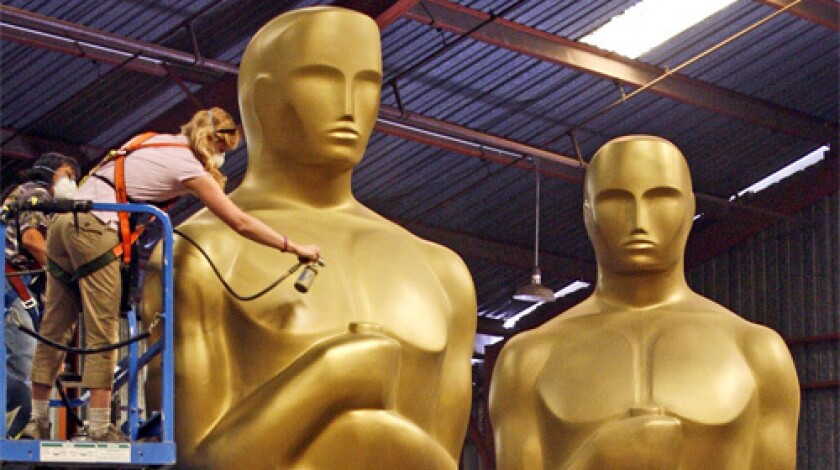 Los Angeles Times Staff Writer
At the Beverly Hilton Hotel on Tuesday, quiet tension replaced the buoyant anticipation that usually precedes the Golden Globes. There were no guests checking in, but a team of front-desk clerks tried to look busy anyway. Somewhere in the building, though, phones were ringing. Out-of-towners who'd booked the Hilton's two-day "Golden Globes package," which included red-carpet bleacher seats and spa visits, were calling. Some were still making the trip to Hollywood. Many more wanted refunds.
It was dark inside the International Ballroom, where the Hilton will hold Sunday's hour-long televised news conference. Meeting rooms reserved for the Hollywood Foreign Press Assn. and InStyle magazine were vacant. In the hotel's sales office, staffers bustled in and out. "Four days into production, we have to retool everything," said a slightly harried hotel spokeswoman. "Things people are asking about, we don't know yet."
---
FOR THE RECORD:
Golden Globes: An article in Friday's Calendar section about the Golden Globes quoted consultant Ronni Chasen as saying the awards were "the only show where you have the TV people and the movie people together." The telecast of the Screen Actors Guild Awards also unites both groups.

---
For better or worse, awards season has become Hollywood's year-round focal point, and canceling the hoopla of the Golden Globes has had a profound effect on the industry, both economic and psychic. NBC's decision to convert the ceremony into an hour-long news conference -- no red carpet, no boozy dinner -- dimmed the glittering essence of the event that draws some 20 million viewers and generates a reported $15 million in broadcast ad revenues. Millions more will be lost in canceled hotel rooms, restaurant meals, plane reservations, limo rides and security, not to mention the production costs from lighting to catering. But the real sucker-punch came with the shutdown of the major after-parties planned for the Beverly Hilton, lavish fetes that range in cost from $100,000 to over $1 million and transform the hotel into one boisterous celebration. With that announcement, the annual ritual -- beloved as the spirited opening to awards season -- was officially unplugged.
"The whole situation is depressing," said longtime awards consultant Ronni Chasen. "I totally respect the writers' position. I respect the principles of the strike. It's just sad that they were not able to resolve this to everyone's satisfaction so the show could go on. People look forward to it. Everybody goes. It's the only show where you have the TV people and the movie people together. It's always been billed as the best party in town."
For some, the cancellation offers a much-needed break from Hollywood's months-long bacchanal of self-congratulation. But for many others in Hollywood, the Globes represents something as close to a unifying spirit as this town ever gets. With a divisive writers strike polarizing the community, everyone was needy of some kind of warm and fuzzy moment this year.
"It's really put a damper and a downer on things," said Picturehouse president Bob Berney, whose studio produced the biopic about iconic French torch singer Edith Piaf, "La Vie en rose." "I think people are rethinking everything. People just don't know what to do."
For newcomers like the cast of AMC's "Mad Men," "Hairspray's" Nikki Blonsky and "La Vie en rose" star Marion Cotillard, the canceled ceremony casts a dramatic pall over their career highs. "This is her time," said Berney of Cotillard "It is really tough. Even if she wins, it's not the same."
The cancellation posed a special problem for sponsors in the so-called swag suites or "gifting lounges," where celebrities receive thousands of dollars in free luxury goods and services in exchange for passive product endorsements. Cosmetics lines, electronics manufacturers, jewelry designers and others pay as much as $20,000 to event companies for access to celebrities in these suites. But after the ceremony was canceled, many sponsors pulled out. InStyle magazine shut down its planned luxury suites at the Four Seasons hotel. Glamour magazine moved its lounge to precede the Screen Actors Guild awards Jan. 27.
Gavin Keilly, whose event company GBK Productions has a luxury suite at the new Thompson Hotel in Beverly Hills, said he has about half the sponsors he had last year -- just 25 -- because several companies dropped out after Monday's announcement of the Globes' scaled-back format.
But Keilly, like several other gifting suite hosts, is hoping to lure celebrities and media by helping raise funds for the Writers Guild of America and other industry unions and charities that help people financially crippled by the strike. Keilly is donating 20% of his profits, so he said celebrities "are getting some great items, but also supporting the writers in the process."
Silver Spoon's Melissa Lemer and partner Lorena Bendinskas has decided to require visitors to their suite -- held at Voda, a new 20,000-square-foot spa -- donate at least $20 per person to benefit a union representing production employees. (Originally, they'd planned to make similar donations to the Make-A-Wish Foundation, but will now hold that fundraiser during Oscar week.)
"People are walking out with $500 in products," said Lemer. "It's the least they can do."
---
The complete guide to home viewing
Get Screen Gab for weekly recommendations, analysis, interviews and irreverent discussion of the TV and streaming movies everyone's talking about.
You may occasionally receive promotional content from the Los Angeles Times.