Kevin Hart 'once again' apologizes to LGBTQ community for past homophobic comments
Kevin Hart is not done addressing his past homophobic comments. The comedian took to his Sirius XM radio show on Monday to further dissect his jokes and tweets that led him to step down from hosting the 2019 Oscars.
Hart doubled down with his apology to the LGBTQ community.
"I will say this, and I want to make this very clear," said Hart in a soundbite he insisted he would use as a rebuttal if people "chop up" the audio from his show.
"Once again, Kevin Hart apologizes for his remarks that hurt members of the LGBTQ community. I apologize," he said.
Hart additionally stated that it is not his "life dream" to become an ally of the LGBTQ community. He just wants his apology to be accepted.
"CNN "Tonight" host Don Lemon, who called out the comedian last week after his interview with Ellen DeGeneres, addressed Hart's latest apology Monday night.
"You may not like the way he said it, but he said it there. He did say, 'I'm sorry, I apologize,'" Lemon said on his show, after revealing he had an off-the-record conversation with Hart over the weekend.
The CNN host went on to address Hart's choice not to be an ally or spokesperson for the LGBTQ community: "Whether I like it or not, whether you like it or not, that is his right."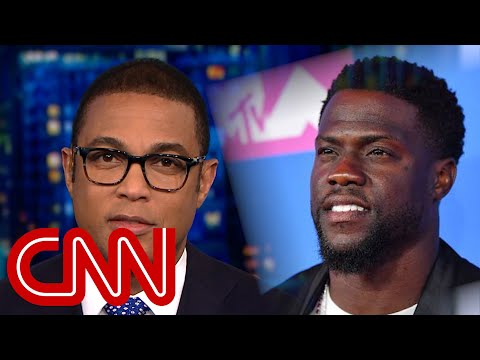 During the latest installment of his show "Straight From the Hart," Hart revealed that he finally revisited the joke that helped spark the backlash when he was initially named the host of the 91st Academy Awards in December.
He explained that even he had forgotten that he had set up the joke by saying, "I want to say that I have no problem with gay people. I don't have a homophobic bone in my body. I want you to be happy. If you want to be gay, be gay. Be happy."
"That's where the joke starts!" said Hart. "The only clip that I have seen all over the media are the clips where I go, 'Stop! That's gay.'"
The joke from Hart's 2010 "Seriously Funny" stand-up comedy special involved him revealing that "one of [his] biggest fears is [his] son growing up and being gay." It was among the examples brought up in reports pointing out that the comedian had a history of making homophobic remarks after his high-profile Academy Awards gig was initially announced.
When given the ultimatum last month to apologize for his past comments or step down as the Oscars host, Hart chose the latter.
Hart also addressed the previously resurfaced tweets that included anti-gay sentiments.
"I really had to dive into the whole thing, even the tweets," said Hart. "If you notice, I never even explained the tweets. I just apologized. I understand why people were hurt, I understand what these words mean. I'm sorry."
Hart said he wasn't making those comments to members of the LGBTQ community, but to his friends as they went back and forth on Twitter.
"These weren't words that I said to gay individuals," said Hart. "We thought it was OK to talk like that, because that's how we talked to one another."
He said that he understands these words are wrong now "because now we're in a space where I'm around people of the LGBTQ community, and I'm now aware of how these words make them feel."
Hart also used his show to air some grievances about the controversy. He accused critics of "jumping on the bandwagon" instead of actually examining Hart himself (who then went on to identify people he regularly interacts with that are members of the LGBTQ community).
The comedian also took issue with people who called out his past "apologies" as non-apologies and characterized them as "bullies."
Ultimately he called on his critics to be more accepting that people can change.
"If the fight from the LGBTQ community is equality, that's the fight. The fight is the will and want for equality. I'm riding with you guys," said Hart. "But in the fight for equality, that means that there has to be an acceptance for change."
Hart's new comments come just days after his interview on "The Ellen Show," where he said he was "evaluating" whether he would return as the Oscars host after DeGeneres' encouragement.
DeGeneres' advocacy of Hart fueled its own backlash. Some pointed out DeGeneres was not qualified to address the harm caused by attitudes reflected in Hart's past comments.
Twitter: @tracycbrown
Get our L.A. Goes Out newsletter, with the week's best events, to help you explore and experience our city.
You may occasionally receive promotional content from the Los Angeles Times.