From the Archives: Leonard Nimoy exposes secrets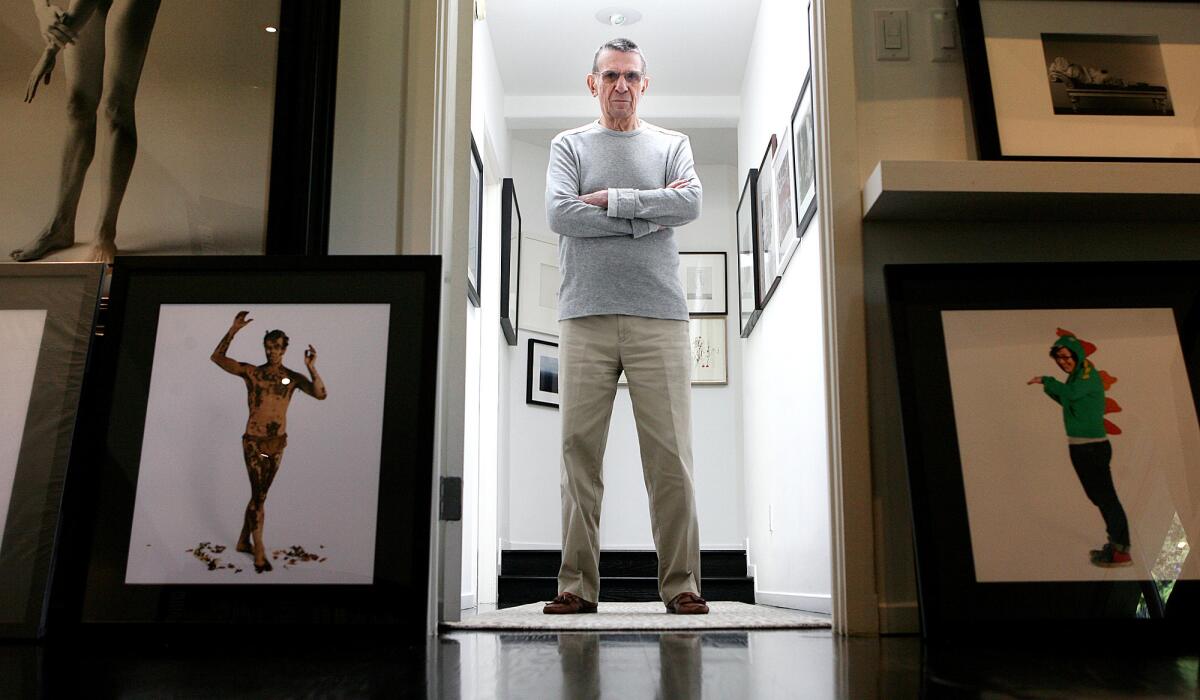 Wander around the home of Leonard Nimoy and you'll find very few mementos from all those years spent roaming the galaxy as Mr. Spock. He kept the last pair of pointy ears he wore on the "Star Trek" television series, and on one wall of his bright and airy home office, there are two Hirschfeld drawings of the actor in his Starfleet uniform. But that's about it — no movie posters, no plastic models of the good ship Enterprise, no tribbles on the mantel.
Instead, the walls and shelves reflect the passion of Leonard and Susan Nimoy for contemporary art; in fact, their collection would be envied by many gallery owners. But some of the most interesting pieces are the actor's own photography, and on Halloween night he will be at the Santa Monica Museum of Art for a one-night exhibition of selected pieces from his conceptual project "Who Do You Think You Are?"
Last year, Nimoy spent two 16-hour days shooting portraits of total strangers in Northampton, Mass., who had answered a public invitation to share a glimpse of their hidden selves. He photographed 95 people and chose 25 of them for the exhibit that will go on display next summer at the Massachusetts Museum of Contemporary Art.
"The idea was to invite people to reveal their secret selves, the self they wish to be or the self they hide from the world," said Nimoy, 78, who has been an avid photographer since his youth. "There was a measure of bravery in this by everyone involved. I had no idea what to expect. Some of the people walked in with these amazing stories, stories you couldn't anticipate or make up."
A rabbi arrived with a leather vest over his bare torso and announced that he would use the photograph to publicly acknowledge for the first time that he is gay. A middle-aged psychologist showed up in conservative clothes but toting a chainsaw, a symbol of her inner masculine power, which still goes unrecognized after years as a single woman. One heavyset woman, her voice trembling, came and dropped her robe to reveal the tattoos up and down her backside and described her secret self as "a shy whore."
One of the more striking images is a man who looks like some sort of forest spirit. He is a painter who specializes in portraits of war veterans, and to show his secret self, he applied brown body makeup, pulled on a loincloth and sprinkled tree leaves at his feet — his desire was to avoid "war, strife and violence of all kind, and be part of nature," Nimoy said.
The portraits speak to the culture of Northampton, which has an active gay and lesbian community, a tilt toward academia and, apparently, a fair number of eccentric souls.
"It would be interesting to see what would happen if you solicited people — sought them out instead of making a public invitation; it might be a difficult process, an ordeal, or it might be explosive. What would you get if you did this in a different community, such as Los Angeles? Would it be totally different? I don't know the answers to these questions."
Nimoy is a renaissance man — he may be forever associated with the role of Spock, but he has directed six films (among them "Star Trek IV: The Voyage Home," "The Good Mother," "Three Men and a Baby"), written two autobiographies, published seven books of poetry and made a somewhat infamous foray into music in the late 1960s. Photography may be his true passion, though. In the early 1970s, he attended UCLA to study for a career change that would have found him behind a camera instead of in front of it.
"I thought very seriously for a brief time that I would go in a new career direction, but then I realized that commercial photography was not for me," Nimoy said. "I didn't want to photograph to fill a need or at someone else's direction. I wanted to pursue it as an art."
As a young man, Nimoy was fascinated by the darkroom process and for decades he shot only black-and-white and developed all of his own prints. He took a camera with him everywhere he went. Shooting films and television productions on location, he snapped pictures of people and places across the globe.
Only once, though, did he take a photo on the set. Nimoy photographed Yul Brynner while the two were making the 1971 western "Catlow." But looking through the viewfinder, he saw the cast and crew stiffened or changed when a camera was aimed at them. Nimoy realized the camera was invasive in that setting and might undermine the trust of the actors at work.
"I never took a camera to the set again," Nimoy said.
Nimoy's photography has always been based on serendipity, but he changed his approach with "The Shekhina Project," in which he sought to study "the feminine aspect of God" by shooting portraits of women that emphasized the body and soulfulness of the gender. There was a small stir of controversy in 2005 when Nimoy published a book of the photos, many of them nude and sensual, side-by-side with commentary of Jewish scripture.
Next came "The Full Body Project: Photographs by Leonard Nimoy" in 2007, a book that collected his portraits of plus-sized women. Nimoy said that book was intended as a look at the "distance between reality and the fantasy of fashion photography where clothes are worn by women who, on average, weigh 25% less than average women."
The third in his series of concept projects is the secret-self study, which was inspired by a line of mythology about Zeus splitting humans in half — the species had four legs and two heads before the deity cleaved them down the middle. The idea that the split left humans incomplete on some level, hungry to reconnect with their other aspect, fascinated Nimoy. For the portraits, he shot in color for the first time. He spent eight to 10 minutes with his subjects, on average. The process was videotaped, and a 40-minute "making-of" movie will be screened on Halloween at the Santa Monica Museum fundraiser, which has a masquerade-ball theme. Visitors are encouraged to come dressed as their secret selves.
Nimoy said he no longer carries a camera with him, waiting for moments that present themselves; instead he found, through his latest project, some insight into his own secret self.
"This is the one that came the closest to the bone to the things that interest me," Nimoy said. "There was a certain amount of performance and direction and psychological exploration involved. There was also a lot of role-playing involved, and I've spent a considerable amount of my life doing that. What I love about the project is that anyone who sees it immediately asks themselves, 'What would my secret self be? What could I show — what would I show?' I know people ask me what my secret self is and I have to laugh. I have no secrets left. I revealed it all a long time ago."
ALSO:
Leonard Nimoy's former home is sold
Get our L.A. Goes Out newsletter, with the week's best events, to help you explore and experience our city.
You may occasionally receive promotional content from the Los Angeles Times.