Column: Winged victory: Megan Rapinoe's post-goal pose stood for more than just another World Cup win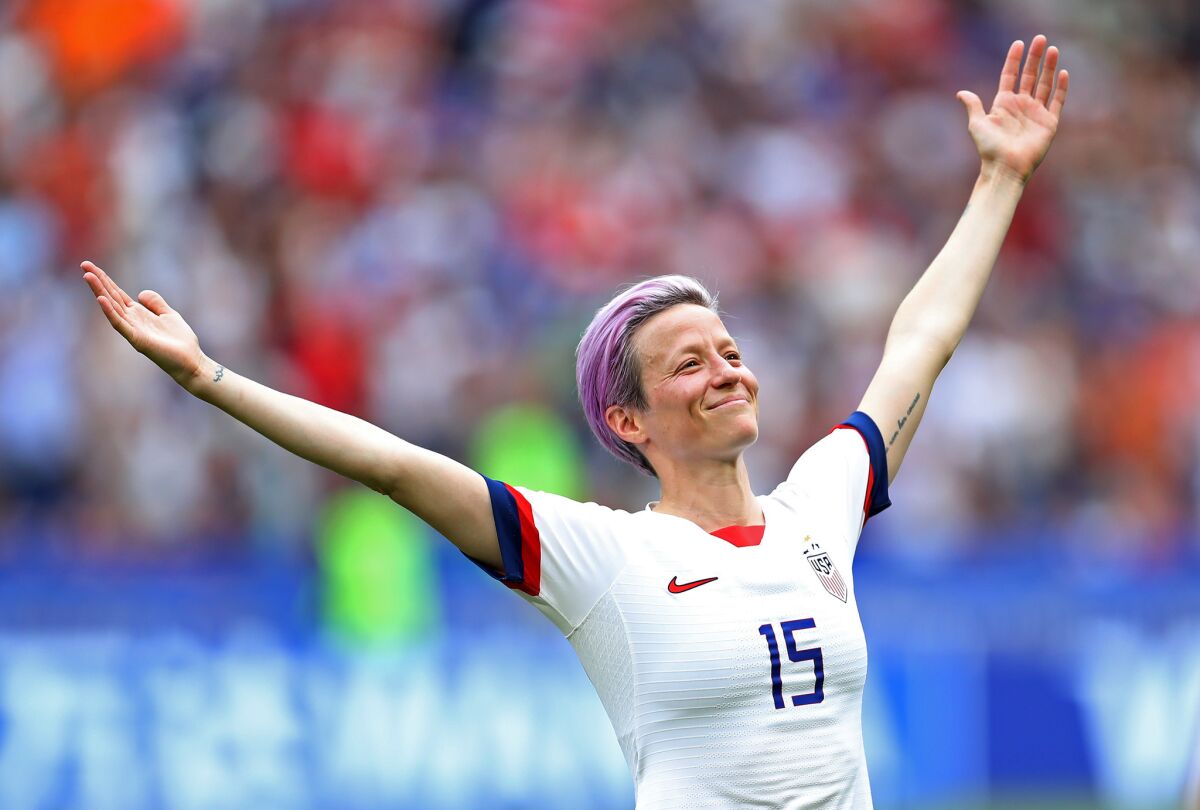 Culture columnist/critic
When Megan Rapinoe stepped up to take the penalty kick 62 minutes into the Women's World Cup final on Sunday, we all wanted her to score for at least two reasons: So the U.S. team would win, obviously, but also so we could see Rapinoe's much-memed post-goal pose one more time.
And we did. As she had after her two goals against France 10 days before, she jogged to the sideline, put her feet together, raised arms wide, with a smile both solemn and mischievous.
Once again she came as close to modeling the ideal of winged victory as any person could without actual wings.
In one gesture, the 34-year-old midfielder acknowledged her own greatness, embraced the audience, honored her team and celebrated the joy of being at the center of a women's sports team paving the way for gender parity in attention, respect and maybe even pay.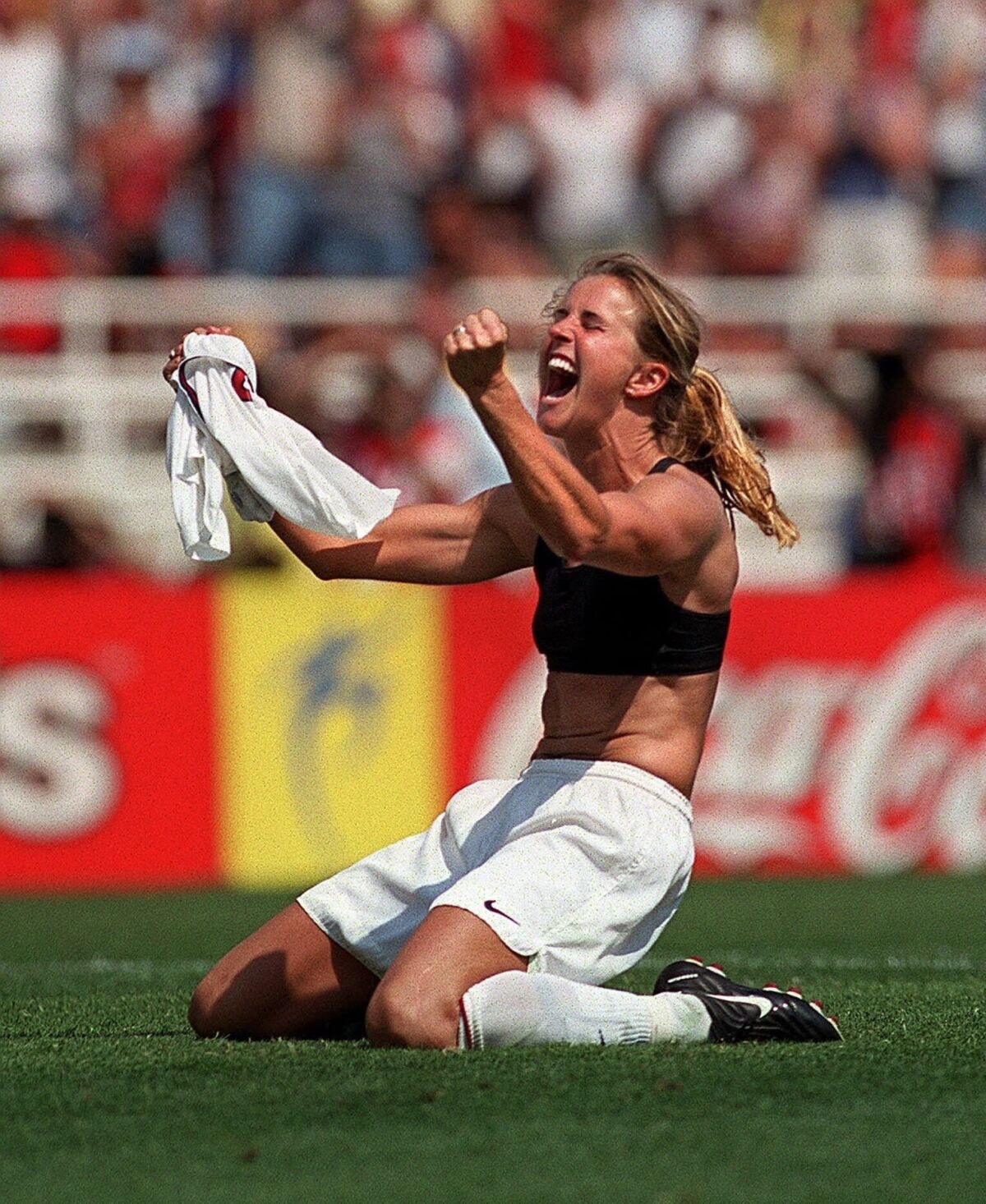 In 1999, Brandi Chastain's shirtless victory howl revealed in one instant the power, passion and controversy of women's soccer; 20 years later the ecstatic grandeur of Rapinoe's pose captured the thrill of its growing confidence and significance.
Which is probably why, after she first struck it after her first goal in France, Piers Morgan responded with a critical tweet about Rapinoe loving herself. As if that were a bad thing.
Or as if male athletes haven't been striking all sorts of victory poses since the days of ancient Athens (as every other painted urn you've ever seen in any museum proves), most of them far less inclusive than Rapinoe's.
As the U.S. rolled through France, there was some sniping about the Americans' exuberance, most pointedly over their unrelenting 13-0 win over Thailand in match play. But if women's team sports are ever going to achieve parity on any level with their male counterparts, soccer is where it will happen, and images like this will be a very big reason.
Something Rapinoe appears to understand very well.
Hers was the signature silhouette of this year's Women's World Cup, and not just because it was topped by the (pink? purple?) hair or because we saw it so often. Rapinoe scored six times (despite being benched for a minor injury in the semifinals against England), but so did teammate Alex Morgan and England's Ellen White. And though Morgan's tea-sipping gesture after she headed in a goal during the England match caused a minor whirlwind of media love, it was nothing compared with Rapinoe's repeated jog to the sidelines to offer herself, arms wide, to the cheering crowd.
On top of being one of the best soccer players in the world, Rapinoe understands the importance of showmanship.
Especially when the stakes are high.
In non-World Cup games, she has knelt during the national anthem in support of Colin Kaepernick and in protest of police brutality; during the World Cup, she stood with her hands at her sides.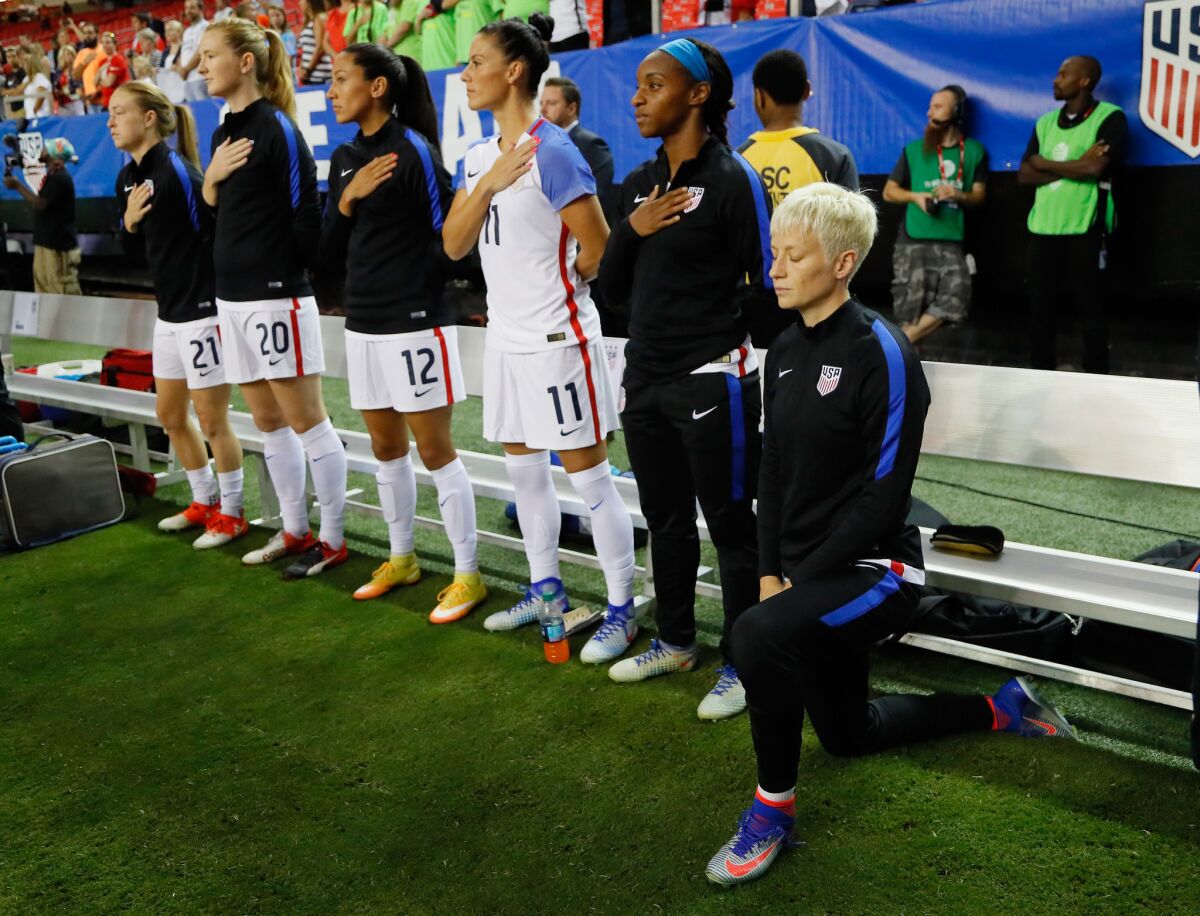 She has spoken out against President Trump and refused to be rattled by his direct criticism of her in recent weeks. After a pre-World Cup interview in which Rapinoe said she would not go to the White House if the team were invited re-surfaced, Trump sent a Twitter tirade her way, blasting her for being disrespectful and saying he would invite the team to the White House win or lose.
New York City is throwing the team a ticker-tape parade on Wednesday, but so far no White House invitation has been extended, although the president did tweet his congratulations.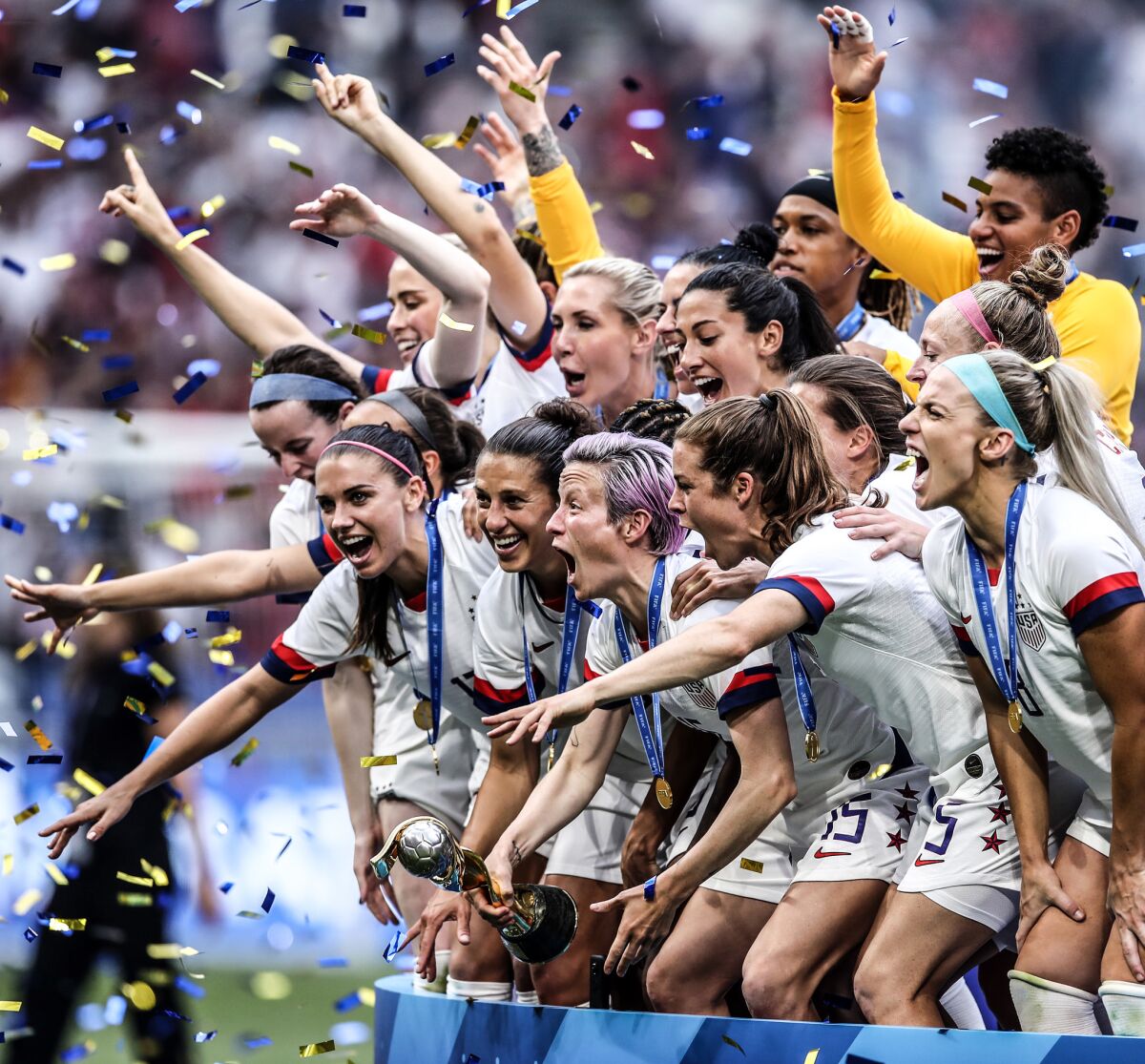 She has been open and public about her sexuality, kissing girlfriend Sue Bird moments after the World Cup win. (A few days before, Bird, who plays for the Seattle Storm, wrote a proud and hilarious valentine to her partner in the Players' Tribune.) She gave a birthday shout-out to her brother, who is out of jail and more than a year clean after years of drug use, drug dealing and prison terms.
She dyed her hair pink/purple, for heaven's sake, and used much of her post-victory coverage to demand equal pay for female athletes.
None of which would have mattered, of course, if she weren't such a damn good soccer player, relentless, eagle-eyed and sure-footed with a near-magical ability to see scoring opportunities where none appear to exist.
In this moment, Megan Rapinoe is the whole package, the ideal American athlete, and she is happy to be so as that "thank you/you're welcome" pose captured. But she is also a team player, setting up plays as often as she finished them (she ended the World Cup with three assists), which the gesture also implied.
While men's sports becomes increasingly bogged down in contract disputes, player defections, the creation of superteams and endless argument over who is the all-time best, Rapinoe played her heart out and scored six times.
And three times, she came to the sidelines and cameras, facing the fans and, yes, all those soccer girls and soccer moms, and she threw open her arms.
"Here we are," her gesture said to an audience who could not get enough. "We're your team. And we're winning. Again."
Get our L.A. Goes Out newsletter, with the week's best events, to help you explore and experience our city.
You may occasionally receive promotional content from the Los Angeles Times.