Chris Rock tries out his Oscar material at the Comedy Store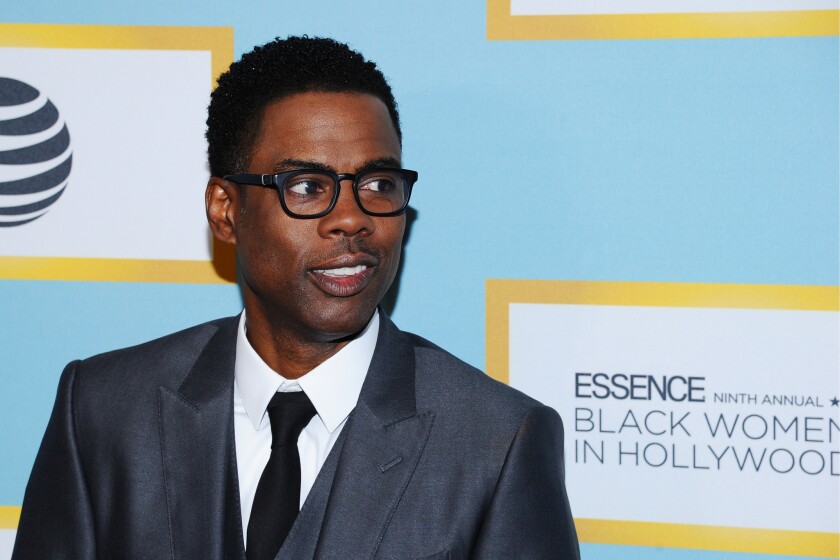 Ever since the #OscarsSoWhite controversy erupted last month, Academy Awards host Chris Rock has largely avoided the media. He's canceled interviews and remained relatively quiet on Twitter, where he has 3.8 million followers.
But those Angelenos who were lucky enough to be in the audience of a local comedy club over the last few days got an unscheduled sneak peek at the comedian's Oscar monologue. Over the last week, Rock has dropped into the Comedy Store a few times, testing material for the telecast during 20-minute sets.
Matt Walker, a comedian who was in the audience for one of Rock's sets at the Hollywood venue, called into K-Earth 101 radio on Thursday to dish on what he saw. So if you want to keep Rock's portion of the Oscars show a total surprise, best to stop reading here.
Apparently, the diversity debate sparked by the all-white Oscar acting nominations will — not surprisingly — play a large role in Rock's material, but not always in the ways you might expect.
OSCARS 2016: Full coverage | List of nominees | #OscarsSoWhite controversy
At the Comedy Store, Walker said Rock seemed "indignant" about actress Jada Pinkett Smith's announced boycott of the Oscars, joking, "If you think Oscars, you think Jada Pinkett Smith." The comedian also made mention on stage of the fact that many in Hollywood wanted him to quit his hosting gig, but, he kidded, he "didn't need to lose another job to Kevin Hart."
Other targets? Paul Giamatti, who Rock said had "great range" because he was in "12 Years a Slave" two years ago where he "hated black people," and then loved them in 2015's "Straight Outta Compton." He also went after Reese Witherspoon, commenting on the irony of the star of "Legally Blonde 2" being the one to launch a #AskHerMore campaign on the red carpet.
Ana Cantu, who was in the crowd at the Comedy Store on Thursday, said security at the club ratcheted up right before Rock took the stage. A handful of employees wearing headsets were scattered throughout the club, reprimanding any guest who took out a cellphone. Rock went on around 11 p.m., got a standing ovation and took out three stapled pages of jokes. A keyboardist to the side of the stage was timing the set, Cantu said, and it lasted 12 minutes.
"I'm going to have to cut one of these jokes," Rock told the crowd.
Follow @AmyKinLA on Twitter for the latest Hollywood news
MORE:
91% white. 76% male. Changing who votes on the Oscars won't be easy
Oscars 2016: The complete list of nominees
Spike Lee and Jada Pinkett Smith to boycott Oscars; academy responds
---
Your essential guide to the arts in L.A.
Get Carolina A. Miranda's weekly newsletter for what's happening, plus openings, critics' picks and more.
You may occasionally receive promotional content from the Los Angeles Times.