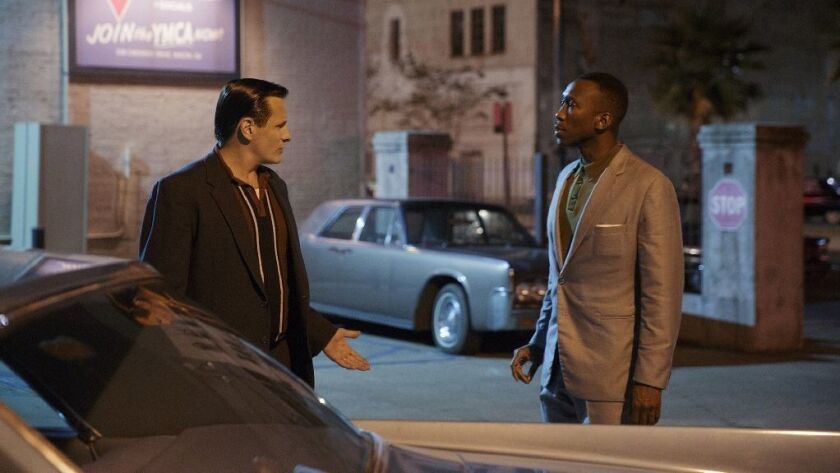 "Green Book" has been named the year's best picture by the National Board of Review.
The film, which was released in theaters Nov. 16, recounts the friendship that developed between esteemed musician Don Shirley and driver Tony Lip as they drove through the American South in the early '60s. Mahershala Ali and Viggo Mortensen portray the characters, respectively. Mortensen was also named best actor.
"A Star Is Born" nabbed three major awards. Bradley Cooper was named best director, and Lady Gaga and Sam Elliott earned nods for their performances. Paul Schrader received the best original screenplay award for "First Reformed," and Barry Jenkins won the adapted screenplay honor for "If Beale Street Could Talk," which also won the best supporting actress award for Regina King. All three were also listed among the group's picks for the 10 best films of 2018.
The breakthrough performance award went to "Leave No Trace" actress Thomasin McKenzie, and the directorial debut honor went to "Eighth Grade" helmer Bo Burnham. The cast of "Crazy Rich Asians" nabbed the best ensemble award.
"Incredibles 2" was named the year's best animated feature, "RBG" was named best documentary, and "Cold War" was named best foreign language film.
A few major contenders of the awards season were completely overlooked, including "The Favourite," "Vice," "Widows," "BlacKkKlansman" and "First Man." But the board's taste often deviates from that of the majority of critics and prognosticators.
Founded in 1909, the group describes itself as a "select group of film enthusiasts, filmmakers, professionals and academics of varying ages and backgrounds." The NBR last picked the same best picture as the Academy of Motion Picture Arts and Sciences in 2008, when "Slumdog Millionaire" won the Oscar. Last year the group selected "The Post."
This year's honorees will receive their awards at a New York City gala hosted by Willie Geist in January.
The full list of honorees:
BEST FILM
"Green Book"
BEST DIRECTOR
Bradley Cooper, "A Star Is Born"
BEST ACTOR
Viggo Mortensen, "Green Book"
BEST ACTRESS
Lady Gaga, "A Star Is Born"
BEST SUPPORTING ACTOR
Sam Elliott, "A Star Is Born"
BEST SUPPORTING ACTRESS
Regina King, "If Beale Street Could Talk"
BEST ORIGINAL SCREENPLAY
Paul Schrader, "First Reformed"
BEST ADAPTED SCREENPLAY
Barry Jenkins, "If Beale Street Could Talk"
BEST ANIMATED FEATURE
"Incredibles 2"
BREAKTHROUGH PERFORMANCE
Thomasin McKenzie, "Leave No Trace"
BEST DIRECTORIAL DEBUT
Bo Burnham, "Eighth Grade"
BEST FOREIGN LANGUAGE FILM
"Cold War"
BEST DOCUMENTARY
"RBG"
BEST ENSEMBLE
"Crazy Rich Asians"
WILLIAM K. EVERSON FILM HISTORY AWARD
"The Other Side of the Wind" and "They'll Love Me When I'm Dead"
NBR FREEDOM OF EXPRESSION AWARD:
"22 July"
NBR FREEDOM OF EXPRESSION AWARD:
"On Her Shoulders"
TOP FILMS
"The Ballad of Buster Scruggs"
"Black Panther"
"Can You Ever Forgive Me?"
"Eighth Grade"
"First Reformed"
"If Beale Street Could Talk"
"Mary Poppins Returns"
"A Quiet Place"
"Roma"
"A Star Is Born"
TOP 5 FOREIGN LANGUAGE FILMS
"Burning"
"Custody"
"The Guilty"
"Happy as Lazzaro"
"Shoplifters"
TOP 5 DOCUMENTARIES
"Crime + Punishment"
"Free Solo"
"Minding the Gap"
"Three Identical Strangers"
"Won't You Be My Neighbor?"
TOP 10 INDEPENDENT FILMS
"The Death of Stalin"
"Lean on Pete"
"Leave No Trace"
"Mid90s"
"The Old Man & the Gun"
"The Rider"
"Searching"
"Sorry to Bother You"
"We the Animals"
"You Were Never Really Here"
Twitter: @cashleelee
---