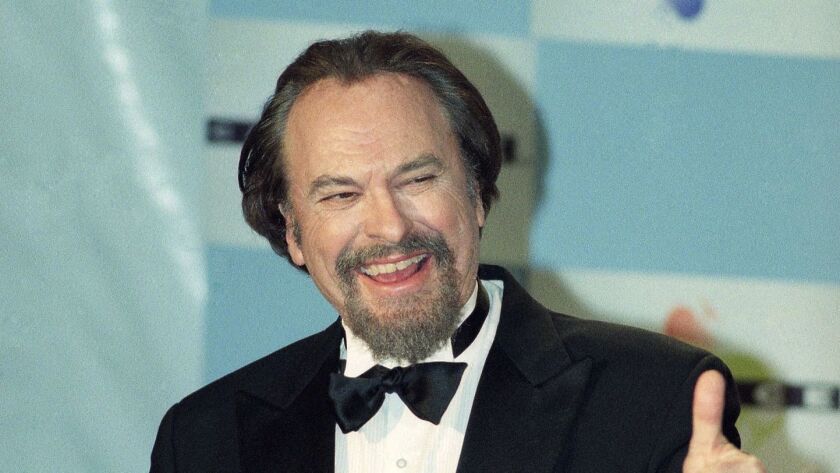 Friends, fans and costars took to social media Wednesday to mourn actor Rip Torn, who died Tuesday afternoon.
Will Smith, Alec Baldwin, Albert Brooks, Seth Rogen and more entertainers posted tributes to the beloved star, who was remembered for his work in small- and big-screen projects, including "The Larry Sanders Show," "Defending Your Life," "Men in Black" and Disney's "Hercules."
Smith was one of the first to react to the news on Instagram, posting a still of himself and Torn performing in "Men in Black," captioned simply, "R.I.P. Rip."
Rogen celebrated Torn's performances in both "The Larry Sanders Show" and the afterlife comedy "Defending Your Life," sharing his favorite line from the film.
"Rip Torn was incredible," the "Lion King" star wrote. "His work on The Larry Sanders Show was hysterical but nothing is better than the way he says 'Big Bear' in Defending Your Life. I still laugh just thinking about it."
Brooks, who directed and acted alongside Torn in "Defending Your Life," also remembered his colleague for his comedic turn as defense attorney Bob Diamond.
"R.I.P Rip Torn," the "Drive" actor wrote. "He was so great in Defending Your Life. I'll miss you Rip, you were a true original."
Rob Lowe fondly recalled his time working with Torn as well. The "Wild Bill" star, who appeared on an episode of "The Larry Sanders Show" in 1995, shared his favorite Arthur moment on Twitter.
"Worked with Rip Torn," Lowe tweeted. "So funny, original and intense. Favorite line of his from 'Larry Sanders': You're like a Greek God, Larry. Part man, part desk!"
Baldwin, who costarred with Torn in "30 Rock," praised the late actor as a "wonderful madman."
"I worked on nbc30rock with RipTorn in the role of Don Geiss, the head of GE," Baldwin wrote. "He was a deeply committed, phenomenal actor. See you down the road, Rip."
Here's a sampling of the outpouring for Torn's legacy.
---